The global wireless mesh network market was valued at USD 54.3 billion in 2017 and is anticipated to grow at a CAGR of 9.3% during the forecast period.
A wireless mesh network is a mesh network, which is developed through the connection of wireless access points installed at each network user's locale. Each network user acts as a provider and performs the task of forwarding data to the next node. In wireless mesh networking, each base station acts as a node to exchange information continuously about network conditions with all adjacent nodes. Wireless mesh networking enables users in remote areas or small businesses operating in rural neighborhoods to connect their networks together for affordable internet connections. Wireless mesh networks reduce the need for internet gateways, and configures routes dynamically. Wireless mesh networks are also multi hop networks as each mesh node can reach another node going through multiple hops and using other nodes as repeaters. Wireless mesh networks offer advantages such as intrinsic redundancy, reliability, collaborative redundant backup technology, and lower power requirements.
The growing adoption of smart connected devices, coupled with reducing costs associated with connected devices to primarily drive the growth of wireless mesh network market. The increasing demand for bandwidth requirement further supports wireless mesh network market growth. The growing penetration of mobile devices, and rising need for a stable and efficient network is expected to support market growth during the forecast period. Other factors driving the wireless mesh network market include technological advancements, increasing adoption of advanced networking technologies, growing demand for mobility, and increasing demand for Wi-Fi and wireless broadband services. However, privacy concerns and data security are factors expected to hinder wireless mesh network market growth during the forecast period. Growing demand from emerging economies, and increasing adoption by small and medium enterprises are factors expected to provide numerous growth opportunities in the coming years.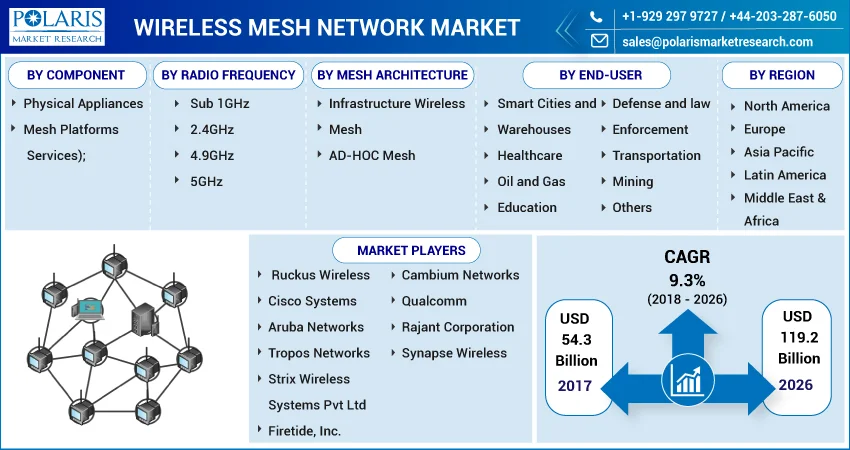 Segment Analysis
The global wireless mesh network market is segmented on the basis of component, radio frequency, mesh architecture, end-user, and region. Based on component, the market is segmented into physical appliances, mesh platforms, and services. The physical appliances accounted for the highest market share in 2017 owing to increasing demand for advanced routers, switches, access points, and controllers.
On the basis of radio frequency, the market is segmented into Sub 1GHz, 2.4GHz, 4.9GHz, and 5GHz. The 2.4GHz frequency dominated the global wireless mesh network market in 2017 owing to growing use in industrial, healthcare, and scientific applications.
The mesh architecture is divided into infrastructure wireless mesh, and ad-hoc mesh. The ad-hoc mesh segment is expected to grow at the fastest rate during the forecast period. The increasing use of ad-hoc mesh network design in disaster management, and emergency response has boosted the market growth.
On the basis of end-user, the wireless mesh network is categorized into smart cities and warehouses, healthcare, oil and gas, education, defense and law enforcement, transportation, mining, and others. The smart cities and warehouses segment dominated the global market in 2017 owing to rising adoption of IoT and connected devices.
Regional Analysis
Geographically the wireless mesh network market is segmented across North America, Europe, APAC and South America, and MEA. North America is further segmented into U.S., Canada, and Mexico. Europe is divided into Germany, UK, Italy, France, and Rest of Europe. Asia-Pacific is bifurcated into China, India, Japan, and Rest of Asia-Pacific. North America accounted for the largest share in the global wireless mesh network market in 2017.
Competitive Landscape
The leading players in the wireless mesh network market include Ruckus Wireless, Cisco Systems, Aruba Networks, Tropos Networks, Strix Wireless Systems Pvt Ltd, Firetide, Inc., Cambium Networks, Qualcomm, Rajant Corporation, and Synapse Wireless among others. These leading players in the market are introducing innovative products in the market to cater to the consumers. Global players are entering new markets in developing regions to expand their customer base and strengthen market presence.