The global welding fume extraction equipment market was valued at USD 5,263.93 million in 2021 and is expected to grow at a CAGR of 5.6% during the forecast period.
The welding fume that is produced when working with metals used during welding applications is removed using a welding fume extractor. If not appropriately removed from the breathing zone, the metal fume produced during welding can be cancerous and have hazardous long-term repercussions. Fume extraction is crucial for maintaining a secure working environment for welders.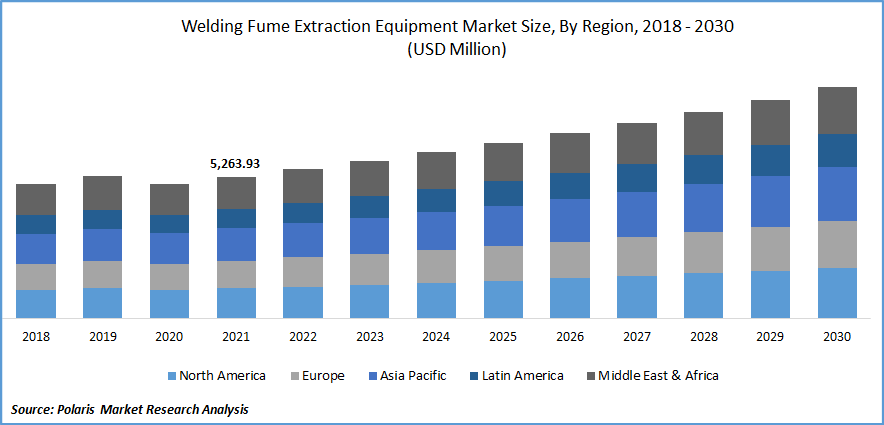 Know more about this report: Request for sample pages
Businesses are focusing on how to expand and take on more welding work rather than having to balance the operating budget with medical insurance expenditures. For instance, In August 2020, Translas formally declared the beginning of its collaboration with RobotVent. RoboVent is now actively collaborating with Translas throughout Europe after launching the 7XE Extractor on the North American market. The ProCube, a fume extraction device created especially to work with the 7XE Extractor, has previously been created by them. Thus, the collaboration among major players is boosting the research and development expenditure for the development of products which is driving the market growth over the forecast period.
The COVID-19 pandemic had a negative impact on the welding fume extractor business because of severe lockdowns, workforce scarcity, and supply chain interruptions. After the pandemic, developing nations' manufacturing sectors saw an increase in demand for extractors as governments made significant efforts to protect worker health in production facilities. A survey found that the businesses included had prospered as a result of government assistance and an increase in industrial initiatives. This recently revealed fresh chances for welding fume extraction equipment market expansion.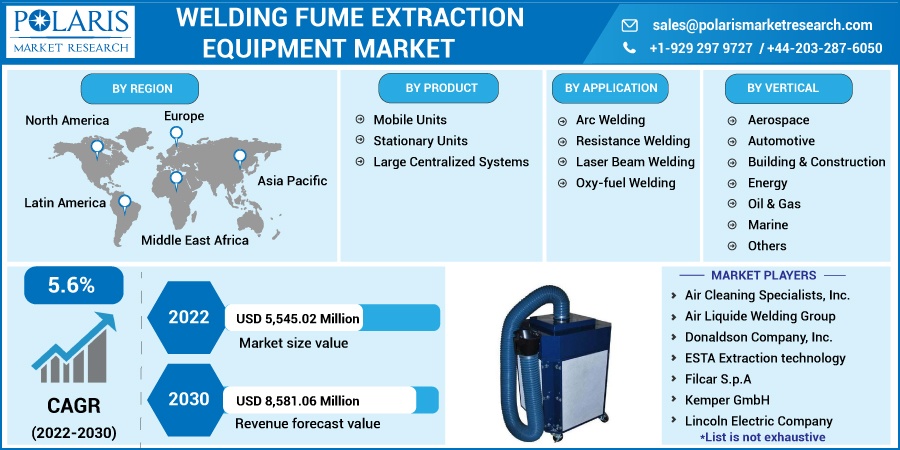 Know more about this report: Request for sample pages
Industry Dynamics
Growth Drivers
The primary driver of market expansion has been the necessary compliance with health and safety workplace standards, which are implemented globally. The need for welding fume extraction equipment is anticipated to increase over the projected period as a result of strict rules implemented by various regulatory bodies to decrease the hazards of exposure to harmful fumes. For instance, OSHA in the US has established several safety and health requirements for cutting and welding when specific types of gas or metal are involved.
Further, as per the Health and Safety Executive, regarding the dangers of welding fume on human health, HSE has established a safety advisory. Numerous other health issues, including asthma, can be brought on by welding fume. Through using alternative cold joining techniques, welding in a way that generates less fume, utilizing respiratory protective equipment (RPE) and personal protective equipment (PPE), preserving control measures, and ensuring that welders recognize the hazards and how to utilize controls, one can reduce the health risks associated with welding fumes. Therefore, the rising government's focus across the globe on the safety of hazardous welding fume has led to an increase in regulations which is driving the market growth over the forecast period.
Report Segmentation
The market is primarily segmented based on product, application, vertical, and region.
By Product

By Application

By Vertical

By Region

Mobile Units
Stationary Units
Large Centralized Systems

Arc Welding
Resistance Welding
Laser Beam Welding
Oxy-fuel Welding

Aerospace
Automotive
Building & Construction
Energy
Oil & Gas
Marine
Others

North America (U.S., Canada)
Europe (France, Germany, UK, Italy, Netherlands, Spain, Russia)
Asia Pacific (Japan, China, India, Malaysia, Indonesia, South Korea)
Latin America (Brazil, Mexico, Argentina)
Middle East & Africa (Saudi Arabia, UAE, Israel, South Africa)
Know more about this report: Request for sample pages
Laser Beam Welding segment is expected to witness the fastest growth
A joining method using two or more identical materials and the heat produced by intensely concentrated laser beams is known as laser beam welding. Although plastic materials have also been employed in the laser beam welding process, metals are still the most typical materials used in these welding procedures. When welding small components, laser beam welding is very advantageous since it can join such materials with little waste and thermal distortion. Since laser beam welding can be fully automated and achieve high welding speeds, it is becoming more and more popular for use in a variety of industrial applications.
Furthermore, the market's expansion is largely fueled by the rising demand from numerous end-user industries around the world, including automotive, medical, semiconductors, etc. The market is also fueled by the rising demand for items made of fabricated metal, the development of large industrial machinery, improvements in manufacturing techniques, and the adoption of cutting-edge technologies. Additionally, the lack of experienced workers in some of the regions investigated is contributing to the rise in demand for automated technology.
Mobile units segment industry accounted for the highest market share in 2021
If the welding is done at various places, mobile equipment is the best option. Due to their capacity to eliminate hazardous gases from the working environment, they are a practical and portable solution for metalworking businesses. Mobile welding fume extractors may be easily moved from the workshop to somewhere where extraction is needed because they are mounted on wheels. Mobile units are ideal for small fabrication and welding facilities that need light- to medium-duty welder fume extractors because of their portability and simplicity. Thus, these factors are bolstering segmental growth.
Aerospace is expected to hold the significant revenue share
The availability of routes, frequent flights, and reasonably priced tickets have all contributed to the steady increase in the number of passengers traveling each year. In the automotive sector, manual and semi-automatic welding processes use stationary and mobile welding fume extraction equipment. Due to intricate design and the need for extremely precise pieces, robotic welding is widely used in the fabrication of automotive parts. As a result, the automotive sector adopts centralized welding fume extraction equipment at a higher rate.
The demand in Asia-Pacific is expected to witness significant growth
The continuous offshore and onshore gas and oil exploration operations, as well as the execution of refining construction and installation projects in the region during the post-pandemic phase, boosted the growth of this market in the Asia Pacific. As a result, there is a sizable need in the Asia Pacific region for equipment like welding supplies, steel pipes, wires, and cables.
Furthermore, favorable government efforts aimed at industrialization, urbanization, and infrastructure development, particularly in emerging economies, are expected to encourage the expansion of end-use industries and contribute to increasing welding processes. It is anticipated that the government of China is increasing emphasis on keeping a safe and healthy workplace, particularly in the construction sector, which regularly uses welding techniques, will positively affect the development of this business. For instance, the country's construction industry frequently uses arc welding technology in a variety of fabrication applications.
Competitive Insight
Some of the major players operating in the global market include Air Cleaning Specialists, Air Liquide Welding, Bomaksan Industrial Air Filtration Systems, Donaldson Company, ESTA Extraction, Filcar S.p.A, Kemper GmbH, Lincoln Electric Company, Miller Electric, Pace Worldwide, Parker-Hannifin, RoboVent Products, and Sentry Air Systems.
Recent Developments
In July 2022, TRUMPF, a trusted partner in manufacturing, provides cutting-edge laser equipment to Vitesco Technologies. Vitesco Technologies has been among the originators in the serial application of this novel technology with the development of the new green laser equipment for cooper welded joints.
Welding Fume Extraction Equipment Market Report Scope
| | |
| --- | --- |
| Report Attributes | Details |
| Market size value in 2022 | USD 5,545.02 million |
| Revenue forecast in 2030 | USD 8,581.06 million |
| CAGR | 5.6% from 2022 - 2030 |
| Base year | 2021 |
| Historical data | 2018 - 2020 |
| Forecast period | 2022 - 2030 |
| Quantitative units | Revenue in USD million and CAGR from 2022 to 2030 |
| Segments Covered | By Product, By Application, By Vertical, By Region |
| Regional scope | North America, Europe, Asia Pacific, Latin America; Middle East & Africa |
| Key Companies | Air Cleaning Specialists, Inc., Air Liquide Welding Group, Bomaksan Industrial Air Filtration Systems San. Tic. A.S., Donaldson Company, Inc., ESTA Extraction technology, Filcar S.p.A, Kemper GmbH, Lincoln Electric Company, Miller Electric Mfg. LLC, Pace Worldwide, Parker-Hannifin Corporation, RoboVent Products Group, Inc., and Sentry Air Systems, Inc. |