The global Voice and Speech Recognition Market was valued at USD 15,989.16 million in 2022 and is expected to grow at a CAGR of 18.7% during the forecast period. Voice or speech recognition refers to the ability of a program to receive, interpret, and execute spoken commands. These solutions provide a convenient interface between users and technology, allowing tasks and reminders to be easily managed through voice commands. Voice recognition eliminates the need for keyboards, enabling devices to be controlled at the user's fingertips. From a security perspective, voice recognition solutions are becoming increasingly important, driving the growth of the global market.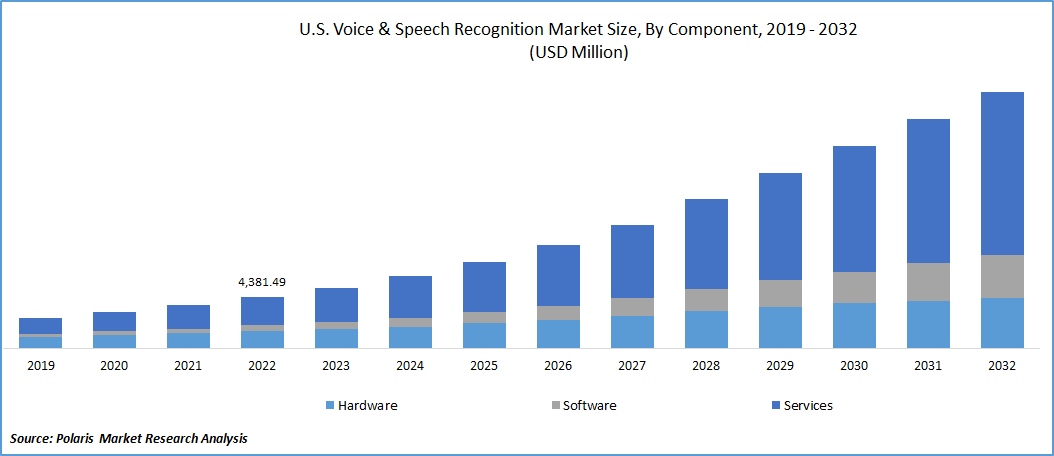 To Understand More About this Research: Request a Free Sample Report
Voice and speech recognition find applications in various areas, including automobiles, smartphones, and intelligent virtual assistants such as Amazon's Alexa, Apple's Siri, and Microsoft's Cortana. Different voice recognition software solutions are available, including speaker-dependent and speaker-independent systems, discrete and continuous speech recognition, and natural language recognition.
The automotive sector has witnessed a rising demand for voice and speech recognition solutions fueled by the modernization of vehicles. These solutions reduce human errors and improve production efficiency, contributing to voice and speech recognition market growth. It was predicted that by 2020, 50% of searches would be conducted through voice search. Voice recognition systems enhance efficiency since an average person can speak about 120 words per minute while typing only allows for about 60 words in the same time frame.
The increasing number of data breaches and security attacks highlights the need for more reliable authentication methods, further driving the voice recognition system market. With the growing number of online transactions, particularly after events like demonetization in India, there is a demand for better authentication services, including voice and speech recognition. Major companies such as Google, Microsoft, and Apple have reported low error rates in voice
Industry Dynamics
Growth Drivers
Mobile voice recognition systems enable clinicians to convert their speech into detailed clinical descriptions, which are then recorded in the Electronic Health Record (EHR) system. This technology saves doctors time on documentation and allows them to make amendments remotely, freeing up more time for patient care. Nuance Communications, Inc. is one company that offers Dragon Medical Solutions, allowing seamless documentation across various platforms and devices.
Moreover, the voice recognition system reduces transcription costs as it understands clinical language, ensuring accurate documentation. Edward-Elmhurst Health, a healthcare system in the Chicago area, implemented Nuance's speech recognition solution with its Epic EHR, resulting in physicians saving up to two hours per shift. By collaborating with Nuance, Edward-Elmhurst Health, which consists of three hospitals and nearly 1,900 physicians, successfully addressed their clinical documentation and narrative challenges following a recent merger.
Report Segmentation
The market is primarily segmented based on component, interface, end-use, and region.
By Component

By Interface

By End-Use

By Region

Hardware

Software

Enhanced Devices

Automotive

BFSI

Consumer

Government

Retail

Healthcare

Home Security & Automation

Others

North America (U.S., Canada)

Europe (France, Germany, UK, Italy, Netherlands, Spain, Russia)

Asia Pacific (Japan, China, India, Malaysia, Indonesia, South Korea)

Latin America (Brazil, Mexico, Argentina)

Middle East & Africa (Saudi Arabia, UAE, Israel, South Africa)
To Understand the Scope of this Report: Speak to Analyst
The AI-Based segment is expected to witness significant growth during the forecast period
The Voice and Speech Recognition market has witnessed significant growth in recent years, driven by advancements in AI-based technologies. AI-powered voice and speech recognition solutions have revolutionized the way we interact with devices and technology. These systems can accurately interpret and respond to spoken commands, making them increasingly popular in various industries.
One of the key factors contributing to the growth of the voice and speech recognition market is the rising demand for intelligent virtual assistants. Companies like Amazon, Apple, and Google have developed virtual assistants such as Alexa, Siri, and Google Assistant, which utilize AI and voice recognition technology to provide users personalized assistance and perform tasks on their behalf.
Moreover, AI-based voice and speech recognition systems have extensive applications in the automotive industry. Voice-enabled vehicle controls allow drivers to operate various functions, such as navigation, entertainment, and communication, without manual interaction. This enhances convenience and safety while driving, leading to increased adoption of voice recognition technology in automobiles.
The healthcare sector has also embraced AI-based voice and speech recognition solutions for transcription and documentation purposes. These systems enable healthcare professionals to dictate patient information, clinical notes, and other relevant data, which is then transcribed and stored in electronic health records accurately and efficiently. This saves valuable time for healthcare providers and improves overall productivity.
Increasing voice and speech recognition technology integration with AI algorithms has enhanced accuracy and performance. AI algorithms can adapt and learn from user behavior, leading to improved voice recognition accuracy over time. This has further propelled the adoption of AI-based voice and speech recognition solutions across various industries.
North America is expected to grow significantly during the forecast period
North America holds a prominent position in the Voice and Speech Recognition market. The region has witnessed widespread adoption of voice recognition technology across various sectors, including automotive, healthcare, consumer electronics, and enterprise applications. The presence of key market players, technological advancements, and robust infrastructure has contributed to the market growth in North America.
In the automotive industry, voice recognition systems have become integral to vehicles, enabling drivers to control various functions hands-free, ensuring safer and more convenient driving experiences. Additionally, North America is home to major tech companies that have developed popular voice-enabled virtual assistants, driving consumers' demand for voice recognition technology.
Moreover, the healthcare sector in North America has embraced voice and speech recognition solutions for documentation purposes, streamlining workflows and improving efficiency for healthcare professionals. The region's strong focus on technological innovation and digital transformation has further boosted the adoption of voice recognition technology in enterprise applications.
North America's well-established infrastructure, favorable government initiatives, and high consumer spending power have created a conducive environment for the growth of the Voice and Speech Recognition market. The region is expected to continue grow the market, driven by advancements in AI, natural language processing, and the increasing demand for voice-enabled smart devices and virtual assistants.
Competitive Insight
Some of the major players operating in the global market include include Google, Inc., Baidu, Inc., Facebook, Inc., Amazon.com, Inc., Advanced Voice Recognition Systems, Inc., Apple, Inc., IBM Corporation, Microsoft Corporation, Brianasoft, VoiceBox Technologies, Fulcrum Biometrics, Neurotechnology, M2SYS Biometrics, Sensory Inc., Voice Base, Inc., Agnitio Corp., Auraya Systems, VoiceTrust and Nuance Communications.
Recent Developments
In September 2020, Baidu announced to have been able to raise a funding of over 2.9 billion across the company's smart voice units.

In December 2020, IBM announced to have launched latest innovative capabilities for Watson which is IBMs AI-powered search tool
Voice and Speech Recognition Market Report Scope
| | |
| --- | --- |
| Report Attributes | Details |
| Market size value in 2023 | USD 18,931.40 million |
| Revenue forecast in 2032 | USD 74,950.36 million |
| CAGR | 18.7% from 2023 - 2032 |
| Base year | 2022 |
| Historical data | 2019 - 2021 |
| Forecast period | 2023 - 2032 |
| Quantitative units | Revenue in USD million/billion and CAGR from 2023 to 2032 |
| Segments Covered | By Component, By Interface, By End-Use, By Region |
| Regional scope | North America, Europe, Asia Pacific, Latin America; Middle East & Africa |
| Key Companies | Google, Inc., Baidu, Inc., Facebook, Inc., Amazon.com, Inc., Advanced Voice Recognition Systems, Inc., Apple, Inc., IBM Corporation, Microsoft Corporation, Brianasoft, VoiceBox Technologies, Fulcrum Biometrics, Neurotechnology, M2SYS Biometrics, Sensory Inc., Voice Base, Inc., Agnitio Corp., Auraya Systems, VoiceTrust and Nuance Communications. |