The global vanilla extract market was valued at USD 4.84 billion in 2021 and is expected to grow at a CAGR of 3.55% during the forecast period.
Vanilla extract is utilized in a variety of goods, including food and beverages, as well as cosmetics and pharmaceuticals. Due to its perfume and flavor, it is typically utilized in food goods. Such extracts not only preserve the environment but also offer an endless supply of fresh active components. Over 200 chemical components make up real vanilla flavorer, giving it depth and richness. Mexican, Tahitian, and Madagascar Bourbon vanilla extracts are the three most popular types. Food is given a tasty, rich, and enduring vanilla taste by using vanilla flavover. Freshness, variety, and foreign flavors are the main draws for millennials. Millennials are typically drawn to unique and intriguing flavors.

Know more about this report: Request for sample pages
Vanilla extract is one of the most widely used natural ingredients in the cosmetics business, but it is also quite expensive. Natural vanilla extract's high price is a result of its labor-intensive and time-consuming production processes, as well as the traditional curing method's impact on the extraction of vanillin. For instance, a study by Lidia Delgado et al., published in March 2021, shows that making a natural vanilla flavor from green vanilla beans using a-glucosidase from Alicyclobacillus acidophilus may be a better alternative.
In addition, The leading causes of vanilla extract's high cost and widespread use are its high alcohol content, fragrant capabilities that may be utilized to create fragrances and smells, as well as a number of other advantageous traits like anti-inflammatory, antibacterial, and antioxidant qualities. The personal care industry's use of natural components from plants will give the market for vanilla extract a bright future in terms of growth.
The COVID-19 pandemic stopped many commercial vanilla-producing countries like Madagascar, Indonesia, China, Turkey, and Uganda despite rising demand and sales. Businesses encountered short-term operating challenges as a result of supply chain restrictions as a result of the COVID outbreak owing to barriers in the transportation system. Even while the market began to react after the first few months, it took longer for vanilla bean exports to return to normal levels.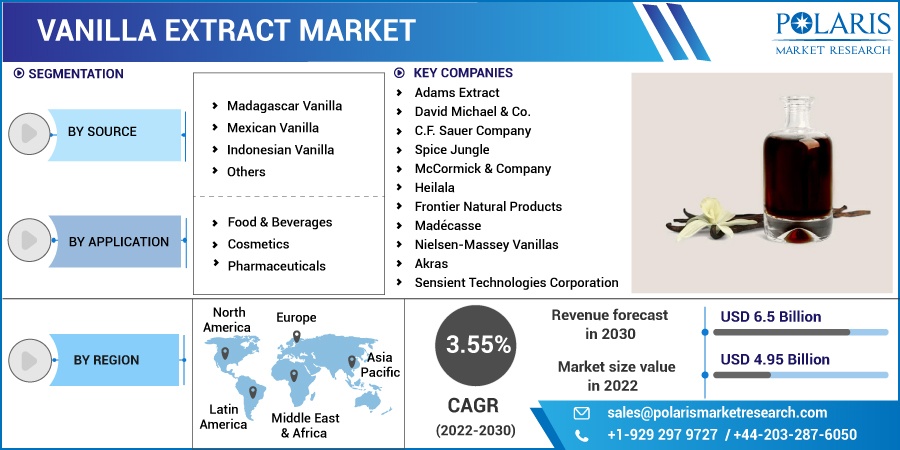 Know more about this report: Request for sample pages
Industry Dynamics
Growth Drivers
Vanilla is mostly used in the culinary business to make ice cream. Due to the fact that the fast food business is one of the biggest consumers of ice cream, the spread of fast food chains across the globe is causing an increase in ice cream consumption. The rise in per capita consumption in developing nations like India and China is driving improvements in consumer disposable income, living standards, and purchasing power.
Additionally, due to their high quality, provenance, delicate taste, unusual ingredients, and ethical origin, gourmet and premium ice cream have seen a marked increase in demand as consumers' knowledge of health issues has grown. Furthermore, the expansion of contemporary retail formats, including department stores, hypermarkets, supermarkets, and convenience stores as a result of rapid urbanization, has increased the amount of ice cream sold worldwide. These drivers of market expansion are anticipated to continue during the forecast period.
Report Segmentation
The market is primarily segmented based on source, application, and region.
By Source

By Application

By Region

Madagascar Vanilla
Mexican Vanilla
Indonesian Vanilla
Others

Food & Beverages
Cosmetics
Pharmaceuticals

North America (U.S., Canada)
Europe (France, Germany, UK, Italy, Netherlands, Spain, Russia)
Asia Pacific (Japan, China, India, Malaysia, Indonesia, South Korea)
Latin America (Brazil, Mexico, Argentina)
Middle East & Africa (Saudi Arabia, UAE, Israel, South Africa)
Know more about this report: Request for sample pages
Madagascar Vanilla was the industry's largest market segment in 2021
The Madagascar market category is anticipated to command a sizeable market share in 2021. Madagascar vanilla beans, which are grown there, are recognized as the highest-quality beans available in the spice industry. Most of the vanilla planted worldwide is produced in agroforestry systems in forests or on unused land in Madagascar. The best circumstances for growing vanilla plants are those with a lot of rainfall and rich soil.
For instance, according to the Rivonala Razafison article in December 2021, conservationist Andriamanana Rabearivelo introduced a new vanilla farming technique with promising early results. In order to help the rural community in eastern Madagascar near his farm, which is in dire straits, better its living standards and lessen its dependency on the region's natural woods, he wants to create new farming techniques.
Mexican vanilla is mostly in demand in North America and Latin America since tariffs on vanilla imported from the adjacent country are lower. Although Mexico was where vanilla was initially grown, it is currently the third-largest producer of vanilla beans. Compared to other varieties, Indonesia continues to be the world's second-largest producer of vanilla beans, and the Asia-Pacific region has a significant demand for it.
Food & Beverages segment will account for a higher share of the market.
The food and beverage industry will dominate the market in 2021. Vanilla beans and its extract are primarily used in the food industries in various ways. Its application can be viewed as flavoring and taste in confectionery, sauces, infant formula, dairy products, chocolate, biscuits, cookies, muffins, and cakes, as well as in coffee drinks, pastry, ice cream, pastries, and bakery goods.
For millennia, chocolate and vanilla have enhanced the delicious, nuanced sweetness of various dishes and beverages. Their popularity has lasted for thousands of years and is still rising today. Because it has such a diverse range of uses, the food and beverage category is anticipated to dominate the market and grow at the fastest rate.
The demand in Asia Pacific is expected to witness significant growth
The Asia-Pacific area will dominate the market in 2021 as a result of the region's increasing output of vanilla beans, particularly in China. Asia Pacific currently controls a sizeable portion of the world market for vanilla extract as a result of the region's expanding food, beverage, and pharmaceutical production industries.
Due to their enormous populations, China and India eat more food and drink than any other countries combined. The food and beverage business, therefore, has a sizable demand for various types of vanilla extract. As a result, it can be challenging for producers and suppliers of consumer goods to come up with profitable products while also adjusting to changing consumer demands and expectations. Many consumers enjoy utilizing real vanilla flavorer in their products, and "Takasago's 2021 Vanilla Study" claims that this precious vanilla should be sourced ethically.
There is a high demand for a vanilla extract from manufacturing facilities because India is a hub for pharmaceutical manufacturing and exports a substantial amount of its output to the international market. Over the predicted time frame, such factors are expected to keep the Asia Pacific region's dominant market position.
Competitive Insight
Some of the major players operating in the global market include Adams Extract, David Michael & Co., C.F. Sauer Company, Spice Jungle, McCormick & Company, Heilala, Frontier Natural Products, Madécasse, Nielsen-Massey Vanillas, Akras, Sensient Technologies Corporation, Watkins Incorporated, Symrise, Eurovanille, Firmenich, Symrise, Venui Vanilla, Blue Cattle Truck, and Vanuatu.
Recent Developments
In the Western Meadows Industrial Park, Vanilla Bean Kings expanded in August 2021 by constructing a new facility for its activities. The company will be able to grow in Hartford and Boston, USA, thanks to this.
Kilimanjaro Vanilla, a sustainable vanilla extract, was introduced in January 2021 by Blue Pacific Flavours, a U.S.-based firm. With the introduction of this new product, the company has satiated market demand for natural, clean-label, and sustainably produced goods.
Vanilla Extract Market Report Scope
| | |
| --- | --- |
| Report Attributes | Details |
| Market size value in 2022 | USD 4.95 billion |
| Revenue forecast in 2030 | USD 6.5 billion |
| CAGR | 3.55% from 2022 - 2030 |
| Base year | 2021 |
| Historical data | 2018 - 2020 |
| Forecast period | 2022 - 2030 |
| Quantitative units | Revenue in USD billion and CAGR from 2022 to 2030 |
| Segments Covered | By Product, By Portability, By Method, By Region |
| Regional scope | North America, Europe, Asia Pacific, Latin America; Middle East & Africa |
| Key Companies | Adams Extract, David Michael & Co., C.F. Sauer Company, Spice Jungle, McCormick & Company, Heilala, Frontier Natural Products, Madécasse, Nielsen-Massey Vanillas, Akras, Sensient Technologies Corporation, Watkins Incorporated, Symrise, Eurovanille, Firmenich, Symrise, Lochhead Manufacturing Company, Venui Vanilla, Synthite Industries, Blue Cattle Truck, and Vanuatu. |