The size of the global urinalysis market was estimated at USD 4.0 billion in 2022 and is anticipated to increase at a CAGR of 7.19% from 2023 to 2032. Due to factors like the increased prevalence of disorders like diabetes, renal disease, and urinary tract infections (UTIs), the market for urine tests is expanding. The increased use of automated and sophisticated In the United States, around 34.2 million people aged 18 and older had diabetes, according to the National Diabetes Statistical Report, 2020. Due to elevated blood sugar and blood pressure, about one-third of persons with diabetes also have kidney-related comorbidities. Clinicians can use a urinalysis as an educational and non-invasive diagnostic technique to identify kidney disease. As a result, it is projected that the increased incidence of renal illnesses will raise demand for items used in urinalysis, leading to market expansion.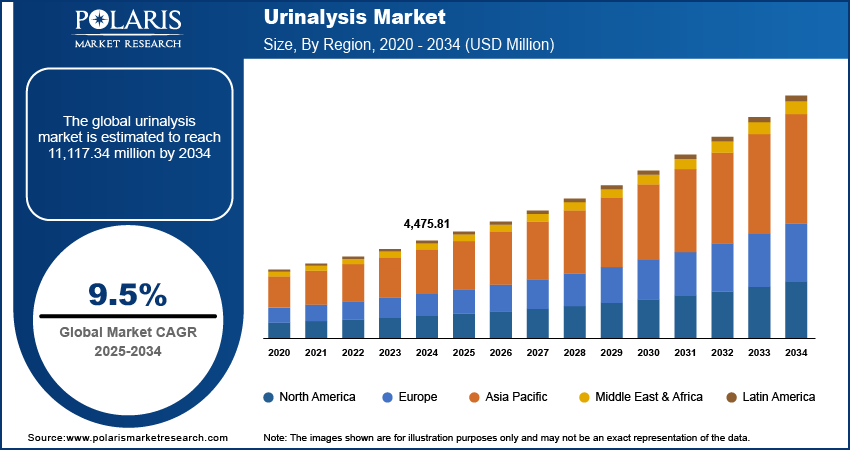 Know more about this report: Request for sample pages
Key competitors in the urinalysis market can anticipated prospective growth possibilities in developing nations like South Korea, Brazil, India, and Mexico. The burden of chronic diseases is growing, the healthcare system has improved, there are many patients, and people have more disposable income. For instance, India saw a rise in healthcare spending of USD 507.97 million in 2021 compared to USD 232.73 million in 2020.
Governments also conduct screening programmes for the early diagnosis of illnesses including renal and urinary problems. For instance, under school urinary analysis programmes, approximately 12,497 kids from primary and secondary schools in Pingyang, Cangnan, and Yongjia in Wenzhou, China, were checked for urinalysis. The detection rate for the anomalies in urine was 36% in elementary school children and 95% in secondary school students. The demand for urine testing is anticipated to increase as the number of these programmes increases.
Due to the low hospitalisation rate and dropping sales of urine analysis tests during the early stages of the COVID-19 pandemic, the market for urinalysis was only little affected. Government-imposed nationwide curfews meant fewer individuals had access to diagnostic and medical services, which decreased demand for diagnostics items. Yet, when nations loosened their travel restrictions, testing numbers are reported to be on the rise again. Market expansion is predicted to be fueled by the increased significance of urinalysis in the detection of post-COVID-19 disorders including acute kidney & tubular injuries. The Columbia University study (2021) found that urinary NGAL and kidney injury marker-1 (KIM-1) were two sensitive biomarkers for identifying patients with tubular and kidney injury.
In 2021, the consumables market share was 88.0%, gained the highest share. Its dominance can be ascribed to the clinical and hospital laboratories' rising needs and regular purchasing of reagents and dipsticks. High-quality consumables for urinalysis testing are offered by numerous top suppliers, including Siemens Healthcare GmBH, Abbott, and Roche. This is anticipated to support the segment's expansion. For instance, Multistix 10 SG Reagent Strips are provided by Siemens Healthcare GmBH for the diagnosis of kidney, diabetes, and UTI.
Globally, Urinalysis Market applications are considerably expanding. Campaigns to educate the public about infectious disease signs and prevention techniques are crucial for containing disease epidemics. As a result, there is a significant demand for Urinalysis Markets due to greater patient awareness. The development of the Urinalysis Market market is also being fueled by the approval of new products and rising earnings as a result of the sales of COVID-19 quick tests.
Market expansion is anticipated to be fueled by an increase in approvals and the introduction of new urinalysis instruments. To track the precision urinalysis test procedure in clinical labs, for instance, Bio-Rad Laboratories, Inc. launched the quantify Advanced Control equipment in January 2022. The effectiveness of the laboratory's statistical process control and future product demand were both improved by this equipment.
Industry Dynamics
Growth Drivers
With the number of COVID-19 cases increasing globally, there will be a greater demand for quick diagnosis for treatment, and during the projected period, data gathering is anticipated to boost global market expansion.
In order to identify COVID-19 antibodies, Urinalysis Market tests are advantageous since they are inexpensive, simple to interpret, and quick to diagnose (within 15 minutes). All the leading players in the Urinalysis Market industry launched COVID-19 tests in the previous year since these tests can also be produced affordably.
Point-of-care testing is becoming more and more popular as a result of increasing chronic disease prevalence, technology developments, and public awareness. Large corporations are concentrating on creating devices with high sensitivity and performance for applications including COVID-19 testing, cardiac marker testing, and pregnancy testing. Urinalysis Market test results that were inconsistent.
Report Segmentation
The market is primarily segmented based on product, application and region.
By Product

By Application

By Region

Disease Screening.

Fertility and Pregnancy Testing.

North America (U.S., Canada)

Europe (France, Germany, UK, Italy, Netherlands, Spain, Russia)

Asia Pacific (Japan, China, India, Malaysia, Indonesia. South Korea)

Latin America (Brazil, Mexico, Argentina)

Middle East & Africa (Saudi Arabia, UAE, Israel, South Africa)
Know more about this report: Request for sample pages
In 2022, the urinary tract dominated the market, accounting for the largest market share.
Due to the increasing prevalence of UTIs globally, the urinary tract infection segment dominated the market. The National Library of Medicine estimates that 150 million people worldwide experience urinary tract infections each year. Throughout the projection period, the diabetes category is anticipated to develop at a profitable CAGR. A urinalysis is a crucial screening procedure to detect diabetes. The CDC projects that 37.3 million Americans will have diabetes by the year 2022. Approximately 28.7 million people have a diagnosis, whereas 8.5 million remain undiagnosed. Thus, the growing number of diabetic patients drives the market.
The demand in North America is expected to witness significant growth.
In 2022, North America dominated the market. Its dominance might be due to strategic actions done by important participants, like licencing deals to increase business footprint. For instance, Sysmex and Siemens Healthcare GmbH entered into an exclusive licencing arrangement in 2020 to distribute and support the automated urine analyzer CLINITEK Novus to hospital and reference laboratories in North America. The market will grow as a result of this deal.
Competitive Insight
Some of the major players operating in the global market include Abbott; Sysmex Corporation; ACON Laboratories, Inc.; Bio-Rad Laboratories, Inc.; ARKRAY Inc.; F. Hoffmann-La Roche Ltd.; Shenzhen Mindray Bio-Medical Electronics Co., Ltd.; Siemens Healthcare GmbH; Quidel Corporation.
Recent Developments
In December 2021, KDx Diagnostics, Inc., and Lister Hospital launched KDx's URO17 non-invasive urine test for diagnosis of bladder cancer in UK. This launch is expected to strengthen its position in the market.
Urinalysis Market Report Scope
| | |
| --- | --- |
| Report Attributes | Details |
| Market size value in 2023 | USD 4.20 billion |
| Revenue forecast in 2032 | USD 7.85 billion |
| CAGR | 7.19% from 2023 - 2032 |
| Base year | 2022 |
| Historical data | 2019 - 2021 |
| Forecast period | 2023 – 2032 |
| Quantitative units | Revenue in USD billion and CAGR from 2023 to 2032 |
| Segments covered | By Application, By Product, By Region |
| Regional scope | North America, Europe, Asia Pacific, Latin America; Middle East & Africa |
| Key companies | Abbott; Sysmex Corporation; ACON Laboratories, Inc.; Bio-Rad Laboratories, Inc.; ARKRAY Inc.; F. Hoffmann-La Roche Ltd.; Shenzhen Mindray Bio-Medical Electronics Co., Ltd.; Siemens Healthcare GmbH; Quidel Corporation |