The global UHT processing market was valued at USD 3.42 billion in 2022 and is expected to grow at a CAGR of 6.6% during the forecast period. The growing demand for beverage goods with long shelf lives is the key factor driving the growth of the UHT processing market globally. Since these items underwent UHT processing, the product's nutritious value was maintained, especially in the case of products made from dairy.
Know more about this report: Request for sample pages
Furthermore, the potential of UHT processed products to be held at room temperature for a longer period without the requirement for refrigeration allows manufacturers to preserve the products for a longer period, saving logistic and storage costs because these products do not require low-temperature facilities to be stored. This also allows such products to be transported over long distances because they can survive any atmospheric temperature, lowering the expense of refrigeration and benefiting underdeveloped countries especially when refrigeration infrastructure or electrical supply is lacking.
The development of new dairy food items to meet customer preferences and global demand has also increased exponentially as a result of rigorous food research. The introduction of unknown heat-stable microbial spores, heat transfer characteristics or component thermal stabilities is a risk with many of the new samples. Due to the need for new processing conditions or various UHT treatments, while maintaining the advantages of high thermal treatment, this increased diversity poses new hurdles for the producers.
Due to the increased demand for healthy foods and beverages, the COVID-19 pandemic will benefit the UHT processing business. Consumers are worried about the kinds of food and drinks they eat, as well as how those choices will affect their health and the environment. Population growth will result in a greater demand for food goods, which will necessitate the use of foods with longer shelf lives. During the anticipated term, this will provide entry into the worldwide ultra-high temperature processing market for new firms in developing nations.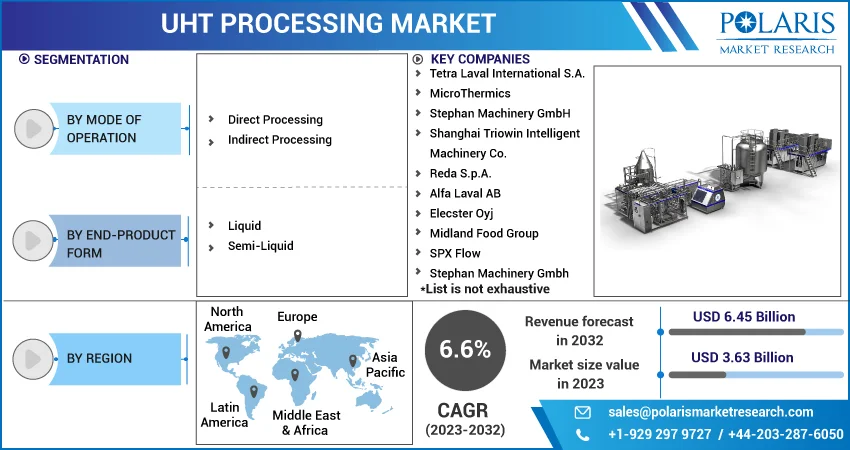 Know more about this report: Request for sample pages
Industry Dynamics
Growth Drivers
Growing demand for dairy products, low storage, and logistics costs, minimal variation in product nutritional content, and changing customer preferences are some of the reasons predicted to drive the UHT processing market during the forecast period.
The demand for UHT processed food is anticipated to be significant in tropical nations throughout the projected period since the shelf life of food there is shortened due to climate factors. Market expansion may be hampered by the more expensive equipment and the requirement for prompt maintenance. Due to their lower cost, manufacturers choose pasteurizer units over UHT devices. The market for ultra-high temperature processing may not grow as quickly if this alternative is combined with greater capital expenditure.
Report Segmentation
The market is primarily segmented based on mode of operation, end-product form, and region.
By Mode of Operation

By End-Product Form

By Region

Direct Processing

Indirect Processing

North America (U.S., Canada)

Europe (France, Germany, UK, Italy, Netherlands, Spain, Russia)

Asia Pacific (Japan, China, India, Malaysia, Indonesia, South Korea)

Latin America (Brazil, Mexico, Argentina)

Middle East & Africa (Saudi Arabia, UAE, Israel, South Africa)
Know more about this report: Request for sample pages
The indirect processing segment will account for a higher share of the market.
Indirect processing has a low heat transfer rate and a higher rate of deposition over the surface that requires frequent cleaning, but less processing and operational cost (fewer pumps and accessories, regeneration of energy) and require less controls. Due to its low cost and flexibility to be deployed in small places, indirect processing segment dominated the market share.
To improve their competitiveness, major ultra-high temperature (UHT) industry players are concentrating on creating technology solutions for this environment. For instance, the Tetra Pak UHT unit is a device that offers dairy products very high-temperature treatment while operating more intelligently and smoothly. The product should be stored at room temperature, an indirect heating method using a tubular heat exchanger is used in the aseptic unit.
The Liquid segment has the highest revenue in 2022
The liquid sector is expected to expand at the fastest CAGR in 2022 and grow significantly in the following years. This is because liquid foods like dairy beverages, milk, and milk substitutes are frequently sterilized via UHT processing. This element has therefore contributed more to UHT processing market growth.
Since liquid drinks boost energy levels, the expansion is mostly driven by an increase in consumer awareness of health and wellness as well as a rising desire for clean labels and functionality.
According to an Alisson Borges de Souza et al. article published in 2022, consumer demand for UHT protein-based beverages is increasing across the world. The dairy industries continue to face a significant problem in overcoming these products' potential low stability during processing & storage. The potential of pre-heating treatment combined with homogenization, with the addition of corn fiber to reduce the sedimentation level of the UHT dairy beverages containing around 10% w/w of the protein & an equivalent percentage of caseins to whey proteins was assessed in this context.
The demand in Asia Pacific is expected to witness significant growth
Asia-Pacific is expected to grow the fastest during the forecast period, with the greatest CAGR. Due to the country's rising milk production and consumption, the Asia-Pacific region, particularly India, holds the greatest share of the UHT processing market.
Asia Pacific is one of the top three regions for the consumption of UHT liquid milk. However, processing and preservation before distribution and sale are the major problems in India, and the price of completed commodities is increased by the pricy methods needed to treat milk or other liquids. The manufacture of UHT milk in India depends on pricey aseptic packaging machinery.
For instance, GEA India has received a contract to supply Creamy Foods in Uttar Pradesh with a whole ultra-high temperature (UHT) production line in 2021. For GEA, it creates a brand-new market in the area of UHT technology. The dairy has previously received a variety of dairy processing equipment from GEA. The fact that GEA has expertise with similar freestanding UHT operations throughout Asia Pacific was a major consideration in Creamy Foods' selection of GEA.
Competitive Insight
Some of the major players operating in the global market include Tetra Laval International., MicroThermics, Stephan Machinery, Shanghai Triowin Intelligent Machinery, Reda S.p.A., Alfa Laval AB, Elecster Oyj, Midland Food Group, SPX Flow, Stephan Machinery, Keventer Group, and Wilmar International
Recent Developments
In August 2022, Smith Foods purchased the 2 extended shelf-life facilities from Dairy Farmers of America. A variety of dairy, & shake mixes with longer shelf lives are produced at the processing factories in Richmond, for both retail & food service clients.
UHT processing Market Report Scope
| | |
| --- | --- |
| Report Attributes | Details |
| Market size value in 2023 | USD 3.63 billion |
| Revenue forecast in 2032 | USD 6.45 billion |
| CAGR | 6.6% from 2023 – 2032 |
| Base year | 2022 |
| Historical data | 2019 – 2021 |
| Forecast period | 2023 - 2032 |
| Quantitative units | Revenue in USD billion and CAGR from 2023 to 2032 |
| Segments Covered | By Mode of Operation, By End-Product Form, By Application, By Region |
| Regional scope | North America, Europe, Asia Pacific, Latin America, Middle East & Africa |
| Key Companies | Tetra Laval International S.A., MicroThermics, Stephan Machinery GmbH, Shanghai Triowin Intelligent Machinery Co., Reda S.p.A., Alfa Laval AB, Elecster Oyj, Midland Food Group, SPX Flow, Stephan Machinery Gmbh, Tetra Laval International S.A., The Keventer Group, Wilmar International, and Others |