The global terminal block market was valued at USD 3.76 billion in 2021 and is expected to grow at a CAGR of 5.77 % during the forecast period.
The market is being driven forward by the rise in the use of PCB terminal blocks in other industries, as well as the increased use of terminal blocks in the telecom sector. The necessity for micro-miniature terminal blocks is also predicted to increase due to space limitations in various pieces of equipment, along with increased developments in connecting technologies. For instance, in 2022, Weidmüller launched the revolutionary SNAP IN technology, which not only satisfies all standards but is also exceedingly simple to use and is included in the new Klippon Connect terminal blocks.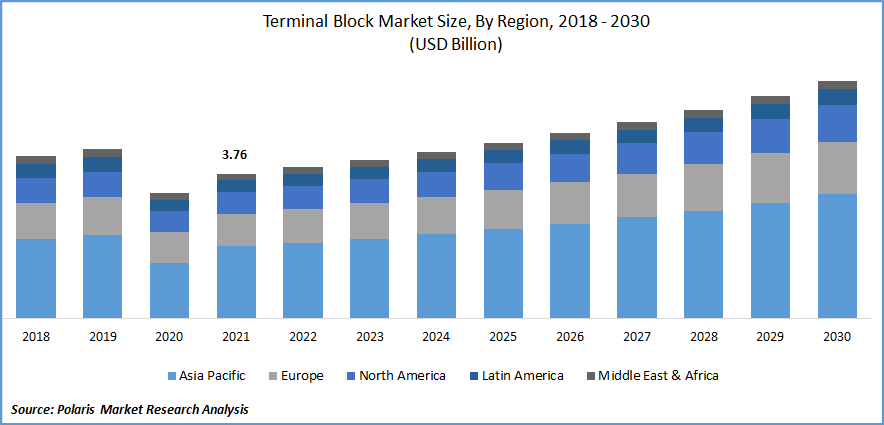 Know more about this report: Request for sample pages
In control panels and dashboards for automobiles, terminal blocks are frequently employed. Comparatively speaking, they frequently manage larger power levels than other connector types. A terminal block serves as the focal point that connects ground and power. They are also called connection terminals or terminal connectors or strips. Electric vehicles don't frequently employ this style of connector. On the other hand, busbars carry high current loads, like those that might be present in systems utilizing EV battery packs.
Industrial automation was suspended during the epidemic, along with all other processes. It limited the market's ability to grow for connectors. Following the lifting of the lockdown limitations in 2021, manufacturing businesses were able to resume production in their facilities. Due to COVID-19 compelling clients to stick to budgets or postpone investing in IT/IoT, several IoT suppliers have noticed a decline in revenues.
The telecommunications, information technology, and automobile sectors were just a few of the companies devastated by the outbreak. Due to the halting of activities in various areas, the business climate in the first half of 2020 weakened. The move to a work-from-home strategy, however, was accelerated by the COVID-19 outbreak, which increased demand for consumer electronics that rely on PCBs.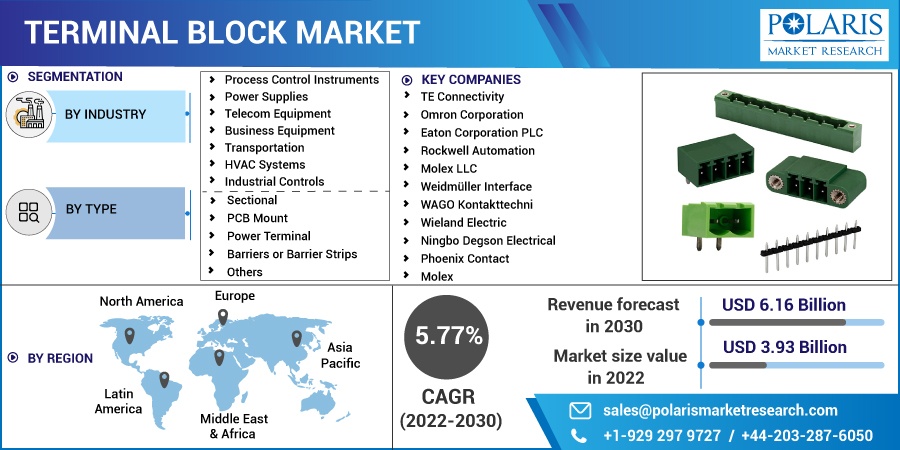 Know more about this report: Request for sample pages
Industry Dynamics
Growth Drivers
The PCB market is expanding as a result of the rising demand for PCB terminal blocks, which is one of the key reasons propelling the market. Different technological developments in the connections for the terminal strip have created the potential for the market to expand. The use of multifunctional, multipurpose, finger-safe, intelligent, and terminal blocks has seen an increase in demand in the telecommunications industry.
Due to factors including rising urbanization, industrialization, and demand for micro-miniaturized terminal blocks, there will be a greater variety of prospects for the growth of the market in the upcoming years.
The new line of PCB blocks from WAGO with the push-in clamp connection technology for the power electronics was introduced in May 2020. The global installed base of smart home devices, headed by smart speakers, is predicted to approach 2 billion units by 2022, up from 195 million shipments of smart speakers in 2021, according to a report by Omdia.
The difficulty manufacturers would have in creating terminal blocks for surface mount technology is a factor that restrains market expansion. These reasons are expected to increase the growth of the market size in the future.
Report Segmentation
The market is primarily segmented based on industry, type, and region.
By Industry

By Type

By Region

Process Control Instruments
Power Supplies
Telecom Equipment
Business Equipment
Transportation
HVAC Systems
Industrial Controls
Others

Sectional
PCB Mount
Power Terminal
Barriers or Barrier Strips
Others

North America (U.S., Canada)
Europe (France, Germany, UK, Italy, Netherlands, Spain, Russia)
Asia Pacific (Japan, China, India, Malaysia, Indonesia, South Korea)
Latin America (Brazil, Mexico, Argentina)
Middle East & Africa (Saudi Arabia, UAE, Israel, South Africa)
Know more about this report: Request for sample pages
Industrial Controls segment will account for a higher share of the market in 2021
The market's revenue was significantly dominated in 2021 by the industrial controls segment. These blocks are frequently used in industrial machinery like machine controllers, switchgear, distribution panels, and measurement devices. Because industrial controls, which include distributed robust control systems, supervisory systems, and control configurations like prior configured logic controllers, are also used in industrial production.
For instance, the government of India and the ADB agreed to a USD 2 million Project Readiness Financing loan in April 2022 to fund an urban development project in Nagaland. According to the United Nations Industrial Development Organization's Industrial Development Report 2022, Asian industrial sectors are investing in their future growth.
Increased digitalization adoption across all industries in South and Central America has promoted the deployment of automated equipment for better accuracy and productivity. As a result, the swift adoption of robotics, the growing use of automation in a range of industries, and the increased focus on worker safety all help to fuel the expansion of the market in South and Central America.
Sectional is the industry's largest market segment.
In 2021, sectional terminal blocks were expected to grow at the quickest rate in the market. These developments led to the widespread usage of NEMA and the IEC DIN sectional blocks in various applications. The development of sophisticated sectional terminal strips with advanced characteristics due to technical improvement, the rising need for improved technologies in consumer electronics and power distribution blocks to increase performance, and other factors have contributed to this expansion.
The extensive employment of these blocks in a variety of end-use applications is also a result of the growing adoption of downstream insulation displacement connections as well as government mandates for environmental protection. To ensure secure and dependable transfer of power, signals, and data in industrial environments, Weidmuller Interface introduced RoCkStar ModuPlug sectional terminal block modules with push-in connection technology in January 2021. The industry for sectional blocks is expected to grow more quickly as a result of these factors in the future.
The demand in Asia Pacific is expected to witness significant growth
The highest revenue share was attributed to Asia Pacific. Over the last decade, Asia Pacific has seen an increase in the use of terminal connectors. A four-year incentive of 4% to 2%/1% on additional net sales of products manufactured in India and targeted at that sector will be given to eligible enterprises under India's production-linked incentive schemes for IT hardware. As an illustration, on April 14, 2022, South Korea and Israel revealed a new robotics technology collaboration project in which both countries will invest USD 5.3 million over two to four years. The government's initiatives to enhance robotics tech operations will provide terminal block market players with sizable potential in the ensuing years.
This would increase demand for terminal connectors in Asia Pacific in the upcoming years when next-generation digital technology is implemented to modernize electricity grids. The principal players in the Asia Pacific region are Klemsan, Contact, Rockwell, and TE Connectivity. In the upcoming years, the market will increase due to rising strategic efforts and investments in new product developments.
Furthermore, due to growing environmental concerns, strict environmental legislation, and rising consumer demand for automated and intelligent consumer electronics, there are numerous opportunities for the use of terminal blocks across a variety of end-use sectors. The new terminal block series BTBH was launched by the Japanese company IDEC Corporation in August 2021 to provide improved efficiency. Due to these factors, the outlook for the Terminal Block business in APAC markets is anticipated to alter.
Competitive Insight
Some of the major players operating in the global market include TE Connectivity, Omron Corporation, Eaton Corporation PLC, Rockwell Automation, Molex, LLC, Weidmüller Interface, WAGO Kontakttechni, Wieland Electric, Ningbo Degson Electrical, Phoenix Contact and Molex.
Recent Developments
In April 2022, Weidmuller teamed up with Shelley Automation, a preeminent provider of engineering services, process control, and pneumatics. Weidmuller's full portfolio is anticipated to be sold by Shelley Automation through this agreement in the Ontario region.
In July 2022, TE introduced the new "SNACompact terminal blocks" developed by ENTRELEC. It offers a modest build with reliable performance to simplify the panel-building process for the installers.
Terminal Block Market Report Scope
| | |
| --- | --- |
| Report Attributes | Details |
| Market size value in 2022 | USD 3.93 billion |
| Revenue forecast in 2030 | USD 6.16 billion |
| CAGR | 5.77% from 2022 – 2030 |
| Base year | 2021 |
| Historical data | 2018 – 2020 |
| Forecast period | 2022 – 2030 |
| Quantitative units | Revenue in USD billion and CAGR from 2022 to 2030 |
| Segments Covered | By Industry, By Type, By Region |
| Regional scope | North America, Europe, Asia Pacific, Latin America; Middle East & Africa |
| Key Companies | TE Connectivity, Omron Corporation, Eaton Corporation PLC, Rockwell Automation, Molex, LLC, Weidmüller Interface, WAGO Kontakttechni, Wieland Electric, Ningbo Degson Electrical, Phoenix Contact and Molex. |