The global squalene market was valued at USD 131.82 million in 2022 and is expected to grow at a CAGR of 10.5% during the forecast period.
The rising use of natural substances in personal care and cosmetics is likely to be the primary driver of demand. Squalene is transparent, has low odor, and has moisturizing characteristics, making it one of the world's most popular emollients. It is commonly utilized in personal care treatments due to its lack of toxicity. Squalene oil is also used in the consumer market to combat free radicals, which damage the skin and accelerate the aging process. Another factor driving the market growth is the increasing use of squalene in various vaccinations. It is an essential component of vaccines, especially the COVID-19 vaccines since it is very efficient at enhancing immune response.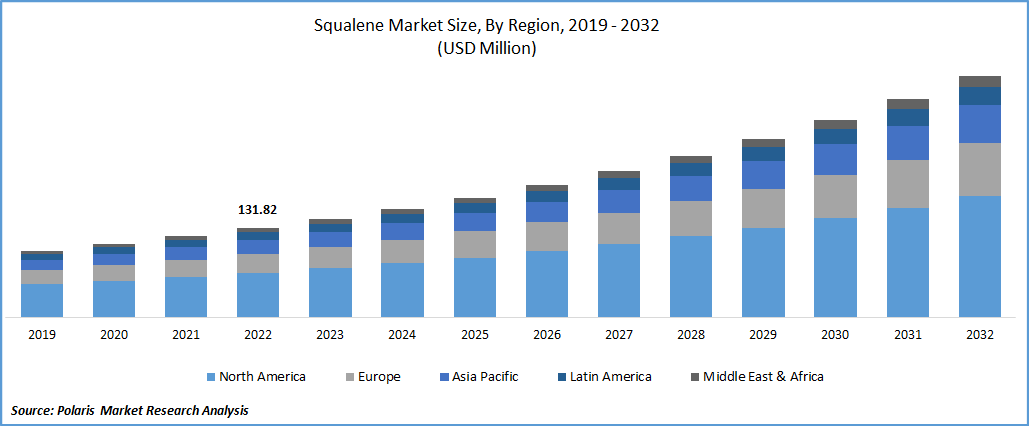 Know more about this report: Request for sample pages
The market is likely to be driven by increased R&D activity in the oncology segment, as well as increased expenditure on cancer drugs. Experiment after experiment has proven that squalene-supplemented diets improve immune system function. Plant-based squalene's primary applications, such as anti-aging and moisturizing creams and emollients, are expected to grow in revenue. Lotions, ointments, creams, and lipsticks are widely sought after for their anti-inflammatory and antioxidant qualities.
Shark liver oil and olive oil are the primary sources of squalene. Because of the restrictions imposed on marine animal poaching under the Marine Mammal Protection Act Policies (MMPA), which precludes the take of marine mammals, such as shooting animals, acquiring, or killing them in the waters and by citizens of the United States on the high seas, olive oil is a major origin of harvesting in the United States. The act also makes it illegal to bring into the nation marine mammals and anything produced from marine mammals without the proper permission. In the next years, this might lead to an increase in the usage of plant-based or synthetically generated squalene over animal-based squalene in the United States.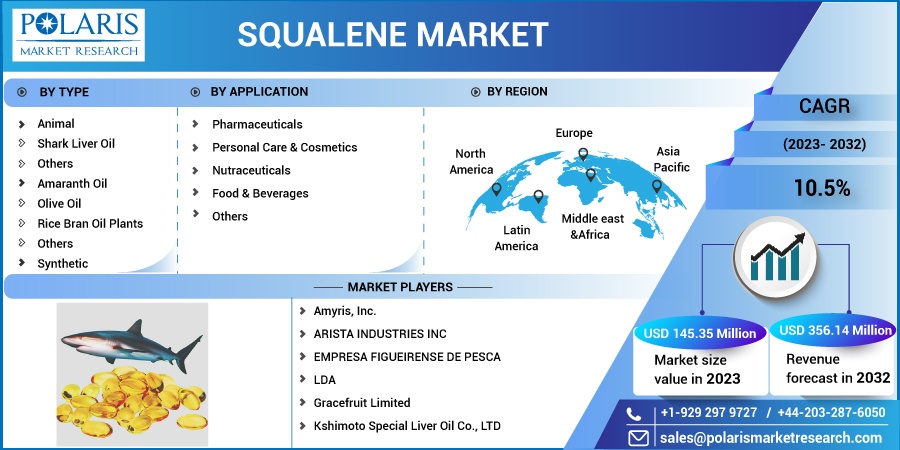 Know more about this report: Request for sample pages
Industry Dynamics
Growth Drivers
In mammals, squalene is an important precursor molecule in the manufacture of vitamins, cholesterol, and steroid hormones. Squalene supplementation has demonstrated an encouraging response in humans, improving overall immunity and normalizing plasma sterol levels due to its ability to lower cholesterol levels. Many nutraceutical firms use squalene and its derivatives in the production of nutraceutical goods. As a result, squalene is becoming more popular in nutraceuticals.
SynShark is also developing a method for producing squalene from tobacco crops. Tobacco leaves may be used to produce squalene. The firm manufactures and distributes high-quality terpene oils for the medicinal and cosmetics sectors, such as tobacco squalene. Tobacco squalene's economic viability would entice other firms to enter the market. This is likely to provide new price and supply options to the market, benefiting end-use industries and generating a growth potential for the squalene market. The rising cosmetics and pharmaceutical industries, as well as the acknowledgment of squalene's favorable characteristics for human health, expanded improvement and exploration in the cancer segment, and higher expenditure on oncology medications, are driving market expansion.
Report Segmentation
The market is primarily segmented based on type, application, and region.
By Type

By Application

By Region

Animal
Amaranth Oil

Olive Oil
Rice Bran Oil Plants
Others

Synthetic

Pharmaceuticals
Personal Care & Cosmetics
Nutraceuticals
Food & Beverages
Others

North America (U.S., Canada)
Europe (France, Germany, UK, Italy, Netherlands, Spain, Russia)
Asia Pacific (Japan, China, India, Malaysia, Indonesia. South Korea)
Latin America (Brazil, Mexico, Argentina)
Middle East & Africa (Saudi Arabia, UAE, Israel, South Africa)
Know more about this report: Request for sample pages
The plant segment is expected to dominate during the forecast period
In 2022, the plant's category garnered the largest revenue share. This is primarily due to the dwindling shark population, strict regulations from animal conservation groups, and the availability of plant-based sources such as amaranth, rice bran & olives. Moreover, advancements in the extraction process also favored the segment's growth prospects. Also, it takes roughly 3000 sharks to extract one ton of squalene, overfishing of sharks has resulted in a significant reduction in such species, as more than 2 Mn sea sharks are killed for the varied beauty & cosmetic industry.
Personal care accounted for a major market application in 2022
In 2022, the personal care & aesthetics category is expected to hold the largest market worldwide. Squalene's use in several cosmetic products for skin & hair care has led to growth in the market segment. Due to its outstanding characteristics & shark extinction, multinational cosmetic corporations Unilever and Loreal have already begun to move from fish kidneys and liver oil-based to plants that produce squalene for usage in their products for personal care and cosmetics.
During the projection period, the market in this sector is likely to remain dominant. The pharmaceutical industry and food end-use sectors in the region are growing at a rapid pace. Due to the detrimental consequences of fossil fuel sources, increased customer need for natural components, particularly plant-derived compounds, for personal care and cosmetic goods are most likely fueling the expansion of squalene.
Europe is expected to witness the largest revenue market share in 2022
Due to the significant presence of important cosmetic product makers and the region's high demand for premium beauty goods, Europe garnered the largest revenue share. The region also has most of the prominent players, such as Beiersdorf and Loreal, accounting for a significant market share.
The Asia-Pacific area is predicted to be the fastest-growing industry for personal care and nutrition. Squalene's immunity system boosting, and UV protection characteristics are expected to fuel market expansion. China is a significant cosmetics consumer. In 2020, the retail trade income of cosmetics in China exceeded USD 4 billion. It reached around USD 3.8 Bn, in March 2021, a fall of almost 11%, due to the COVID-19 effect, which caused a reduction in the need for cosmetics in the region.
The increase in personal grooming awareness has led to a major growth in demand in the cosmetics industry, where squalene is commonly used in creams and lotions to improve spreadability & absorption. Furthermore, the growing youthful population in both established and developing nations has risen the use of cosmetic products, potentially increasing sales of squalene for promoting absorption in creams and lotions. These reasons drive the cosmetics industry forward.
Competitive Insight
The worldwide market is concentrated, with a few large-sized companies and a few minor players in the industry. Some of the major players operating in the global market include Amyris, ARISTA INDUSTRIES, EMPRESA FIGUEIRENSE, LDA, Gracefruit Limited, Kshimoto Special Liver, New Zealand Green, NUCELIS, Otto Chemie., Seadragon Marine Oils, and SOPHIM IBERIA.
Recent Developments
In 2021, Rose Inc., a clean color cosmetics brand, was developed by Amyris, Inc. The non-comedogenic formulae of the goods are created using patented bioengineered and sustainably derived components such as squalene and Hemi-squalene.
In 2021, Terasana Clinical, a clean skincare brand, was established by Amyris. This brand's goods have a proprietary formulation that blends two Amyris, sustainably produced substances, Squalene & cannabigerol.
In 2020, Amyris said that it will seek a license to sell plant-based squalene samples to the pharmaceutical businesses involved in the production of adjuvants for the vaccines such as influenza & COVID-19 vaccines, as well as to begin the production of alternative squalene. We anticipate improving our squalene business by commercializing & producing this squalene by the 4th
Squalene Market Report Scope
| | |
| --- | --- |
| Report Attributes | Details |
| Market size value in 2023 | USD 145.35 million |
| Revenue forecast in 2032 | USD 356.14 million |
| CAGR | 10.5% from 2023 - 2032 |
| Base year | 2022 |
| Historical data | 2019 - 2021 |
| Forecast period | 2023 - 2032 |
| Quantitative units | Revenue in USD million and CAGR from 2023 to 2032 |
| Segments covered | By Type, Application, and Region |
| Regional scope | North America, Europe, Asia Pacific, Latin America; Middle East & Africa |
| Key companies | Amyris, Inc., ARISTA INDUSTRIES INC, EMPRESA FIGUEIRENSE DE PESCA, LDA, Gracefruit Limited, Kshimoto Special Liver Oil Co., LTD |