The global specialty food ingredients market is estimated to grow at a CAGR of 6.8% from 2018 to 2026. Specialty food ingredients constitute an extensive and safe selection of organic and conventional food and beverage ingredients. Food contains these components in micro quantity levels or is inducted through or during the food processing processes to attain the required range. These products are added to the essential level in accordance to the function they are meant to serve in the food & beverage products. Typical functions of these products include preservation of the food stuff, to act as an emulsifying agent, enhance texture, color & odor. Moreover, addition of these products also helps during processing of food thus enhancing the nutritional level. Hence these are some of the nutritional aspects that these specialty food components add up to food and beverages.
The rising concern for the nutritional level of processed food products mainly among the upper and the middle class population in the developed as well as the developing countries have significantly driven demand for specialty ingredients. Presence of requisite and proportionate level of these components in food is vital for the food products to perfectly maintain its functionality for which they are consumed. Hence, food processors have been very keen in apposite utilization of specialty ingredients while offering an exceptional end product.
The increasing complexity in consumer demand for high quality yet moderately priced food products have forced the food industry participants to develop food items with the optimal nutrition level yet without any negative concern for health. Consumer requirements have gone beyond simple hydration & nutrition and are specifically concerned for naturalness, premiumisation, sophistication, convenience and ethical aspect of food. Hence, these specialty food constituents with the addition of appropriate quantity and advanced processing processes have provided the processed food manufacturers to offer products that cater to the specific consumer needs.
Demand for natural ingredients has taken a leap forward compared to the artificially derived ones. Significant interest for natural specialty food ingredients has lead to a situation of rising competition for natural raw materials. Hence, currently higher focuses on research and development projects are required on a larger scale to indentify suitable formulations for exploiting these resources and to uncover the raw materials of the future. This in turn will add to maintaining the demand and supply balance of raw materials of specialty ingredients.
Some of the major factors that are expected to impact the ingredient supply environment include the volatility in economic situations across different geographies, sustainability of naturalness, unpredictability of the regulatory norms, R&D initiatives and globalization rate. These situations are hence anticipated to lead to a situation of higher cost of energy utilization and raw material, along with increasing competition from low-cost ingredients from the developing world.However, these also create several opportunities for the rising demand for these food constituents. Some of these would include development of application specific, higher value added and tailor made specialty ingredients along with formulation of various specialty ingredients to substitute more expensive and price volatile options.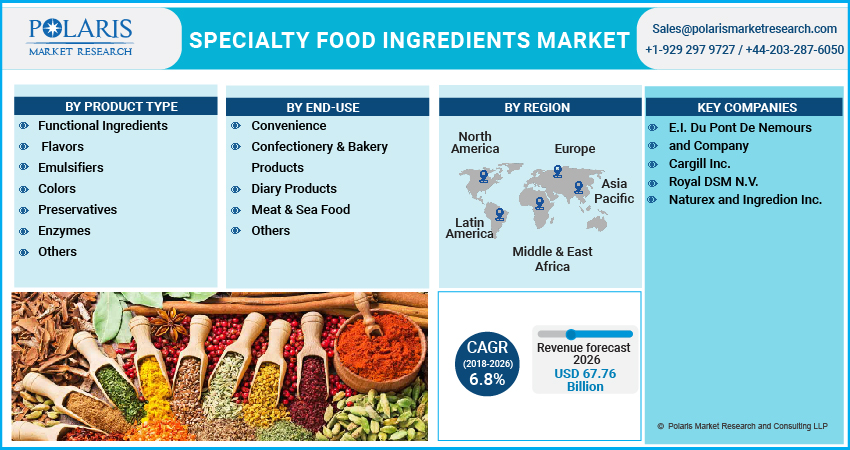 Regional Analysis
Asia pacific market is anticipated to account for approximately 40% of the overall global market for the next five to six years. Ever-increasing consumer concerns for food nutritional quality and trend of maintaining a balanced and health lifestyle, which is backed by the increasing disposable income in several emerging nations in the region, will be the foremost factors generating demand for these products.
Competitive Landscape
North America is yet another potential market that is mostly dominated by the U.S. industry due the presence of an extensively diversified food processing industry in the country. A few of the major industry participants with an extensive product portfolio and global presence would include E.I. Du Pont De Nemours and Company, Cargill Inc., Royal DSM N.V., Naturex and Ingredion Inc.