The global snow sports accessories market was valued at USD 1,334.98 million in 2022 and is expected to grow at a CAGR of 2.5% during the forecast period.
Snow activities or snow sports are professional or non-competitive sports that are practiced on snow or ice. Most of them involve variants like sledding and ice skating. These sports were once restricted to cold climates during the winter or snowfall, but artificial ice and snow allow for greater versatility. The snow sports area is entirely covered in snow or ice. In a climate with warmer temperatures, artificial ice can be used to create ice rinks.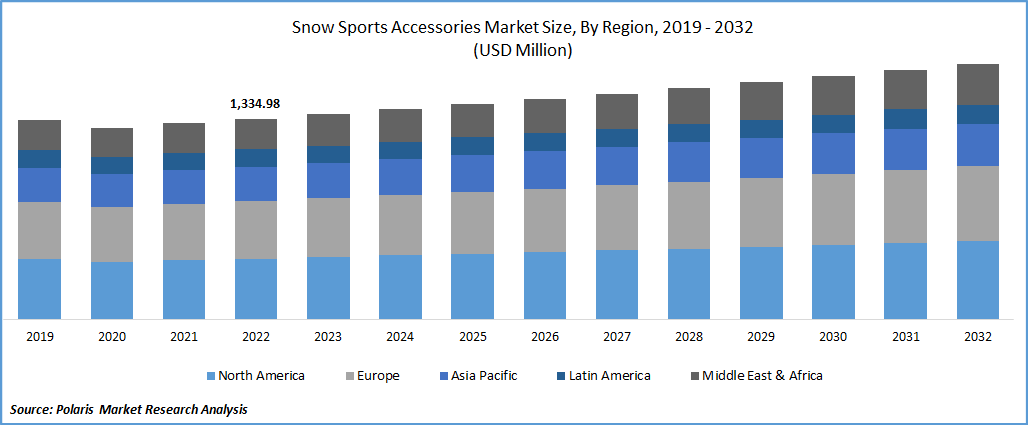 Know more about this report: Request for sample pages
The global market for snow sports equipment has been driven by an increase in both athletes and spectators throughout time. To stay up with the quickly evolving global trends, the snow sports equipment industry is continually developing new technologies and products. Manufacturers are improving the performance and accuracy of skiing sports through the development of new wearables. For instance, in January 2019, a company called Snowcookie, which develops smart skiing systems, unveiled a cutting-edge ski technology called the SKEO Snowcookie sensor. This company has expertise in creating multi-sensor systems that record information about body posture, speed, and style. With an increase in leisure travel and tours, Christmas holidays during the snowy season have significantly helped the sector retain its growth trajectory.
Increased participation in sports and fitness activities is being driven by the rise in lifestyle-related health problems, including stress and obesity. This is in turn, driving demand for cozy and fashionable winter sports gear like sleds. Due to its simplicity and accessibility as a winter sport, sledding is a well-liked pastime that has seen a growth in the number of amateur and individual aficionados. On a specialized sled made of various materials, including plastic, foam, and wood, sledding is done while seated. The activity is one of the most popular winter hobbies among those taking part in a top-notch family outdoor sporting event.
The popularity of several winter sports, including bobsledding, tobogganing, ice dancing, and alpine snowboarding, is further promoting the market's growth. The rising danger and accidents risk during winter sports activities is boosting the demand for snow sports accessories, driving market growth. According to the U.S. Consumer Products Safety Commission, about 110,900 individuals were treated in hospitals, medical offices, and emergency departments in 2018 for injuries sustained while participating in winter sports. This figure consists of 57,047 snow skiing accidents, 22,700 snowboarding-related injuries, 14,018 ice skating-related injuries, and 17,134 accidents involving tobogganing and sledding. Sprains, strains, dislocations, and fractures are typical winter sports injuries. However, The accessibility of counterfeit goods, which can quickly reduce sales volume, is a significant challenge for the market. As a result, rising prices and the possibility of the proliferation of counterfeit goods could pose a severe danger to the market's ability to thrive.
The COVID-19 virus had a severe effect on the market for winter sports equipment. In addition, a COVID-19 (coronavirus) outbreak started in China in the first half of 2020. Many industry participants have turned to the Chinese market for both finished products and the raw materials needed to make various sorts of winter sporting items. The global market has been able to restart growth at levels similar to those experienced before the COVID-19 pandemic, even though the disease still affects commerce on a global scale. As athletic events, gyms, and other local, national, and worldwide competitions resume, it is anticipated that the global market for winter sports would grow.
Industry Dynamics
Growth Drivers
Increasing snowmaking technology advancements to increase product demand which is driving the market growth. The market for snow sports accessories is seriously threatened by two aspects of climate change: warmer winters and much less snowfall. Even though many ski resorts have snowmaking equipment to extend the ski season, it is only effective when it is below freezing. To solve these problems, administrative and commercial entities are funding the development of snowmaking systems. For instance, in June 2019, the SnowRESolution project, which seeks to develop technology that can produce high-quality snowfall at temperatures above 0°C, in all types of weather, and without the addition of chemical additives, received funding from the European Union.
Further, in April 2022, Software called ATASSpro, developed by TechnoAlpin, offers a higher level of intelligence for resource sustainability. It enables huge cost reductions in the areas of water and electricity. To avoid producing either too much snow or insufficient snow, the ATASSpro SnowManager function ensures correct planning of the necessary number of snow per snow area and inclination. The program receives the data produced by the snow depth monitoring systems, which allows the snow team to examine this. For various places in the ski region, the ATASSpro weather module offers an accurate weather forecast. This makes it possible to run the system much more effectively. Thus, the snowmaking software launches by major players along with the technological advancements in products are bolstering the market growth over the forecast period.
Report Segmentation
The market is primarily segmented based on product type, sales channel, demographics, price range, and region.
By Product Type

By Demographics

By Sales Channel

By Price Range

By Region

Goggles
Sunglasses
Snowshoes
Helmets
Backcountry Accessories
Protection Pads
Others

Offline

Sport Stores
Departmental Stores
Franchised Stores
Specialty Stores

Online

Economy
Mid-Range
Premium
Super- Premium

North America (U.S., Canada)
Europe (France, Germany, UK, Italy, Netherlands, Spain, Russia)
Asia Pacific (Japan, China, India, Malaysia, Indonesia. South Korea)
Latin America (Brazil, Mexico, Argentina)
Middle East & Africa (Saudi Arabia, UAE, Israel, South Africa)
Know more about this report: Request for sample pages
The googles channel segment is expected to witness the fastest growth
The eyes are protected from the weather, such as UV rays, wind, and snow, by wearing a piece of gear known as snow goggles. A-frames clip, an exterior lens, an interior lens, ventilation foam, foam padding, a strap, and strap sliders are just a few of the components that go into making them. Every component serves a certain function in the finished item. Snowsports are popular and pleasurable, especially in countries that are closer to the north or south poles and also have long winters. Among snow sports, skis, sledding, and roller skating are the most popular.
Ski goggles also referred to as snow goggles, are crucial, especially for winter sports like snowboarding and skiers. These protect skiers & snow-boarders from damaging ultraviolet (UV) radiation by having the double lenses, fog coatings, & good ventilation. Due to their large lenses, these offer a broader & appeciable peripheral vision. The vast of these snow goggles lenses are made from soft, flexible substrates like nylon, latex, and propionate since they will not get brittle inside the cold and offer excellent protection from facial injuries.
The offline segment industry accounted for the highest market share in 2022
Supermarkets are part of the offline market category, which has a larger market share. The majority of the market's revenue is still generated through conventional offline sales channels. Product diversity, price-based promotions, as well as the consumers' shopping experience are given priority in offline sales channels. For all kinds of winter sporting items, the internet is quickly becoming the most preferred distribution method. More winter sporting goods companies are using the e-commerce platform to reach consumers owing to the benefits and advantages of online buying. In general, purchasing winter sports equipment online allows clients to significantly reduce the time and effort often required for offline shopping. Customers can easily profit from having no transportation or shipment fees because the majority of online vendors for winter sporting equipment offer free shipping.
The demand in North America is expected to witness significant growth
North America has the biggest market for snow sports around the world because of the highest rates of participation in ice hockey, skiers, and snowboarding. Middle and high-income customers in metropolitan areas have shifted their tastes from needs to luxury products and services as a result of the significant growth in per capita disposable income, which is acting as a primary market driver. This trend encourages people to spend money on recreational activities like sports. As more women participate in winter sports like skiing, ice hockey, etc., it is also projected that the need for snow sports accessories would rise shortly. Snow sports are among the most well-liked and thrilling adventure sports in North America and Europe because of the good weather.
Further, in China, the winter sports industry has experienced enormous expansion. Some governmental organizations have begun to emphasize the growth of winter sports more recently. To promote the development of the infrastructure for winter sports and recreational skiing, numerous nations have launched projects. The rise of snow sports gear & equipment sales is therefore anticipated to be boosted by the increase in the winter tourism & adventure sports. For instance, the Get into Snow Sports (GISS) campaign was carried in China. to enhance skiing in China and advertise snow sports internationally.
In addition, the government is engaged in a variety of initiatives to enhance skiing in the region, even outside of the Olympics. Every one of the aforementioned elements is advantageous to the product market. Such enhancements & greater investments have led to the product expansion in the region, and many other regions where the weather is unfriendly for performing such sports.
Competitive Insight
Some of the major players operating in the global market include Alpina Sports, BAUER Hockey, Black Diamond, Clarus Corporation, Fischer Sports, Head, Icelantic Skis Corp., K2 Sports, Lucky Bums, MDV Sports, NIKE, Inc., Olympia Sports, Rossignol Group, Skis Rossignol SAS, SCOTT Sports, The Burton Corporation, Tecnica Group, Under Armour, and Volkl Int.
Recent Developments
In January 2021, Fischer Sports unveiled the "Transalp Pro Boots" to replace previous product. The Ranger Free is more resort goal oriented touring boot from the Transalp Pro Boots, which tries to strike a proper balance between the ups and downs.
In December 2021, The Aspen Skiing Company's new premium retail and experience brand, ASPENX, and Prada are working together to create a limited-edition range of upgraded ski performance apparel that is inspired by the city's technical prowess and creative spirit. The ASPENX Prada line, created by Prada in collaboration with Aspen's ski pros and artist Paula Crown, consists of a specially chosen assortment of menswear and womenswear that is designed to maximize functionality, comfort, and style on the slopes.
Snow Sports Accessories Market Report Scope
| | |
| --- | --- |
| Report Attributes | Details |
| Market size value in 2023 | USD 1,366.49 million |
| Revenue forecast in 2032 | USD 1,700.57 million |
| CAGR | 2.5% from 2023 - 2032 |
| Base year | 2022 |
| Historical data | 2019 – 2021 |
| Forecast period | 2023 - 2032 |
| Quantitative units | Revenue in USD million and CAGR from 2023 to 2032 |
| Segments Covered | By Product Type, By Demographics, By Sales Channel, By Price Range, By Region |
| Regional scope | North America, Europe, Asia Pacific, Latin America; Middle East & Africa |
| Key Companies | Alpina Sports Inc., Amer Sports Corporation, BAUER Hockey, LLC, Black Diamond, Inc., Clarus Corporation, ELAN, D.O.O, Fischer Sports GmbH, Head NV, Icelantic Skis Corp., K2 Sports LLC, Lucky Bums, MDV Sports, NIKE, Inc., Olympia Sports Inc., Rossignol Group, Skis Rossignol SAS, SCOTT Sports SA, The Burton Corporation, Tecnica Group S.p.A., Under Armour Inc., and Völkl Int. Gmbh |