The global slider bags market was valued at USD 13.61 billion in 2022 and is expected to grow at a CAGR of 6.5% during the forecast period.
Slider bags are a type of packing bag with a zipper. Slider bags are rectangular storage flexible packaging bags that are transparent, affordable, and have a slider for opening and closing. Most slider bags are made of paper and plastic. Since the zipper can be easily damaged or broken while repeatedly opening and shutting the bag, consumers find zipper bags challenging to use. These bags cannot be used repeatedly as a result. As a result, slider bags are the most practical packaging choice because they prolong the life of the bags and allow for several uses. The need for slider bags has increased as a result of the rising demand for flexible packaging across a range of end uses.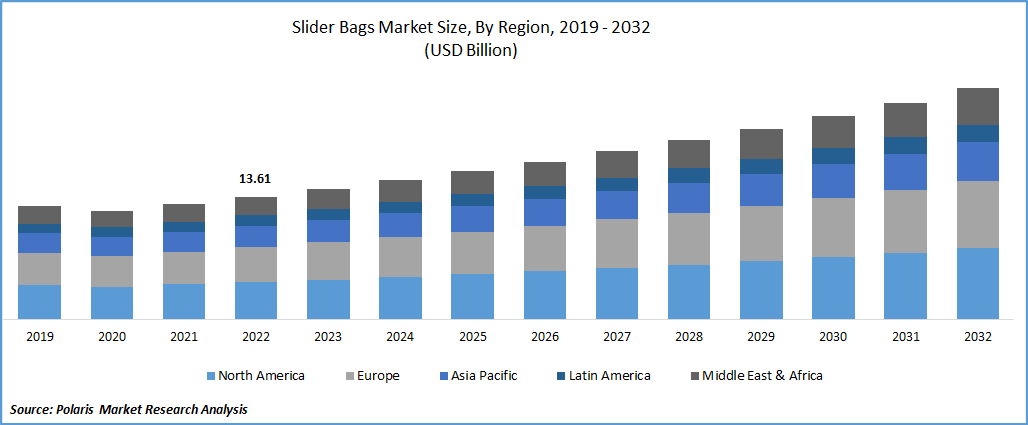 Know more about this report: Request for sample pages
Many companies are switching from conventional rigid packaging for their products to flexible packaging options such as slider bags and pouches. This change is mostly due to a significant decrease in production costs and an increase in transportation effectiveness. Slider bags made of Kraft paper are now the packaging of choice for many firms to serve the future market because they are an eco-friendly and all-natural way to package goods and commodities. Slider bags made of paper are the future of the packaging industry because of the numerous issues associated with plastic packaging solutions that are creating an increasing amount of plastic waste and considering the environment.
The market for slider bags will continue to increase as a result of technological advancement and development, including labeling. Slider bags are known to extend the shelf life of the goods or articles they contain due to their reusable qualities. Additionally, food manufacturers like packing food products in slider bags because of the moisture-sealing qualities of these bags. These zipper bags are used for more than just packaging food and medicine; they are also used in the transportation and cosmetics industries. Manufacturers of cosmetic items have increased their demand for slider bags because of the growing necessity for safe packaging against leaks or contamination. Due to their low weight and preservation qualities, these self-adhesive bags are also in high demand in the transportation sector.
Due to the COVID-19 pandemic outbreak and the subsequent global lockdown, which caused the construction, manufacturing, hotel, and tourism industries to temporarily close, there was a negative effect on the growth of the market. Production operations were suspended or limited. This resulted in a decrease in the production of numerous tools needed to make slider zipper pouches as well as their demand in the market, which constrained the industry's expansion. By the end of 2022, the industry is anticipated to revive as a result of slider zipper pouch businesses restarting at full capacity.
Industry Dynamics
Growth Drivers
The rising technology of advanced slider bags launched for protecting goods from the antivirus is driving slider bags market growth during the forecast period. For instance, in August 2021, Thantawan Industry Public Co., Ltd. (THIP) proactively debuted new goods to address the most recent hygiene and health problems. 99% virus inhibition for cleanliness and safety in regular use is assured by the world-standard research organization in the "SUNZIP Antivirus" multipurpose zipper bag, which was introduced under the SUNZIP brand. It is simple to use and reusable without breaking. This is the first invention of a zipper bag that inhibits the virus by over 99% anti-virus using Japanese Silver Ion Technology. To completely eradicate influenza A (H1N1) and influenza B (using the RT-PCR, or reverse transcription-polymerase chain reaction) technique) within 24 hours.
Furthermore, in May 2021, Great American Packaging (GAP) is pleased to announce its biodegradable product portfolio, which now offers packaging substitutes for Breathable, Clarity, Laminated, and Barrier. According to a recent consumer survey, about 70% of consumers are prepared to pay more for goods that have sustainable packaging. CPG firms and retailers are investing in more eco-friendly packaging as a result of this momentum and shift in consumer perception. Therefore, this advanced technology-based product development is the major factor driving market growth.
Report Segmentation
The market is primarily segmented based on product type, material type, end-use, capacity, and region.
By Product Type

By Material Type

By Capacity

By End-Use

By Region

3-Side Seal Pouch
Pinch Bottom Pouch
Standup Pouch
Flat Bottom Pouch

Polyethylene
Polypropylene
Polyethylene Terephthalate (PET)
Polyvinyl Chloride (PVC)

Up to 2 Oz
3 Oz to 5 Oz
6 Oz to 10 Oz
Above 10 Oz

Food
Cosmetic and Personal care
Pharmaceutical
Others (Electronics, Automotive, etc.)

North America (U.S., Canada)
Europe (France, Germany, UK, Italy, Netherlands, Spain, Russia)
Asia Pacific (Japan, China, India, Malaysia, Indonesia. South Korea)
Latin America (Brazil, Mexico, Argentina)
Middle East & Africa (Saudi Arabia, UAE, Israel, South Africa)
Know more about this report: Request for sample pages
The Food Segment Is Expected To Witness The Fastest Growth
The slider bags can be used to store goods and shield them from environmental elements like rain. In addition to preserving the product's nutritional value and flavor, consumers desire to reduce food waste. A large portion of the population eats frozen meals. The demand for all kinds of fruits and vegetables has increased as consumers have grown more health conscious. Slider bags come in a variety of styles and varieties. Slider bags are a perfect product in the packaging sector because of their light weight and affordability. To keep the goods secure and fresh, the food industry primarily uses slider bags.
Further, the market is anticipated to expand more in the next years to meet customer demand for a wide range of items. A significant share of the global market may be covered by the use of a slider and zipper packaging bags in refrigerated food applications. Before using secondary packing made of different materials, such as cardboard, frozen meals including vegetables, French fries, pizzas, and other prepared items are first stored in slider bags. Thus, there are numerous potential prospects for slider bags in the food and personal care industries.
The polyethylene segment industry accounted for the highest market share in 2022
Polyethylene is a polymer which is widely used for manufacturing bags. It has outstanding qualities including strength and stiffness, ease of processing/molding, chemical resistance, penetration to gases like air (thus the popular use in plastic grocery bags), etc., although it can be a little more brittle when compared to other materials like PVC or PET. PE is a more environmentally friendly option than other types of bags because it doesn't contain chlorine atoms other than surface pollutants.
PVC is the material used to make PVC bags. A plasticizer is added to the polymer during formation, increasing its flexibility and toughness. Because of its greater transparency compared to other polymers like PE or LDPE, PVC can be made semi-transparent for usage as plastic wrap or foil wrapping. The characteristics of PET films include good chemical resistance, hydrophobicity, poor stability to gases like O2 and N2O (nitrogen oxides), and others. These characteristics make PET an excellent material for food contact applications, such as snack food bagging and wrapping, where hygienic standards demand a minimal amount of processing steps to maintain a high level of cleanliness during manufacturing (injection molding, extrusion, and thermoforming).
The demand in North America is expected to witness significant growth
During the projection period, it is expected that the U.S. will account for a significant percentage of the North American slider bag market. Around 50% of Americans, between the ages of 20 and 39, regularly eat fast food, according to data supplied by the National Centre for Health Statistics (NCHS). Students and working professionals have an increasing appetite for different sorts of snack foods, which has increased consumer spending on high-quality food goods across this region's nations and is expected to continue to support growth rates over the next years. The demand for packaged food products has increased in Latin America as a result of the region's growing population, which is demanding higher disposable incomes, as well as growing environmental awareness. This may encourage the US market for slider bags to expand. being the easiest for both the young and old population in the nation to operate and the most convenient to use.
The rising online shopping in the European region is increasing which is driving the growth of the region. According to data released by the European Commission, a poll revealed that 60% of people between the ages of 16 and 74 who shop online do so in 2019. In comparison to 2009, there have been 2X as many people purchasing online. Over ten years, the percentage of women who buy online rose substantially from 29% to 59%, while the percentage of males who shop online rose from 35% to 61%. In Europe, Germany has increased its online shopper share by 79% during the past ten years. According to projections, this will present a market expansion potential for slider bags.
Competitive Insight
Some of the major players operating in the global market include Artisans Pack Inc., ALLIEDFLEX Technologies, Inc., Balaji Flexipack, Biolegeen Biodegradable Material Technology Co., Com-Pac International Inc., Dove Technologies, Elke Plastic GMbh, Farnell Packaging Limited, Four Star Plastic Corp., Flexico Group, Great America Packaging, Glenroy, Inc, International Plastics Inc., Mondi Group, Montage Corp., Reynolds Group Holdings Limited, Sarkina Group, SVP Packaging Private Limited, Thantawan Industry Plc., VWR International, LLC., and Wuxi Tyler Packaging Products Co., Ltd.
Recent Developments
In September 2022, Innovative, environmentally friendly, and squeezable STANDCAP Pouch technology has been developed in collaboration with Glenroy. Manufacture of the pre-made STANDCAP pouches uses around 60 percent less plastic than the standard honey bottle production, use about 71 percent less water, emits around 50% less CO2, uses about 44% less fossil fuel for transportation, & contributes about 20% less trash to landfills.
Slider Bags Market Report Scope
| | |
| --- | --- |
| Report Attributes | Details |
| Market size value in 2023 | USD 14.49 billion |
| Revenue forecast in 2032 | USD 25.62 billion |
| CAGR | 6.5% from 2023 - 2032 |
| Base year | 2022 |
| Historical data | 2019 – 2021 |
| Forecast period | 2023 - 2032 |
| Quantitative units | Revenue in USD billion and CAGR from 2023 to 2032 |
| Segments Covered | By Product Type, By End-Use, By Material Type, By Capacity, By Region |
| Regional scope | North America, Europe, Asia Pacific, Latin America; Middle East & Africa |
| Key Companies | Artisans Pack Inc., ALLIEDFLEX Technologies, Inc., Balaji Flexipack, Biolegeen Biodegradable Material Technology Co., Com-Pac International Inc., Dove Technologies, Elke Plastic GMbh, Farnell Packaging Limited, Four Star Plastic Corp., Flexico Group, Great America Packaging, Glenroy, Inc, International Plastics Inc., Mondi Group, Montage Corp., Reynolds Group Holdings Limited, Sarkina Group, SVP Packaging Private Limited, Thantawan Industry Plc., VWR International, LLC., and Wuxi Tyler Packaging Products Co., Ltd |