The global silicon on insulator market was valued at USD 1.39 billion in 2022 and is expected to grow at a CAGR of 15.5% during the forecast period. The Silicon on Insulator (SOI) Market is fueled by the growth of the semiconductor industry as it will create demand for most of the products. The demand for servers to support applications like AI and cloud computing could propel growth of 4 to 6 percent in the computing and data-storage market, according to the McKinsey report.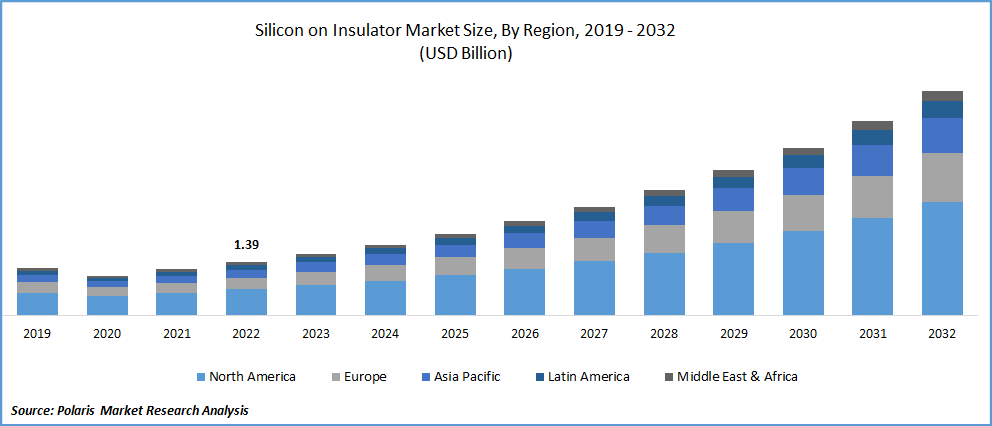 Know more about this report: Request for sample pages
Smartphones may be responsible for the majority of wireless sector growth as emerging markets transition from lower to mid-tier segments, supported by the rollout of 5G. Increasing demand for energy-efficient and high-performance electronic devices will fuel the growth of the market. SOI technology used in electronic devices such as smartphones, tablets, and laptops, which are in high demand worldwide.
In 2019, 5G services launched, and 6G is expected in 2030. With 10 times the response and data transmission speeds of 4G, 5G represents a huge advancement. A wide range of applications will also be made possible by its speed, low latency, and reliability. Mobile devices can maintain clear connections from a broader range of places due to RF silicon-on-insulator (RF-SOI) technology. Because they offer low insertion loss, few harmonics, and high linearity over a broad frequency range at an affordable price, SOI wafers are still widely used in the mobile market. Systems that deliver high speed/bandwidth at minimal power can benefit from emerging technologies like FD-SOI/RF-SOI. Thus, it is anticipated that the growing need for 5G in mobile communications will hasten market expansion.
Industry Dynamics
Growth Drivers
The growing need for 5G mobile communication is one of the key drivers of the silicon on insulator (SOI) market. Demand for better mobile data is increasing in several regions. Data communication services and telecom apps are functioning with a 5G mobile connection. Data transmissions are now ten times faster than they were before the development of 5G technology. Smartphones make up most silicon-on-insulator products on the market. As a result, the transition to 5G in the telecom industry is profitable for the silicon on insulator business. The manufacturing of silicon on insulator devices is increasing as a result of consumer electronics' reduced latency, positive user experience, and great dependability.
Increased demand for silicon insulators in automotive applications will provide the industry with tremendous development potential and substantial market share throughout the forecast period. This rise can also be linked to the leading market participants' or manufacturers' growing investments in the automotive industry for the advancement of driverless car technologies like Advanced Driver Assistance Systems (ADAS).
For instance, one of the top automakers, Audi, is attempting to combine FD-SOI with the components or sensors used in its self-driving vehicles. Additionally, the operation of these autos requires high-speed, small, and low-power electronic equipment. This in turn contributes to a rise in the demand for wafers built using SOI technology.
Report Segmentation
The market is primarily segmented based on wafer size, wafer type, technology, product, application and region.
By wafer size

By Wafer Type

By Technology

By Product

By Application

By Region

200mm and less than 200mm

300mm

RF SOI

FD SOI

PD SOI

POWER SOI

Emerging SOI

Smart Cut

Bonding SOI

Layer Transfer SOI

RF FEM Products

MEMS Devices

Power Products

Optical Communication

Image Sensing

Consumer Electronics

Automotive

Datacom and Telecom

Industrial

Military

Defence

Aerospace

North America (U.S., Canada)

Europe (France, Germany, UK, Italy, Netherlands, Spain, Russia)

Asia Pacific (Japan, China, India, Malaysia, Indonesia. South Korea)

Latin America (Brazil, Mexico, Argentina)

Middle East & Africa (Saudi Arabia, UAE, Israel, South Africa)
Know more about this report: Request for sample pages
300mm Wafer Size segment is expected to witness fastest growth during the forecast period
300mm Wafer Size received the highest revenue share in 2022 for the Silicon on Insulator Market. The manufacturing industry is taking several steps to increase the production of 300 mm wafers due to radio frequency. Additionally, many wafer players are boosting their output to keep up with demand, and numerous foundries in numerous countries are planning expand their processes for the 300 mm wafers, which will support the segment's growth throughout the anticipated time frame.
FD SOI Wafer Type accounted for the largest market share in 2022
FD-SOI wafers category is projected to witness higher growth rate in Upcoming years owing to its benefits such as high flexibility, simple implementation, low cost, decreased complexity, lower leakage currents, and the capacity to optimize power/performance tradeoffs drive market growth. To expand their product lines and meet the rising demand for FD-SOI wafers, a number of FD-SOI wafer producers are concentrating on product launches and partnerships with other SOI market participants. For instance, Google and Skywater Technology, a US foundry, are extending their open-source chip development work to a 90 nm FD-SOI technology in August 2022.
MEMS Devices is expected to hold the significant revenue share
The MEMS devices segment is anticipated to have the greatest CAGR throughout the forecast period. MEMS (Micro-Electro-Mechanical Systems) devices, such as accelerometers, gyroscopes, and pressure sensors, are becoming increasingly integrated into various electronic systems and devices, such as smartphones, tablets, and automotive systems. The growing demand for these devices is expected to drive the growth of the silicon on insulator market as MEMS devices rely on SOI wafers for their production. SOI wafers are used in MEMS devices to provide insulation and reduce parasitic capacitance, which improves the performance of these devices.
Additionally, SOI technology enables the integration of multiple MEMS devices on a single wafer, further driving the growth of the SOI market. Increasing usage of the SOI wafers in the MEMS devices for the consumer electronics, automotive, & industrial applications is mostly credited with driving the segment's growth. The existence of many ecosystem players who offer SOI wafer based MEMS & its ongoing development have further fueled market expansion.
Consumer Electronics is expected to witness fastest growth over the projected timeline
Consumer devices like smartphones, tablets, wearables, laptops, cable modems, televisions, and set-top boxes use SOI-based wafers to decrease their size, cut their power consumption, boost their operational speed, and increase their battery life. Additionally, these wafers have improved performance and are less temperature-sensitive. Additionally, SOI-based microprocessors take up less room than traditional embedded memory. As a result, SOI is increasingly in demand in consumer electronics. The SOI market's consumer electronics segment held the greatest proportion in 2021.
The demand in Asia Pacific is expected to witness significant growth
Asia Pacific is anticipated to have the highest CAGR in the SOI Market in upcoming years. Increased demand for consumer devices including smartphones, tablets, laptops, and smart wearables is credited with driving market growth.
Additionally, the expansion of a number of semiconductor foundry firms and wafer makers as well as government initiatives support industry expansion. The increasing awareness about energy conservation in the Asia Pacific region is driving the demand for energy-efficient devices, which in turn is driving the growth of the SOI market. The rapid urbanization and industrialization in the Asia Pacific region is expected to drive the growth of the SOI market, as these trends are likely to lead to an increase in the demand for electronic devices and equipment.
Competitive Insight
Some of the major players operating in the global market include Soitec, Shin-Etsu Chemical, Global Wafers, SUMCO Corporation, Shanghai Simgui Technology, GlobalFoundries, STMicroelectronics, Tower Semiconductor, NXP Semiconductors and Murata Manufacturing.
Recent Developments
In December 2022, STMicroelectronics announced the next phase of their collaboration on Silicon Carbide (SiC) substrates, a global semiconductor leader serving customers across the spectrum of electronics applications, and Soitec. a pioneer in designing and manufacturing innovative semiconductor materials. Over the next 18 months, ST plans to qualify Soitec's SiC substrate technology. The objective of this collaboration is for ST to adopt Soitec's SmartSiCTM technology for its upcoming 200mm substrate production, feeding its business of manufacturing devices and modules. Volume production is anticipated in the medium term.

In October 2022, Shin-Etsu Chemical introduce 1st silicone film emulsion on the market. In contrast to previous silicone film-forming emulsions, this is a low VOC emulsion that minimized undesirable siloxanes.
Silicon on Insulator Market Report Scope
| | |
| --- | --- |
| Report Attributes | Details |
| Market size value in 2023 | USD 1.60 billion |
| Revenue forecast in 2032 | USD 5.83 billion |
| CAGR | 15.5% from 2023 – 2032 |
| Base year | 2022 |
| Historical data | 2019 - 2021 |
| Forecast period | 2023 - 2032 |
| Quantitative units | Revenue in USD billion and CAGR from 2023 to 2032 |
| Segments covered | By Wafer Size, Wafer Type, By Technology, By Product, By Application, By Region |
| Regional scope | North America, Europe, Asia Pacific, Latin America; Middle East & Africa |
| Key companies | Soitec, Shin-Etsu Chemical, GlobalWafers, SUMCO Corporation, Shanghai Simgui Technology, GlobalFoundries, STMicroelectronics, Tower Semiconductor, NXP Semiconductors and Murata Manufacturing. |