The global radiodermatitis market was valued at USD 433.38 million in 2022 and is expected to grow at a CAGR of 4.1% during the forecast period.
Radiation therapy often used to treat cancer, can result in a skin disorder known as radiodermatitis, sometimes known as radiation dermatitis. It typically happens as a side effect after cancer therapy or during interventional radiology in individuals with malignancies of the breast, chest, skin, neck, head, or abdominal area where the skin is part of the targeted field. Topical antibiotics, steroids, hydrophilic creams, gel and hydrocolloid treatments, silicone-coated dressings, silver-leaf medicaments, oral analgesics, and anti-inflammatory medications are a few of the often used medications to treat radiodermatitis. Radiodermatitis treatment has been more popular recently since it enhances patients' general quality of life by assisting in easing discomfort, minimizing pain, and avoiding interruptions to ongoing treatments.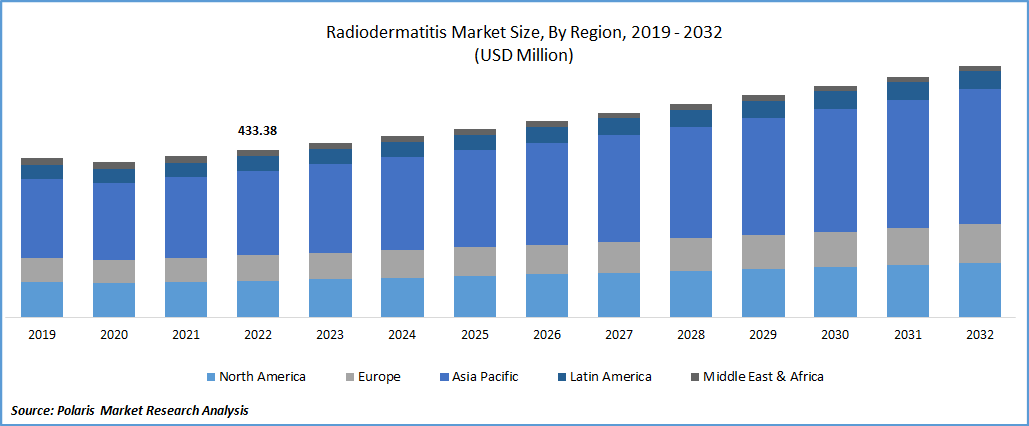 Know more about this report: Request for sample pages
The demand for radiodermatitis treatments is being boosted by the rising elderly population throughout the world and the growing need to combat the negative side effects of radiation therapy. Additional factors contributing to a good market outlook include the increase in clinical trials, supportive government policies, rising consumer spending power, bettering healthcare infrastructure, and the ease with which generic medications are made available.
Cancer cases are growing along with the incidence of diabetes and obesity. In 2018, there were 34.2 million cases of diabetes globally, and by 2030, there are projected to be 1.2 billion cases, according to the Centers for Disease Control. Throughout the projected period, this is likely to propel the market. However, throughout the anticipated period, the market's expansion may be constrained by a lack of knowledge about chronic and acute radiodermatitis in pharmacies in the middle- or low-income nations. Additionally, expensive radiodermatitis products might have a detrimental effect on the market for radiodermatitis in the future.
Every area of the delivery of healthcare, particularly cancer care, has been affected by the COVID-19 epidemic. The current pandemic of coronavirus has had a minor influence on the radiodermatitis industry. Because they need hospital stays for their radiation therapy doses—one of the few known treatment techniques for cancer—cancer patients constitutes a high-risk population during the pandemic. Leading cancer institutes claimed that throughout the COVID-19 epidemic, radiation had shown to be the most effective and secure treatment approach. Radiation dermatitis, in contrast, is a frequent side effect of radiotherapy, which can harm skin cells while treating cancer cells. Thus, it is projected that demand for radiodermatitis products would rise concurrently, thus boosting radiodermatitis market expansion.
Industry Dynamics
Growth Drivers
The two main factors influencing the market expansion are the high prevalence of cancer and the expanding use of radiation therapy as a form of treatment. According to the Academy of Dermatology Association (AAD), skin cancer is the most common in the U.S., affecting around 1 in 5 Americans, and approximately 9,500 people in the country are at risk of developing skin cancer every day. According to the Centers for Disease Control and Prevention (CDC), around 112,000 new cases of melanoma are anticipated to be diagnosed in 2030, majorly owing to the increased prevalence of cancer among young individuals. It is also being enumerated that melanoma cases in both kids & adults have increased by more than 250% in the last four decades. Thus, the rising number of skin cancer has increased the demand for radiation therapy, boosting the market growth over the forecast period.
Moreover, In February 2019, the Institute of Cancer Research (ICR) and The Royal Marsden NHS Foundation Trust developed a new therapeutic strategy to lessen the adverse effects of radiation and prevent its negative effects on delicate organs close to tumors. Delivering a high radiation dosage to tumors during radiotherapy kills cancer cells while sparing healthy tissue. Therefore, the demand for radiodermatitis is boosting the market growth over the forecast period.
Due to the market's abundance of dressing products and the rising need for cutting-edge wound care alternatives, the dressing segment is anticipated to grow. These goods include silver-leaf dressings, foam-based, silicone-coated, hydrogel, and hydrocolloid products. Dressings help treat various grades of radiation burns, which is expected to accelerate their acceptance in the years to come. The use of hydrogel and hydrocolloid dressings to treat radiation burns is increasing due to the benefits. These benefits include speedy recovery, little pain, and excellent defense against bacterial development and infection. The availability of a large variety of these products, each of which caters to a particular set of patient demands, is also projected to increase future growth potential for this market sector.
Report Segmentation
The market is primarily segmented based on distribution channel, product, and region.
By Product

By Distribution Channel

By Region

Topical

Corticosteroids
Hydrophilic creams
Antibiotics
Others

Oral
Dressings

Hydrogel & Hydrocolloid dressings
No Sting Barrier Film
Honey-Impregnated Gauze
Silicone Coated Dressings
Others

Hospital Pharmacies
Retail Pharmacies
Online

North America (U.S., Canada)
Europe (France, Germany, UK, Italy, Netherlands, Spain, Russia)
Asia Pacific (Japan, China, India, Malaysia, Indonesia. South Korea)
Latin America (Brazil, Mexico, Argentina)
Middle East & Africa (Saudi Arabia, UAE, Israel, South Africa)
Know more about this report: Request for sample pages
The topical segment industry accounted for the highest market share in 2022
The topical segment dominated the market in 2022. The growth in this segment can be attributed to product's ease of use, cost efficiency and accessibility. Topical products such as corticosteroids, antibiotics, and hydrophilic lotions lower the chances of microbiological transmission and protect the skin. Furthermore, on account of increasing demand for corticosteroids for inflammatory skin disorders bolstered the segmental growth.
The bioavailability, simpler administration, and cost-effectiveness of topical medicines are the key causes, the topical sector is anticipated to keep leading over the projection period. The availability of a wide range of topical products, including corticosteroids, topical antibiotics, and so many more, as well as the rising demand for contemporary wound care options, are additional factors that are anticipated to support the market sub-growth segment throughout the analysis period.
Hospital Pharmacies are expected to hold the significant revenue share
Hospital Pharmacies dominated the market in 2022. This is mostly because of the strategic partnerships formed between top companies and hospitals, as well as the rising elderly population. Additionally, the hospital pharmacy is regarded as the most significant healthcare infrastructure since it offers superior outpatient services and higher patient satisfaction, both of which are anticipated to support the market sub-growth segment throughout the projected year.
The demand in Asia-Pacific is expected to witness significant growth
Asia-Pacific is anticipated to lead the market for the duration of the study period due to rising disposable income, rising healthcare spending, rising cancer patient occurrence, and rising adoption of cutting-edge healthcare goods. In addition, Asian consumers are becoming ever more conscious of ways to improve their quality of life. Additionally, the burden of several chronic illnesses, such as breast cancer and skin cancer, is drastically rising throughout the APAC area. As a result, radiodermatitis consumption and growth have grown in this area, which might present market prospects for the radiodermatitis industry globally throughout the projection period.
Furthermore, the market's second-largest share belonged to North America. High R&D expenditures made by international firms and their emphasis on securing a competitive position in the industry are the main drivers of this market. The region's tremendous development potential is also attributed to the region's high disposable income and advanced healthcare infrastructure. As per the Skincare Foundation, in 2020, 1 in 5 Americans developed skin cancer by the age of 70. Also, when detected early, the 5-year survival rate for melanoma is 9%.
Competitive Insight
Key players include 3M Company, Acelity L.P., Alliqua BioMedical, Bausch Health Companies, Bayer, BMG Pharma, Convatec Group, Derma Sciences, Friulia S.p.A. Glaxosmithkline, Helsinn Healthcare, Integra LifeSciences, Kannalife, Molnlycke Health Care, Mylan N.V., Rebound Therapeutics, Smith & Nephew, and Stratpharma.
Recent Developments
In November 2020, Alta Multipurpose Device and FlexLock Knee & Foot Supports, two new Qfix solutions that Oncology Imaging Systems (OIS) is happy to introduce, are intended to enhance workflows and allow device consolidation for patient placement during radiation. With no sacrifice on quality or capabilities, the Alta Multipurpose Solution offers flexibility and ease. The Alta Multipurpose Device's low attenuation features make it the best option for a variety of radiotherapy operations, including palliative care and stereotactic body radiation therapy (SBRT).
In April 2019, to focus further on the needs of radiation treatment patients with wounds, CIVCO Radiotherapy collaborated with Stratpharma AG. To enhance post-procedure outcomes, this is probably going to concentrate on patient-centric care.
Global Radiodermatitis Market Report Scope
| | |
| --- | --- |
| Report Attributes | Details |
| Market size value in 2023 | USD 450.89 million |
| Revenue forecast in 2032 | USD 649.58 million |
| CAGR | 4.1% from 2023 - 2032 |
| Base year | 2022 |
| Historical data | 2019 – 2021 |
| Forecast period | 2023 - 2032 |
| Quantitative units | Revenue in USD million and CAGR from 2023 to 2032 |
| Segments Covered | By Product, By Distribution Channel, By Region |
| Regional scope | North America, Europe, Asia Pacific, Latin America; Middle East & Africa |
| Key Companies | 3M Company, Acelity L.P. Inc., Alliqua BioMedical Inc., Bausch Health Companies Inc, Bayer Ag, BMG Pharma SPA, Convatec Group Plc, Derma Sciences Inc., Friulia S.p.A. Glaxosmithkline Plc, Helsinn Healthcare SA, Integra LifeSciences Holdings Corporation, Kannalife, Inc., Molnlycke Health Care AB, Mylan N.V., Rebound Therapeutics Corp., Smith & Nephew Plc, and Stratpharma AG. |