The global POS Terminals market size was valued at USD 58,480 million in 2017 and is anticipated to grow at a CAGR of 12.4% during the forecast period. POS terminals are a combination of hardware and software components for processing of card payments. They capture, store, and report data regarding payment, sales, and customers. POS terminals receive customer information from credit or debit cards, and check for availability of sufficient funds. Funds are then transferred from customers' account to vendors' account, followed by recording of transaction and generation of receipt. POS terminals also offer services such as tracking customer orders, inventory management, sales analysis, and office management. The hardware components of POS terminals commonly include computer, receipt printer, bar code scanner, magnetic strip reader, and cash drawer. Several POS machines can be connected to a single computer or a server. The software components of POS machines are responsible for authorization of debit and credit card purchases, making change for cash transactions, and management of stocks in inventories. POS machines can be easily upgraded as opposed to a traditional cash register. POS terminals enhance efficiency, and improve customer experience while saving significant time and resources.
The adoption of POS terminals has increased over the years owing to growing need for digital payments, increasing internet penetration, and decline in costs of mobile devices. The rapidly growing transactions through ecommerce and increasing advancements in technologies further boost the market growth. Introduction of new technologies such as cloud-based point of sale systems, which offers data access through web through browsers while being compatible with hardware components such as printers and cash register drawers encourages businesses to adopt POS terminals. POS terminals are being equipped with technology to capture electronic signature to enable paper free transactions through digital receipts. Integration of POS terminals across various industries such as retail, hospitality, healthcare, restaurants, and entertainment to simplify transaction and enhance customer experience further supplement the growth of this market. However, security and privacy concerns regarding sensitive customer data limits the growth of the market. However, integration of personal identification number (PIN), and chip-embedded payment solutions and is expected to reduce risks of data theft.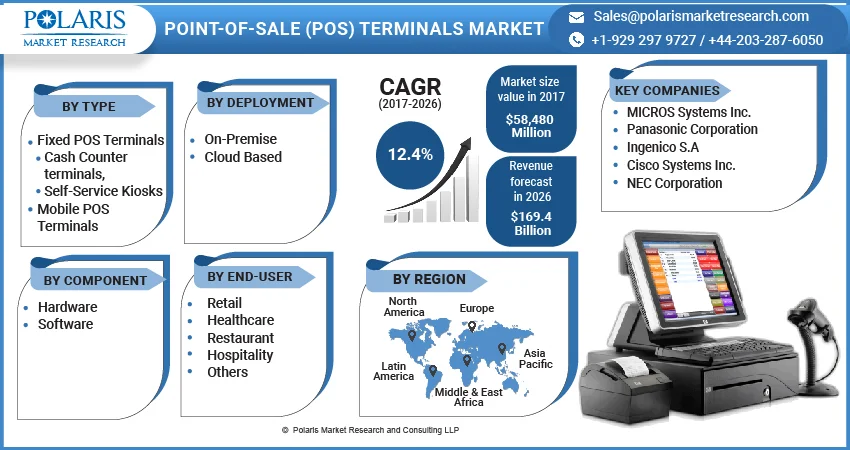 Segment Analysis
The global POS terminals market is segmented on the basis of type, components, deployment, end-user, and region. Based on the type, the market is further segmented into fixed POS terminals, and mobile POS terminals. Fixed POS terminals are further divided into cash counter terminals, self-service kiosks, and others. The component segment is categorized into hardware, and software. On the basis of deployment, the market is divided into on-premise, and cloud-based. The end-users included in the report include retail, healthcare, restaurants, hospitality, and others. This report comprises a detailed geographic distribution of the market across North America, Europe, APAC and South America, and MEA. North America is further segmented into U.S., Canada, and Mexico. Europe is divided into Germany, UK, Italy, France, and Rest of Europe. Asia-Pacific is bifurcated into China, India, Japan, and Rest of Asia-Pacific. North America accounted for the largest share in the global POS terminals market owing to government support, and wide use of POS terminals in varied industries.
Competitive Landscape
The presence of numerous small and large vendors in the market results is stiff competition in the global market. These vendors are introducing new products and services to meet the growing demands of consumers. In addition, they are also acquiring and collaborating with top companies in the market to enhance their offerings in the market and expand their customer base. For instance, in Jan 2017, PAX Global Technology Limited announced the acquisition of Centro Servizi Consortili Italia S.r.l (CSC). CSC, an organization of service companies operating across Italy, offers installation services, repair services, technical assistance, and logistical support for Point of Sale terminals. This acquisition enabled PAX Global Technology Limited to expand its footprint in Europe and offer enhanced services to its customers. In December 2016, Pax also collaborated with Ezetap for deployment of its mPOS and MiniPOS devices in India. In June 2017, Verifone introduced its portable and mobile point-of-sale (mPOS) products, Verifone V240m, and Verifone e285. Verifone V240m is a cost-effective payment solution with large 3.5" capacitive touchscreen, digital signature capabilities, and HVGA resolution. Other leading players in the market include MICROS Systems Inc., Panasonic Corporation, Ingenico S.A, Cisco Systems Inc., and NEC Corporation among others.