The global plant growth regulators market was valued at USD 3.24 billion in 2022 and is expected to grow at a CAGR of 6.4% during the forecast period. The use of plant growth regulators (PGRs) has vast potential in the agricultural sector. PGRs are chemical substances that aid in regulating and improving plant growth and development. They enhance crop yield, increase plant resilience to environmental stresses, and improve overall plant quality. With the rising demand for food and the need to enhance agricultural productivity, the global market is expected to experience substantial growth in the foreseeable future.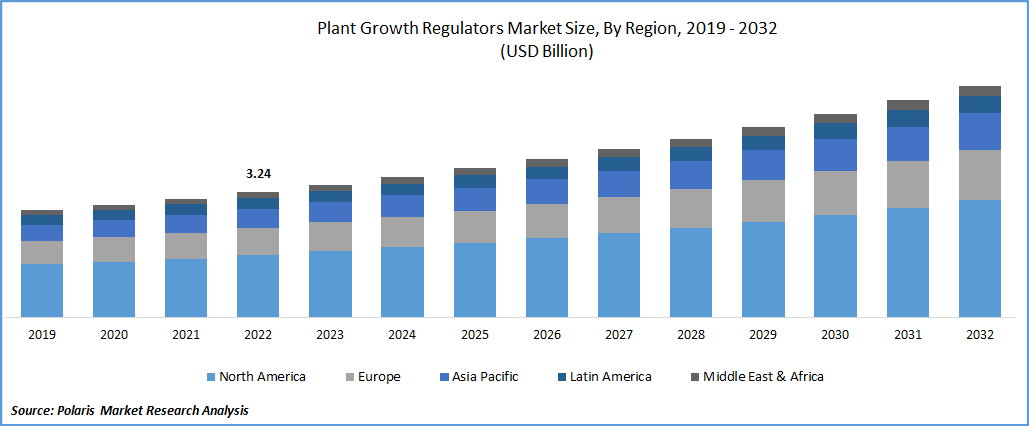 Know more about this report: Request for sample pages
Chemical compounds known as plant growth regulators significantly impact the development and function of plant cells, tissues, and organs by acting as chemical messengers that allow cells to communicate with one another. These regulators are naturally produced in small quantities within specific plants. They are then spread throughout the plant to modulate various physiological functions, including promoting cell division and expansion, retarding leaf senescence, expanding leaves, maturing fruits and flowers, and facilitating seed germination.
The plant growth regulators market is expected to experience substantial growth due to increasing trading requirements for industrial activities. Additionally, consumer preferences for organic foods, technological advancements, and farming practices will influence market growth. Factors such as urbanization, population growth, and expansion of the textile industry will also contribute to the development of the market.
In addition, the plant growth regulators market is expected to experience profitable growth opportunities due to the increased investment in agricultural activities in emerging nations, reduced land area available for cultivation, and a robust product portfolio for broad-acre crops.
However, market growth may need more time due to lengthy approval periods for new products and a need for more awareness regarding the benefits of plant growth regulators. Additionally, the market growth rate may need to be improved by the high costs associated with regulatory requirements and the identification of plant growth regulators that modulate genic/multigenic expressions.
The increasing demand for food due to the growing global population and the need to increase crop yield and quality are major market drivers. Plant growth regulators control and regulate plant growth and development, which can help improve crop yield, increase plant resistance to stress, and enhance plant quality.
Farmers of all sizes have been affected by the COVID-19 crisis, as they must adhere to social distancing requirements and travel restrictions while dealing with market closures. However, smallholder farmers in developing countries are especially vulnerable to the pandemic's economic impact, as even slight changes in product prices can have significant consequences for their businesses.
Despite the pandemic's widespread impact on businesses worldwide, some prominent companies have managed to mitigate its effects on their operations. For instance, Corteva, a US-based company specializing in agricultural chemicals and seeds, closely monitored its raw material providers, logistics movements, and production facilities throughout 2020 to prevent disruptions to its crop-protection supply chain.
Industry Dynamics
Growth Drivers
The increasing global population and changing food habits have led to a growing demand for high-quality crops. Plant growth regulators are used to enhance the yield and quality of produce, which has increased their demand in the market. Plant growth regulators have become more effective and efficient with advanced farming practices and technologies. It has driven the need for these products in the market.
Also, the growing awareness about sustainable agriculture has increased demand for plant growth regulators that are environmentally friendly and safe for human consumption. It has driven the development and adoption of bio-based plant growth regulators.
Governments worldwide are taking initiatives to promote agriculture and improve crop yields. It has led to increased use of plant growth regulators, which can help farmers improve their crop yields and productivity. The increasing demand for organic food has led to a growing trend of organic farming. Plant growth regulators are an important component of organic agriculture, increasing their market demand.
Report Segmentation
The market is primarily segmented based on type, crop type, function, formulation, and region.
By Type

By Crop Type

By Function

By Formulation

By Region

Auxins

Cytokinins

Gibberellins

Ethylene

Others

Cereals and Grains

Fruits and Vegetables

Oilseeds and Pulses

Turf and Ornamentals

Water-Dispersible and Water-Soluble Granules

Wettable Powders

Solutions

North America (U.S., Canada)

Europe (France, Germany, UK, Italy, Netherlands, Spain, Russia)

Asia Pacific (Japan, China, India, Malaysia, Indonesia. South Korea)

Latin America (Brazil, Mexico, Argentina)

Middle East & Africa (Saudi Arabia, UAE, Israel, South Africa)
Know more about this report: Request for sample pages
The cytokinins segment is anticipated to hold the largest market share in 2022
Cytokinins are anticipated to be the largest plant growth regulator in 2022. Cytokinins positively impact plant development and growth aspects, such as shoot and root growth, cell division and senescence, differentiation, biotic stressors, apical dominance, and response to abiotic and fruit and seed development. Another segment in the market is Auxin, which is significantly anticipated growth owing to the rising demand for medicinal plants and an upswing in turf and landscaping activities.
The

cereals and grains segment anticipated to dominate the market in 2022
The cereals and grains segment highly dominates the market among the crop type categories. While these regulators are commonly used in countries of Europe, other international markets, such as Western Canada, are also showing a growing interest in these products, as evidenced by the recording of increasing research and new plant growth regulators within this segment. With the domestic demand for wheat-based products rising in Canada, manufacturers will likely focus on targeting the Canadian wheat market shortly. Furthermore, the increasing production of cereals worldwide highlights the growing acceptance of plant growth regulators in agriculture.
Asia Pacific is expected to grow fastest in 2022
The Asia Pacific region is expected to exhibit the fastest growth opportunities for the market due to rising disposable income and an improving standard of living in the area. China is the most prominent market for plant growth regulators in the Asia Pacific, with a rapidly expanding population creating a need for high productivity in agriculture and thereby boosting demand for these products.
Also, in 2022 the United States led the North American PGRs market, with several manufacturers sharing the market space. The market in North America is driven by the increasing consumption of produce crops, notably corn, cotton, fruit, tree nuts, soybean, oil crops, wheat, and pulses. Additionally, there is considerable demand for all plant growth regulators in Canada, which are top agricultural product exporters.
Competitive Insight
Major players operating in the global market include Crop Care Australasia Pty Ltd., Bayer Crop Science, BASF SE, Corteva Agriscience, Barclay Crop Protection, Redox Industries Ltd., Sichuan Guoguang Agrochemical Co. Ltd, NuFarm Ltd., Sumitomo Chemical Australia Pty Ltd and Xinyi (H.K.) Industrial Co. Ltd.
Recent Developments
In April 2020, Sumitomo Chemical Co., Ltd. acquired Nufarm Limited, a South African subsidiary in Argentina, Brazil, Columbia, and Chile.

In July 2021, regulatory approval from the US for its new plant growth regulator, AccedeTM, is obtained by Sumitomo Chemical. The PGR, which contains its active ingredient as ACC, which means 1-aminocyclopropane-1-carboxylic acid, is developed as part of Sumitomo Chemical's A2020 pipeline and designed as a fruit thinner, which focuses on bio rationales.

In April 2020, BASF launched a new plant growth regulator called Attraxor in the United Kingdom for use on turf and various types of grass. The key active ingredient in the product is Prohexadion (10% w/w).
Plant Growth Regulators Market Report Scope
| | |
| --- | --- |
| Report Attributes | Details |
| Market size value in 2023 | USD 3.43 billion |
| Revenue forecast in 2032 | USD 6.00 billion |
| CAGR | 6.4% from 2023 - 2032 |
| Base year | 2022 |
| Historical data | 2019 - 2022 |
| Forecast period | 2023 - 2032 |
| Quantitative units | Revenue in USD billion and CAGR from 2023 to 2032 |
| Segments covered | By Type, By Crop Type, By Function, By Formulation, By Region |
| Regional scope | North America, Europe, Asia Pacific, Latin America; Middle East & Africa |
| Key companies | Crop Care Australasia Pty Ltd., Bayer Crop Science, BASF SE, Corteva Agriscience, Barclay Crop Protection, Redox Industries Ltd., Sichuan Guoguang Agrochemical Co. Ltd, NuFarm Ltd., Sumitomo Chemical Australia Pty Ltd and Xinyi (H.K.) Industrial Co. Ltd. |