The global Online Poker market was valued at USD 86.12 Billion in 2022 and is expected to grow at a CAGR of 12.7% in the forecast period. The rising trend of online gambling, offers and benefits provided by the players and continuous upgradation in the online gaming arena has increased the user base in the last few years.
Online poker is a digital version of the traditional card game that has become increasingly popular recently. Players can play against each other online, often using dedicated online websites or apps. The game can be played for real money or fun and typically involves several players sitting at a virtual table, making bets and playing rounds of cards.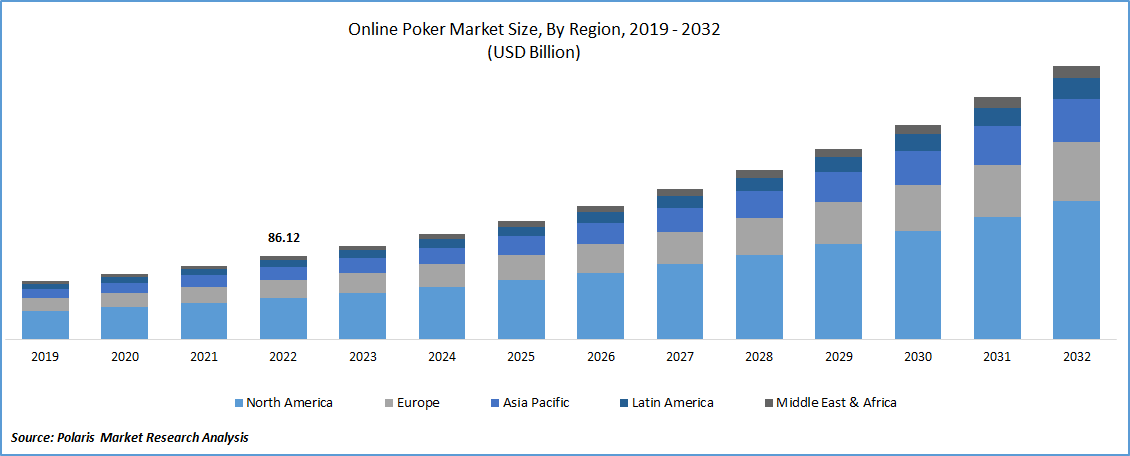 Know more about this report: Request for sample pages
Advancements in artificial intelligence and machine learning technology have the potential to revolutionize the industry in the coming years. These technologies are helping operators to improve the overall player experience, by offering more personalized and engaging games, as well as improving the security and fairness of games. Another technological advancement that has impacted the market is the use of virtual and augmented reality. These technologies revolutionize the way that players experience online games, offering immersive and interactive gameplay experiences. For example, virtual reality technology can transport players to a virtual poker table, allowing them to interact with other players and dealers in a more realistic and engaging way.
Major players in the industry include popular sites like PokerStars, PartyPoker, and 888poker, each offering various games, tournaments, and promotional events to attract and retain players. The industry is highly competitive, with players often seeking out sites with the best rewards and incentives and the most reliable and user-friendly platforms. Many types of online games are available, ranging from simple cash games to more complex tournaments. Cash games are where players play with their money, each buying in for a certain amount and playing until they decide to leave the table. Contests, on the other hand, involve many players competing against each other to win a prize pool divided among the top finishers.
Bans on online gambling poses a significant challenge for the market, as they limit the potential customer base and make it difficult for operators to provide their services in certain jurisdictions. In countries where online gambling is prohibited or heavily regulated, the operators may face legal and regulatory barriers that make it difficult to enter and compete in the market.
In terms of regulation, the industry is subject to a range of legal frameworks and standards, depending on the jurisdiction in which it operates. In some countries, this market is strictly regulated and only permitted through government-run sites, while in other countries, it is completely banned. Other jurisdictions allow it to be played through privately-owned sites, subject to various licensing and regulatory requirements.
Industry Dynamics
Growth Drivers
One of the key drivers of the online gambling market is the growth of mobile devices and smartphones, allowing players to access the games from anywhere at any time. It has opened up new opportunities for operators to reach customers who may have yet to be able to access traditional land-based casinos or poker rooms.
Another factor driving the growth of online gambling, including the market, is the increasing acceptance and normalization of gambling as entertainment. As more people become comfortable with gambling and view it as a legitimate form of entertainment, the market and other forms of online gambling will likely continue to grow.
Technological advancements have been a significant growth factor for the market. One of the key technological advancements that have fueled the growth of the market is the development of more sophisticated online gaming platforms. Today's the poker platforms are highly advanced, with high-quality graphics, real-time gameplay, and advanced security measures to protect player data and ensure fair play. Another technological advancement that has played a major role in the growth is the rise of mobile gaming.
Advancements in payment processing technology have also played a key role in the growth of the market. Today its operators offer a range of convenient and secure payment options, including credit cards, e-wallets, and cryptocurrencies, which make it easier for players to deposit and withdraw funds from their accounts.
Report Segmentation
The market is primarily segmented based on game, device, end-user, and region
By Game

By Device

By End-User

By Region

Texas Hold'em Poker

Omaha

7-Card Stud

5 Card Omaha

Others

PC/Laptop

Smartphone

Others

Gambling Enthusiast

Dabblers

Social Exuberant

North America (U.S, Canada)

Europe (Germany, UK, France, Spain, Italy, Russia, Netherlands)

Asia-pacific (China, Japan, India, South Korea, Indonesia, Malaysia)

Latin America (Argentina, Brazil, Mexico)

Middle East & Africa (UAE, Saudi Arabia, Israel, South Africa)
Know more about this report: Request for sample pages
The smartphone segment is expected to account for the fastest growth rate in the forecast period.
Smartphones provide a convenient and easy way for players to access the poker games online, anywhere, anytime. It has allowed players to fit poker games into their busy schedules, whether commuting to work, waiting in line, or relaxing at home.
In addition to the convenience factor, smartphones have also made it possible for the operators to provide a more engaging and immersive player experience. Today's smartphones are highly advanced, with high-resolution screens, powerful processors, and sophisticated graphics capabilities, which make it possible for operators to provide high-quality games with advanced features and graphics.
Moreover, smartphones also allow for a more personalized and social player experience. The market operators can use the capabilities of smartphones, such as push notifications and in-app messaging, to provide personalized offers and promotions to players and facilitate communication between players and between players and operators.
The Gambling Enthusiast segment will dominate the market in the forecast period.
The gambling enthusiast user segment has been a significant growth factor for online poker. This segment includes individuals passionate about gambling and willing to spend time and money on their favorite games.
Online poker operators have successfully attracted and retained gambling enthusiasts by offering a range of high-quality games, promotions, and rewards. These operators understand the preferences and behavior of this segment and offer a player experience that caters to their needs. Another growth factor for the online poker market among gambling enthusiasts is the increased use of online streaming platforms, such as Twitch and YouTube, for watching and interacting with poker games and tournaments. It allowed gambling enthusiasts to not only participate in online poker games, but also to follow and engage with the wider online poker community.
The European region is anticipated to dominate the market in the forecast period.
Europe has been a dominant region in the market, with many poker operators and players based in Europe.
One of the reasons for Europe's dominance in the market is the favorable regulatory environment in many European countries. Several countries, including the United Kingdom, Spain, Italy, and France, have regulated online gambling markets that provide a clear legal framework for operators.
In addition, Europe has a large and established gambling market, with a strong tradition of gambling that has translated into a willingness to engage in online gambling. European players have shown a preference for poker games, and operators have responded by offering a wide range of games and promotions tailored to the European market. Another factor contributing to Europe's dominance in the market is the availability of high-speed internet and mobile technology, making it easier for players to access games from anywhere.
Competitive Insight
Some of the prominent key players operating in the marketspace includes Tencent, the 888 Group, Partypoker, GGPoker, Baazi Games, Bovada, MPL, PokerStars, American Cardroom, BetOnline, Ignition, Pocket52, Arkadium, 24/7 Games LLC, Delta Corp Limited, Caesars Interactive Entertainment, Inc.
Recent Developments
January 2023: PokerMatch, an online gaming platform in the Eastern Europe, has entered the Indian online poker market by partnering with Playtech.

February 2022: Match Poker Online, an online poker gaming platform has launched their new app to sportify poker globally.
Online Poker Market Report Scope
| | |
| --- | --- |
| Report Attributes | Details |
| Market size value in 2023 | USD 96.86 Billion |
| Revenue forecast in 2032 | USD 283.42 Billion |
| CAGR | 12.7% from 2023 - 2032 |
| Base year | 2022 |
| Historical data | 2019 - 2022 |
| Forecast period | 2023 - 2032 |
| Quantitative units | Revenue in USD Billion and CAGR from 2023 to 2032 |
| Segments covered | By Game, By Device, By End-User, By Region |
| Regional scope | North America, Europe, Asia Pacific, Latin America, Middle East & Africa |
| Key companies | Tencent, the 888 Group, Partypoker, GGPoker, Baazi Games, Bovada, MPL, PokerStars, American Cardroom, BetOnline, Ignition, Pocket52, Arkadium, 24/7 Games LLC, Delta Corp Limited, Caesars Interactive Entertainment, Inc. |