The global mobile virtual network operator market was valued at USD 52 billion in 2017 and is anticipated to grow at a CAGR of 10.2% during the forecast period. Mobile virtual network operators (MVNOs) are wireless communication service providers who do not possess their own networks, but provide a virtual appearance of possessing a network. They partner with already present mobile network operators (MNOs) to get wholesale access to their mobile communication network and resell voice and data services at retail prices to the customers and enterprises. Generally, minutes of use are bought from the telecom operator and resold to the customers. Some MVNOs deploy their own mobile intelligent network (IN) infrastructure to offer additional value added services like billing and customer care services to gain edge over MNOs. These VAS services, along with marketing, sales, and branding are controlled by MVNOs itself, which enable them to provide differentiated value proposition. Though, they pose a threat to the MNOs, there has been a growing acceptance of MVNOs by network operators to enhance their revenues, consume unused network capacity, and augment customer base.
The major factor driving the mobile virtual network operator market is the increasing demand of wireless services in new markets and the technological advancements in the smartphone industry. The MVNO market is expected to grow rapidly in the future owing to factors including increased mobile broadband speeds, and need for value added services. However, decreased tariffs, and less profits may hinder the growth of this market. The opportunities present in the Global Mobile Virtual Network Operator market for players include accessibility to the already existing customer base, the capability to offer enhanced value proposition, and the prospect of profitable partnerships with existing businesses. The companies can offer differentiated value proposition at low prices and expand its customer base and geographical reach. The four business models of the MVNO are Branded Reseller, Light MVNO, Full MVNO, and Network enablers.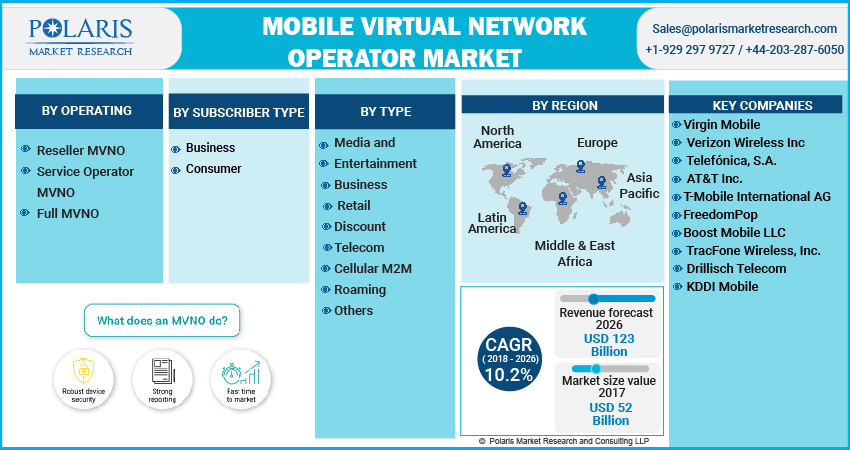 Segment Analysis
The global mobile virtual network operator market is segmented on the basis of operating model, subscriber, types, and region.
On the basis of operating model, the market is segmented into Reseller MVNO, Service Operator MVNO, and Full MVNO. In 2017, full MVNO accounted for the highest share in the global MVNO market. Full MVNO offers complete control over all the services and products offered in the market, along with flexibility in designing and deploying new services.
The subscriber segment is bifurcated into business and consumer. The consumer segment dominated the global Mobile Virtual Network Operator market in 2017. The growing penetration of mobile devices and increasing demand for high speed mobile broadband boosts the adoption of MVNO in this segment.
The type segment is divided into media and entertainment, business, retail, discount, telecom, cellular M2M, roaming, and others.
Regional Analysis
This mobile virtual network operator market report comprises a detailed geographic distribution of the market across North America, Europe, Asia-Pacific, Latin America, and MEA. North America is further segmented into U.S., Canada, and Mexico. Europe is divided into Germany, UK, Italy, France, and Rest of Europe. Asia-Pacific is bifurcated into China, India, Japan, and Rest of Asia-Pacific. Europe accounted for the largest share in the Global Mobile Virtual Network Operator market in 2017. The increasing penetration of mobile devices, growing demand for mobile broadband services, and favorable government regulations for maximum utilization of mobile bandwidth support he market growth in this region.
Competitive Analysis
The leading players in the market include Virgin Mobile, Verizon Wireless Inc., Telefónica, S.A., AT&T Inc., T-Mobile International AG, FreedomPop, Boost Mobile LLC, TracFone Wireless, Inc., Drillisch Telecom, and KDDI Mobile among others. These leading players in the market are introducing innovative products in the market to cater to the consumers. Global players are entering new markets in developing regions to expand their customer base and strengthen market presence.