The global mining drills and breakers market size was valued at USD 8,683.5 million in 2018 and is expected to grow at a CAGR of 7.7% over the forecast period. Mining drills are the equipment that are largely used in order to drill the earth surfaces for mining. Breakers are used to break the rocks or stones during mining. Mining equipment are used to extract minerals or organic elements from below the soil. These include coal, gold, crude oil and various other types of metals. Drilling equipment are of two types viz. rotary and crawler. The breakers are usually of two types viz, rock and hydraulic. Breakers provide significant advantage to the manufacturers as they provide an option for selecting specific breakers aligned to the application.
The extension of underground and surface exploration sites over the globe has incremented the interest for an assortment of drills and breakers. Moreover, rise in sales of underground mining gear energizes the mining drills and breakers market. For metal and mineral mining, the surface is burrowed, and flotsam is evacuated, rocks are broken into little pieces and further squashed. Such digging tasks need breakers for essential shake mining process, consequently driving the interest for breakers in the mining businesses. Furthermore, ascend in digging exercises for coal and metal is a noteworthy driver for the market over the globe.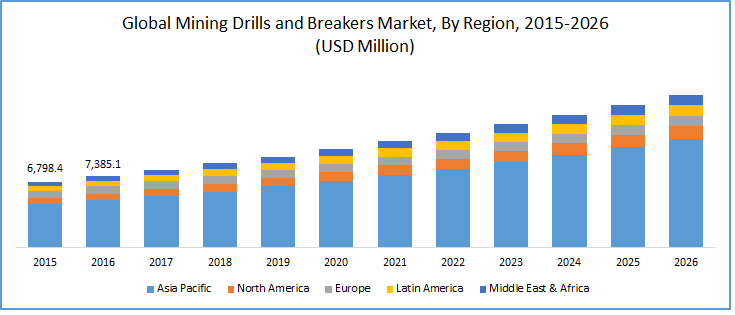 Know more about this report: Request for Sample Pages
Conversely, government guidelines associated with exploration tasks limit the development of the mining drills and breakers showcase. For example, in January 2018, China has affirmed the Natural Security Assessment Law, for mining and mineral handling. The intention of the law is to control the contamination that could affect goods manufacturing in China. Mechanical developments, for example, sonic infrared, sonic IoT, and optical smaller scale cameras are required to fuel the development of the drills and breakers in the coming years. Additionally, AI can likewise encourage drills to burrow securely and proficiently, which is significant in carrying out metal exploration activities. Acquisition or partnership can open up new opportunities for the key players in this market. In line with this, in July 2018, Sandvik acquired Inrock, a private company and a leading supplier of drilling tools for the mining industry. The mining industry has also witnessed a shift in trend toward automation from labor-centric approach. This has also augmented the demand for drills and breakers across the globe. The vendors in this market are also providing equipment on rental basis which in turn is expected to bring in new opportunities for the players in this market.
The market is primarily segmented on the basis of product type, sales, application and geographic region.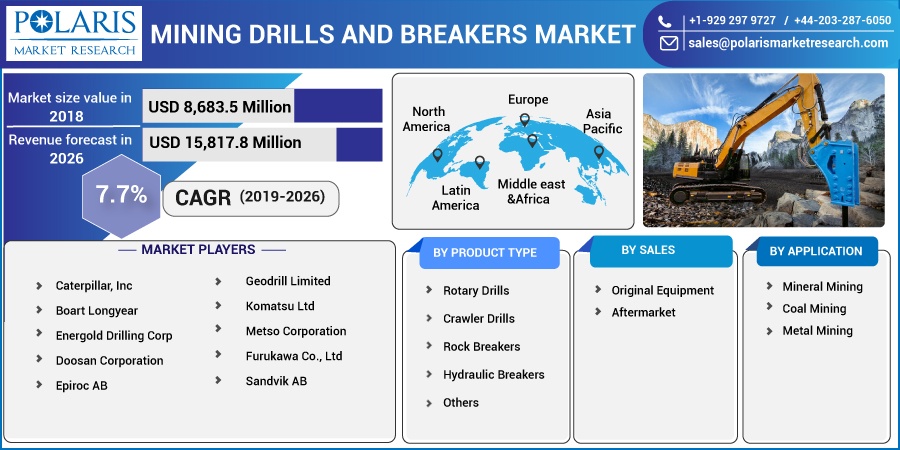 Know more about this report: Request for Sample Pages
Product Type Outlook
On the basis of product type, the global mining drills and breakers market is segmented into drills and breakers. The drills segment is further segmented into rotary and crawler, whereas, breakers segment is further bifurcated into rock and hydraulic. The market share for rock breaker is expected to be highest in the global market. This is mainly due to the augmented demand for backhoe loaders and excavators. In addition to this, the increment in growth of infrastructure across the globe coupled with rising exploration activities has also fueled the growth of this segment.
Sales Outlook
The global market can be segmented into original equipment and after sales based on sales type. It has been noticed in the recent years that, the after sales of mining drills and breakers has witnessed a significant increase in demand. This is largely due to the augment in demand for maintenance and repair services in this market. The equipment along with their parts are subject to continuous wear and tear during the mining activities. This in turn, has compelled the vendors to provide after sales services in order to confirm smooth functioning of exploration activities of metals.
Mining Drills and Breakers Market Report Scope
By Product Type

By Sales

By Application

By Region Type

· Rotary Drills

· Crawler Drills

· Rock Breakers

· Hydraulic Breakers

· Others

· Original Equipment

· Aftermarket

· Mineral Mining

· Coal Mining

· Metal Mining

· North America (U.S., Canada)

· Europe (UK, Germany, France, Italy, Russia)

· Asia Pacific (India, Japan, China, South Korea)

· Latin America (Brazil, Mexico, Colombia)

· MEA (Saudi Arabia, South Africa, Israel, UAE)
Know more about this report: Request for Sample Pages
Application Outlook
The global market is segmented into mineral mining, coal mining and metal mining based on application. In 2018, the metal mining segment held the major share in the overall market owing to increased exploration activities for metals such as gold, aluminum and steel among others, in order to fill the gap between its supply and demand. The rising automobile industry and increase in infrastructure activities has fueled the growth of this market.
Regional Outlook
Mining drills and breakers market was dominated by Asia-Pacific region in terms of market share in 2018. Asia Pacific region is anticipated to witness exponential growth over the forecast period. This is mainly attributed to the growth of construction sector in Asia Pacific region. The U.S. is one of the major revenue contributors to the North America market. In addition to this, Asia Pacific marks the presence of key manufacturers and is one of the pioneers in mining drills and breakers. Increasing government initiatives in order to support the metal exploration is also expected to fuel the demand for drills and breakers, thus driving the growth of market over the forecast period.
Competitive Landscape
Some of the leading players in the global market include Caterpillar, Inc, Boart Longyear, Energold Drilling Corp, Doosan Corporation, Epiroc AB, Geodrill Limited, Komatsu Ltd, Metso Corporation, Furukawa Co., Ltd, and Sandvik AB. among others. The key players in this market have adopted the strategy of providing products specific to the application. In addition to this, partnership is another major development strategy adopted by the players. In line with this, in July 2018, Komatsu Ltd, signed a partnership agreement with UMW Corporation Sdn. Bhd to start a new joint-venture company. This partnership was signed in order to strengthen the marketing of their products. Moreover, in July 2017, Breaker Technology (BTI), the manufacturer of rockbreaking technology, and Creighton Rock Drill Ltd., distributor of aggregate and mining equipment, announced the signing of a distribution partnership for BTI mining equipment in Ontario. This partnership was done as both the companies are striving to improve their customer service and support in this industry.