The global micro-mobility charging infrastructure market was valued at USD 3.31 billion in 2020 and is expected to grow at a CAGR of 23.5% during the forecast period. The growth of this market is attributed to the rising funding in the micro-mobility charging infrastructure that is essential for both private and commercial individuals. Moreover, the continual increase in awareness about greenhouse gas emissions is escalating the demand for micro vehicles, which expands the utility for micro-mobility charging infrastructure in the global market.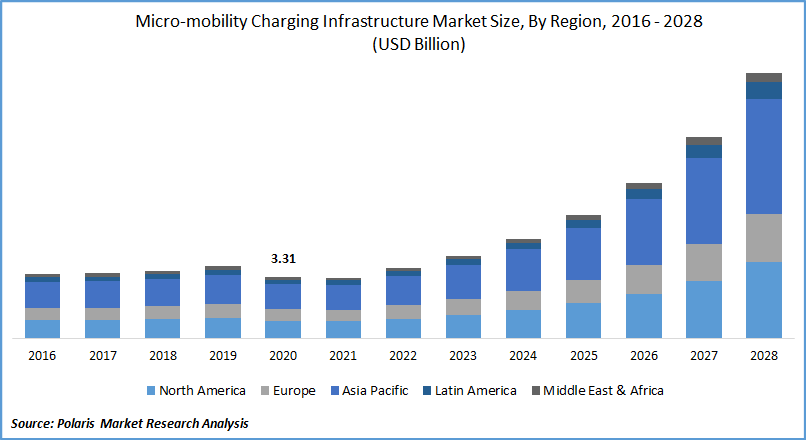 Know more about this report: request for sample pages
Micro-mobility is also considered a powerful option to manage greenhouse gas emissions and proliferation access to transportation. E-scooters or E-bikes are cost-effective to generate, operate and run as compared to other means of transport. They also use clean energy, so these are fuel-efficient and are expected to contribute to the adoption of micro-mobility, which eventually paves the way for higher micro-mobility charging infrastructure market growth during the forecast period.
Micro-mobility is generally defined as short commutes below 5 miles and vehicles that don't drive beyond 15 miles per hour. The micro-mobility charging infrastructure typically comprises e-scooters and e-bikes that use clean energy such as rechargeable batteries to combat climate change and deliver sustainable transport.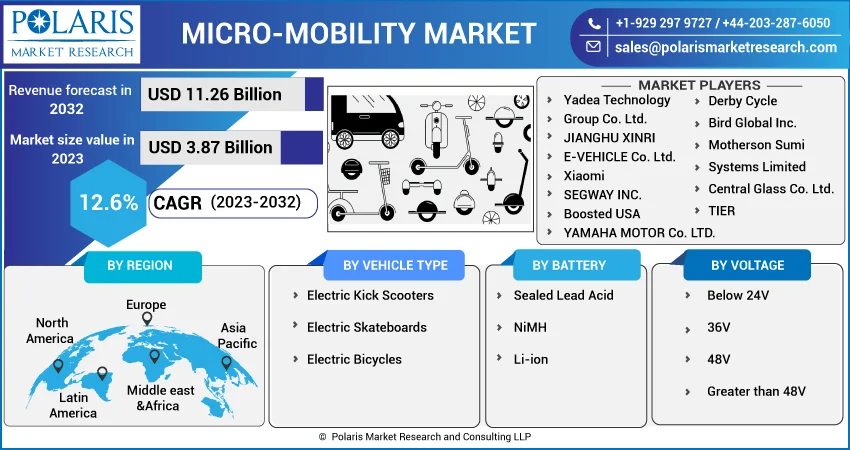 Know more about this report: request for sample pages
Industry Dynamics
Growth Drivers
The heavy investment in charging infrastructure from automakers in e-vehicles or micro-mobility is driving the micro-mobility charging infrastructure market growth over the forecast years. Globally, automakers are promoting micro-mobility and providing publicly accessible charging infrastructure. The automakers are investing substantial funds in producing electric scooters and e-bikes with low and zero tailpipe emission that includes fuel economy standards.
Automobile manufacturers are further supporting the adoption of the micro-mobility charging infrastructure through investment in providing charging infrastructure in parking lots and refurbished buildings, public accessible charging infrastructure in cities, and highway networks.
For instance, in 2021, the Indian government established a cost-effective AC charge point standard for charging EVs. Thus, it plays a critical role in changing the dynamics of the micro-mobility charging infrastructure market during the forecast period.
Report Segmentation
The market is primarily segmented on the basis of vehicle, charger, power source, end-use, and region.
By Vehicle

By Charger

By Power Source

By End-Use

By Region

E-scooters

E-bikes

E-unicycles

E-skateboards

Solar Powered

Battery Powered

North America (U.S., Canada)

Europe (Germany, UK, France, Italy, Spain, Netherlands, Austria)

Asia Pacific (China, India, Japan, South Korea, Indonesia, Malaysia)

Latin America (Brazil, Mexico, Argentina)

Middle East & Africa (Saudi Arabia, South Africa, Israel, UAE)
Know more about this report: request for sample pages
Insight by Vehicle
Among the vehicle type segment, the e-scooter charging infrastructure segment held the largest stake in the global market in 2020. E-scooters are becoming more popular with riders on the back of they are simple to park and charge. Further, e-scooters charging infrastructure significantly reduce traffic congestion and enhance air quality, which is likely to drive the demand for e-scooter charging infrastructure in the global market.
The e-scooters often have a few significant design characteristics that set them separately from additional electric micro-mobility vehicles. They have a step-through frame where the user sits on a lower seat, places their feet on the floorboard, and reaches marginally higher for the handles. This makes e-scooters more comfortable riding style that can simply adapt to beginners, further boosting the micro-mobility charging infrastructure growth in the global market.
The e-bikes charging infrastructure segment is likely to propagate at a healthy rate during the forthcoming period, owing to the surging installation of e-bike charging stations in tourist zones as well as public areas. Moreover, there has been witnessed considerable advancement in demand for e-bikes which would complement the market growth. Hence, this segment is further contributing to the growth of the micro-mobility infrastructure in the global market.
Insight by End-Use
The residential segment is expected to witness large revenue in the global market during the forecast period as the city planners in urban spaces have focused on opting for a cost-effective means of short-distance and cheap transportation, climbing its demand by residents in urban areas. Moreover, the commercial segment is expected to contribute a high market share by 2028.
The commercial uses of the micro-mobility charging infrastructure are diverse; therefore, it is extensively used to transport heavy loads over short distances. Besides, it is often considered as cost-efficient in comparison to conventional systems. All these factors are expected to contribute to the growth of the market during the forecasting years.
Geographic Overview
Geographically, Asia Pacific is the largest revenue contributor in the global market due to the growth of densely populated and urbanized areas in the region. Additionally, micro-mobility is a more budget-friendly and efficient alternative to conventional micro mobility systems. Thus, the demand for micro-mobility charging infrastructure from this region is continually growing at a rapid pace considering the global scenario.
Furthermore, electric micro-mobility often releases less carbon dioxide than the conventional or gasoline ones, which, in turn, is expected to pave the market growth in the upcoming years. Additionally, countries such as China, Japan, Singapore, South Korea, and South Korea are further estimated to register the largest number of initiatives to reduce carbon emissions.
As a result, in 2016, nearly 67% of all venture funding in micro-mobility sharing was raised by Chinese bike-sharing companies. The current trend of astral investments in bike-sharing facilities across China has remained to take over the charging infrastructure investment setting over 2020, with a whopping 55% of all micro-mobility platform venture funding expected to bolster the market growth.
Incentives offered by the local and central government of American countries on the adoption of electric vehicles further augmenting the region's market growth. For instance, the National Association of Quebec, Canada, passed zero-emission vehicle legislation in October 2016, accommodating any automaker considering electric vehicles that sells more than 4,500 new electric vehicles per year, as per the International Agency. Such initiatives are expected to bolster the market growth.
Moreover, Europe is expected to witness moderate growth in the global market. However, the COVID-19 disease escalated in the global scenario as a result of which many suppliers have contracted supply of micro-mobility charging infrastructure. Furthermore, pandemic outbreaks lead to the worst hit in Great Britain, although the country is in recovering phase. So, the demand for such infrastructure is likely to grow slightly at a significant rate, followed by the Latin and South American countries.
Competitive Landscape
Some of the Major Players operating the global market include Ather Energy, bike-energy, Bikeep, Flower Turbines, Get Charged, Inc., GiulioBarbieri SRL, Ground Control Systems, Magment GmbH, Perch Mobility, Robert Bosch GmbH, Solum PV, SWIFTMILE, and The Mobility House GmbH.
| | |
| --- | --- |
| Report Attributes | Details |
| Market size value in 2020 | USD 3.31 billion |
| Revenue forecast in 2028 | USD 14.29 billion |
| CAGR | 23.5% from 2021 - 2028 |
| Base year | 2020 |
| Historical data | 2016 - 2019 |
| Forecast period | 2021 - 2028 |
| Quantitative units | Revenue in USD billion and CAGR from 2021 to 2028 |
| Segments covered | By Vehicle, By Charger, By Power Source, By End-Use, By Region |
| Regional scope | North America, Europe, Asia Pacific, Latin America, Middle East & Africa |
| Key Companies | Ather Energy, bike-energy, Bikeep, Flower Turbines, Get Charged, Inc., GiulioBarbieri SRL, Ground Control Systems, Magment GmbH, Perch Mobility, Robert Bosch GmbH, Solum PV, SWIFTMILE, and The Mobility House GmbH |