The global meningitis diagnostic testing market was valued at USD 115.51 million in 2022 and is expected to grow at a CAGR of 3.5% during the forecast period.
Rapid advancements in healthcare and diagnostic technologies that enable precise diagnosis in a short period are favorable for market growth. Furthermore, an increase in R&D activities intended to generate unique and accurate meningitis diagnosis solutions is likely to boost demand dynamics in the global market throughout the forecast period.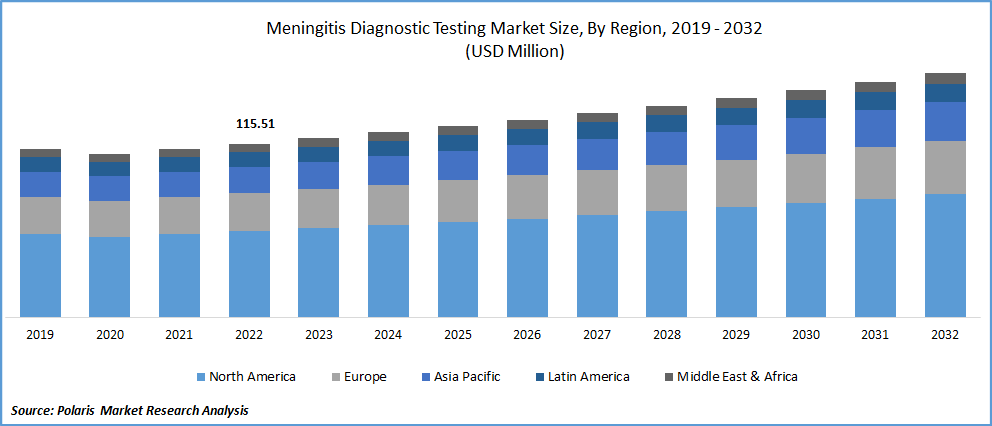 Know more about this report: Request for sample pages
Meningitis symptoms include headaches, fever, and neck stiffness. Ear infections, skull fractures, and, in rare situations, surgery can cause meningitis. Furthermore, germs enter the blood circulation and travel to the brain and spinal cord, resulting in acute bacterial meningitis, a major cause of meningitis. According to the latest report published by the Meningitis Research Foundation meningitis and neonatal sepsis together, Meningitis is the second largest infectious killer of children aged under five. In 2019 total number of cases of children under age 5 was more than 25 lakhs and more than 2 lakh children died due to meningitis.
Meningitis diagnostic tests include blood cultures, imaging, and spinal taps (lumbar puncture). A blood culture diagnostic test involves placing blood samples in a specific dish to see if they grow microorganisms, particularly bacteria, or placing a sample on a slide and staining it to look for potential pathogens under a microscope. Imaging tests, such as Computerized Tomography (CT) or magnetic resonance imaging (MRI), are performed on the head to detect swellings or inflammations. X-rays or CT scans of the chest potentially reveal illness in other locations related to meningitis.
On the other hand, a spinal tap is utilized to collect cerebrospinal fluid (CFS) to make a conclusive diagnosis of meningitis. In a person suffering from meningitis, CFS frequently manifests as low glucose levels and an elevated white blood cell count and protein levels.
The COVID-19 pandemic has resulted in a decline in vaccine uptake and coverage due to the population's fear of getting the virus and many limitations enforced on social distancing. Individuals have difficulty receiving routine vaccines due to a lack of primary care or self-isolation due to COVID-19. According to the article published in Clinical Epidemiology and Global Health in February 2022, the meningitis epidemic in the Democratic Republic of Congo (DRC), which arose within the coronavirus illness 2019 pandemic, added to the strain on healthcare systems that were already overburdened with identifying, preventing, and treating the current coronavirus.
The meningitis outbreak in the Democratic Republic of the Congo resulted in a 50% mortality rate. The whole healthcare business is under pressure to improve the situation, which helps the market's growth. Additionally, there is no evidence that those who have meningitis are more likely to catch coronavirus or become severely ill from COVID-19. However, the development of diagnostic tests is providing an additional indication for the treatment of meningitis, leading to the growth of this market.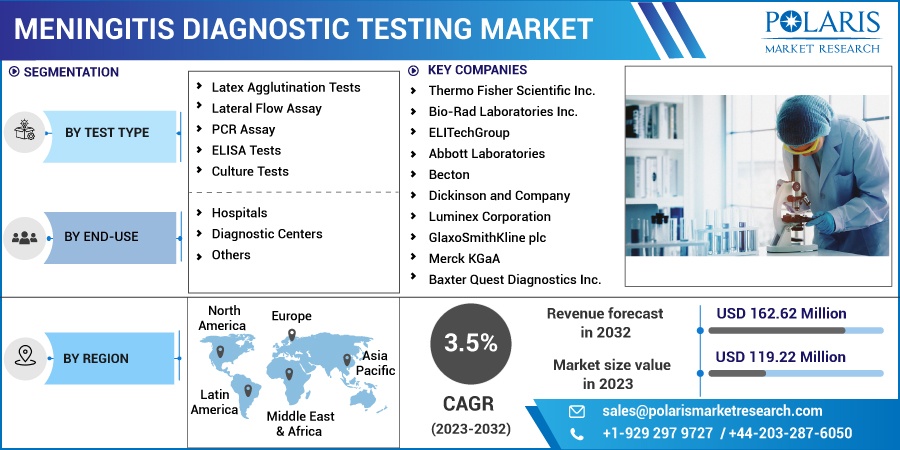 Know more about this report: Request for sample pages
Industry Dynamics
Growth Drivers
The rising prevalence of meningitis all over the world help to boost the global meningitis diagnostic testing market. According to a study by Ghia CJ et al., A systematic literature review published in December 2021, the prevalence rate ranged from 0.5% to 61.8% in the pediatric population. The prevalence rates range from 8.68% to 78.85% in individuals of all ages (0-75 years). With a frequency ranging from 2.09% to 53.1%, cryptococcal meningitis was most frequent in HIV/AIDS patients.
Due to this huge patient growth, the demand for point-of-care services has increased. Compared to traditional meningitis diagnostic testing procedures, point-of-care services provide more exact findings in less time. This rising demand helps the growth of the global market.
Additionally, it is anticipated that government involvement in containing meningitis outbreaks and a rise in demand for quick diagnosis tools would support the expansion of the worldwide market. The World Health Organization directed the development of a global road plan that puts forth a vision and path to combat meningitis by 2030, including hundreds of experts, Member States representatives, partners, Civil Society Organizations, and commercial sector representatives through various discussions. Such measures would assist in raising awareness about the need for early detection of meningitis, increasing market growth.
Report Segmentation
The market is primarily segmented based on test type, end use and region.
By Test Type

By End-Use

By Region

Latex Agglutination Tests
Lateral Flow Assay
PCR Assay
ELISA Tests
Culture Tests

Hospitals
Diagnostic Centers
Others

North America (U.S., Canada)
Europe (France, Germany, UK, Italy, Netherlands, Spain, Russia)
Asia Pacific (Japan, China, India, Malaysia, Indonesia, South Korea)
Latin America (Brazil, Mexico, Argentina)
Middle East & Africa (Saudi Arabia, UAE, Israel, South Africa)
Know more about this report: Request for sample pages
The PCR Assay segment is expected to witness the largest growth
PCR assay segment is expected to dominate the market. With rapid test results compared to traditional tests, maximum sensitivity rate, and highly exact &accurate test findings, it has the largest market revenue. For example, bacterial meningitis is a key cause of morbidity and mortality worldwide. Rapid identification of the meningitis etiological agent is critical for clinical and public health treatment. Given the many infections that produce the clinical condition and the availability of vaccinations that protect against some, but not all, disease prevention is essential.
Molecular diagnostic assays have been developed for bacterial identification since microbiological culture is difficult, time-consuming, and frequently influenced by a patient's past antibiotic therapy. Because they target bacterial DNA and are not hampered by the presence of cultivable organisms, molecular tools such as qualitative or quantitative PCR (qPCR), real-time PCR (rtPCR), and loop-mediated isothermal amplification assays (LAMP) offer the potential to overcome many limitations of culture-based techniques.
They use standard, generic laboratory procedures that allow various infections to be discovered quickly. The World Health Organization (WHO) does advise utilizing rtPCR for testing for pneumococcus, meningococcus, and Hib in instances of suspected meningitis. PCR tests identifying a single pathogen were the first molecular approaches to develop.
The hospital sector is expected to hold the significant revenue share
The presence of a large patient pool at hospitals necessitates optimal care delivery, which helps in the growth of this market, and it will continue in the forecast period. Additionally, those hospitals are equipped with modern diagnostic facilities and the presence of qualified doctors, which increases patient availability.
Furthermore, increased healthcare spending per capita is expected to drive growth. According to the World Bank, healthcare expenditure increased worldwide from 9.7% in 2018 to 9.83 % in 2019. Increasing hospitalization rates owing to meningitis and the severity of the condition is likely to boost sector expansion throughout the forecast period.
The diagnostic centers segment is predicted to increase rapidly over the forecast period. The rise in the prevalence of infectious illnesses and the increased usage of technologically improved devices for precise and accurate findings are essential drivers driving category growth. Furthermore, the availability of many diagnostic facilities like ARUP Laboratories, UCSF Labs, and others providing meningitis diagnostic tests is fueling sector expansion in the forecast period.
North America is expected to witness significant growth
The high adoption rate of modern diagnostic equipment, the rising number of diagnostic centers, the rising no of patients in that region, and the easy availability of diagnostic test kits are expected to boost the market. For instance, Florida was suffering a severe, ongoing meningococcal illness outbreak, primarily among homosexual and bisexual males, including men who were HIV positive, according to an outbreak notification released by the Centers for Disease Control and Prevention in April 2021. The Florida incident occurred at the same time when the Centers for Disease Control and Prevention (CDC) reported a large increase in sexually transmitted illnesses, such as gonorrhea, syphilis, and congenital syphilis.
Competitive Insight
Key players include Thermo Fisher Scientific, Bio-Rad Laboratories, ELITech Group, Abbott Laboratories, Becton, Dickinson and Company, Luminex Corporation, GlaxoSmithKline, Merck KGaA, Baxter Quest Diagnostics, F. Hoffman-La Roche, Cepheid, and Pfizer.
Recent Developments
In July 2022, the GenomEra assay kit, a rapid PCR test kit, was introduced by Abacus Diagnostica in the Europe market for the rapid detection of viruses that cause viral meningitis and encephalitis.
In January 2022, QIAGEN announced the inclusion of additional tests & the introduction of QIAstat syndromic testing to allow laboratories & hospitals all over the world to test patients for various infections from a single sample.
Meningitis Diagnostic Testing Market Report Scope
| | |
| --- | --- |
| Report Attributes | Details |
| Market size value in 2023 | USD 119.22 million |
| Revenue forecast in 2032 | USD 162.62 million |
| CAGR | 3.5% from 2023- 2032 |
| Base year | 2022 |
| Historical data | 2019 – 2021 |
| Forecast period | 2023 - 2032 |
| Quantitative units | Revenue in USD million and CAGR from 2022 to 2030 |
| Segments Covered | By Test Type, By End Use, By Region |
| Regional scope | North America, Europe, Asia Pacific, Latin America; Middle East & Africa |
| Key Companies | Thermo Fisher Scientific Inc., Bio-Rad Laboratories Inc., ELITechGroup, Abbott Laboratories, Becton, Dickinson and Company, Luminex Corporation, GlaxoSmithKline plc, Merck KGaA, Baxter Quest Diagnostics Inc., F. Hoffman-La Roche Ltd., Cepheid, and Pfizer Inc. |