The global IP Camera market was valued at USD 11.31 billion in 2022 and is expected to grow at a CAGR of 13.9% during the forecast period.
The emergence of thermal cameras and the subsequent use of IoT in video surveillance has significantly raised the demand for Internet Protocol (IP)-based camera systems. In the future years, it is expected that the IP Camera Market will be propelled by the expanding use of those cameras in commercial structures, the rising trend of smart homes, and the demand for security in residential applications.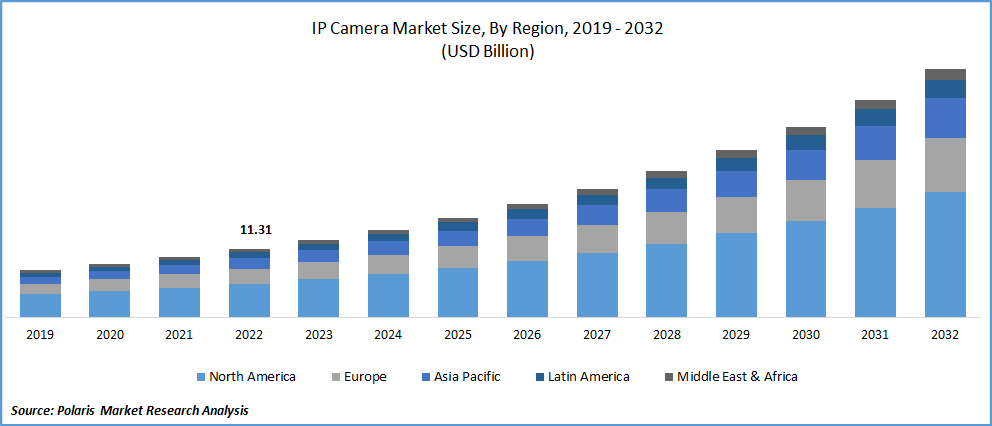 Know more about this report: Request for sample pages
Modern security systems include cameras that must process a lot of data in order to provide us with information that will allow us to identify threats and stop them before they materialize. Additionally, these cameras have new voice, motor, and video processing skills. Modern cameras must be deployed in difficult outdoor conditions where energy efficiency is essential. They are IP-linked and can be connected via wired Ethernet, IEEE 802.11 WiFi, or HDBaseT.
Interactive product releases, new product launches, ongoing research and development (R&D), and innovation activities in camera and networking technologies are a few examples of significant strategic actions done by market participants. Features like remote monitoring, easy installation, low cost, and limitless storage have made cameras widely used in a number of commercial industries.
For instance, Hero Electronix releases an "Outdoor Security Camera" in December 2020 with AI-powered capabilities.
A sizable portion of the population has been impacted by the worldwide COVID-19 pandemic. A lot of people have lost their means of support as a result of this worldwide epidemic. It has impacted various industries' dynamics and expansion. Everyone practices social distancing and worries about their immunity.
Security issues and the high cost of installation and execution will be the two main challenges restricting the growth of this industry because this system is totally online and vulnerable to hacking. As these devices are used more frequently in countries like China, India, Australia, Singapore, Japan, and others, the regional IP camera market is expected to grow.
Favorable infrastructural developments and governmental programs, such as the smart city initiatives in Thailand and India, have a positive impact on the market. The availability of affordable options, particularly in China and Taiwan, is projected to increase the region's demand for these products. The Chinese IP camera market is expected to grow because there are so many local business operators offering cost-effective solutions. Demand is also expected to be boosted by favorable government initiatives on city surveillance, the expansion of smart cities, and the use of IoT devices.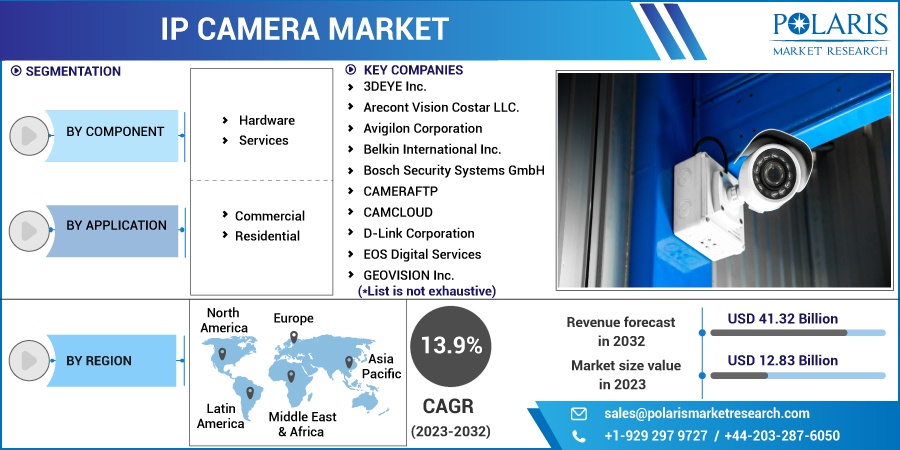 Know more about this report: Request for sample pages
Industry Dynamics
Growth Drivers
Due to the rise in squatting and home burglaries, the need for security cameras has recently gained popularity. Homeowners' top priorities now include domestic security. Over the projected period, it is predicted that this aspect would propel the expansion of the internet protocol (IP) camera market. The popularity of home monitoring has increased in tandem with the urban population growth. A few of the crucial strategic actions for manufacturers include interactive product releases, new product launches, continued research and development, and innovation efforts in the technologies of cameras and networking.
IoT technologies are being embraced by homeowners, which helps the market expand. In order to improve the security of their properties, users are increasingly choosing smart IP cameras instead of more conventional mountable Wi-Fi cameras. Players in this industry stand to benefit from this with respect to growth. The expanding usage of IoT in video monitoring and the introduction of infrared cameras have both greatly raised demand for IP cameras.
The IP camera market is expected to be driven by the rising popularity of smart homes, the expansion of their use in commercial buildings, and the need for security in residential applications. The increase in smartphone users and the availability of appealing installment policies for security are what is driving the residential market.
Report Segmentation
The market is primarily segmented based on component, application, and region.
By Component

By Application

By Region

North America (U.S., Canada)
Europe (France, Germany, UK, Italy, Netherlands, Spain, Russia)
Asia Pacific (Japan, China, India, Malaysia, Indonesia, South Korea)
Latin America (Brazil, Mexico, Argentina)
Middle East & Africa (Saudi Arabia, UAE, Israel, South Africa)
Know more about this report: Request for sample pages
In 2022, the hardware segment dominated the market, accounting for the largest market share.
Hardware components have maintained their market share as the industry has made it easier to develop hardware systems in recent years. Few government agencies are embracing the facial and body recognition technology that manufacturers use to create new products with technological advancements and superior features powered by AI and IoT.
The service segment is expected to register the highest CAGR during the forecast period as manufacturers and service providers meet the market demand for better solutions. To meet the demand for IP camera systems in the market, manufacturers are diversifying their product lines.
The residential segment will account for a higher share of the market.
Residential applications will have a significant impact on the market in the coming years. The rise of the industry is also fueled by its growing use of IoT in smart homes. Customers are moving away from traditional CCTV cameras and using IP cameras with new and innovative features to enhance the security of their assets. The many advantages of these state-of-the-art smart home security cameras make them a preferred choice for many home installations.
The commercial application of IP cameras is expected to reach market revenue in 2022, with increasing demand for advanced security technology in banking and financial sector accelerating the commercial industry and influencing the growth of IP cameras market. The implementation of state-of-the-art video solutions that can alert and notify security personnel of break-ins and break-ins are being driven by the rise in retail thefts. Many providers on the market try to offer security solutions that are particularly suitable for commercial use.
North America dominated the market share.
The IP camera industry is rapidly expanding in North America, which is a wealthy region. The expansion of industrial sectors, advancements in features and technologies, as well as the impact of video surveillance cameras on regional market growth, are all contributing to the region's CAGR during the projection period. In the United States, only 20 cities are expected to house 50% of all construction projects between 2019 and 2023, according to a report by BuiltWorlds Inc.
Asia Pacific is expected to dominate the market over the forecast period. In addition, the market for internet protocol (IP) cameras is anticipated to grow significantly by 2032 as a result of the increasing use of modern security technologies for a variety of purposes, including traffic monitoring, home security, and public surveillance. The market in the region is expected to grow owing to increasing government, private and academic investment in government-related new technology innovations and research and development.
Competitive Insight
Some of the major players operating in the global market include, 3DEYE Inc., Arecont Vision Costar LLC., Avigilon Corporation, Belkin International Inc., Bosch Security Systems GmbH, CAMERAFTP, CAMCLOUD, D-Link Corporation, EOS Digital Services, GEOVISION Inc., Hangzhou Hikvision Digital Technology Co. Ltd., Honeywell International Inc., Johnson Controls, Kintronics Inc., Matrix Comsec, Panasonic Corporation, PRO-VIGIL, Samsung Electronics Co. Ltd., Schneider Electric SE, Sony Corporation, Stealth Monitoring, TYCO, Vivotek Inc.
Recent Developments
May 2021 Hangzhou Hikvision Digital Technology Co. launched AX PRO wireless alarm system. The AX PRO line of motion detectors is separated into single-element and dual-tech detectors. Using microwave or passive infrared (PIR) technology, single-element sensors may detect moving intruders and instantly sound an alarm. In order to assess infiltration risks and minimize false positives, dual-tech systems combine multiple PIR, microwave, or camera technologies. The AX PRO hub, which connects up to 210 detectors to meet clients' security needs, is also included in the plans.
The ILME-FR7, a full-frame image sensor with integrated pan/tilt/zoom (PTZ) functionality and an interchangeable E-mount lens, was introduced by Sony Electronics Inc. Its cinematic qualities and programmable remote control open up new creative opportunities in live production, studio, and movie scenarios.
IP Camera Market Report Scope
| | |
| --- | --- |
| Report Attributes | Details |
| Market size value in 2023 | USD 12.83 billion |
| Revenue forecast in 2032 | USD 41.32 billion |
| CAGR | 13.9% from 2023 - 2032 |
| Base year | 2022 |
| Historical data | 2019 – 2021 |
| Forecast period | 2023 - 2032 |
| Quantitative units | Revenue in USD billion and CAGR from 2022 to 2030 |
| Segments Covered | By Component, By Application, By Region |
| Regional scope | North America, Europe, Asia Pacific, Latin America; Middle East & Africa |
| Key Companies | 3DEYE Inc., Arecont Vision Costar LLC., Avigilon Corporation, Belkin International Inc., Bosch Security Systems GmbH, CAMERAFTP, CAMCLOUD, D-Link Corporation, EOS Digital Services, GEOVISION Inc., Hangzhou Hikvision Digital Technology Co. Ltd., Honeywell International Inc., Johnson Controls, Kintronics Inc., Matrix Comsec, Panasonic Corporation, PRO-VIGIL, Samsung Electronics Co. Ltd., Schneider Electric SE, Sony Corporation, Stealth Monitoring, TYCO, Vivotek Inc. |