The global hydrocolloids market was valued at USD 10.45 billion in 2022 and is expected to grow at a CAGR of 6.1% during the forecast period. Hydrocolloids are a diverse group of polysaccharides that can create a gel-like substance when mixed with water. These substances are extracted from various sources, including plants, animals, seaweed, and microbes, and have become extremely popular among manufacturers worldwide. Hydrocolloids are commonly used in the food and beverage, cosmetic, and pharmaceutical industries due to their ability to thicken, stabilize, and improve the texture of products. As the demand for convenient food options increases, manufacturers increasingly utilize hydrocolloids in various processed foods, which is expected to drive sales growth in the coming years.
Know more about this report: Request for sample pages
The hydrocolloids market is experiencing growth, primarily driven by the increasing demand for convenience food products. Manufacturers utilize these substances extensively in various processed foods due to their ability to improve texture, stabilize, and provide viscosity. The growing consumer preference for natural and organic ingredients has also driven the demand for hydrocolloids extracted from natural sources.
Furthermore, the hydrocolloids market is being propelled by various factors, including the need to meet the rising food demands of a growing population, the economic growth of developing nations, and the versatility of these substances in various manufacturing industries. Additionally, the demand for clean-label products and the increasing number of health-conscious consumers have contributed to the growth of the hydrocolloids market.
The pandemic has significantly disrupted global supply chains, production, and distribution channels. Many manufacturing units were forced to shut down or operate at reduced capacity due to lockdowns and restrictions, which decreased hydrocolloid demand. The closure of restaurants, cafes, and other food service establishments further impacted the market as the demand for processed foods decreased.
However, the pandemic has also led to a significant increase in demand for certain hydrocolloids, such as xanthan gum, which is used to produce hand sanitizer and other cleaning products. Moreover, the increasing trend of consumers stockpiling essential items and non-perishable foods has also driven the demand for hydrocolloids to produce packaged foods.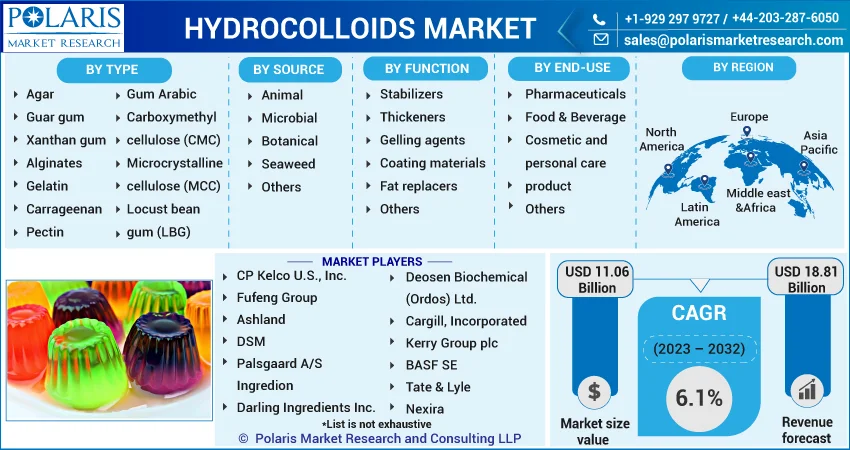 Know more about this report: Request for sample pages
Industry Dynamics
Growth Drivers
Various factors drive the hydrocolloid market, including the increasing demand for convenience foods and the rising demand for natural and clean-label products. Hydrocolloids are widely used in processed foods to improve their texture, stability, and shelf life. Consumers are becoming more health-conscious and are seeking natural and clean-label products, which has led to the popularity of hydrocolloids derived from natural sources such as seaweed and plants.
The growing demand from emerging economies, such as China and India, has also increased the consumption of processed foods, driving the hydrocolloid market. Additionally, the expansion of the pharmaceutical industry, where hydrocolloids are used to produce drug delivery systems, wound dressings, and other medical products is driving the demand for hydrocolloids. Technological advancements are also driving the growth of the hydrocolloid market, as the development of new hydrocolloid products with improved properties is gaining momentum.
For instance, in march 2022, International Flavors & Fragrances Inc.'s Tastepoint inaugurated a new creative center in Corona. The facility boasts flavor creation and design labs catering to various categories, such as culinary, bakery, bars, confectionery, and beverage. In addition, there is a collaborative space that facilitates product development by harnessing the company's range of ingredients, including naturally sourced colors, proteins, hydrocolloids, flavors, and food protection.
Report Segmentation
The market is primarily segmented based on type, source, function, end-use, and region.
By Type

By Source

By Function

By End-Use

By Region

Agar

Guar gum

Xanthan gum

Alginates

Gelatin

Carrageenan

Pectin

Gum Arabic Carboxymethyl cellulose (CMC)

Microcrystalline cellulose (MCC)

Locust bean gum (LBG)

Animal

Microbial

Botanical

Seaweed

Others

Stabilizers

Thickeners

Gelling agents

Coating materials

Fat replacers

Others

Pharmaceuticals

Food & Beverage

Cosmetic and personal care product

Others

North America (U.S., Canada)

Europe (France, Germany, UK, Italy, Netherlands, Spain, Russia)

Asia Pacific (Japan, China, India, Malaysia, Indonesia, South Korea)

Latin America (Brazil, Mexico, Argentina)

Middle East & Africa (Saudi Arabia, UAE, Israel, South Africa)
Know more about this report: Request for sample pages
Gelatin segment has dominated the market in 2022 and will continue its dominance in the hydrocolloids market.
Gelatin dominates the hydrocolloids market and will likely continue its dominance over the projected period due to its extensive use in pharmaceutical products like wound dressings and tablet formulations. It is also widely used as a clarifying agent in food products such as desserts, candies, jellies, and ice creams. Additionally, gelatin is an essential protein source that can replace carbohydrates and fats in food products. Its ability to develop diet products without compromising flavor and texture drives its demand among processors.
In addition, gelatin is widely used in the food industry as a gelling agent and is commonly used in producing desserts, confectionery, and meat products. It is also used in the pharmaceutical industry to make capsules, tablets, and other drug delivery systems.
Animal segment anticipated to dominate the market over the projected period
The animal source segment is expected to dominate the hydrocolloid market due to the abundant availability of animal by-products used as raw materials for manufacturing. Hydrocolloids are derived from animal skins, bones, and hides, among other sources, primarily from cows, pigs, and poultry. This source of hydrocolloids is preferred because it promotes the complete utilization of animals mainly raised for meat, thus contributing to zero waste generation.
Furthermore, manufacturers increasingly focus on producing products that guarantee full traceability and support animal welfare, delivering safe products and offering promising opportunities for the animal source segment to expand.
Stabilizers segment is projected to grow at the fastest rate over the forecast period
The stabilizers segment is anticipated to grow at fastest rate during the forecast period due to beverage emulsions being inherently unstable and prone to separating into two separate liquids, making hydrocolloids the most crucial to stabilizing and preserving flavors. The common emulsifiers and stabilizers employed in beverage emulsions are modified starches and gum Arabic.
Hydrocolloid stabilizers include xanthan, carrageenan, alginates, pectin, and cellulose derivatives. Each of these hydrocolloids has unique functional characteristics that can affect the physical and textural properties of the beverage emulsion.
Food and beverages segment is projected to exhibit the fastest rate of growth.
The food and beverages segment is anticipated to grow the fastest over the forecast period. Adding hydrocolloids to beef and poultry products can improve their cooking yield, texture, and slice qualities. Carrageenan is commonly used to preserve moisture and enhance viscosity, while agar effectively reduces the fat content in meat products. Xanthan gum is a popular choice for thickening and stabilizing meat products, whereas gelatin can enhance their appearance and gel fluids in processed hams. Alginate can improve the texture and quality of meat products, while pectin and locust bean gum can act as fat replacers. Guar gum, on the other hand, can be utilized as a binder and lubricant in various meat products.
North America is expected to hold the largest share globally.
North America is anticipated to hold the largest share globally, driven by the country's food and eating habits. With a high demand for ingredients that can reduce oil and fat, hydrocolloids have become a popular choice for manufacturers in the United States. They act as a barrier to the oil and grease in the commonly consumed breaded and fried foods, reducing calorie-dense fat and oil by substituting it with structured water. As health-conscious consumers continue to prioritize low-oil and low-fat foods, the use of hydrocolloids is expected to increase, driving further growth in the market.
Competitive Insight
Some of the major players operating in the global market include CP Kelco U.S., Inc., Fufeng Group, Ashland, DSM, Palsgaard A/S, Ingredion, Darling Ingredients Inc., Associated Archer Daniels Midland Company, Deosen Biochemical (Ordos) Ltd., Cargill, Incorporated, Kerry Group plc, BASF SE, Tate & Lyle, Nexira, and International Flavors & Fragrances Inc.
Recent Developments
In October 2021, Nexira introduced a new native locust bean gum texturizing range to cater to the growing demand for plant-based foods and beverages that offer clean labels and sensory experiences. These products are specifically designed for non-dairy formulations and can help manufacturers meet consumer expectations by providing texture, mouthfeel, and stability.

In September 2022, ExoPolymer partnered with CP Kelco U.S., Inc. to collaborate on developing and commercializing a range of functional ingredients, also known as biopolymers, for use in the personal care industry.
Hydrocolloids Market Report Scope
| | |
| --- | --- |
| Report Attributes | Details |
| Market size value in 2023 | USD 11.06 billion |
| Revenue forecast in 2032 | USD 18.81 billion |
| CAGR | 6.1% from 2023 – 2032 |
| Base year | 2022 |
| Historical data | 2019 – 2021 |
| Forecast period | 2023 – 2032 |
| Quantitative units | Revenue in USD billion and CAGR from 2023 to 2032 |
| Segments Covered | By Type, By Application, By Shape, By Distribution Channel, By Region |
| Regional scope | North America, Europe, Asia Pacific, Latin America; Middle East & Africa |
| Key Companies | CP Kelco U.S., Inc., Fufeng Group, Ashland, DSM, Palsgaard A/S, Ingredion, Darling Ingredients Inc., Associated Archer Daniels Midland Company, Deosen Biochemical (Ordos) Ltd., Cargill, Incorporated, Kerry Group plc, BASF SE, Tate & Lyle, Nexira, and International Flavors & Fragrances Inc. |