The global hybrid train market was valued at USD 13.83 billion in 2021 and is expected to grow at a CAGR of 5.89% during the forecast period.
The rising demand for efficient, zero-emission rail locomotives is a primary reason for creating a need for innovative hybrid fuel-based train technology. The market is expected to grow due to the rising need for innovative vehicles running on hybrid fuels and ongoing partnerships among hybrid fuel developers and rail mobility companies to develop these locomotives. For instance, in October 2022, the Union Pacific Railroad (UP) announced an agreement with ZTR, a pioneer in locomotive control systems. The agreement is aimed at development of hybrid-electric locomotives for UP's North Little Rock, Arkansas facility.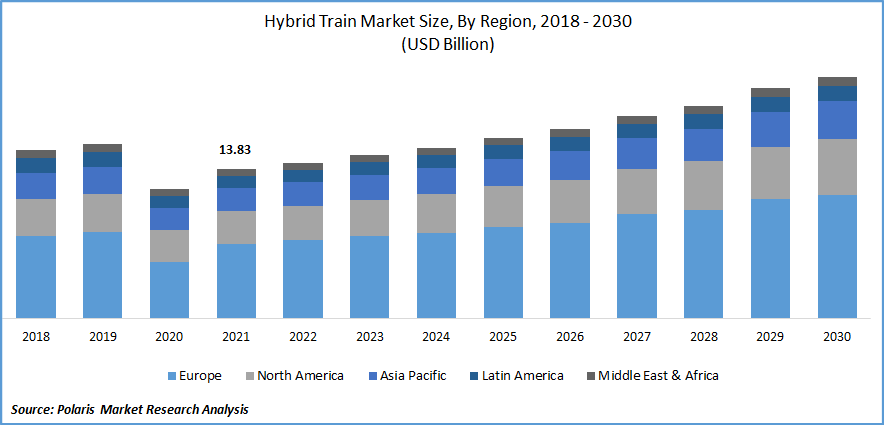 Know more about this report: Request for sample pages
Moreover, the growing trend of pre-partnership contracts, customization of the vehicle and increasing technological advancements in alternative fuels are expected to augment the growth of the market.
The emphasis of emerging economies on the decarbonization of vehicles along with a rising need of electrification of transport networks in these countries, is expected to increase the adoption of hybrid trains and associated technological infrastructure. For instance, in September 2021, the Department of Science and Technology in the Philippines developed Hybrid Electric Road Train (HERT). The project was aided by the government of Philippines owing to an adaptation of alternative fuel-powered transportation as part of the country's decarbonization strategy.
Large conglomerates and corporate-funded initiatives for curbing problems such as global warming and environmental pollution are some factors supporting the adoption of carbon-free, clean energy-based technologies globally, thereby bolstering the hybrid train market. For instance, the Electric Vehicles Initiative (EVI) is a forum of the Clean Energy Ministerial (CEM) to increase awareness of clean carbon fuel alongside development of locomotive technologies with a future outlook of environmental conservation. The initiative is joined by more than 15 countries holding the largest economies globally.
The impact of COVID-19 adversely affected the market and derailed the rail economy. This was due to major reasons such as travel bans, supply chain disruption, and stalled manufacturing at production facilities among others. The market depends on supply of spare parts, contract manufacturing and availability of technology. Moreover, the pricing fluctuations and budget constraints during the pandemic along with strict regulatory guidelines by major governments, temporarily slowed down the growth of the hybrid train market.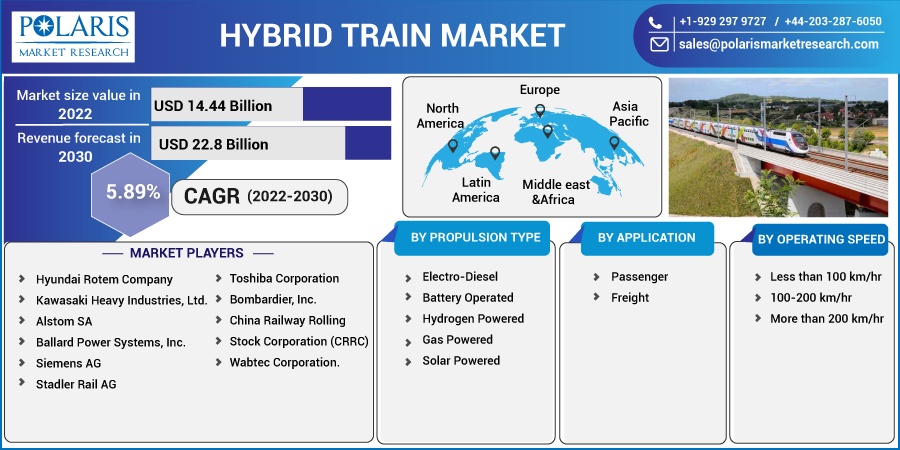 Know more about this report: Request for sample pages
Industry Dynamics
Growth Drivers
Depleting natural resources and fossil fuels driving the global economy along with increasing prices of fuel are responsible for the growing need of cost-effective, green fuel alternatives. This has been the primary of major governments among key countries to promote such technologies which solve these debilitating problems without disrupting the current global economy. The rising adoption of hybrid train technology is due to its advantages, such as use of clean energy as a power source along with energy efficiency in its operation.
The rising fuel prices due to the scarcity of fossil fuels are expected to support the growth of hybrid fuels as a better alternative to conventional propulsion fuel. This, coupled with demand for transportation technology for commercial and passenger applications, is expected to drive the growth of the market.
Moreover, train technology developer partnering with alternative fuel companies specializing in fuel customization for vehicle application is giving rise to superior locomotive technologies, thereby enhancing the product offering by key companies. For instance, in September 2022, Cummins announced its vision of alternative technologies such as clean diesel technology and hybrid engines running biofuels such as hydrogenated vegetable oils. The company estimates that it can reduce rail carbon emissions up to 80% as a projection of establishing its proprietary technologies in the hybrid train market, by the year 2030.
Report Segmentation
The market is primarily segmented based on propulsion type, application, operating speed, and region.
By Propulsion Type

By Application

By Operating Speed

By Region

Electro-Diesel
Battery Operated
Hydrogen Powered
Gas Powered
Solar Powered

Less than 100 km/hr
100-200 km/hr
More than 200 km/hr

North America (U.S., Canada)
Europe (France, Germany, UK, Italy, Netherlands, Spain, Russia)
Asia Pacific (Japan, China, India, Malaysia, Indonesia, South Korea)
Latin America (Brazil, Mexico, Argentina)
Middle East & Africa (Saudi Arabia, UAE, Israel, South Africa)
Know more about this report: Request for sample pages
Battery Operated segment is expected to witness fastest growth
The increasing utilization battery operated hybrid trains owing to primary advantages such as energy efficiency, zero carbon emissions, and is a cost-effective alternative is expected to drive the adoption of battery-operated segment faster than others. This, coupled with the ease in availability of electric train spares, keep the costs of battery-operated trains low, thereby promoting multiple market players investing in development of battery-operated trains. These are some of the major reasons driving the growth of this segment.
Furthermore, governments across the globe have been collaborating by establishing joint ministries for the scope of electric vehicle development through various modes of transport such as the Zero-Emission Government Fleet Declaration, EVI Call to action among other initiatives. For instance, the CEM launched EVI Call to Action initiative aimed at subsidizing electric vehicles to ensure they meet estimated global sales and support the battery-operated electric vehicle economy. The active initiative taken by stakeholders to promote battery-operated electric locomotives is expected to support the growth of the segment.
Freight transportation segment is expected to hold the significant revenue share
The increasing demand for freight transportation is expected to drive the demand for hybrid trains in the transportation market. For instance, in October 2022, the European Commission (EC) announced a collaboration with the European Investment Bank (EIB) for the development of Trans-European Transport Network (TEN-T).
The initiative is focused on improving ease of trade among Moldova and Ukraine. The demand for freight transportation in Europe, post the Ukraine-Russia conflict, has drastically increased. This is due to shifting preference of EU trade relations to other nations in order to reduce trade dependency on Russia. The increased demand for freight transportation owing to the rising trade burden globally, along with establishing efficient railroad links among key countries, is expected to drive the growth of the freight transportation segment.
More than 200 km/hr segment accounted for the largest market share in 2021
Hybrid trains running at speeds of more 200 Km/hr segment are of increasing interest among the locomotive community. The growth of this segment is due to electric train manufacturers focusing on this segment due to its niche customer base. This is promoting emerging and established economies to invest in this segment of trains as the future of rail transportation.
For instance, in July 2022, the Research Designs & Standards Organization (RDSO) specified requirements for a Train-18 concept to the railway board of India. The plan includes 100 trains, which are self-propelled and will cruise at speeds of 200km/hr and above. The train is designed to run on a hydrogen fuel cell-based hybrid power unit and is expected to run across the country. These developments, coupled with increasing demand for high-speed hybrid trains, are expected to support the growth of the segment.
The demand in North America is expected to witness significant growth
North American market is anticipated to register a faster growth rate owing to a strong presence of locomotive manufacturers and part suppliers based in the region. An increasing number of railway contracts supporting the rail network as a backbone of their economy, as well as increasing demand for rail transportation, is anticipated to augment the growth of the regional market.
In September 2022, Stadler Rail showcased their flagship, hydrogen-powered Flirt trainset built for the U.S. at the InnoTrans trade show in Berlin, Germany. The company has announced delivery of 29 trains as part of a contract with Amtrak California Services, which will debut by the year 2027. The presence of such partnerships with key regional contractors to establish railroad infrastructure is one of the key trends in the market.
The Europe market is expected to hold the largest value share owing to increasing innovation in the hybrid train market arena, with key European manufacturers developing clean and environmentally sustainable technologies in regard to the conservation of natural resources. This, coupled with active initiatives by the EC such as the establishment of Sustainable Transport Forum (STF), is anticipated to increase awareness and drive the demand for mobility technologies on alternative fuels such as hybrid trains.
For instance, in October 2022, the Directorate General of Mobility and Transport of EC opened STF membership for expert organizations and manufacturers to participate in the forum and collaborate. The forum is aimed at the development of alternative fuel infrastructure as part of the EU energy and climate goals. The emphasis on active partnerships to support alternative fuel and transport technology by the EU is expected to support the demand of hybrid trains in Europe and thus promote growth in the market.
Asia Pacific is expected to grow through the forecast period owing to increasing investments by rail developers along with successful test runs preceding their production at scale. For instance, in November 2021, Inner Mongolia announced a successful trial run of its first hydrogen fuel cell hybrid train, developed in collaboration with CRRC Datong and Hydrogen energy Co. Ltd. The train is developed inland and is built on china's current railway infrastructure, cutting costs and supports the local rail economy.
The increasing demand for inland locomotives to augment commercial transportation alongside rising need for novel technology running on clean carbon fuels is anticipated to support the region's growth.
Competitive Insight
Some of the major players operating in the global market include Hyundai Rotem, Kawasaki Heavy, Alstom, Ballard Power Systems, Siemens, Stadler Rail, Toshiba Corp., Bombardier, China Railway Rolling Stock, and Wabtec Corporation.
Recent Developments
In September 2022, Trenitalia, an Italian train operator, collaborated with Hitachi Rail in launch of "Blues Train" at the InnoTrans transport fair in Berlin. The collaboration is aimed at commercializing their first hybrid battery train in Europe. The train technology is sustainable, energy-efficient and reduces carbon emissions which are some key factors responsible in the early adoption of this train in Europe.
In February 2022, East Japan Railway announced the successful testing of its hydrogen fuel-based test train, HYBARI. The train is a "Hydrogen-Hybrid Advanced Rail Vehicle," equipped robust fuel cell & battery system. Toyota Motor Corp., has collaboratively developed the train's fuel cell system, which is supplied with high-pressure hydrogen to drive this train.
Hybrid Train Market Report Scope
| | |
| --- | --- |
| Report Attributes | Details |
| Market size value in 2022 | USD 14.44 billion |
| Revenue forecast in 2030 | USD 22.8 billion |
| CAGR | 5.89% from 2022 – 2030 |
| Base year | 2021 |
| Historical data | 2018 – 2020 |
| Forecast period | 2022 – 2030 |
| Quantitative units | Revenue in USD billion and CAGR from 2022 to 2030 |
| Segments covered | By Propulsion Type, Application, By Operating Speed, By Region |
| Regional scope | North America, Europe, Asia Pacific, Latin America; Middle East & Africa |
| Key companies | Hyundai Rotem Company, Kawasaki Heavy Industries, Ltd., Alstom SA, Ballard Power Systems, Inc., Siemens AG, Stadler Rail AG, Toshiba Corporation, Bombardier, Inc., China Railway Rolling Stock Corporation (CRRC) and Wabtec Corporation. |