The global healthcare payer services market was valued at USD 68.17 billion in 2022 and is expected to grow at a CAGR of 10.6% during the forecast period. The healthcare payer services market refers to the outsourcing of administrative and operational functions of healthcare payers, such as insurance companies and government programs like Medicare and Medicaid. These services may include claims processing, enrollment and eligibility, customer service, and billing and payment processing. The goal of outsourcing these services is to reduce administrative costs and improve operational efficiency, allowing payers to focus on providing high-quality healthcare services to their members.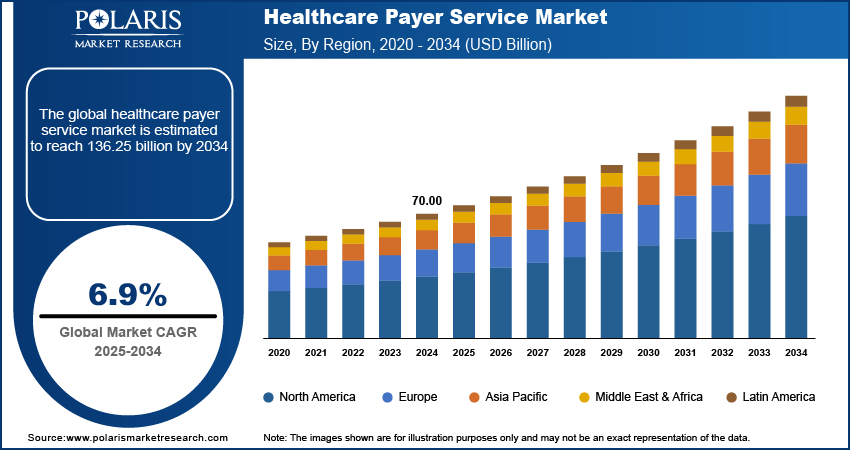 Know more about this report: Request for sample pages
Healthcare payer services refer to the various administrative and operational support services that are provided to health insurance payers or health plans. These services are designed to help payers streamline their operations, improve efficiency, and reduce costs The healthcare payer services include claims processing, enrollment and eligibility verification, provider network management, utilization management, customer service, and data analytics.
The global market has been growing steadily in recent years and is expected to continue to do so in the coming years. The market is driven by factors such as increasing healthcare costs, the need for greater efficiency and cost savings, and the growing focus on improving the quality of healthcare services.
The COVID-19 pandemic has had a significant impact on the market. The pandemic has led to increased demand for certain healthcare payer services, such as claims processing and customer service. This is due in part to the higher volume of claims related to COVID-19 testing and treatment, as well as the increased need for support and assistance from members. It also accelerated the adoption of telehealth services, which has in turn impacted healthcare payer services. Payers have had to adapt to new telehealth billing codes and adjust their claims processing systems to accommodate these services.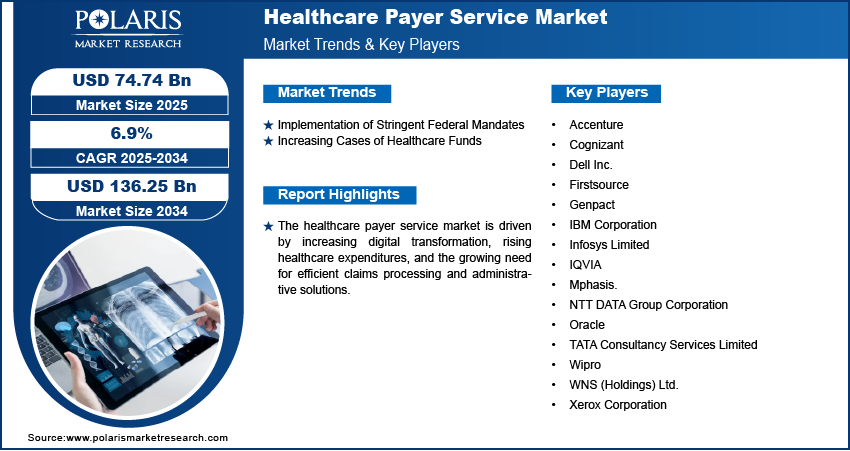 Know more about this report: Request for sample pages
Industry Dynamics
Growth Drivers
The healthcare payer services market is expected to experience significant growth in the coming years as the healthcare costs have been increasing faster than inflation in many countries, putting pressure on payers to find ways to reduce costs. Healthcare payer services can help to improve efficiency, reduce administrative costs, and improve the quality of care. The aging population and the growing burden of chronic diseases are driving up demand for healthcare services, creating a need for payers to manage this demand effectively. Healthcare payer services can help to ensure that members receive appropriate care while managing costs.
Also, the healthcare industry is undergoing a digital transformation, with new technologies such as artificial intelligence, big data analytics, and blockchain being applied to healthcare payer services. These technologies can improve efficiency, accuracy, and transparency in payer operations. Changes to healthcare regulations can create new opportunities for healthcare payer services. For example, the Affordable Care Act in the United States created new requirements for health insurance companies, driving demand for services such as claims processing and member management.
Many healthcare payers are shifting their focus from fee-for-service models to value-based care models, which reward providers for delivering high-quality care at lower costs. Healthcare payer services can help payers to manage these new payment models and improve the quality of care for members. Overall, the growth drivers of the market reflect a combination of economic, demographic, technological, and regulatory factors that are shaping the future of healthcare delivery and management.
Report Segmentation
The market is primarily segmented based on services, application, end use, and region.
By Services

By Application

By End Use

By Region

Business Process Outsourcing

ITO Services

Knowledge Process Outsourcing Services

Claims management services

Integrated Front Office Service and Back Office Operations

Member Management Services

Provider Management Services

Billing And Accounts Management Services

Analytics And Fraud Management Services

HR Services

Public Payers

Private Payers

North America (U.S., Canada)

Europe (France, Germany, UK, Italy, Netherlands, Spain, Russia)

Asia Pacific (Japan, China, India, Malaysia, Indonesia. South Korea)

Latin America (Brazil, Mexico, Argentina)

Middle East & Africa (Saudi Arabia, UAE, Israel, South Africa)
Know more about this report: Request for sample pages
The ITO services segment is expected to witness the largest growth in 2022
The ITO (Information Technology Outsourcing) services segment has emerged as a largest growth in 2022 market, with a significant share of revenue. ITO services refer to the outsourcing of IT-related functions and services to third-party service providers. In the market, ITO services are used to manage various IT-related functions such as software development, infrastructure management, data analytics, and cybersecurity. These services are essential to support the growing demand for digital health solutions and to manage the vast amount of data generated in healthcare operations.
The claims management services segment is expected to witness the highest growth share in 2022
The claims management services segment has been a highest dominant player in the market in 2022. Claims management is a critical function in the healthcare payer industry, as it directly impacts the revenue and profitability of healthcare payers. Claims management services are responsible for processing and adjudicating claims submitted by healthcare providers, ensuring that they are accurate, complete, and comply with the payer's policies and procedures. This process is crucial in ensuring that healthcare providers receive timely reimbursement, while also minimizing errors and reducing the risk of fraud.
Moreover, claims management services have become increasingly complex, as healthcare providers and payers navigate the evolving regulatory environment, changing reimbursement models, and the growing demand for digital health solutions. This complexity has created a need for specialized expertise and technology, which has led to the emergence of specialized claims management service providers. So the claims management services segment has dominated the market due to the critical role it plays in the healthcare payer industry, the growing complexity of the claims management process, and the cost savings associated with outsourcing claims management services.
The demand in North America is expected to witness largest growth over the forecast period
In terms of the market for healthcare payer services, North America has the largest healthcare payer market. This is owing to the big patient population, significant healthcare spending, and the presence of many private and public payers in the region. In North America well-established healthcare infrastructure that supports the delivery of healthcare payer services are present. This infrastructure includes healthcare IT systems, data analytics capabilities, and a skilled workforce that is essential for delivering high-quality healthcare payer services. It has a favorable regulatory environment that supports the growth and development of the market. For example, the Affordable Care Act (ACA) in the US has created opportunities for new entrants and increased competition in the healthcare payer market, driving innovation and cost savings.
During the forecast period, the Asia Pacific region is projected to experience the fastest Growth Rate. This growth is driven by increasing healthcare expenditure, a rise in chronic diseases, and growing resource demand in developing countries such as China and India. The BPO service providers are also establishing delivery centers in countries like the Philippines, China, Singapore, India, and Vietnam, indicating a higher activity level in these regions during the forecast period.
Competitive Insight
Some of the key players in the market include Cognizant Technology Solutions, UnitedHealth Group, Accenture, McKesson Corporation, Wipro Limited, EXL, Accenture, Xerox Corporation, Concentric Corporation, Genpact, and HCL Technologies.
Recent Developments
In September 2022, The Beacon Group is acquired by Accenture, which is a consulting firm and help its evolution across the technology, aerospace, industrial, and healthcare.

In March 2022, IMAT Solutions, a pioneer in population health reporting and real-time healthcare data management, unveiled a new product that handles healthcare data collection, aggregation, dissemination, and reporting.

In March 2022, for Healthcare Providers, Icertis introduced (ICI) Icertis Contract Intelligence. By modernizing complex agreements like payer, supplier, and contract services, solution aids healthcare providers in accelerating digital transformation.
Healthcare Payer Services Market Report Scope
| | |
| --- | --- |
| Report Attributes | Details |
| Market size value in 2023 | USD 75.13 billion |
| Revenue forecast in 2032 | USD 186.35 billion |
| CAGR | 10.6% from 2023 - 2032 |
| Base year | 2022 |
| Historical data | 2019 - 2022 |
| Forecast period | 2023 - 2032 |
| Quantitative units | Revenue in USD billion and CAGR from 2023 to 2032 |
| Segments covered | By Services, By Application, By End Use, By Region |
| Regional scope | North America, Europe, Asia Pacific, Latin America; Middle East & Africa |
| Key companies | Cognizant Technology Solutions, UnitedHealth Group, Accenture, McKesson Corporation, Wipro Limited, EXL, Accenture, Xerox Corporation, Concentric Corporation, Genpact, and HCL Technologies. |