The global glucaric acid market size was valued at USD 642 million in 2017 and is anticipated to grow at a CAGR of 9.7% during the forecast period. Glucaric acid, also known as Saccharic acid, is a chemical compound with formula C6H10O8. It is a member of oxidized sugars group, and is found in a variety of fruits and vegetables. It is a highly functionalized compound with four chiral carbons and a wide range of reaction pathways. It forms a building block for a number of polymers such as new nylons and hyperbranched polyesters. Some applications of Glucaric acid include use in the production of biobased adipic acid, phosphate-free detergents and biodegradable cleaners, and anti-corrosion additives. It is also used in cement and concrete additives, adhesives and coatings, and in food ingredients and animal feed. It is also offers therapeutic benefits and is used as an antitumor agent for inhibition of carcinogen-DNA binding and cholesterol-reduction.
Asia-Pacific Glucaric Acid Market Share By Type, 2017 - 2026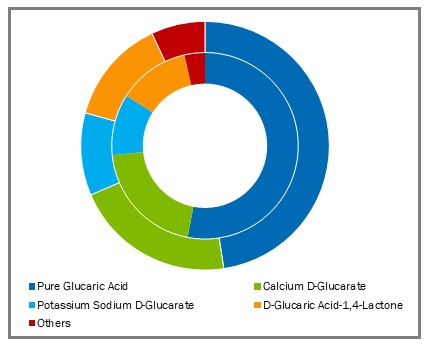 Know more about this report: request for sample pages
The increasing use of Glucaric acid in food manufacturing, and agriculture drives the growth of the global Glucaric acid market. The rising application of Glucaric acid in polymer manufacturing, and other chemical production boosts the growth of the market. The increasing population and rising health concerns also support the growth of the market. There has been an increasing use of Glucaric acid in treatment of certain diseases such as cancer, fueling the growth of the market. Increasing awareness among consumers regarding the benefits of Glucaric acid, and rising health concerns supplement the growth of the Glucaric acid market. Other factors driving the market include improving lifestyles, and increasing disposable income, especially in the emerging economies of Asia-Pacific. Growing demand from emerging economies, increasing consumer awareness, and rising environmental concerns are factors expected to provide numerous growth opportunities in the coming years.
Segment Analysis
The global Glucaric acid market is segmented on the basis of type, application, and region. Based on type, the market is segmented into Calcium D-Glucarate, Pure Glucaric Acid, D-Glucaric Acid-1,4-Lactone, Potassium Sodium D-Glucarate, and others. Pure glucaric acid accounted for the highest share in the global market in 2017.
On the basis of application, the market is segmented into Detergents, Healthcare, Food Manufacturing, Corrosion Inhibitors, and others. The detergents segment dominated the global market in 2017 owing to stringent regulations regarding use of phosphates in detergent.
Regional Analysis
The Glucaric acid market report comprises a detailed geographic distribution of the market across North America, Europe, Asia-Pacific, latin America, and MEA. North America is further segmented into U.S., Canada, and Mexico. Europe is divided into Germany, UK, Italy, France, and Rest of Europe. Asia-Pacific is bifurcated into China, India, Japan, and Rest of Asia-Pacific. Asia-Pacific accounted for the largest share in the Global Glucaric acid market in 2017.
Competitive Landscape
The leading players in the Glucaric acid market include Cayman Chemical, Rivertop Renewables, Inc., Carbosynth Limited, Haihang Industry Co., Ltd., Rennovia Inc, Kalion Inc., Alfa Chemistry, AK Scientific Inc., Merck KGaA, and Shanghai Meicheng Chemical Co. Ltd. among others. These leading players in the market are introducing innovative products to cater to the changing demands of consumers. Global players are entering new markets in developing regions to expand their customer base and strengthen market presence.