The global gasification market was valued at USD 460.15 billion in 2022 and is expected to grow at a CAGR of 5.32% during the forecast period. Gasification is a thermochemical process that produces syngas and compounds including methane, ethylene, fatty acids, detergents, and plasticizers from organic waste and compost. The thermochemical conversion of organic or fossil-based raw materials into hydrogen and carbon monoxide gas with a negligible amount of carbon dioxide and water is known as gasification. The raw materials employed in this process are primarily carbonaceous. Syngas is the by-product of this procedure.
Know more about this report: Request for sample pages
This method is mostly used in the chemical and power industries since these sectors need to synthesize inputs and outputs to assure proper usage or disposal. Syngas, sometimes referred to as producer gas, synthetic gas, is made up primarily of CO, H2, N2, & CO2, as well as hydrocarbons like CH4, C2H4, and C2H6, with traces of tars, H2S, and NH3. The gasification agent together in the gasifier plant crushed biomass to produce combustible gases during the biomass gasification process.
The creation of hydrogen from fuel through gasification is a quick and easy process. A gasification plant includes the gasification reaction, catalytic conversion of syngas, gas separation, and gas purification. global population growth, rapid industrialization and urbanization, the emergence of more chemical manufacturing facilities, the expansion of the coal industry, and rising power demand are all expected to contribute to the overall growth of the gasification market throughout the forecast period. In addition, by removing the caustic ash components like chloride & potassium that can cause issues in feedstock material, gasification operations aid in the creation of clean gas.
However, it is expected the high installation costs related to the deployment of gasification systems will restrain the growth of the market. During the COVID-19 pandemic, travel limitations and low energy consumption are some of the reasons that will restrain the worldwide gasification market's ability to develop its revenue.
Manufacturing facilities have been forced to temporarily close due to the COVID-19 outbreak. The COVID-19 pandemic epidemic has had a significant influence on both the supply and demand for biomass energy. Government officials in several nations have continued to emphasize the development of energy-efficient and renewable power generation technology for the industrial, residential, and commercial sectors. Additionally, to keep global warming to less than 2 degrees Celsius above pre-industrial temperatures, carbon emissions must decline to approximately 9.5 gigatons (Gt) by 2050, according to the International Renewable Energy Agency (IRENA). As a result, increasing the use of renewable energy sources and increasing energy efficiency are necessary, which is expected to increase demand for biomass power globally and spur the development of the market. Due to its affordability and renewable nature, biomass electricity is in higher demand.
Additionally, the market is expanding as a result of growing worries over the effects that utilizing fossil fuels has on the environment. In addition to endangering human life, the spread of COVID-19 has also sparked an international economic downturn. The partial or total lockdowns in various nations have had an indirect or direct effect on many industries, causing interruptions in, among other things, vendor operations, supply chains, and product commercialization.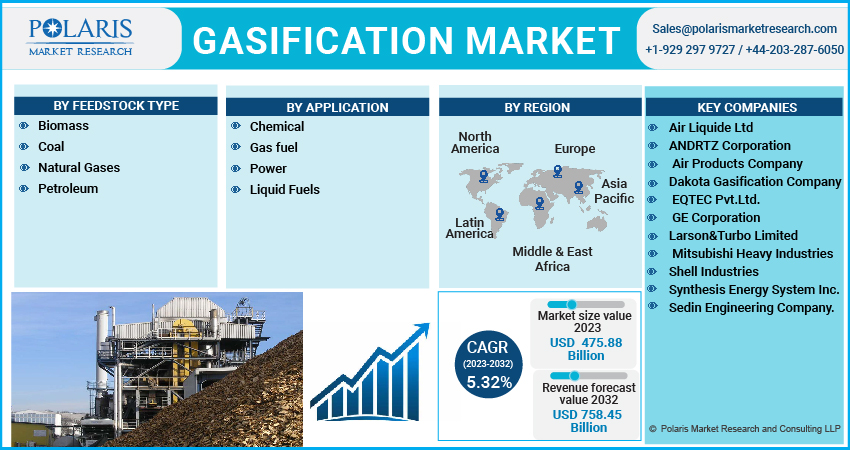 Know more about this report: Request for sample pages
Industry Dynamics
Growth Drivers
Increased interest in gasification as a clean energy replacement is a result of growing environmental awareness and knowledge of sustainability. As a result of increased industrialization, and growing electrical, chemical, oil, and gas sectors, gasification techniques are being deployed in production and manufacturing facilities. The demand for biomass gasification in the municipal sector is rapidly increasing as a result of the widespread use of gasification for waste disposal and the recycling of complicated compost.
In December 2022, In the forthcoming Budget, the government will propose specific financial incentives for the gasification of coal, The capital support for equipment is probably going to be announced at around Rs 6,000–7,000 crore. Along with providing financial support for coal gasification, the government may also offer some relief on other fronts. Additionally, because they can be easily retrofitted into existing installed and running gas-fueled equipment, such as furnaces and boilers, to replace fossil fuels with syngas, gasifiers offer a flexible, reliable, and efficient option for thermal applications.
Report Segmentation
The market is primarily segmented based on feedstock type, application, and region.
By Feedstock Type

By Application

By Region

Biomass

Coal

Natural Gases

Petroleum

Chemical

Gas fuel

Power

Liquid Fuels

North America (U.S., Canada)

Europe (France, Germany, UK, Italy, Netherlands, Spain, Russia)

Asia Pacific (Japan, China, India, Malaysia, Indonesia. South Korea)

Latin America (Brazil, Mexico, Argentina)

Middle East & Africa (Saudi Arabia, UAE, Israel, South Africa)
Know more about this report: Request for sample pages
The chemical segment is expected to witness the fastest growth during forecast period
With the increasing use of gasification to produce high-value products like methanol, the chemicals segment is anticipated to hold dominance. Due to its cheap operating costs, great power efficiency, and need for low-value waste and feedstock to produce high-value chemicals, the gasification process is becoming more and more popular in the chemical and packaging sectors. High feedstock flexibility while generating chemicals using the gasification process is another aspect that is anticipated to greatly boost this segment's revenue growth.
The biomass sector is expected to hold the significant revenue share in 2022
The demand for food and other basic resources has increased as a result of the expanding population. As a result, industrial and agricultural activity has expanded, which has led to improper waste management. Negative environmental effects occur from the garbage produced being either openly burned or left in the field to degrade. Consequently, the wise use of copious biomass waste is becoming more popular. The IRENA predicts that the amount of sustainable biomass available globally would increase steadily from 2,500 million tonnes of oil equivalent per year (Mtoe/year) in 2020 to 5,700–7,000 Mtoe/year by 2050. Urbanization is predicted to increase biomass wastes like agricultural wastes, forestry residues, industrial wastes, animal wastes, and municipal solid wastes (MSW).
The coal segment is also projected for the largest revenuein 2022
The expanded adaptability of feedstock is the primary market driver in the global coal gasification industry. The manufacture of synthesis gas can use several feedstocks, including petroleum coke, biomass, coal, and natural gas, which reduces reliance on a single feedstock. Additionally, the most recent gasifiers on the market are highly sophisticated and capable of handling a variety of feedstocks. The rise in the price of building power plants is a factor that can restrain the growth of global coal gasification.
One of the primary aspects that are predicted to stimulate the expansion of the global market for underground coal gasification in the coming years is that this technology anticipates a reduced capital requirement and a reduction in the cost of plant installation. A reduced need for road and rail infrastructure as well as tight environmental regulations are expected to hasten market expansion shortly. Being 35% more expensive than conventional coal technology, it is also expected that increased public knowledge of these technologies' advantages will support market expansion in the years to come. The fact that biodegradable materials serve as the process' basic ingredients is another significant aspect that distinguishes it from conventional combustion technology. The method is frequently used in industries that produce electricity.
The demand in North America is expected to witness significant growth durimg projected timeframe
Gasification in North America dominated in 2022. One of the world's greatest markets for gasification is found in North America. In a variety of industries, including the paper and pulp sector, biomass gasification is frequently utilized to generate power. Syngas is now used to generate heat instead of fossil fuels due to growing environmental concerns. Rapid globalization and rising populations are predicted to increase the use of gasification for ethanol, biodiesel, and biogas production as well as transportation.
The biggest revenue share is anticipated to come from Asia Pacific. In nations like China and India, where cheap coal is widely available, gasification is expanding the output of chemicals, heat, and electricity. Additionally, due to the abundance of biomass and other waste products like sawdust, wood pulp, and paper, gasification is being used in more sectors to safely dispose of waste products without harming the environment and reduce pollution. In addition, rising urbanization and industrialization in the region's developing nations as well as rising electricity consumption are some key variables influencing market revenue growth throughout the projection period.
Substantial share is projected to be held by Europe. As demand for environmentally acceptable solutions and renewable energy sources to replace fossil fuels increases, gasification is being employed more frequently in the region. Additionally, because of the rising demand for syngas and other chemicals in European countries, it is predicted that expanding trade activities will hasten gasification operations in the market. Additional variables driving market revenue growth throughout the projected period include the presence of extensive coal reserves in the region and rising energy demand.
Competitive Insight
Some of the major players operating in the global market include Air Liquide, ANDRTZ Corporation, Air Products Company, Dakota Gasification Company, EQTEC, GE Corporation, Larson&Turbo Limited, Mitsubishi Heavy Industries, Shell Industries, Synthesis Energy System Inc., and Sedin Engineering Company.
Recent Developments
In May 2022, the Union Minister of Coal, Mines, and Parliamentary Affairs said that a meeting will be held to examine the launch of Coal India Ltd. (CILshuttered )'s and terminated mines on a revenue-sharing basis for coal gasification as a more sustainable alternative to coal combustion.
Gasification Market Report Scope
| | |
| --- | --- |
| Report Attributes | Details |
| Market size value in 2023 | USD 475.88 billion |
| Revenue forecast in 2032 | USD 758.45 billion |
| CAGR | 5.32% from 2023 - 2032 |
| Base year | 2021 |
| Historical data | 2018 - 2020 |
| Forecast period | 2022 - 2030 |
| Quantitative units | Revenue in USD billion and CAGR from 2023 to 2032 |
| Segments Covered | By Application, By Feedstock Type, By Region |
| Regional scope | North America, Europe, Asia Pacific, Latin America; Middle East & Africa |
| Key Companies | Air Liquide Ltd, ANDRTZ Corporation, Air Products Company, Dakota Gasification Company, EQTEC Pvt.Ltd., GE Corporation, Larson&Turbo Limited, Mitsubishi Heavy Industries, Shell Industries, Synthesis Energy System Inc., and Sedin Engineering Company. |