The global gamete preservation market was valued at USD 5.39 billion in 2022 and is expected to grow at a CAGR of 4.4% during the forecast period. A technique known as "gamete preservation banking" is used to store and preserve gametes like spermatozoa and oocytes for some time in the future. The variety, freezing, and storage of human gametes are the responsibility of the Gamete Preservation banks. Most men and women who are at risk of losing their fertility due to medical treatments like risk and infertility treatment choose to use gamete preservation banking. For people who are unable to conceive, Gamete Preservation banks accept a significant portion. Couples use stored gamete cells for in-vitro fertilization or assisted reproductive technology (ART) to treat infertility.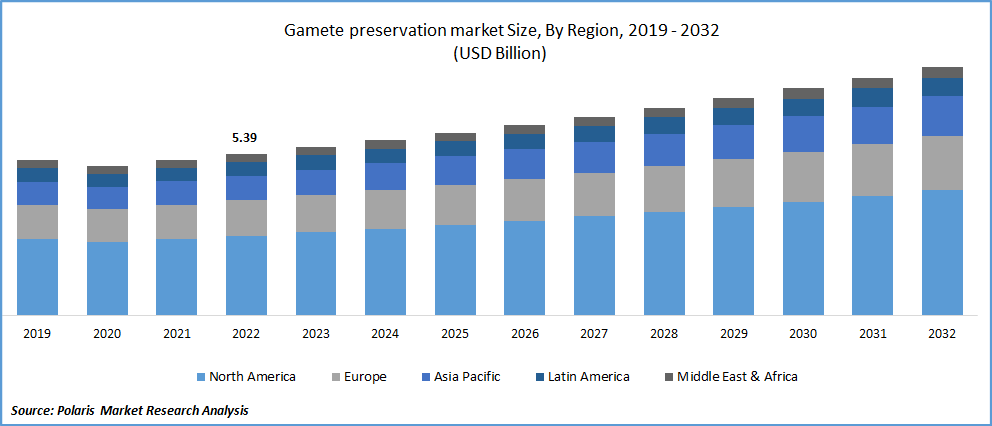 Know more about this report: Request for sample pages
In sexually reproducing organisms, a gamete (haploid cell) is one that fuses with another haploid during fertilization. Gametes are the cells that reproduce an organism. Sex cells are another name for these cells. A single species can produce two distinct types of gametes. Each person in a species will only produce one type, even if the species produces two distinct types. A female produces the larger ovum, whereas a male produces smaller sperm. Gametes contain half of an adult's gene information. One Ploidy exists in each type. They are produced through meiosis, in which a germ cell undergoes two divisions to produce four gametes. Based on the type and number of gametes that an organism produces; biology defines the species of sex that it produces.
The primary factors that are driving the expansion of the market are advancements in cryopreservation techniques, rising care, the emergence of fertility tourism, and rising induction to infertility treatment. Additionally, one of the few key factors influencing the turn of events is a rise in the number of miscarriages. One of the primary causes of infertility is the rising prevalence of obesity. Weight is skewed in a way that demonstrates a high risk for regenerative prosperity, such as infertility, conception rates, and miscarriages.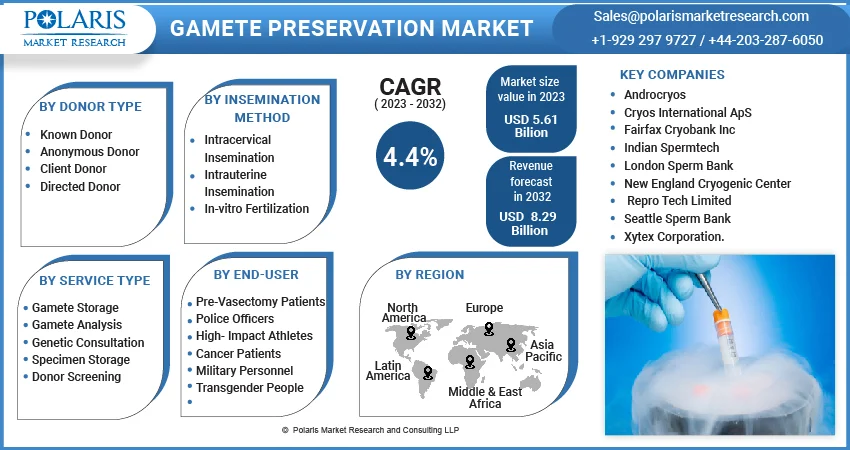 Know more about this report: Request for sample pages
Industry Dynamics
Growth Drivers
One of the key development givers is also the rising frequency of male and female infertility, government involvement in Assisted Reproductive Techniques (ART), growing recognition of Gamete Preservation services, and rising miscarriage rates. In addition, the rising prevalence of smoking is having an impact on both male and female fertility. When compared to nonsmokers, female smokers go through menopause earlier and are also more likely to experience miscarriage than male smokers.
Additionally, the market is being driven by rising infertility cases and government initiatives to improve repayment conditions. The market is expected to grow as a result of changing lifestyles and other factors like genetics, exposure to certain chemicals and poisons, and issues with egg and sperm production. In addition, increasing public awareness of the Gay, Bisexual, Transgender, and Other Gendered People (LGBT) is one of the factors driving up the number of gamete donations in various nations.
Report Segmentation
The market is primarily segmented based on donor type, insemination method, service type, end-user, and region.
By Donor Type

By Insemination Method

By Service type

By End-User

By Region

Known Donor

Anonymous Donor

Client Donor

Directed Donor

Intracervical

Insemination

Intrauterine Insemination

In-vitro Fertilization

Gamete Storage

Gamete Analysis

Genetic Consultation

Specimen Storage

Donor Screening

Pre-Vasectomy Patients

Police Officers

High- Impact Athletes

Cancer Patients

Military Personnel

Transgender People

North America (U.S., Canada)

Europe (France, Germany, UK, Italy, Netherlands, Spain, Russia)

Asia Pacific (Japan, China, India, Malaysia, Indonesia, South Korea)

Latin America (Brazil, Mexico, Argentina)

Middle East & Africa (Saudi Arabia, UAE, Israel, South Africa)
Know more about this report: Request for sample pages
A known donor type

held the largest market share in 2022
A known donor is much more like an ex-partner because the donor and their social network frequently have personal contact with the child and are aware of the genetic link. After the birth of a child, a known donor may reconsider the use of her stored gametes for reproduction because she will have experienced what it is like to be a known donor in real life. As a result, a known donor has a much stronger case to end the agreement. He or she ought to be able to prevent any further use of the embryos. Despite the donor's regret, the recipients must accept the decision, just like the former partners.
The donor of the gametes may wish to remain anonymous in order to avoid having any emotional, legal, or financial relationships with the children born as a result of their sale of gametes in the future. The gamete recipients who look for an anonymous donor may want to keep their parenting relationship private from outsiders. Lastly, gametes from anonymous donors can frequently be sold for profit by clinics and sperm banks. Even though these parties may wish to remain anonymous, the term "anonymous sperm donation" has been used incorrectly for a long time. One of the unintended consequences of widespread DTC genetic testing is the end of anonymous gamete donation, and the so-called "anonymity" is just a facade.
Women who are familiar to the recipients The donor is typically a friend or relative. In some cases, recipients make direct advertisements for donors in newspapers or online. The donor and the recipient meet without an intermediary program or organization in these circumstances, and they are only intimately acquainted with one another. When directly recruiting donors without utilizing a screening program or agency or seeking legal counsel, recipients should exercise caution.
Intracervical Insemination Methods is expected to grow significantly over the forecast period
The artificial insemination technique known as intracervical insemination (ICI) most closely replicates the natural ejaculation of sperm into the vagina by the penis during sexual activity. The simplest, most common, and painless method of artificial insemination involves injecting raw, unwashed sperm into the vagina at the cervix's entrance, typically with a needleless syringe. Self-insemination and practitioner insemination are two common methods of ICI use at home. In ICI inseminations, raw sperm from a private donor can be used instead of sperm that has been "washed" to remove seminal fluid. ICI can use sperm from a sperm bank that has been prepared for IUI or ICI. For lesbian and single women purchasing donor sperm online, ICI is a popular method of insemination.
Using a catheter, washed sperm are injected directly into the uterus during intrauterine insemination, or IUI. This method of insemination eliminates the need for the sperm to swim through the mucus-coated cervix. Many sperm may die before they can enter the uterus due to this layer of mucus, which can impede their movement. IVF may be able to deliver the sperm more effectively in these situations. In general, IUI is generally considered to be more effective than ICI or IVI. Because this group of recipients typically require artificial insemination not because they have medical issues but rather because they do not have a male partner, it is the method of choice for lesbian and single women wishing to conceive using donor sperm. IUI is currently the most common method of insemination at a fertility clinic because of the high number of recipients who use donor sperm services. In many instances, IUI insemination is now referred to as "artificial insemination."
IVF is a type of assisted reproductive technology that is used to treat infertility, perform gestational surrogacy, and prevent the transmission of genetic conditions through pre-implantation genetic testing. It is possible for a fertilized egg from a donor to implant into the uterus of a surrogate, resulting in a child with no genetic connection to the surrogate.
Pre vasectomy patients segment dominated the market share in 2022
A vasectomy should be considered a long-term method of contraception, but there are times when people decide they want more children. Sperm banking prior to a vasectomy can make sure that sperm are readily available for conception. Sperm banking is the most cost-effective way to guarantee your future fertility in the event that you ever want to have more children.
Male gametes from police officers have been gathered for managed impregnation or intrauterine insemination, frequently utilizing a benefactor (IUD) over numerous years. The majority of men produce sperm samples containing numerous active spermatozoa. In cases of oligo zoospermia, there are fewer of them. Because of this, recent advancements have been made in the collection of epididymal and even testicular spermatozoa and spermatids, which are typically injected directly into ooplasm.
Transgender people can be good parents just like anyone else. In most cases, the treatment they receive for gender dysphoria takes away their natural fertility; in order to keep their fertility, they will need gamete storage. The technology required to provide transfolk with gamete storage is the same as for everyone else, but the clinic's setup, human interactions, and approach must be sensitive. If high-quality service is to be provided, everyone in the clinic must comprehend the issues and act accordingly.
North America led the industry in 2022
With the most authorized labs and the highest number of Gamete Preservations, North America has the largest local market for Gamete Preservations worldwide. The growth of the gamete preservation market in North America has also been significantly aided by a number of other factors, including the availability of newly developed assisted reproductive technologies, increased spending and disposable income in the health sector, rising levels of mindfulness among individuals, and a high rate of miscarriages.
Given the burgeoning interest in the subject, the gamete preservation industry is expanding in Europe. However, due to the severe shortage of gamete donors in comparison to the growing demand, the high unmet need is only satisfying interest for market major parts in the region. Countries like the United Kingdom have been required to invest resources in novel and creative public relations strategies to increase awareness among the female population and encourage them to effectively participate in sperm donation.
Competitive Insight
Some of the major players operating in the global market include London Sperm Bank, Androcryos, Cryos International, Fairfax Cryobank, New England Cryogenic Center, Repro Tech Limited, Indian Spermtech, Seattle Sperm Bank, and Xytex Corporation.
Recent Developments
In April 2019, Axcel announced that it had acquired a majority stake in the "European Sperm Bank". The goal of this acquisition is to expand the company's existing business, widen their global market, and provide efficient sperm bank services.
Gamete Preservation Market Report Scope
| | |
| --- | --- |
| Report Attributes | Details |
| Market size value in 2023 | USD 5.61 billion |
| Revenue forecast in 2032 | USD 8.29 billion |
| CAGR | 4.4% from 2023 - 2032 |
| Base year | 2022 |
| Historical data | 2019 – 2021 |
| Forecast period | 2023 - 2032 |
| Quantitative units | Revenue in USD billion and CAGR from 2023 to 2032 |
| Segments covered | By Donor Type, By Insemination Method, By Service Type, By End-User,By Region |
| Regional scope | North America, Europe, Asia Pacific, Latin America; Middle East & Africa |
| Key companies | Androcryos, Cryos International ApS, Fairfax Cryobank Inc, Indian Spermtech, London Sperm Bank, New England Cryogenic Center, Repro Tech Limited, Seattle Sperm Bank, Xytex Corporation. |