The global fish sauce market was valued at USD 17.02 billion in 2022 and is expected to grow at a CAGR of 4.5% during the forecast period. A substantial amount of salt is used to ferment tiny fish to create a fish sauce, a brown liquid sauce. It has a lot of iron, omega-3 fatty acids, vitamins, and amino acids, all of which help to promote calcium absorption, stimulate appetite, and regulate blood sugar levels. Additionally, it maintains a stable nervous system and supports cell division during the hematopoiesis process. As a result, it is frequently used to season and serve as a dipping sauce in many common foods to provide a meaty flavor and aroma.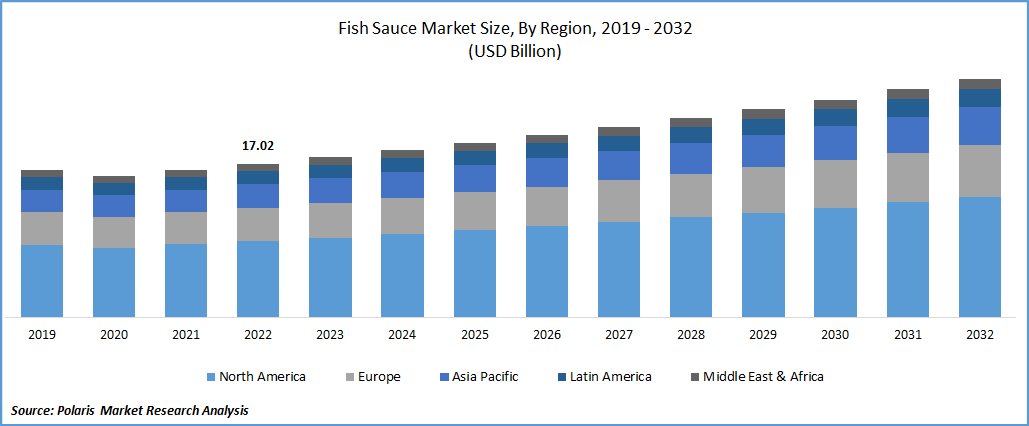 Know more about this report: Request for sample pages
Fish sauce is used as a condiment in many different types of food. In many Asian cultures, fish sauce is a staple ingredient. It is a very important component of Thai cuisine. The ingredients that go into their production include sugars, preservatives, coloring, and flavor. Fish sauce is much more nutritious and healthier because it has a higher nitrogen content. They are used as soy sauce in Chinese cooking and salt in western food. It is a common addition to soups and casseroles made by Chinese residents in the south.
Moreover, different nations produce fish sauces for chicken, pork, fish, and shrimp in a variety of methods. These sauces can be used to season food while cooking or as the foundation for a dipping sauce. Fish sauces are used as spices in many cultures and are now a standard table condiment everywhere. The growth of traditional fish sauces with completely varied packages, Ors, and prices to suit various tastes worldwide, as well as the increase in non-vegetarians due to the health benefits of non-vegetarian food, drive the advertising development.
The growing market penetration is attributed to rising thyroid-related conditions and enhancing consumer awareness of the health advantages of using fish sauce. For instance, as per the American Thyroid Association, over 13% of Americans will experience a thyroid in their lifetime. Around 20 Mn Americans are anticipated to suffer from thyroid-related problems. Thyroid diseases are 5 to 8 times more common in women than men. Thyroid disorders affect 1 in 8 women throughout their lifetimes. Since fish sauce contains vitamins A and D, elements like iodine, and several essential nutrients, it can also be utilized as a soy sauce alternative.
Due to rising health consciousness, more people are including high-nutrient foods and condiments in their normal meals. This is one of the main drivers of the market's growth, along with the rising use of fish sauce due to the global increase in thyroid-related illnesses. In addition, the human body greatly benefits from food items fish and fish sauces. However, the availability of inexpensive replacements, high manufacturing costs, and health-related problems, including hypersensitivities brought on by using fish oil, hinder the market's growth.
Nearly every industry in the world has experienced a setback due to COVID-19. Numerous precautionary lockdowns and other limitations implemented by governing agencies worldwide have caused considerable disruptions. Since the general economic condition of most people has been significantly hit by this pandemic, consumer demand fell, and are focusing on cutting unnecessary expenses. Throughout the forecast period, these variables are anticipated to impact the worldwide market's revenue path.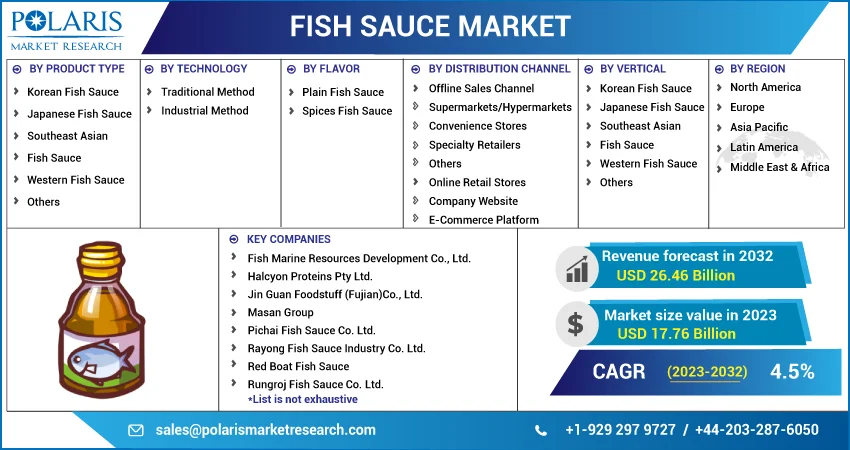 Know more about this report: Request for sample pages
Industry Dynamics
Growth Drivers
The rising popularity of fish sauce due to its distinct flavor and taste fuels the market. For instance, in September 2020, Red Boat Fish Sauce just revealed the launch of a brand-new item. With Red Boat's new Nuoc Cham mix, cooking this essential of Vietnamese cuisine is now made simple by requiring only the addition of water to a tasty concentrate. Red Boat's new concentrated Nuoc Cham makes it simple to produce this traditional Vietnamese sauce in a flash with a delicious blend of savory, sweet, and acidic notes and a hint of chile heat.
In the upcoming years, the market size is anticipated to increase due to rising customer preference for seasonings that improve the flavor of traditional cuisines. The rising consumption of seafood is driving market growth. According to the UN, 24 million metric tonnes of the 185 million metric tonnes of seafood produced worldwide in 2021 was consumed by people. Many factors contribute to this rise in seafood consumption, but improved awareness of the health benefits of eating seafood is one of the most important.
Regular seafood consumption reduces the risk of cardiac arrests and strokes, which is also good for the heart. The UN Food and Agriculture Organization (FAO) estimates that illegal, undocumented, and unregulated fishing activities result in the loss of between 11 and 26 million tonnes of fish annually, with a market value of between US$10 and US$23 billion. The popularity of fish sauces with various flavors, such as hot sauce and soy sauce, is also increasing due to consumer willingness to experiment with new foods.
Report Segmentation
The market is primarily segmented based on product type, distribution channel, technology, flavor, vertical, and region.
By Product Type

By Technology

By Flavor

By Distribution Channel

By Vertical

By Region

Korean Fish Sauce

Japanese Fish Sauce

Southeast Asian Fish Sauce

Western Fish Sauce

Others

Traditional Method

Industrial Method

Plain Fish Sauce

Spices Fish Sauce

Offline Sales Channel

Supermarkets/Hypermarkets

Convenience Stores

Specialty Retailers

Others

Online Retail Stores

Company Website

E-Commerce Platform

Korean Fish Sauce

Japanese Fish Sauce

Southeast Asian Fish Sauce

Western Fish Sauce

Others

North America (U.S., Canada)

Europe (France, Germany, UK, Italy, Netherlands, Spain, Russia)

Asia Pacific (Japan, China, India, Malaysia, Indonesia. South Korea)

Latin America (Brazil, Mexico, Argentina)

Middle East & Africa (Saudi Arabia, UAE, Israel, South Africa)
Know more about this report: Request for sample pages
The southeast Asian Fish Sauce segment is expected to witness the fastest growth
Most Southeast Asian nations, including Vietnam, Thailand, Cambodia, and the Philippines, use fish sauce as a key component in their cuisine and dressing. It commonly substitutes soy or salt and is eaten with cooked or raw meat, fish, and vegetables. A small amount of fish sauce was shipped, about 12.6% of the nation's total annual production, according to the deputy minister of agriculture and rural development, with most of it going to the Asian market (54%) and the Australian market (18%), as well as the African and European markets (13 percent each). Fish sauce is presently being exported from 17 production facilities.
In the Philippines, more than 4,200 facilities produce fish sauce, with an average annual output of about 380 million liters, according to the Agro Processing and Market Development Authority. Vietnamese cuisine is typically served with a dipping sauce that balances salty, sour, spicy, and sweet elements. In recent years, the demand for fish sauce has increased in several nations, including Myanmar, Indonesia, and Cambodia. Growing consumer taste for Southeast Asian food and sauces has increased their appeal on a global scale, increasing demand for them.
The E-commerce segment industry accounted for the highest market share in 2022
Chinese consumers are switching from soy sauce to fish sauce since it is healthier and contains vitamins and iodine. It can also be used in place of salt to reduce sodium intake. Sales growth in the China market is projected as a result of these factors. Due to urbanization and increased disposable income, fish sauce is also commonly utilized in traditional Chinese meals such as soups, casseroles, and broths. China is predicted to hold a disproportionately large market share over the assessment period, supported by the considerations.
The demand in Asia-Pacific is expected to witness significant growth
The Asia Pacific region is home to a wide range of historical influences on sauces, dressings, and seasonings, which supports the habit of purchasing goods known to local palates and through channels. Since fish sauce is widely consumed in China, Southern Asia, and South East Asia, Vietnamese citizens feel that traditional fish sauces are healthier and more nutrient-rich due to their greater nitrogen levels.
In addition to utilizing fish sauce more frequently, consumers in this region now use it as a dipping sauce and a flavoring in their food. This element is anticipated to boost customer demand, leading to an expansion of the market. Masan Consumer is one of the top suppliers of fish sauces in Vietnam. The corporation has launched new items in various locations to appeal to clients based on their likes and inclinations. However, the proliferation of fish sauce replacements, health issues associated with additional preservatives, and the rising popularity of vegan dishes restrain the market's expansion.
Competitive Insight
Some of the major players operating in the global market include Fish Marine Resources Development, Halcyon Proteins, Jin Guan Foodstuff, Masan Group, Pichai Fish Sauce, Rayong Fish Sauce, Rungroj Fish Sauce, Red Boat Fish Sauce, Sin Guo Co., Tang Sang Ha Company, Teo Tak Seng Fish Sauce Factory, Thai Fishsauce Factory (Squid Brand), Thaipreeda Group, Unilever plc, and Viet Phu.
Recent Developments
In July 2018, Nestle Vietnam introduced a Maggi fish sauce, marking the company's entry into the regional fish sauce market. Traditional Vietnamese meal times must include fish sauce. It is present in 97% of urban households, and each one uses 11 liters on average each year.
Fish Sauce Market Report Scope
| | |
| --- | --- |
| Report Attributes | Details |
| Market size value in 2023 | USD 17.76 billion |
| Revenue forecast in 2032 | USD 26.46 billion |
| CAGR | 4.5% from 2023 - 2032 |
| Base year | 2022 |
| Historical data | 2019 - 2021 |
| Forecast period | 2023 - 2032 |
| Quantitative units | Revenue in USD billion and CAGR from 2023 to 2032 |
| Segments Covered | By Product Type, By Technology, By Distribution Channel, By Technology, By Vertical, By Region |
| Regional scope | North America, Europe, Asia Pacific, Latin America; Middle East & Africa |
| Key Companies | Fish Marine Resources Development Co., Ltd., Halcyon Proteins Pty Ltd., Jin Guan Foodstuff (Fujian)Co., Ltd., Masan Group, Pichai Fish Sauce Co. Ltd., Rayong Fish Sauce Industry Co. Ltd., Red Boat Fish Sauce, Rungroj Fish Sauce Co. Ltd., Sin Guo Co. (Pte) Ltd., Tang Sang Ha Company Limited, Teo Tak Seng Fish Sauce Factory Co. Ltd., Thai Fishsauce Factory (Squid Brand) Co. Ltd., Thaipreeda Group, Unilever plc, and Viet Phu, Inc, |