The global fire suppression system market was valued at USD 20.38 billion in 2022 and is expected to grow at a CAGR of 4.5% during the forecast period. Numerous fire-related accidents caused by rising industrialization have resulted in numerous fatalities, as well as significant financial losses. One of the main factors propelling the global fire suppression market is the growing harm done to human life and property as a result of fire outbreaks. Additionally, expanding infrastructure projects, particularly in developing nations, are anticipated to boost market expansion throughout the projection period. The combination of obligatory building safety requirements and growing consumer awareness of fire safety is projected to boost market expansion.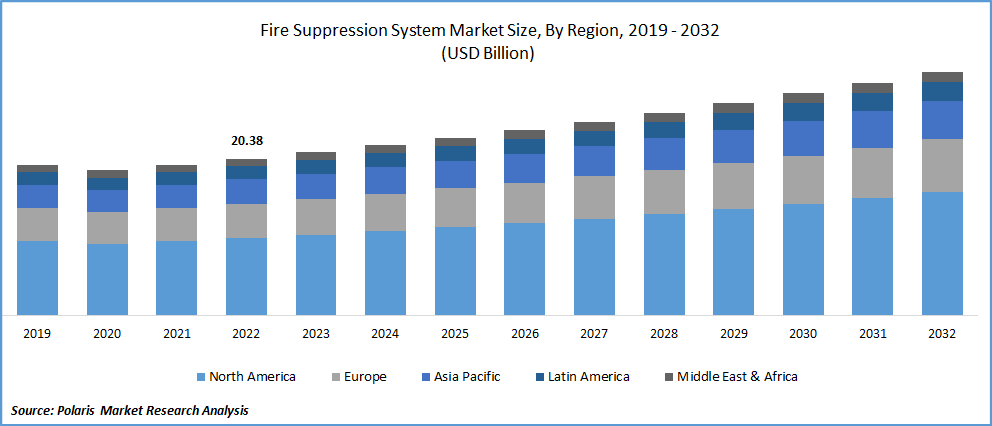 Know more about this report: Request for sample pages
Additionally, the process of automation is anticipated to be made simpler by the development of smart cities equipped with wireless sensing networks. Growing population, disposable incomes, higher standards of living, and increased demand for centralized protection systems with cutting-edge sensors and detectors connected over LAN/WAN networks have all been favorably predicted as driving the growth of the fire suppression system market.
For instance, JSG Industrial systems offer advanced fire suppression technology for use in mining sites. This system is designed by understanding the effects the of inadequate fire suppression technology in high-risk areas. With its Muster line of devices, JSG offers the most recent in fire suppression technologies. When liquid hydrocarbon fuels provide a significant fire risk and water alone is insufficient or possibly hazardous, the Muster foam system is a very effective option for asset protection.
Due to production halts and reduced R&D spending, COVID-19 has had an influence on the market. This market growth rate slowdown is projected to persist for the foreseeable future. However, the market is anticipated to have considerable growth during the projection period because to an increase in fire incidences and public safety concerns.
The increase in fire incidences has generated significant development potential for the installation of these systems in residential and commercial settings. Since materials like crude oil, coal, & flammable gases were in industrial sectors, there is expected to be an increase in demand for fire suppression equipment, such as fire sprinklers, across all industrial verticals in the United States. Product demand is projected to be fueled by rising consumer spending power and a greater emphasis on upgrading the safety standard of the region's buildings by the government and regulatory bodies.
Industry Dynamics
Growth Drivers
Businesses use several tools to establish such systems inside their buildings, including sensors, sprinklers, & extinguishers. The need for fire suppression systems is being driven by the surge in expenditure by numerous businesses and SMEs throughout the world to protect people. The need for fire suppression system is increasing as fire incidences rise across a number of industries, including oil & gas, mining, commercial, residential, and healthcare. The market for fire suppression systems and equipment has also been bolstered by stronger and more stringent laws that require the installation of suitable fire safety and precautions.
Report Segmentation
The market is primarily segmented based on product, fire extinguisher type, application and region.
By Product

By Fire Extinguisher Type

By Application

By Region

Fire Extinguisher

Fire Sprinkler

Gas

Water

Dry Chemical Powder

Others

Commercial

Industrial

Residential

North America (U.S., Canada)

Europe (France, Germany, UK, Italy, Netherlands, Spain, Russia)

Asia Pacific (Japan, China, India, Malaysia, Indonesia, South Korea)

Latin America (Brazil, Mexico, Argentina)

Middle East & Africa (Saudi Arabia, UAE, Israel, South Africa)
Know more about this report: Request for sample pages
Fire Extinguisher Segment is expected to dominate the market during the forecast period
Without hurting or ruining priceless assets, records, or equipment, the fire extinguisher systems can provide protection in the event of a fire breakout. According to the survey done by CTIF, in the year 2020 there were approximately 20,700 deaths caused by fire accidents and more than 70,000 people were injured. The data showed that 24% of the all the fires occur in residential buildings. Over the course of the projected period, it is anticipated that the implementation of fire safety standards and strict safety requirements would accelerate category expansion. The installation of permanent or portable fire extinguishing devices is projected to rise as a result of new or updated laws.
Fire sprinkler segment registered high CAGR during the study period. According to the National Fire Protection Association, there 1,353,500 fires in 2021 in which 14,700 people were injured and 3,800 people lost their lives in US. Due to the strict safety regulations for high-rise structures, the installation of such systems is fast rising globally. For instance, in January 2023, the Royal Incorporation of Architects in Scotland (RIAS) has made it mandatory for historic buildings turned into hotels to have an active fire suppression situation such as sprinklers installed. This was in response to the fatal fire accident in luxury Cameron House Hotel which claimed 2 lives.
Dry Chemical powder segment accounted for the highest market share in 2022
Dry Chemical powder segment dominated the market in 2022 and accounted for the largest revenue share. This can be attributed to its ability to douse various kinds of fire. Sand or water alone cannot put out some flames, particularly industrial fires. As a result, businesses are implementing extinguishers made of other fire-retardant chemicals, expanding its application. Dry chemical powder extinguishers are also much more economical. Dry chemical extinguishers spray a powder of chemicals such as potassium bicarbonate, or monoammonium phosphate ((NH4) H2PO4). The fire is doused with these solids, which also cover the fuel. They work well on class A, class B, and class C fires.
Water segment is anticipated to grow at a steady CAGR during the forecast period. Over the projected period, segment expansion is anticipated to be facilitated by technical advancements in water extinguishers. The water mist system is one such technology that optimizes water use and disperses water as a mist. Because water mist is electrically non-conductive, it is well suited to put out flames in their very early stages. Hospitals, healthcare facilities, MRI facilities, telecommunications facilities, clean rooms, and electronic equipment manufacturing are some of the places where it is frequently used.
The industrial sector accounted for the highest share in 2022
The industrial sector accounted for the highest share in the global market during 2022. It is anticipated that the global demand for fire suppression systems would increase dramatically as a result of the growth of industrial facilities and ongoing revisions to fire safety standards across the world. For instance, Intersec the global exhibition for emergency services, safety event and security that took place in January 2023, included a Fire & Rescue Conference to discuss the main issues, prospects, standards & regulations, and technology with the most notable fire and emergency service executives from around the area.
The residential segment is expected to grow at a high CAGR during the forecast period. The demand for fire suppression systems installed in residential buildings is anticipated to increase as end-users throughout the world become more aware of fire safety regulations intended for home applications. It is projected that the commercial segment would expand faster due to the increasing significance of fire safety procedures and legal compliances in commercial buildings.
North America dominates the global market in 2022
North America region led the market and held largest global revenue. Rising offshore production operations and exploration drives the regional market. In addition, recent oil and gas developments in the area are anticipated to have a beneficial impact on the market in the years to come. Government initiatives that are supportive and the increased need for better safety solutions are what are driving the US fire suppression market. The economic outlook in this area will be driven by strict government regulations and standards for safety in the industrial, commercial, and residential sectors as well as the implementation of smart building technology.
Asia Pacific is expected to be the fastest-growing in the global market during the forecast period. Due to rapid expansion of the construction infrastructure and rising investments in offshore development, the Asia-Pacific area of the market under study is expanding. In addition, rising industrialization in emerging nations like China and India, together with a sizable number of floating liquefied natural gas vessels planned for installation in Australia, are expected to drive up demand for fire suppression systems globally throughout the course of the projection period.
The need for fire prevention systems rose in school and passenger buses as a result of an increase in fire occurrences brought on by smoke and heat in passenger compartments. Government officials have been making a variety of moves to recognize how urgent it is to deploy these systems. The installation of fire alarms, fire prevention systems, and suppression systems in school and passenger buses was started by India's Ministry of Road Transport and Highways.
Competitive Insight
Some of the major players operating in the global fire suppression system market include Johnson Controls, Firetrace International, Fike Corporation, ORR Protection, Consilium, Gentex Corp, Halma, Hochiki America Corp, Honeywell International, Robert Bosch, Siemens, and Minimax USA.
Recent Developments
In October 2022, Johnson controls purchased Rescue Air Systems to broaden its selection of fire suppression products. The purchase enables the business to develop, market, and set up firefighter air replenishment systems in a developing vertical market.

In September 2022, for fire safety, Siemens has unveiled a new digital service offering. With the help of these new digital fire safety services, organizations may switch from reactive to proactive fire safety. With its first-to-market cloud-based portfolio, the firm goes beyond compliance to provide complete protection.
Fire Suppression System Market Report Scope
| | |
| --- | --- |
| Report Attributes | Details |
| Market size value in 2023 | USD 21.22 billion |
| Revenue forecast in 2032 | USD 31.64 billion |
| CAGR | 4.5% from 2023 - 2032 |
| Base year | 2022 |
| Historical data | 2019 - 2021 |
| Forecast period | 2023- 2032 |
| Quantitative units | Revenue in USD billion and CAGR from 2023 to 2032 |
| Segments covered | By Product, By Fire Extinguisher Type, By Application, By Region |
| Regional scope | North America, Europe, Asia Pacific, Latin America; Middle East & Africa |
| Key companies | Johnson Controls International PLC(Tyco), Firetrace International, LLC, Fike Corporation, ORR Protection, Consilium, Gentex Corp, Halma PLC, Hochiki America Corp, Honeywell International Inc, Robert Bosch GmbH, Siemens AG, Minimax USA LLC |