The global Fencing market was valued at USD 25,837 million in 2017 and is anticipated to grow at a CAGR of 5.3% during the forecast period. A fence is a structure usually surrounding the main building to prevent crossing of an established boundary. A fence is lighter in weight as compared to a wall, and does not have a solid foundation along its complete length. Fences are used in various structures for different purposes such as security, avoiding theft and trespassing, to manage livestock in farms, and to improve aesthetics among others.
The increasing construction of new structures, renovation, and remodeling of existing buildings primarily drives the growth of the market. Consumers are increasingly becoming aware regarding safety and security of buildings, which supplements the growth of the market. The growing construction of commercial and public building infrastructures along with the growth in global construction industry further augments market growth. The increasing investments by governments for enhancing public infrastructure such as parks, public places, and government premises further supports market growth. Other factors driving the market include increasing disposable income, design, and aesthetics. Growing demand from emerging economies is expected to provide numerous growth opportunities in the coming years.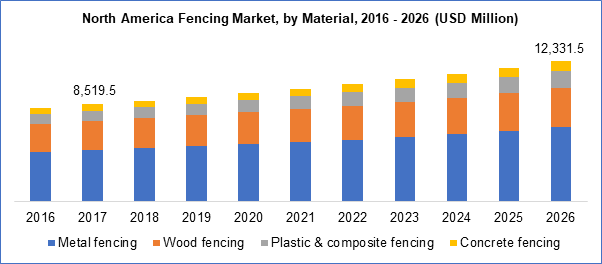 Know more about this report: request for sample pages
Segment Analysis
The global Fencings market is segmented on the basis of material, application, end-user, and region. Based on material, the market is segmented into wood, metal, concrete, plastic, and others. On the basis of application, the market is segmented into boundary fencing, privacy fencing, temporary fencing, and others. On the basis of end-user, the market is segmented into residential, agriculture, government, defense, transportation, energy and power, and others. This report comprises a detailed geographic distribution of the market across North America, Europe, APAC, Latin America, and MEA. North America is further segmented into U.S., Canada, and Mexico. Europe is divided into Germany, UK, Italy, France, and Rest of Europe. Asia-Pacific is bifurcated into China, India, Japan, and Rest of Asia-Pacific. North America accounted for the largest share in the global Fencing market in 2017.
Competitive Landscape
The leading players in the market include Allied Tube & Conduit, Jerith Manufacturing Company Inc., Poly Vinyl Creations Inc., Associated Materials LLC, CertainTeed Corporation, Fogarty PVC Fencing, Veka AG, Planet Polynet, Hoover Fence, and Ameristar Fence Products Incorporated among others. These leading players in the market are introducing affordable products in the market to cater to the consumers. Global players are entering new markets in developing regions to expand their customer base and strengthen market presence.