The global fabric softener sheets market was valued at USD 2,893.99 million in 2022 and is expected to grow at a CAGR of 5.0% during the forecast period.
Fabric softener sheets are a type of fabric softener that is used to soften fabrics. Fabric softener sheets are made from a variety of materials, including cotton, polyester, and rayon. They are usually thin and rectangular in shape. They are usually placed in the dryer along with the clothes and help to make them softer and more comfortable. Fabric Softener Sheets can also help to reduce static cling.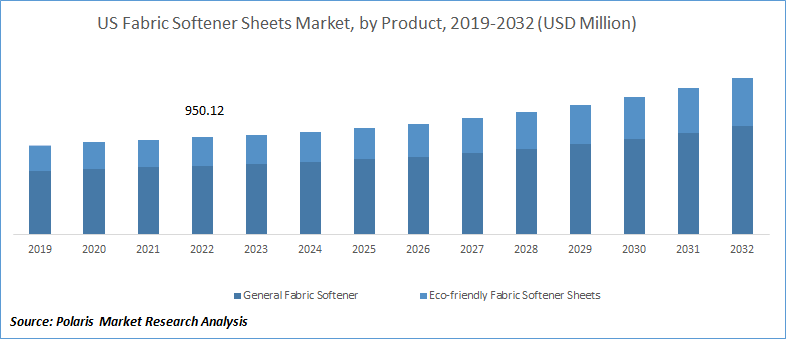 To Understand More About this Research: Request a Free Sample Report
Fabric softener or dryer sheets are small, thin sheets typically made of polyester or cellulose material used in laundry to soften fabrics and reduce static cling. These sheets are designed to be placed in the dryer and the clothes during the drying cycle. As the dryer heats up, the fabric softener sheets release a coating of softening agents and fragrance onto the dresses, helping to make them feel softer, reduce wrinkles, and eliminate static electricity. Fabric softener sheets are commonly used as a convenient and easy way to enhance the comfort and freshness of laundry.
The growing use of premium clothing is a key driver of the market demand for fabric softener sheets for washing machines. These sheets help maintain the softness of the fabric over an extended period, providing consumers with a valuable investment for their premium clothing. Additionally, the preference for premium clothing has been on the rise due to increasing quality consciousness, rising living standards, a growing working population, and higher per capita disposable income. This trend further fuels the market demand for fabric softener sheets designed for sensitive skin.
Moreover, the demand for fabric softener sheets experienced a notable increase during the pandemic in 2020. With the spreading coronavirus, concerns about virus transmission escalated, due to heightened adoption of stringent precautions to ensure the safety of homes. Fabric softener sheets played a role in these precautions, as consumers sought to maintain clean and virus-free living spaces.
The Center for Disease Control and Prevention has highlighted that the virus can remain viable on various surfaces, including clothing, towels, and bedding, for extended periods of time. To prevent infection, it is recommended to frequently wash these items. Some healthcare officials have even suggested laundering clothes after wearing them in public to minimize the risk of contaminating our homes and families. As a result, there has been a significant increase in the market demand for laundry products such as fabric softeners, bleaches, and detergent.
Furthermore, there is a growing emphasis on the development of chemical-free fabric softeners that pose no health risks to individuals. This presents opportunities for both established and new players in the market to cater to the demand for safer and more environmentally friendly options. Additionally, market participants in the fabric softener industry are introducing unique packaging styles to attract a larger consumer base, contributing to the overall fabric softener sheets market growth throughout the forecast period.
Industry Dynamics
Growth Drivers
increasing preference for convenient solutions and changing living standards
The global market for washing machines has witnessed a significant surge in demand due to the increasing preference for convenient solutions and changing living standards. This trend is particularly notable in developing countries, where there is a growing middle-class population, rising disposable incomes, and evolving lifestyles. For example, in India, the sales of washing machines have experienced a remarkable increase of more than 24% in terms of units sold, both through retail outlets and online platforms, following the lifting of lockdown restrictions. This surge in demand for washing machines is expected to drive the consumption of related products, including fabric softener dryer sheets, in the coming years.
Moreover, there is a growing consumer inclination towards the adoption of smart washing machines that are equipped with advanced technologies such as automatic functionality and semi-automatic front load and top load designs. These innovations in washing machine technology further contribute to the overall growth of the washing machine market and, consequently, the demand for fabric softener dryer sheets.
The increasing adoption of modern appliances in developing countries can be attributed to several key factors. These include a high purchasing power among consumers, a rise in the number of working women and single-person households, a growing emphasis on the development of smart cities, and an increased demand for products that simplify and reduce the time spent on cleaning tasks, among others. Furthermore, the easy availability of products, combined with the growing trend of e-commerce, is a significant factor that supports the demand for dryer sheets in the market in the upcoming years.
Report Segmentation
The market is primarily segmented based on product, application, and region.
By Product

By Application

By Region

General Fabric Softener sheets

Eco-friendly Fabric Softener Sheets

North America (U.S., Canada)

Europe (France, Germany, UK, Italy, Netherlands, Spain, Russia)

Asia Pacific (Japan, China, India, Malaysia, Indonesia, South Korea)

Latin America (Brazil, Mexico, Argentina)

Middle East & Africa (Saudi Arabia, UAE, Israel, South Africa)
To Understand the Scope of this Report: Speak to Analyst
General fabric softener sheets segment held the highest market share in 2022
In 2022, the general fabric softener sheets segment held the highest market share, extensively used in home textile and clothing applications to decrease static wrinkles and cling. The segment's growth is driven by the affordability of available fabric softener sheets, as consumers are often inclined towards cost-effective and convenient solutions in the industry.
Additionally, the growing demand for pleasing perfumes in cleaning products plays a crucial role in propelling the growth of the fabric softener sheets segment.
Clothing segment held the largest market share in 2022
In 2022, the clothing segment held the largest market share, due to growing popularity of home laundry machines and laundry services for washing and drying clothes. The rising standard of living has led to more elevated sales of washing machines for household use, reducing the need for hand washing.
Moreover, the increase in premium clothing and the desire to provide extra care for such garments are expected to drive the market growth of the clothing segment. Consumers are increasingly seeking fabric softener sheets to maintain the softness and quality of their premium clothing, further contributing to the segment's market share.
North America accounted for the largest market share in 2022
In 2022, North America accounted for the largest market share in fabric softener sheets. The region boasts high living standards, a significant working women population, and increasing consumer purchasing power. These factors contribute to North America's strong demand for fabric softener sheets.
Furthermore, the widespread use of washing machines and laundromats in the region's households significantly drives market growth. The need for laundry services and efficient washing machines is on the rise as people seek to reduce the time and effort required for handwashing, especially due to the fast-paced and busy lifestyle of the working population. This trend further fuels the demand for fabric softener sheets in North America.
The European market for fabric softener sheets experiences significant growth, driven by the widespread adoption of these sheets in countries like Germany, the UK, France, and Eastern and Northern European countries, particularly in home textiles and clothing applications. The region's growth is further supported by the strong presence of laundry service providers and launderettes, contributing to the increased demand for fabric softener sheets.
In the Asia Pacific region, the market for fabric softener sheets is expected to register the highest compound annual growth rate (CAGR) during the forecast period. This growth can be attributed to the growing demand for scented cleaning products in developing countries such as China and India, along with factors like expanding population, increasing urbanization, and rising per capita disposable income. Additionally, the increasing penetration of washing machines, driven by the busy lifestyles of individuals, the rise in the number of working women, and the need to balance child-rearing and household responsibilities, further contribute to the market growth in the region, particularly in India.
Competitive Insight
Key players in the global fabric softener sheets market include P&G, Unilever, Henkel, KAO, Church & Dwight, Colgate, Ecover, SC Johnson, Werner & Mertz, and Sodalis.
These companies actively engage in research and development (R&D) activities to introduce innovative, high-quality dryer sheets that provide long-lasting fragrance and wrinkle-free benefits. By investing in R&D, these players aim to enhance the performance and features of fabric softener sheets, meeting the evolving needs and preferences of consumers.
Recent Developments
In June 2021, AlEn USA is broadening its laundry maintenance product range by including two new items: Ensueno Scent Booster Dryer Sheets and Ensueno Liquid Laundry Detergent. These additions complement the Ensueno Liquid Fabric Softener, resulting in a comprehensive laundry care solution found nationwide at select retailers.
Fabric Softener Sheets Market Report Scope
| | |
| --- | --- |
| Report Attributes | Details |
| Market size value in 2023 | USD 2,971.55 million |
| Revenue forecast in 2032 | USD 4,592.85 million |
| CAGR | 5.0% from 2023 – 2032 |
| Base year | 2022 |
| Historical data | 2019 – 2021 |
| Forecast period | 2023 – 2032 |
| Quantitative units | Revenue in USD million and CAGR from 2023 to 2032 |
| Segments Covered | By Products, By Application, By Region |
| Regional scope | North America, Europe, Asia Pacific, Latin America; Middle East & Africa |
| Key Companies | P&G, Unilever, Henkel, KAO, Church & Dwight, Colgate, Ecover, SC Johnson, Werner & Mertz, and Sodalis |