The Europe 1,4 Butanediol (BDO) Market was valued at USD 1,253.74 million in 2021 and is expected to grow at a CAGR of 7.2% during the forecast period. The widespread use of 1,4-butanediol in many processes, such as the manufacturing of poly tetramethyl ether glycols (PTMEG), and the growing demand for environmentally friendly goods stimulate market expansion. The 1,4 Butanediol (BDO) market is further influenced by the strong market demand from the THF sector and growing awareness of the processing and practical advantages of this chemical and other BDO derivatives.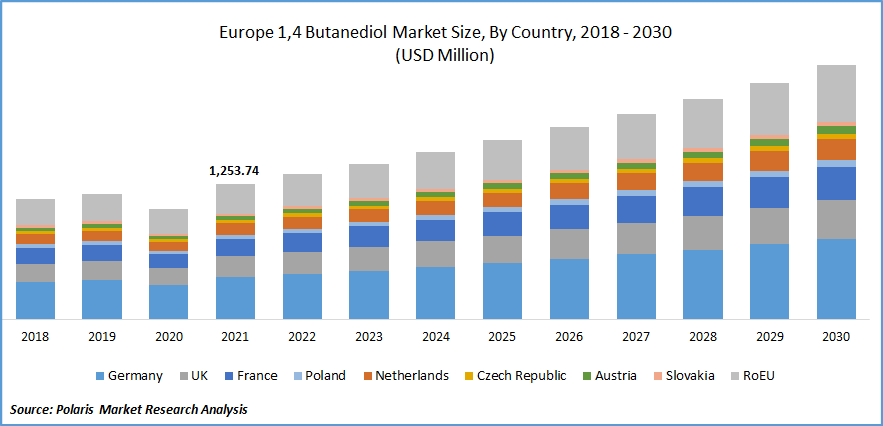 Know more about this report: Request for sample pages
A solvent primarily utilized in industrial cleansers and adhesive removers like tetrahydrofuran is butanediol, also known as BDO. Carboxylic alcohol with a single carbon-4 chain, BDO is saturated. At ambient temperature, it is a viscous colorless, and nearly odorless liquid. It functions as a crucial chemical intermediary for tetrahydrofuran, PTMEG, PBT, gamma-butyrolactone (GBL), polyurethane (PU), and other solvents.
These substances are widely utilized in a variety of products, including fibers, engineering plastics, pharmaceuticals, cosmetics, artificial leather, insecticides, plasticizers, hardeners, solvents, and rust removers. The major application market for BDO, occupying a sizable portion of the 1,4 Butanediol (BDO) market, is tetrahydrofuran.
The COVID-19 pandemic in 2020 caused losses in the majority of industries. The global national lockdowns that halted the movement of people and goods had a negative effect on the majority of companies. However, some of the sectors, like healthcare, were not significantly damaged, whereas the automotive sector was severely hit. According to OICA 2020 data, the decline in car production affected the demand for BDO. During the first year of the COVID-19 crisis, the performance of the EU chemical industry usually followed trends in the larger EU industry.
The overall demand for chemicals experienced significant shocks in the EU as well as globally, mostly as a result of interruptions in global supply networks, declines in consumption, and eventually in industry. Chemicals' declining demand unavoidably led to decreased production and supply 62. The output of chemicals in the EU27 decreased by 5.2% between January and June 2020 when compared to the same period in 2019, with April marking the lowest point. A 2.9% increase in output was recorded in June compared to May, indicating some preliminary and mild signs of recovery.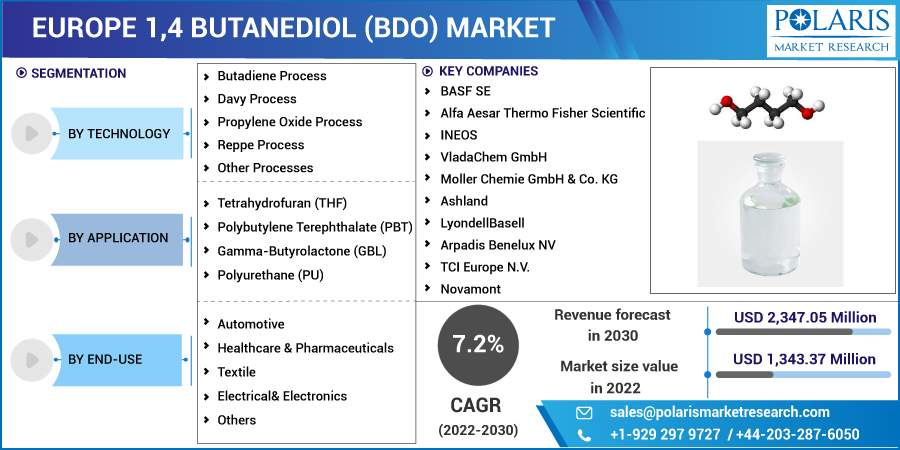 Know more about this report: Request for sample pages
Industry Dynamics
Growth Drivers
The synthesis of (Poly Butylene Terephthalate, or PBT), which is then utilized to make automotive parts, makes extensive use of 1, 4 butanediols. PBT enables a number of uses in the automotive industry, including weight reduction, energy absorption, shock absorption for bumpers, restriction of explosion danger in fuel tanks, airbags, seat belts, door and seat assemblies, subsystems, bumpers, external trim, and under-bonnet components.
Most cars include polyurethane foams in the armrests, seats, and headrests because of their cushioning qualities, which serve to lessen the tension and weariness sometimes linked to driving. Additionally, door panel textiles that attach and stretch to the door as well as the material in the car seats are created using Spandex fabric made from THF. Due to the strength and lightness of polyurethanes, cars' overall weight decreased, improving both fuel economy and environmental performance. According to OICA figures, worldwide car manufacturing rose 3.0% in 2021 compared to 2020. In 2021, there were 80,145,988 automobiles produced in the world as a whole.
A rise in the use of tetrahydrofuran and polybutylene terephthalate in products like computer housings, car bumpers, and plumbing is driving up demand for 1,4 butanediol. Additionally, it serves as an insulator for electrical and electronic components. Growing understanding of the benefits and processing of BDO and its derivatives.
Another reason for driving development is the widespread usage of the substance in the production of polyurethane foams, which are found in most car seats, armrests, and headrests where their cushioning capabilities assist lessen driver strain and tension. Additionally, the industrial sector's growing need for floor strippers, paint thinners, and other solvent products is encouraging Europe 1,4 Butanediol (BDO) Market expansion.
Report Segmentation
The market is primarily segmented based on technology, application, and end-use.
By Technology

By Application

By End-Use

Butadiene Process
Davy Process
Propylene Oxide Process
Reppe Process
Other Processes

Tetrahydrofuran (THF)
Polybutylene Terephthalate (PBT)
Gamma-Butyrolactone (GBL)
Polyurethane (PU)
Others

Automotive
Healthcare & Pharmaceuticals
Textile
Electrical& Electronics
Others
Know more about this report: Request for sample pages
Reppe Process accounted for the largest market share in 2021
Reppe process is one of the widely used methods for the synthesis of 1,4 – Butanediol in Chemical routes. For production, this method is divided into 3 steps – methanol oxidation to produce formaldehyde, and acetylene, secondly formaldehyde to produce 1,4-butanediol (BDO), and lastly 1,4-butanediol hydrogenation to form BDO. In the first step, methanol is oxidized in presence of a catalyst. As per the types of catalyst used, the first step process can be further divided into the silver method (methanol excess method) and the iron-molybdenum method (air excess method).
In the second step, acetylene and formaldehyde is reacted in a series reaction system of 3~4 slurry bed reactors with Cu-modified catalyst to form 1,4- butynediol (BYD). The last step is the hydrogenation of BYD to form BOD. In this step, BYD is hydrogenated under 30~32 MPa over a nickel-based catalyst in presence of silica or alumina gel in a fixed bed.
This reppe method has been widely used by many big industry players like BASF, Ashland due to economical convenience. For instance, as per a report published by American Journal of Chemical Engineering, Reppe method accounts for more than 40% of total production in 2019. BDO Market in the European region has been in an upward direction after the price dropped from 2014 to 2016 due to a rise in rising feedstock prices. But after 2017, the industry players have been witnessing upward pressure towards its growth due to continued growth in the automotive sector and other allied sectors.
Tetrahydrofuran (THF) is expected to witness the fastest growth
The main application of 1,4-butanediol is the production of tetrahydrofuran (THF), which is used to manufacture polytetramethylene ether glycol (PTMEG), which is then used to make a cast and thermoplastic urethane elastomer, polyurethane fibers (spandex), and high-performance co-polyester-ether elastomers. The remaining 21% of THF consumption is used as a reaction solvent in the manufacture of pharmaceuticals, in the development of precision magnetic tape, and in the production of polyvinyl chloride cement and coatings.
This polymer is widely used in the production of urethane elastomers and fibres. Tetrahydrofuran's (THF) application is expanding at the highest rate due to its exceptional qualities, including its excellent flexibility and elasticity, PTMEG demand has increased.
The demand in Germany is expected to witness significant growth
Germany is the leading European market for cosmetics, followed by France, the UK, and Italy. According to ITC Trade Map, Germany imported 4,392 metric tons of skincare products in 2021. An online platform gains the most sales owing to many cosmetics companies launching their products on their website to improve their brand visibility and reachability of products Germany is a heavyweight player in the European cosmetics industry regarding consumption and production.
1,4 BDO is used as a solvent in the formulation of cosmetics. BASF SE (Germany) and Genomatica, Inc are some of this country's leading players of 1,4 BDO. However, in 2021, BASF increased the prices of BDO & its derivatives in Europe due to the increasing rates and low availability of its raw material, transportation and logistics issues, and higher operating costs. However, in 2022, prices of butanediol show mixed trends owing to declining feedstock prices in the domestic market.
Competitive Insight
Some of the prominent market participants operating in the 1,4 Butanediol (BDO) Marketspace include BASF SE, Alfa Aesar Thermo Fisher Scientific, INEOS, VladaChem GmbH, Moller Chemie GmbH & Co. KG, Ashland, LyondellBasell, Arpadis Benelux NV, TCI Europe N.V., Novamont among others.
Recent Developments
October 2022: BASF SE announced the manufacturing of 1,4 butanediol through renewable feedstock which includes Genomatica's patented dextrose-based fermentation process.
November 2021 - Thermo Fisher Scientific announced consolidating their product portfolio brands Alfa Aesar, Maybridge, and Acros Organics to be unified under Thermo Scientific.
1,4 Butanediol (BDO) Market Report Scope
| | |
| --- | --- |
| Report Attributes | Details |
| Market size value in 2022 | USD 1,343.37 million |
| Revenue forecast in 2030 | USD 2,347.05 million |
| CAGR | 7.2% from 2022 - 2030 |
| Base year | 2021 |
| Historical data | 2018 - 2021 |
| Forecast period | 2022 - 2030 |
| Quantitative units | Volume in Kiloton, Revenue in USD million and CAGR from 2022 to 2030 |
| Segments covered | By Technology, By Application, By End-Use |
| Key companies | BASF SE, Alfa Aesar Thermo Fisher Scientific, INEOS, VladaChem GmbH, Moller Chemie GmbH & Co. KG, Ashland, LyondellBasell, Arpadis Benelux NV, TCI Europe N.V., Novamont |