The global epilepsy treatment devices market was valued at USD 505.45 million in 2022 and is expected to grow at a CAGR of 4.6% during the forecast period. Epilepsy is a condition of the CNS leading to seizures or periods of unusual behavior, sensations, & consciousness loss. Several conditions, including convulsions & epileptic seizures, such as atonic, myoclonic, & tonic-clonic seizures, cause epilepsy. Increasing public awareness of the treatment options for panic attacks drives the demand for epilepsy devices.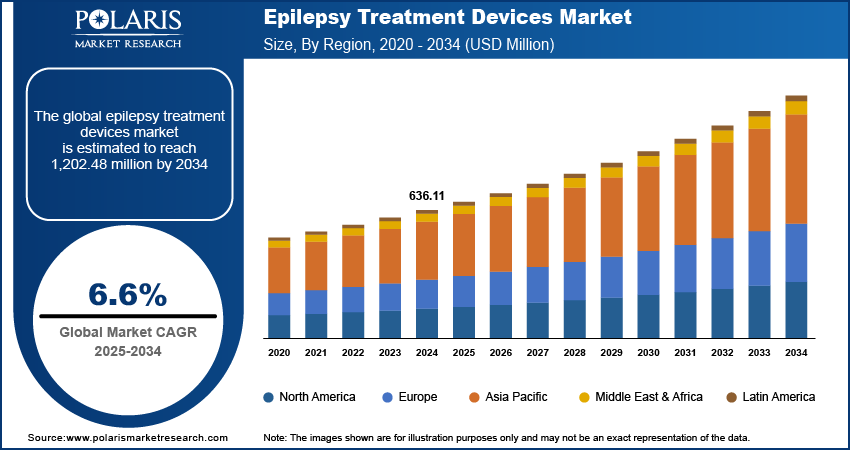 Know more about this report: Request for sample pages
The World Health Organization (WHO) says that epilepsy is a big part of the world's disease burden, affecting more than 50 million people worldwide. The estimated number of people with active epilepsy in the general population at any given time is between 4 and 10 per 1,000. To create lucrative growth opportunities, market participants in the global market for epilepsy monitoring devices are concentrating on producing cutting-edge pediatric medical devices.
Recurrent seizures, which can affect one area or the entire body, and sometimes cause loss of consciousness, are hallmarks of epilepsy, a neurological condition. There are a few epilepsy devices on the market that can both detect seizures and reduce their frequency. Vagus nerve stimulation (VNS), responsive neurostimulation (RNS), and deep brain stimulation (DBS) are the only three FDA-approved devices for reducing seizure frequency.
The battery-powered vague nerve stimulator reduces seizures by 20-40% by sending electric energy bursts through the vagus nerve and brain. When seizure-like activity is detected, the responsive neurostimulator sends a small amount of electric current to the brain. EEG, electrocardiography, & surface electromyography (sEMG) are additional epilepsy devices.
Due to many health-conscious consumers, the manufacturing of epilepsy devices presents an opportunity for growth and innovation in the medical device industry. The primary driving force behind the market expansion is the rise in the proportion of the elderly population more susceptible to epilepsy. For instance, an UpToDate Inc. article from August 2021 states that the incidence rate of epilepsy rises with age and is highest in patients over 75 years old. In addition, the expansion of the market is aided by the rising demand for epilepsy devices that require little or no surgery. Due to the advantages of minimally invasive surgeries, such as a high success rate, less pain, shorter hospital stays, and a short recovery period, minimally invasive devices for epilepsy are being favored by both doctors and patients.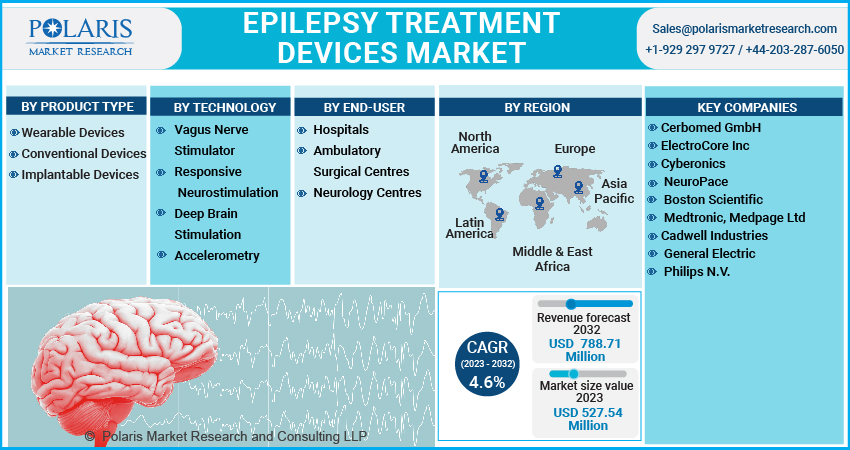 Know more about this report: Request for sample pages
Industry Dynamics
Growth Drivers
The epilepsy treatment devices market is anticipated to grow rapidly owing to the well-developed healthcare infrastructure, rise in unmet medical needs, increased epilepsy prevalence, and surge in demand for wearable devices. The market is anticipated to grow at a rapid rate. In addition, the rising demand for better healthcare services and substantial government investments in healthcare infrastructure are driving rapid growth in the healthcare sector in emerging economies. Devices for epilepsy are in high demand in developed nations and developing nations like China, Japan, and India, contributing to the market's expansion.
Report Segmentation
The market is primarily segmented based on product type, technology, end-user, and region.
By Product Type

By Technology

By End-User

By Region

Wearable Devices

Conventional Devices

Implantable Devices

Vagus Nerve Stimulator

Responsive Neurostimulation

Deep Brain Stimulation

Accelerometry

Hospitals

Ambulatory Surgical Centres

Neurology Centres

North America (U.S., Canada)

Europe (France, Germany, UK, Italy, Netherlands, Spain, Russia)

Asia Pacific (Japan, China, India, Malaysia, Indonesia. South Korea)

Latin America (Brazil, Mexico, Argentina)

Middle East & Africa (Saudi Arabia, UAE, Israel, South Africa)
Know more about this report: Request for sample pages
Conventional Devices are expected to hold largest market share in 2022
In 2022, the conventional devices segment is expected to hold the largest market share. This is due to the advantages of these devices, such as their portability, outstanding wireless readability, improved sensitivity rates in the detection of seizures, improved mobility and quality of life for epileptic patients, assistance in tracking the remote location of epileptic patients, which is helpful in the event of a seizure attack, and the availability of conventional and wearable devices by many key players.
Devices for monitoring epileptic seizures that can be worn on the body are known as wearable epilepsy monitoring devices. Most of the time, these devices are made up of sensors that send changes in brain activity to a receiver. The receiver then informs the wearer or caregiver of possible seizure activity. These can monitor a patient's vital signs up to 100 feet (30 meters), typically worn on the body, such as on a belt or pocket. They are more expensive and usually have a high battery life than conventional devices.
The first line of epilepsy monitoring devices is conventional ones. These monitor the patient's heart rate, temperature, and sweating and are typically worn on the wrist or ankle. For the device to function properly, the patient must be within a range of approximately thirty feet (nine meters). Because they provide a wealth of information about brain activity during various mental processes like attention, memory, perception, language processing, and emotion, conventional EEG/ERP systems have been used for decades to diagnose epilepsy.
Deep brain stimulation segment dominated the market in 2022
In 2022, the deep brain stimulation sector dominated the global market, and it is anticipated that this dominance will continue throughout the forecast period. The rising demand for deep brain stimulators is to blame for this. Segmental market expansion is further aided by the increased use of deep brain stimulators to treat neuromuscular conditions like dystonia, epilepsy, and Parkinson's disease.
Projects to create innovative and creative technology are being launched by governments from all over the world. Due to these technologically advanced monitoring devices, it is anticipated that the market for epilepsy monitoring equipment will expand. These technologies that are either minimally or completely non-invasive are well-liked by both doctors and patients. Additionally, an increase in the number of birth-related & traffic-related accidents and the availability of various preventive care and health programs.
Hospital segment is expected to held largest market in 2022
In 2022, the hospital segment held the largest market. Due to the availability of trained medical staff in hospitals, which helps to provide better services to patients and provides additional benefits of diagnosis and treatment of neuromuscular disorders including epilepsy, the hospital segment is expected to remain dominant throughout the forecast period.
Most hospitals and clinics use EEG monitoring and emergency medical services. It is anticipated that the market will present lucrative opportunities, particularly in developing nations. It is anticipated that the segment will provide lucrative opportunities, particularly in developing nations. Numerous nations, including India and China, are making significant investments in healthcare infrastructure. In addition, the hospital and clinics market is expected to expand during the forecast period as a result of the rise in demand for high-quality healthcare and the expansion of medical tourism.
Europe dominated the global market for epilepsy monitoring devices in 2022
In 2022, Europe dominated the global market for epilepsy monitoring devices. Due to the large geriatric population and rising healthcare costs, the European market is anticipated to expand rapidly between 2023 and 2032. In the United Kingdom, 600,000 people have epilepsy, which is four times as many as those with Parkinson's disease and nearly as many as those with autism, according to Epilepsy Action.
During the forecast period, North America is anticipated to be the second-largest market for epilepsy monitoring tools. An increase in patients more likely to develop epilepsy can be attributed to the widespread use of cutting-edge treatment methods and favorable reimbursement policies. During the forecast period, the epilepsy monitoring devices market is anticipated to expand fastest in Asia Pacific. During the forecast period, the region's market is likely to grow at a high CAGR. New technologies are being used more, healthcare costs are increasing, and the healthcare industry's dynamics are changing in Asia-Pacific.
Competitive Insights
Some of the major players operating in the global epilepsy treatment devices market include Cerbomed, ElectroCore, Cyberonics, NeuroPace, Boston Scientific, Medtronic, Medpage, Cadwell Industries, General Electric, and Philips.
Recent Developments
In September 2020, Neuronostics developed its BioEP platform more accurate for faster diagnosis of epilepsy & to monitor response to the treatment with its anti-epileptic drugs.

In November 2021, Neurava announced it is developing a wearable device which is one of the startups in biopharmaceuticals.
Epilepsy Treatment Devices Market Report Scope
| | |
| --- | --- |
| Report Attributes | Details |
| Market size value in 2023 | USD 527.54 million |
| Revenue forecast in 2032 | USD 788.71 million |
| CAGR | 4.6% from 2023 - 2032 |
| Base year | 2022 |
| Historical data | 2019 – 2021 |
| Forecast period | 2023 - 2032 |
| Quantitative units | Revenue in USD million and CAGR from 2023 to 2032 |
| Segments covered | By Product Type, By Technology, By End-User, By Region |
| Regional scope | North America, Europe, Asia Pacific, Latin America; Middle East & Africa |
| Key companies | Cerbomed GmbH, ElectroCore Inc, Cyberonics, NeuroPace, Boston Scientific, Medtronic, Medpage Ltd, Cadwell Industries, General Electric, Philips N.V. |