The global engineering R&D services outsourcing market was valued at USD 1,593.61 billion in 2022 and is expected to grow at a CAGR of 25.2% during the forecast period. The growth of the engineering R&D (ER&D) services outsourcing market is being fueled by several factors, including the growing alliance between Engineering Service Providers (ESP) and Original Equipment Manufacturers (OEM). This collaboration is driven by the need to incorporate the latest technologies into product offerings, shorten product lifecycles, and reduce costs through outsourcing.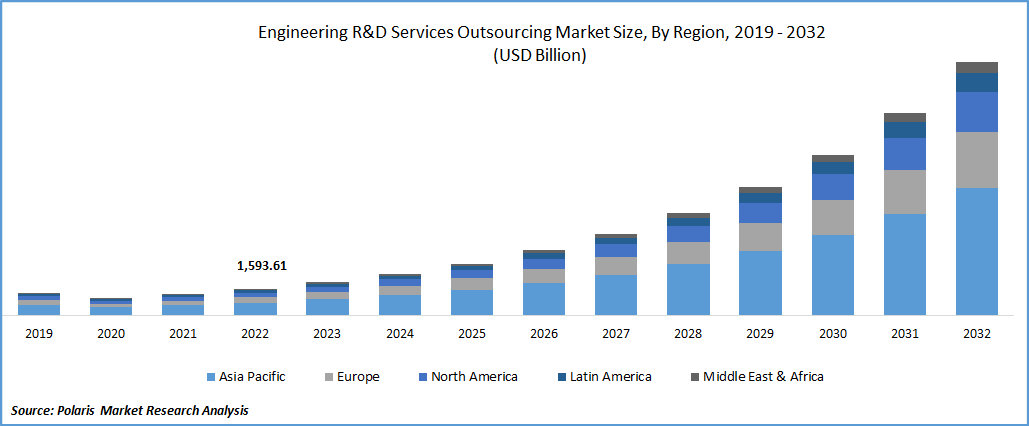 Know more about this report: Request for sample pages
Furthermore, global research and development (R&D) developments play a role in the market's expansion. As cost-cutting measures become increasingly important to customers, outsourcing various services has become popular. As a result, the ESO market is seeing consistent growth.
The engineering services outsourcing (ESO) model has undergone significant development, leading to the provision of smarter solutions for customers. The industry has experienced a paradigm shift from core engineering services to embedded engineering solutions incorporating automation, analytics, and the Internet of Things (IoT), among other technologies. Additionally, technological advancements have enabled the implementation of Platform-as-a-Service (PaaS) plans that integrate IT solutions.
ESPs adapt to the changing ESO model by setting higher service delivery standards and introducing licensing frameworks that promote innovation, ultimately leading to increased revenue and improved customer engagement. Additionally, the widespread adoption of digitalization across multiple industries is a significant driving factor for market growth, resulting in improved efficiency and productivity.
The implementation of Industry 4.0 facilitates intelligent manufacturing. It drives the demand for cutting-edge industrial solutions based on robotics, artificial intelligence (AI), and machine learning (ML), thus opening up opportunities for IT integration with ESPs' service offerings. End application enterprises and industry verticals, particularly the automotive and aerospace industries, which require reliable hardware manufacturing qualifications, are potential clients for digital transformation services.
The COVID-19 pandemic has significantly impacted the Engineering R&D Services Outsourcing (ESO) market, with many companies delaying or canceling their engineering projects and reducing their budgets for outsourced services. The global lockdowns, travel restrictions, and supply chain disruptions have disrupted the operations of Engineering Service Providers (ESPs) and Original Equipment Manufacturers (OEMs), leading to project delays and cancellations.
However, the pandemic has also accelerated the adoption of digital technologies, such as remote collaboration tools, to ensure business continuity. As the world emerges from the pandemic, the ESO market is expected to recover and grow as companies resume their engineering projects and increase their focus on digital transformation.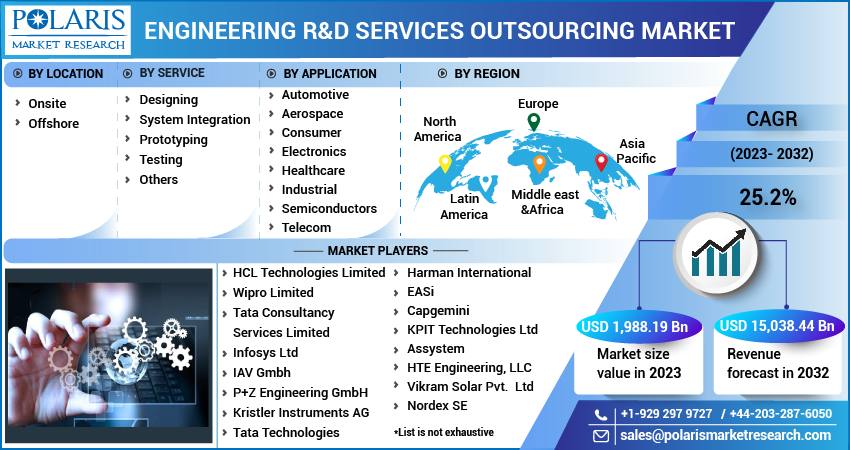 For Specific Research Requirements, Request for a Customized Report
Industry Dynamics
Growth Drivers
The engineering R&D services outsourcing market is experiencing a significant trend toward incorporating the Internet of Things (IoT) technology. The IoT refers to the interconnection of various devices and systems that can collect and exchange data through the Internet. This technology is transforming the engineering sector and is expected to bring new opportunities and challenges for Engineering Service Providers (ESPs) and Original Equipment Manufacturers (OEMs).
Incorporating IoT technology in the ESO market has increased demand for engineering services that can help develop, implement, and maintain IoT-based systems. ESPs now offer services integrating IoT technology into various industries, including manufacturing, healthcare, and transportation. Moreover, ESPs use IoT technology to enhance their service offerings, including predictive maintenance, remote monitoring, and asset tracking.
The integration of IoT technology is also expected to increase the demand for engineering services that can ensure data security and privacy. The interconnection of various devices and systems through the internet creates new security risks, and ESPs are offering services that can help prevent cyber-attacks and ensure data privacy. This presents an opportunity for ESPs to differentiate themselves in the market by providing comprehensive IoT-based solutions that meet their clients' needs for secure and reliable systems.
Report Segmentation
The market is primarily segmented based on location, service, application, and region.
By Location

By Service

By Application

By Region

Designing

System Integration

Prototyping

Testing

Others

Automotive

Aerospace

Consumer Electronics

Healthcare

Industrial

Semiconductors

Telecom

Others

North America (U.S., Canada)

Europe (France, Germany, UK, Italy, Netherlands, Spain, Russia)

Asia Pacific (Japan, China, India, Malaysia, Indonesia, South Korea)

Latin America (Brazil, Mexico, Argentina)

Middle East & Africa (Saudi Arabia, UAE, Israel, South Africa)
Know more about this report: Request for sample pages
On-shore segment accounted for the largest market share in 2022
The on-shore segment accounted for the largest revenue share in the Engineering Services Outsourcing (ESO) market, and it is expected to continue dominating the market from 2023 to 2032. The decision to outsource on-shore engineering services is driven by political and geopolitical boundaries, time zone differences, and language and cultural barriers. On-shore outsourcing helps to overcome these obstacles, particularly language barriers. It facilitates better communication between Original Equipment Manufacturers (OEMs) and Engineering Service Providers (ESPs), leading to improved delivery of products and services.
The off-shore segment is predicted to grow significantly due to international inflation rates, high logistics costs, training costs, and increasing preference for outsourcing to on-shore partners. ESPs also need to comply with various regulations in outsourcing contracts when serving customers in other countries. However, the off-shore segment can be propelled by the availability of cost-effective resources and a qualified pool of skills in countries like China, India, Malaysia, and Mexico.
Testing segment accounted for the highest market revenue share in 2022
The testing segment is expected to hold the highest revenue share in 2022, with the need for error-free processes and prototypes driving growth. ESPs are increasingly seeking software testing assistance to ensure user-friendliness and error-free software. Additionally, the demand for outsourcing testing services to reduce manual intervention and turnaround time is predicted to contribute to the growth of the testing segment.
The designing segment will witness the fastest growth over the forecast period. This can be attributed to the increasing complexity of designs and the need to reduce costs by outsourcing design to a professional yet cost-effective workforce. Moreover, the rising popularity of industrial, graphic, and architectural designing for logistics solutions and tools is expected to drive the demand for innovative engineering services over the projection period.
Industrial dominated the global market in 2022
The industrial segment dominates the engineering R&D services outsourcing market, driven by the increasing adoption of digitalization and the industrial Internet of Things (IoT). The use of cloud infrastructure is also helping industrial goods manufacturing companies modernize their IT infrastructure and streamline processes. The healthcare segment is expected to experience significant growth due to aggressive investments in medical equipment and collaborations between healthcare organizations and ESPs to improve clinical abilities and reduce operating costs.
These collaborations have already yielded benefits, with ESPs favored by the healthcare industry to produce drugs and vaccines in response to the COVID-19 pandemic. Strategic partnerships between healthcare organizations and ESPs aim to improve the client-contractor relationship and increase market presence. For instance, Symphony Health and PRA Health Sciences' data solutions division recently extended their data assistance globally by partnering with international sales audits and medical prescription providers.
Asia Pacific dominated the global market in 2022
Asia Pacific dominated the market in terms of revenue share in 2022. The region is known for its proficient engineering professionals and is a hub for industrial goods manufacturing, providing cost-effective hiring solutions. With the growing demand for technological advancements and the integration of embedded software, the Asia Pacific market is expected to continue to witness significant growth in the coming years.
The North American market is predicted to grow fastest during the forecast period. It has become a preferred off-shore outsourcing location for manufacturers and suppliers based in the U.S., leading several major companies to establish a regional presence. The region's steady salary inflation and the detailed paperwork required for outsourcing attract both parties to the market. These factors are expected to drive the growth of the engineering R&D Services Outsourcing Market in the coming years.
Competitive Insight
Some of the major players operating in the global market are HCL Technologies Limited, Wipro Limited, Tata Consultancy Services Limited, Infosys Ltd, IAV Gmbh, P+Z Engineering GmbH, Kristler Instruments AG, Tata Technologies, Harman International, EASi, Capgemini, KPIT Technologies Ltd, Assystem, HTE Engineering, LLC, Vikram Solar Pvt. Ltd, Nordex SE, HORIBA, Ltd, and FEV Group
Recent Developments
In October 2021, Tech Mahindra partnered with ARM to establish ARM 5G Solutions Lab, which aims to foster innovation in the network space. The lab will provide a live test environment for ecosystem partners to collaborate and develop end-to-end solutions.

In December 2021, Tech Mahindra announced a strategic collaboration with the SOVICO Group, a prominent investment group in Vietnam, to drive digital transformation for the company. The partnership was declared during the official visit of H.E Vuong Dinh Hue, the Chairman of the National Assembly of Vietnam, to India.
Engineering R&D Services Outsourcing Market Report Scope
| | |
| --- | --- |
| Report Attributes | Details |
| Market size value in 2023 | USD 1,988.19 billion |
| Revenue forecast in 2032 | USD 15,038.44 billion |
| CAGR | 25.2% from 2023 – 2032 |
| Base year | 2022 |
| Historical data | 2019 – 2021 |
| Forecast period | 2023 – 2032 |
| Quantitative units | Revenue in USD billion and CAGR from 2023 to 2032 |
| Segments Covered | By Location, By Services, By Application, By Region |
| Regional scope | North America, Europe, Asia Pacific, Latin America; Middle East & Africa |
| Key Companies | HCL Technologies Limited, Wipro Limited, Tata Consultancy Services Limited, Infosys Ltd, IAV Gmbh, P+Z Engineering GmbH, Kristler Instruments AG, Tata Technologies, Harman International, EASi, Capgemini, KPIT Technologies Ltd, Assystem, HTE Engineering, LLC, Vikram Solar Pvt. Ltd, Nordex SE, HORIBA, Ltd, and FEV Group |