The global DNA synthesis market was valued at USD 2.42 billion in 2021 and is expected to grow at a CAGR of 19.7% during the forecast period.
The market's promising growth is attributed to the growing gene synthesis-related research and development, along with ongoing improvements in technological processes like molecular separation and protein purification technology, which help in the development of dependable, quick, and affordable solutions, all contribute to the target market's growth over the forecast period. Over the projected period, market expansion will be driven by the rising usage of DNA synthesis in medicinal, diagnostic, academic, and industrial research.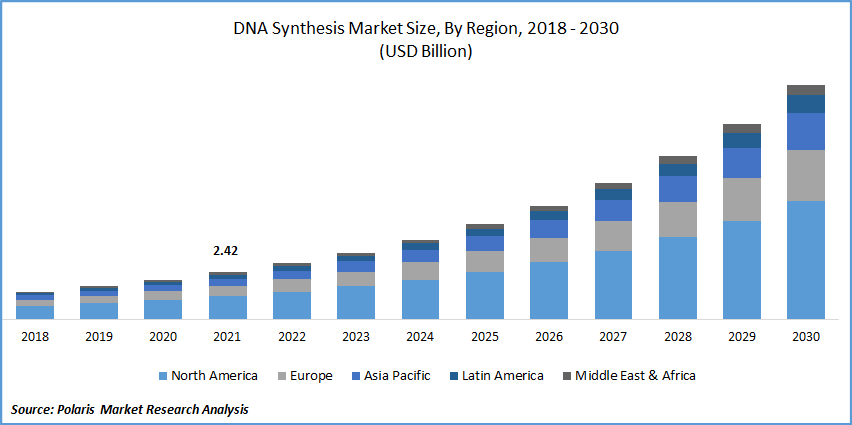 Know more about this report: Request for sample pages
DNA replication is the natural process of DNA synthesis. However, genetic engineering and enzyme chemistry is used in laboratories to create DNA artificially. Genetic engineering, diagnostics, therapeutic uses, and academic and industrial research all use this deoxyribonucleotide. Cost per base pair, mistake rates, lengths, and throughput are fundamental variables that affirm the caliber of synthesis from various organizations.
The expanding usage of DNA synthesis across numerous end-use sectors, including synthetic biology, immunology, cancer research, food science, immunology, antibody development, agriculture, and food science, is driving the DNA synthesis market. As a result, the need for DNA synthesis expects to increase rapidly during the forecast period.
There is now active research and development in the fields of immunology, cancer therapy, infectious disease, vaccines, and synthetic biology. The commercialization of therapeutic oligonucleotides, including siRNA, oligos, and miRNA inhibitors, is promoting the growth of this market sector. Therapeutic medicines for DNA synthesis provide several prospective and financial advantages over conventional treatments. For instance, India gave Zydus Cadila's ZyCoV-D, the first DNA vaccine and a highly stable and affordable vaccine, emergency permission in September 2021. The market arena thus offers a profitable prospect for growth.
For instance, phase 2 clinical trials for Siolta Therapeutics' STMC-103H are ongoing in the United States as of September 2022. Atopic Dermatitis and Type 1 hypersensitivity have been examined using the biologic medication STMC-103H, creating new business prospects.
The global prevalence of infectious diseases is increasing, causing viral and bacterial infections to spread quickly. As a result, there is a greater need for cutting-edge treatments to battle such dangerous diseases effectively. These illnesses can be treated with biological treatments like gene therapy and chemical medications. The treatment of infectious and endemic diseases has been enhanced through genomics. Additionally, it enables us to assess growing drug resistance and discover targets for novel treatments and vaccines.
All industries have been impacted by the COVID-19 pandemic outbreak, which has caused several unforeseen changes in the global economy. Key market drivers for synthetic biology are the enabling government legislation. Investors' focus has recently switched to synthetic biology because of the industry's expanding demand. The field of synthetic biology will have received about USD 8 billion in investments by 2020 from both public and commercial funding.
Because infectious diseases can be treated with recombinant DNA technology, DNA & RNA ribozyme, and single chain antibodies, gene therapy interests many researchers; additionally, the human genome project offers a number of benefits for technological production processes and speeds up production. This expedites market expansion by making it possible to synthesize the sequence of high throughput custom nucleotides in time.
The multibillion-dollar PCR sector and Next-generation sequencing are also fueling growth in the market. New medical advances and enhanced synthesis processes are being brought forth by startups entering the DNA synthesis business.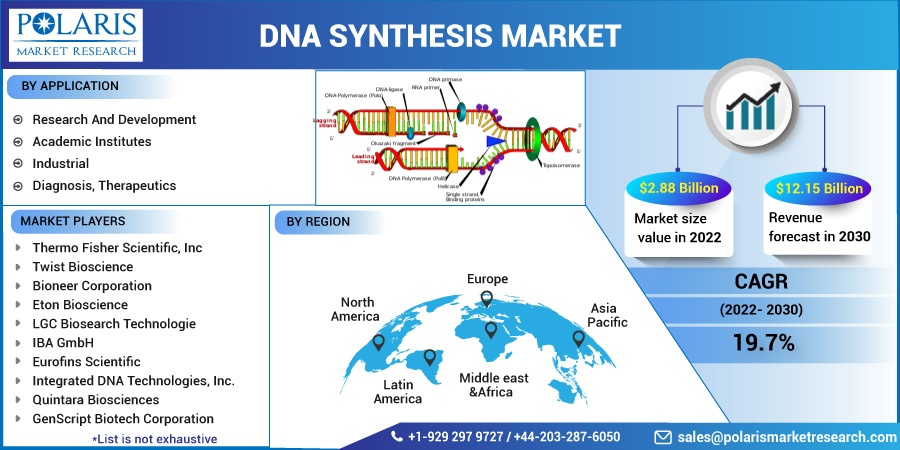 Know more about this report: Request for sample pages
Industry Dynamics
Growth Drivers
The use of many genes in gene therapy is a complex method for preventing a particular disease. The procedure entails injecting genes into patient cells rather than medication or surgery. Gene therapy is becoming more widely used as a result of a rising desire for innovative and long-lasting therapeutic outcomes. Synthetic gene constructions are needed, along with other gene products, to hasten the development of gene therapy. The prevalence of genetic illnesses has increased the need for effective treatment, and gene therapy can treat a particular type of sickness. Advances in synthetic DNA technology are gaining popularity as a practical response to worries about the rising number of new diseases and the potential for the next global pandemic.
The present SARS-CoV-2 pandemic and upcoming pandemics involving other new infections can benefit from this promising method for quickly replicating and identifying genes of interest. Researchers, as well as biotechnology and pharmaceutical corporations, have recently given targeted therapy more consideration. It has become a key disease management strategy. Shortly, targeted therapy in conjunction with chemotherapy and immunotherapy is anticipated to increase dramatically, generating profitable prospects for both new and seasoned participants in the market.
Rapid gene synthesis products are in higher demand as gene therapy usage grows. These goods deliver precise gene sequences in a short amount of time. It strengthens the body's resistance to illness and infection. DNA synthesis is becoming more crucial to prevent DNA alterations that could lead to oncological illnesses. Additionally, because DNA synthesis can treat the condition of premature aging, demand for it is rising. The synthetic biology segment accounts for a sizable portion of the DNA synthesis industry.
Report Segmentation
The market is primarily segmented based on application and region.
By Application

By Region

Research And Development
Academic Institutes
Industrial
Diagnosis, Therapeutics

North America (U.S., Canada)
Europe (France, Germany, UK, Italy, Netherlands, Spain, Russia)
Asia Pacific (Japan, China, India, Malaysia, Indonesia, South Korea)
Latin America (Brazil, Mexico, Argentina)
Middle East & Africa (Saudi Arabia, U.A.E., Israel, South Africa)
Know more about this report: Request for sample pages
In 2021, academic institutes dominated the market, accounting for the largest market share.
The academic and governmental research institutes segment led the global market. Gene synthesis services are heavily used in research settings. Hence this market is anticipated to develop at the quickest CAGR between 2022 and 2030. Research institutes are working with service providers to speed up the research programs that need synthesizing and characterizing gene fragments.
The section for biotechnology and pharmaceutical firms is anticipated to expand significantly over the projected period. Growth in the market is expected to be fueled by biotech companies' greater use of synthetic biology in the creation of novel disease management strategies.
The demand in North America is expected to witness significant growth
North America emerged as the largest regional market in 2021. North America held the most outstanding revenue share due to the presence of significant companies and supported government initiatives relating to the development and implementation of synthetic biology programs. Drug and diagnostic developers in the United States use gene editing and synthesis-related techniques more frequently, fostering regional market expansion.
Market expansion has also been helped by regulatory approval and marketing of synthetic gene products in the area. In addition, the recent regional approval of a significant number of cellular and gene therapies encourages increased investment in this field by other businesses. Increased investments by multiregional firms in the local market are to blame.
Competitive Insight
Some major global players operating in the global market include Thermo Fisher Scientific, Inc., Twist Bioscience, Bioneer Corporation, Eton Bioscience, LGC Biosearch Technologie, IBA GmbH, Eurofins Scientific, Integrated DNA Technologies, Inc., Quintara Biosciences, GenScript Biotech Corporation, and others.
Recent Developments
Clonal-ready gene fragments will be made available by Twist Bioscience in December 2020 to complete its gene offering. The fragments launched can be utilized to build flawless clones with or without adapters. The clonal-ready gene fragments function, among other things, with gene expression, enzyme engineering, and protein expression pathways.
According to an article in an ACS journal Globally, 19.3 million new instances of cancer and about 10.0 million cancer-related deaths were reported in 2020. This suggests that the current level of cancer coverage is inadequate and that increased cancer coverage must be implemented internally.
DNA Synthesis Market Report Scope
| | |
| --- | --- |
| Report Attributes | Details |
| Market size value in 2022 | USD 2.88 billion |
| Revenue forecast in 2030 | USD 12.15 billion |
| CAGR | 19.7% from 2022 - 2030 |
| Base year | 2021 |
| Historical data | 2018 - 2020 |
| Forecast period | 2022 - 2030 |
| Quantitative units | Revenue in USD billion and CAGR from 2022 to 2030 |
| Segments Covered | By Application, By Region |
| Regional scope | North America, Europe, Asia Pacific, Latin America; Middle East & Africa |
| Key Companies | Thermo Fisher Scientific, Inc., Twist Bioscience, Bioneer Corporation, Eton Bioscience, LGC Biosearch Technologie, IBA GmbH, Eurofins Scientific, Integrated DNA Technologies, Inc., Quintara Biosciences, GenScript Biotech Corporation, and others. |