The global directed energy weapons market was valued at USD 9.20 billion in 2022 and is expected to grow at a CAGR of 9.2% during the forecast period. Governments from different nations are working harder to tackle the increasing need for diverse security applications by incorporating directed energy technology into their military applications. For instance, the US Department of Defense (DoD) collaborates with several commercial companies to develop DEWS, such as high-power lasers and microwaves. Similar plans were made public by India's Defense Research and Development Department (DRDO), which would use microwaves and high-energy lasers to create DEWS. These DEWS, which include plasma, high-power microwaves, and particle beams, are cutting-edge military innovations that armed forces have not yet used in battle.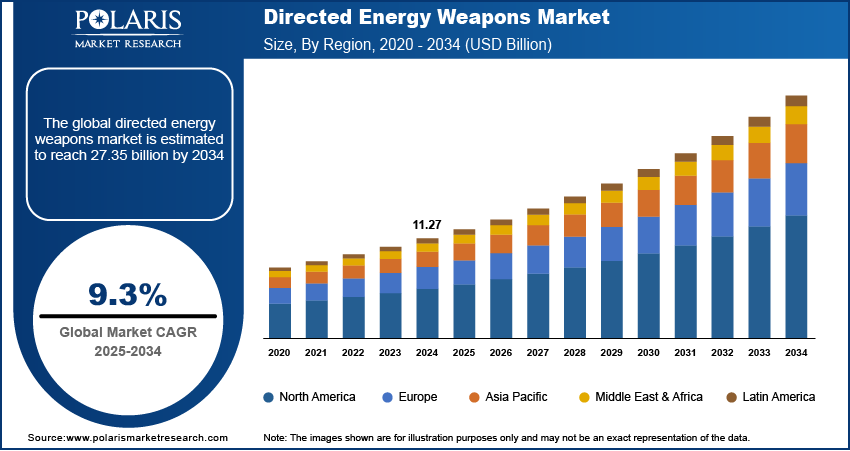 Know more about this report: Request for sample pages
Directed Energy Weapons are specific weapons that use microwave, particle beam, electromagnetic, or acoustic energy instead of traditional projectiles to impact their target. According to the Congressional Research Service Study, DEW may obliterate various electronic systems, including industrial and armed forces equipment. Every electronic system inside its electromagnetic cone can be hindered, useless, or destroyed.
DEW systems can engage UAVS, artillery, and missiles while performing at their peak levels for engagement with cruise missiles. Also, when UAVS are used more often, security risks arise, and a market for directed energy weapons develops. Hence, the anticipated expansion of the controlled energy weapons market will be aided by the development of high-power lasers and microwave weapons.
The need for directed energy weapons is expanding internationally, and the value of DEW has continued to climb throughout the years, especially for high-power DEWS. Throughout the projected period, the US is anticipated to have the largest market share for directed energy weapons, followed by China, Germany, France, and the UK. Upcoming improvements in defensive weapons, like DEWs, have several advantages over alternative traditional weapons, including precise engagement, cheap cost per shot, logistical advantages, and low detectability. To combat supersonic cruise missiles, the US military is concentrating on creating more potent weaponry, including 300kW laser weapons.
The COVID-19 pandemic's impacts led to average growth in the market for directed energy weapons. Its expansion is attributable to global modernization and scientific advancements in high-energy laser technology programs throughout history. Nevertheless, the pandemic has influenced the finances that nations worldwide set aside to assist the raging epidemic.
According to Raytheon Technologies Company, the COVID-19 epidemic, and ongoing economic recovery have significantly damaged the distribution capacities and worldwide supply chain. Due to demands on the supply chain, human resources, goods, and labor costs, the firm has suffered.
Industry Dynamics
Growth Drivers
The U.S. Department of Defense claims that DEW can do little to no harm nearby or in the sight of physical structures. For skirmishes, urban combat, and powerful air defense systems, this characteristic best fits them. The U.S. Army's C-RAM (Counter Rockets, Artillery, and Mortars) Program, the U.S. Navy's Laser Weapon System program, and the U.S. Army's SHORAD (Short Range Air Defense) Program are among the Directed Energy Weapons Programs that are in the promising stages, according to the CRS Report on U.S. Army Weapons-Related Directed Energy Programs.
For instance, the new IRON BEAM laser-based air defense system for the Israeli Armed Forces was successfully tested, according to Rafael Advanced Defense Systems, in April 2022. Players in the market, including Northrop Grumman Company, Boeing Defense, Lockheed Martin Corporation, and Raytheon Technologies Corporation, have been working to create improved and next-generation HELWS (High Energy Laser Weapon Systems) combined with the cutting-edge sensor array. This focus will offer effective countermeasures at a low cost to reduce counter-UAS requirements.
The need for effective deterrents and simultaneous multiple target collection and destruction capabilities by military forces worldwide is growing in response to the development of hypersonic weapons. For instance, the U.S. Navy said in August 2022 that it is developing directed energy devices as a potentially effective deterrent against hypersonic weapons. The U.S. Navy has deployed the Lockheed Martin HELIOS system on the USS Preble. The Lockheed Martin Company will provide this weapon system with a stronger laser as part of the system procurement deal. This contract will encourage the U.S. Navy to equip its warships with directed energy weapons systems for system testing and a real battle.
Developing these weapons is projected to lower the expenses that militaries and governments worldwide spend on maintaining, defusing, and disposing of conventional munitions. The recurring acquisition of ammunition by military forces worldwide resulted from this breakthrough. For instance, the 2022 National Defense Authorization Act was enacted by Congress in December 2021, according to publications from the U.S. Congress. According to predictions, the Act would enable the Missile Defense Agency to conduct high-energy laser research and development to fight hypersonic and ballistic missile defense applications and do away with the Military Services' Ammunition Acquisition Plans.
Report Segmentation
The market is primarily segmented based on lethality, technology, application, platform, and region.
By Lethality

By Technology

By Application

By Platform

By Region

High Power Microwave Technology

High Energy Laser Technology

Plasma Weapons

Particle Beam Weapons

Sonic Weapons

Defense

Homeland Security

Ship-Based

Land-Based

Airborne-Based

Space-Based

North America (U.S., Canada)

Europe (France, Germany, UK, Italy, Netherlands, Spain, Russia)

Asia Pacific (Japan, China, India, Malaysia, Indonesia, South Korea)

Latin America (Brazil, Mexico, Argentina)

Middle East & Africa (Saudi Arabia, UAE, Israel, South Africa)
Know more about this report: Request for sample pages
The lethal segment is estimated to be the largest segment with market share in 2022
It is projected that the lethal segment will be the largest. The market for this industry is expected to grow at a significant CAGR over the projected period due to the extensive employment of lethal by armed forces globally and the emphasis on destroying enemy military assets.
The non-lethal sector is anticipated to increase the fastest over the projection period. The increase in R&D spending by nations worldwide for paramilitary, peacekeeping, and domestic security forces is credited with the boom.
High-energy laser technology is estimated to be the fastest-growing segment, with a market share in 2022.
The high-energy laser technology sector is anticipated to have the fastest growth. Throughout the projected period, it is expected that the increased demand for high-energy laser technology and technological advancements in laser technology will drive directed energy weapons market expansion. According to projections, the segmented market will develop faster due to the growing use of high-powered laser technology in directed energy weapons.
The defense segment was the largest segment with market share in 2022
The defense sector is projected to have the largest market share for directed energy weapons in 2022 and is predicted to grow quickly over the forecast period. With the growth in threats to national security, military forces worldwide and major market participants have been investing in and implementing the next-generation DE weapons through their federal budget allocation for armed forces.
Over the projected period, the homeland security segment is anticipated to develop at a substantial CAGR. The increased adoption rate of DEWs for different homeland security applications is expected to drive the market. Throughout the projection period, government investment in homeland security protection systems and defense against various threats is predicted to propel market expansion.
The land-based DEW segment was the largest segment with market share in 2022
The land-based DEW sector is regarded as the largest section. Via the military budget allotment for their various governmental services or agencies, militaries worldwide have invested in R&D. Throughout the forecast period, a high demand for covert target engagement devices and R&D is anticipated to propel market expansion.
Throughout the projection period, it is predicted that airborne-based DEW will have the highest growth. The rapid uptake of numerous air defense aerospace applications foresees market expansion. Government investments in electronic warfare weapons and aircraft fleet systems for air defense are anticipated to fuel market development during the anticipated period.
North America dominated the global market in 2022
North America was the market's largest region in 2022 and is anticipated to see the quickest growth during the forecast period. For protection against various threats for land, sea, and air defense applications, a significant portion of the federal budget is set aside for next-generation electronic warfare weapons. Also, a high adoption rate of weapon systems utilizing laser technology will fuel market expansion.
The market in Asia Pacific is predicted to expand at the greatest CAGR during the projection period. The expansion is ascribed to the booming R&D spending on directed energy technologies by regional and international market participants and the high adoption rate for defense and homeland security applications. Also, the expansion of regional nations' investments has fueled the creation of directed energy systems by allocating funds to state-owned businesses.
Competitive Insight
Some of the major players operating in the global market include Elbit Systems Ltd, Diehl Defense GmbH & Co. KG, Honeywell International Inc., BAE Systems Plc, II-VI Inc., Kord Technologies, Leonardo S.p.A., L3Harris Technologies Inc., Northrop Grumman Corporation, Lockheed Martin Corporation, Rafael Advanced Defense Systems Ltd., Rheinmetall AG, Raytheon Technologies Corporation, The Boeing Company, Thales Group.
Recent Developments
In July 2022, Elbit Systems Ltd was given a contract of USD 80 million to deploy IR-PAWS (Infrared-based Passive Airborne Warning Systems) EW systems and C-MUSIC directed infrared countermeasures to an unnamed Asia Pacific nation. The following two years will see the completion of this deal.

In November 2021, The Rapid Capabilities and Critical Technologies Office (RCCTO) of the U.S. Army awarded a USD 69.6 million contract to General Atomics Electromagnetic Systems and The Boeing Company to develop and demonstrate a 300 kW high-energy laser weapon system against existing and emerging UAV and other aerial threats. The U.S. Army will put these systems on permanent or semi-fixed military equipment to meet future operational needs.
Directed Energy Weapons Market Report Scope
| | |
| --- | --- |
| Report Attributes | Details |
| Market size value in 2023 | USD 10.00 billion |
| Revenue forecast in 2032 | USD 22.10 billion |
| CAGR | 9.2% from 2023 – 2032 |
| Base year | 2022 |
| Historical data | 2019 – 2021 |
| Forecast period | 2023 – 2032 |
| Quantitative units | Revenue in USD billion and CAGR from 2023 to 2032 |
| Segments Covered | By Lethality, By Technology, By Application, By Platform, By Region |
| Regional scope | North America, Europe, Asia Pacific, Latin America; Middle East & Africa |
| Key Companies | Elbit Systems Ltd, Diehl Defense GmbH & Co. KG, Honeywell International Inc., BAE Systems Plc, II-VI Inc., Kord Technologies, Leonardo S.p.A., L3Harris Technologies Inc., Northrop Grumman Corporation, Lockheed Martin Corporation, Rafael Advanced Defense Systems Ltd., Rheinmetall AG, Raytheon Technologies Corporation, The Boeing Company, Thales Group, |