The global digital panel meter market was valued at USD 3,334.94 million in 2022 and is expected to grow at a CAGR of 5.3% during the forecast period. Digital panel meters use digital displays to read signals as digital numbers and report data. Most panel meters can send information to a server and include alarm options. When the load power surpasses a 10 Ampere overcurrent protection device, measurements of voltage are made across the line, while measurements of current are made in series with the load, occasionally using shunts or current transformers. They're referred to as Motor Protection Circuit Breakers (MCPs) when they're utilized in these situations. Among several panel meters, these meters provide the highest resolution.

Know more about this report: Request for sample pages
Further, digital panel meters receive input signals in a variety of formats, including resistance, DC power, AC, AC voltage, and DC voltage. Electronic devices, particularly those used in consumer electronics, frequently employ digital panel meters. When choosing a digital panel meter, many criteria are taken into account, including size, the color of the displayed numbers, and the number of digits. Due to the direct display of numbers, digital meters are preferable over analog meters. Additionally, compared to analog meters, digital meters are convenient and simple to use, and the data displayed is more precise. Digital gauges give better resolution and a display that is easier to read, especially in low light. The usefulness of digital meters might be better. They can be changed to read other variables, including voltage, temperature, current, and others.
Numerous sectors are embracing new technology to streamline their workflow processes as digitization and automation become more prevalent. In addition, producers are constantly enhancing their goods using tools like AI, machine learning, and IoT to facilitate connections. For instance, in April 2022, the Equipment/Quality Predictive Detection Tool's launch was announced by Yokogawa Electric Corporation. This introduction to the OpreX™ Data Acquisition collection is an AI-based solution for developing equipment and quality defect predictive monitoring devices for SMARTDAC+™ paperless recorders and data loggers from the GX series, GP series, and GM series. By identifying equipment problems early, this technology was created to help firms increase production efficiency.
In addition, in January 2022, PM-50, a newly released graphic panel meter from Red Lion. The PM-50 can be used wherever panel meters are currently used, including industrial industries, food and beverage, water/wastewater, and packaging facilities. Simply unplug the old meter, install the PM-50, and link it to Wi-Fi to collect plant data. Its graphical user interface is simple to use and comparable to the personal smart gadgets that most operators feel at ease using daily. Therefore, the rising digitization and automation adoption in the digital panel meters is the major factor boosting the market growth over the forecast period.
The COVID-19 outbreak significantly impacted the supply chain for several essential raw materials used in the production of digital panel meters. Parts including chips, electrolytic capacitors, metal film resistors, leaks, switching transistors, Zener diodes, and transformers are typically assembled by the makers. The majority of these components are produced in Asia, primarily in China and other nations that saw COVID-19's devastating spread. The manufacture of digital panels was delayed as a result of these nations' impact on international commerce channels. This finally resulted in a sharp increase in the cost of manufacturing the meters, which had an impact on demand. The global slowdown in manufacturing activity also contributed to the decline in orders.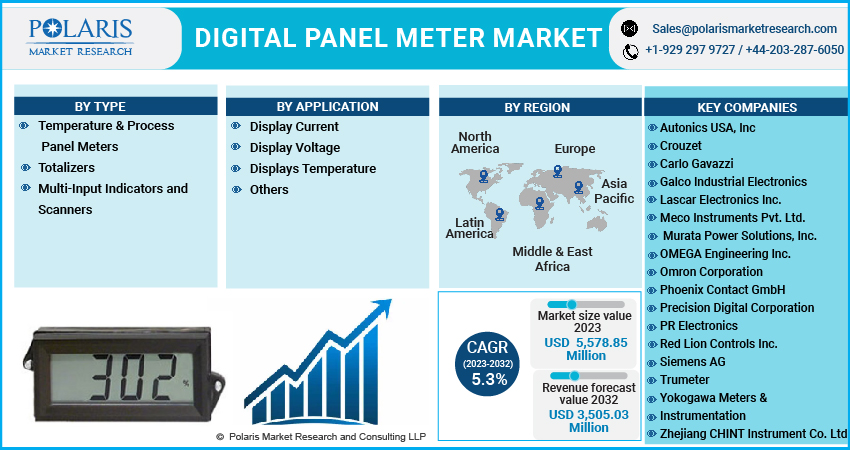 Know more about this report: Request for sample pages
Industry Dynamics
Growth Drivers
The rising adoption of digital panels in various verticals such as consumer electronics is the major factor bolstering the digital panel meter market growth over the forecast period. Numerous end-user industries utilize digital meters extensively to measure voltage, temperature, force, flow, and speed. Digital meters are preferred by industries as they provide precise and quick signals while minimizing errors. The global market is expected to expand as a result of these qualities. It is also employed to detect humidity, welder's current, liquid level, cooling water temperatures, motor current, exhaust gas temperature in engine dyno cells, and temperature of the exhaust in an oven.
Further, the instrument panel of a microwave oven comprises panel meters that monitor weight, time, and power. Digital panel meters are frequently used in all electrical appliances. To transform motion into digital indications like speed, total kilometers traveled, service indicators, RPM, and fuel indication with a channel screen, digital meters are also utilized in cars and sports bikes. They are very often found in medical devices like glucose meters, digital thermostats, and oximeters that show various data such as blood pressure, heart rate, and glucose level.
Additionally, important industries like power generation, food and beverage production, wastewater treatment, oil and gas, bioprocess, pharmaceutical manufacturing, and automobile use digital panels. Their broad use for accurate measurements of many parameters in many processes and industries as a result drives up demand for digital panel meters.
Report Segmentation
The market is primarily segmented based on type, application, and region.
By Type

By Application

By Region

Temperature & Process Panel Meters

Totalizers

Multi-Input Indicators and Scanners

Display Current

Display Voltage

Displays Temperature

Others

North America (U.S., Canada)

Europe (France, Germany, UK, Italy, Netherlands, Spain, Russia)

Asia Pacific (Japan, China, India, Malaysia, Indonesia. South Korea)

Latin America (Brazil, Mexico, Argentina)

Middle East & Africa (Saudi Arabia, UAE, Israel, South Africa)
Know more about this report: Request for sample pages
The Digital Voltage segment is expected to witness the fastest growth during projected timeframe
Given that voltage changes are frequently monitored using display panel meters, it is projected that it would maintain its market dominance during the forecast period. However, it is also anticipated that the display current market category would hold a substantial portion of the market due to its widespread application in the industrial equipment and power sector. The industries that require temperature management, such as power, food and beverage, and pharmaceuticals, are the ones that primarily employ display temperature panel meters. They are employed in production to provide alarm signals and to display any digital parameter. They are widely used in chemical, steel, paper, plastic, fertilizer, and beverage industries, which is boosting the market's expansion.
The Totalizer segment industry accounted for the highest market share in 2022
Totalizers are measurement tools included in some meters that maintain track of the cumulative amount of a chemical over time. Totalizers can be programmed to start at a specific time or following the completion of a specific amount of work. Totalizers, also referred to as total flow meters, are devices that measure the total volume of flow within a closed pipe system. Today, several totalizer types perform a variety of tasks. Some people could keep an eye on extra data, such as flow rate. It keeps track of the total volume of fluid that has flowed through the attached sensor during the course of action. It quickens the expansion of the global market for digital panel meters.
The demand in Asia-Pacific is expected to witness significant growth during forecast period
Asia Pacific now has the largest market share and is expected to maintain its dominance during the projection period. Rapid industrialization in the Asia Pacific, supported by substantial infrastructural investments and expanding manufacturing capacity, particularly in China, is a key driver in the development of the area. The People's Republic of China's State Council reports that the administration is launching programs to support manufacturers' growth, particularly in specialized industries. The industrial landscape of China is expected to flourish as a result of numerous supportive policies for technological breakthroughs and financial assistance for firms.
Further, due to continued government initiatives in energy and expanding industrial regions, it is predicted that the European market for digital panel meters would register stable revenue growth over the forecast period. Particularly in nations like Germany, the industrialization of the region has contributed to the expansion. Because there are several consumer electronics companies, a sizable market for electronic devices, and a sizable market for electronic products with built-in overload protection, demand for digital panel meters is increasing. The growth of the business is to blame for the country's rising demand for digital meters.
Competitive Insight
Some of the major players operating in the global market include Autonics USA, Crouzet, Carlo Gavazzi, Galco Industrial Electronics, Lascar Electronics, Meco Instruments., Murata Power Solutions, OMEGA Engineering, Omron Corporation, Phoenix Contact, Precision Digital Corp, PR Electronics, Red Lion Controls., Siemens AG, Trumeter, Yokogawa Meters, & Zhejiang CHINT Instrument.
Recent Developments
In June 2022, with the acquisition of Senseye, Siemens is extending its offering in the area of cutting-edge predictive maintenance and asset intelligence. It is believed that this acquisition will aid Siemens in streamlining its portfolio of digital enterprise services. The acquisition is anticipated to strengthen efforts toward predictive maintenance, which will raise demand for digital meters.
Digital Panel Meter Market Report Scope
| | |
| --- | --- |
| Report Attributes | Details |
| Market size value in 2023 | USD 3,505.03 million |
| Revenue forecast in 2032 | USD 5,578.85 million |
| CAGR | 5.3% from 2023 - 2032 |
| Base year | 2022 |
| Historical data | 2019 - 2021 |
| Forecast period | 2023 - 2032 |
| Quantitative units | Revenue in USD million and CAGR from 2023 to 2032 |
| Segments Covered | By Type, By Application, By Region |
| Regional scope | North America, Europe, Asia Pacific, Latin America; Middle East & Africa |
| Key Companies | Autonics USA, Inc., Crouzet, Carlo Gavazzi, Galco Industrial Electronics, Lascar Electronics Inc., Meco Instruments Pvt. Ltd., Murata Power Solutions, Inc., OMEGA Engineering Inc., Omron Corporation, Phoenix Contact GmbH, Precision Digital Corporation, PR Electronics, Red Lion Controls Inc., Siemens AG, Trumeter, Yokogawa Meters & Instrumentation, and Zhejiang CHINT Instrument Co. Ltd. |