The cvd lab grown diamonds market was estimated to be worth USD 11.50 billion in 2022 and is anticipated to increase to USD 22.06 billion by 2032, expanding at a compound annual growth rate of 6.90%. The market is anticipated to be driven by rising demand for alternative sources for mined goods and rising millennial consumer knowledge of the authenticity of lab-grown diamonds.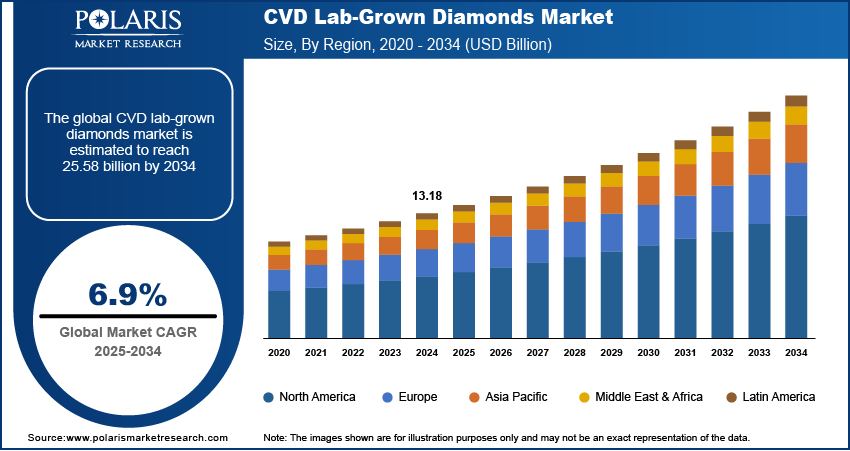 Know more about this report: Request for sample pages
Despite the jewelry industry's gradual acceptance of the use of CVD lab-grown diamonds, little is known about the jewels' long-term value. The worth of lab-created diamonds that have already been sold could decrease as synthetic diamond production technology advances. Additionally, because these gems could be made in large quantities, their appeal and scarcity are diminished, which lowers their market value. As a result, it is predicted that the total price of lab-grown diamonds will decline in the years to come, whereas the price of mined diamonds has been on the rise. As a result, one of the major obstacles to the cvd lab grown diamonds market expansion is the high level of uncertainty surrounding the resale value of fake diamonds.
Numerous fields, including quantum processing, simulation, communication, and sensing, are the subject of ongoing research in quantum technology. A wide variety of technological options, including trapped ions, superconductors, quantum dots, photons, and semiconductor flaws, are currently being developed for these novel uses.
Every technical approach has benefits and drawbacks. Even though they can be created, superconducting circuits are only useful at cryogenic temps; trapped ions have exquisite quantum properties but are challenging to integrate. Materials like CVD diamond are useful in this situation. Being solid-state and working at room temperature, they offer a compromise and are easier to integrate into devices. The ease of diamond-based quantum devices is one of their benefits. A photodetector, a diamond, a tiny microwave source, and a green light source can be used to create a simple device. During the forecast period, the demand for CVD-lab-grown diamonds may increase as these super-technologies acquire traction in the electronics and semiconductor manufacturing industries.
When attempting to produce consistently high-quality lab-grown diamonds, manufacturers encounter numerous difficulties. Manufacturers must keep a close eye on component prices, vacuum leaks, and system stability. A significant worry is the color of CVD lab-grown diamonds. Diamonds produced in a CVD lab at rapid growth rates have a brown appearance. Although the brown is diminished or removed after HPHT, the majority of manufacturers' CVD diamonds are initially produced as grey and black. Diamond color-clearing technologies require manufacturers to make additional investments, which lowers their market profits.
The CVD lab-grown diamonds were initially thought to be artificial diamonds. Customers did not use them as gemstones in their purchases of jewelry and luxury products as a result. The interest among consumers has increased recently, though, thanks to efforts made by the businesses that produce CVD diamonds to raise awareness as well as the definition of CVD lab-grown diamonds as real diamonds by organizations like the International Gemological Institution and Gemological Institute of America. A study found that about 70% of millennials were considering giving their loved ones jewelry made with CVD lab-grown diamonds.
Industry Dynamics
Growth Drivers
One of the key reasons fueling the anticipated growth is the rise in millennial and generation Z interest in CVD lab-grown diamonds. According to estimates, 70% of millennials have given CVD lab-grown diamonds for engagement rings some thought in order to combat the unfavourable social and environmental impacts connected with mined diamonds. Natural diamond extraction has a number of negative effects, one of which is the devastation it causes to the environment when deep caves and diamond mines are mined. Therefore, both jewellery makers and customers are demanding more and more CVD lab-grown diamonds because they could potentially lessen the overall environmental impact of the jewellery industry.
Report Segmentation
The market is primarily segmented based on product type, application, and region.
By Type

By Application

By Region

Heat Exchangers

Cutting Tools

Electronics,

Optical Lasers

Others

North America (U.S., Canada)

Europe (France, Germany, UK, Italy, Netherlands, Spain, Russia)

Asia Pacific (Japan, China, India, Malaysia, Indonesia. South Korea)

Latin America (Brazil, Mexico, Argentina)

Middle East & Africa (Saudi Arabia, UAE, Israel, South Africa)
Know more about this report: Request for sample pages
The colorless segment is expected to dominate the market in projected timeframe
In addition to being less expensive, colourless diamonds are also generally free of doping and impurities. They offer superior optical qualities, including high transmission, an appropriate refractory index, and shiny bling that works well for both industrial and gemstone uses. Additionally, the majority of CVD diamonds that are colourless or nearly colourless are inert to longwave UV light, making them appropriate for optical uses. Additionally, the colourless CVD method is less costly because it can be produced at low pressure and moderate temperatures with less expensive and smaller equipment. As a result of these variables, it is anticipated that throughout the forecast period, demand for colourless CVD diamonds will increase significantly.
The North America region will account for a higher share of the market during forecast period
Due to demand from the US, North America dominates the market for CVD lab-grown diamonds. Nearly 99% of industrial diamond tools in the US are produced using the CVD method, according to the US Geological Survey. The demand for diamond-based tools is anticipated to rise in the area for machining and abrasion applications as high-strength materials like reinforced plastics and ceramics acquire momentum for weight reduction applications. On the other hand, synthetic diamonds are also getting popularity in the US due to their lower price and overall less negative environmental impact. Despite the fact that the majority of CVD lab-grown diamonds are produced in the Asia Pacific area, the US imports the majority of them due to the high demand.
Competitive Insight
Some of the major players operating in the global cvd lab grown diamonds market include De Beers (UK), Goldiam (India), Adamas One Corp (US), and Sumitomo Electric Industries Ltd. are significant players in this industry. (Japan). Bhanderi Lab-grown Diamonds LLP (India), Hebei Plasma Diamond Technology Co., Ltd. (China), SP3 Diamond Technologies, Delaware Diamond Knives.
Recent Developments
Goldiam announced the purchase of an 88% share in EcoFriendly Diamonds LLP in June 2022. (EDL). Diamonds made in a lab were being produced by EDL using the CVD process. Goldiam made the acquisition to get a foothold in the Asia Pacific region's rapidly expanding lab-grown diamond industry.

A contract for the supply of diamond coatings was inked by SP3 Diamond Technologies and MAPAL in January 2022. The first coating that SP3 Diamond Technologies successfully delivered to the business was the OptiMill-Composite-Speed-Plus coating.

Element Six created Diamfilm 2022, a thermally isotropic diamond film, in 2020 as part of its novel CVD diamond-based product line. The film is a perfect material for advanced thermal management components due to its excellent heat sink properties, dielectric permittivity, optical clarity, superb electrical insulation, low density, and chemical inertness.
CVD Lab-grown Diamonds Market Report Scope
| | |
| --- | --- |
| Report Attributes | Details |
| Market size value in 2023 | USD 12.11 billion |
| Revenue forecast in 20320 | USD 22.06 billion |
| CAGR | 6.90% from 2023 - 2032 |
| Base year | 2022 |
| Historical data | 2019 - 2022 |
| Forecast period | 2023- 2032 |
| Quantitative units | Revenue in USD billion and CAGR from 2023 to 2032 |
| Segments covered | By Product Type , By Application, By Region |
| Regional scope | North America, Europe, Asia Pacific, Latin America; Middle East & Africa |
| Key companies | De Beers (UK), Goldiam (India), Adamas One Corp (US), and Sumitomo Electric Industries Ltd. are significant players in this industry. (Japan). Bhanderi Lab-grown Diamonds LLP (India), Hebei Plasma Diamond Technology Co., Ltd. (China), SP3 Diamond Technologies, Delaware Diamond Knives |