The global customer experience management (CEM) market was valued at USD 11.43 billion in 2022 and is expected to grow at a CAGR of 15.6% during the forecast period.
Customer experience is important in helping companies make more intelligent, customer-focused business choices and helps them gain a competitive edge in the market. A major reason that is anticipated to increase demand for solutions across several industries, including BFSI, healthcare, manufacturing, and others is the rapid improvements and innovations in cloud platforms. The market for customer experience management is flourishing primarily due the rising adoption of digitalization, technological developments in cloud and artificial intelligence solutions, the quick integration of multichannel touchpoints into one platform, and the growing demand to analyze customer data in order to derive business insights and boost revenue.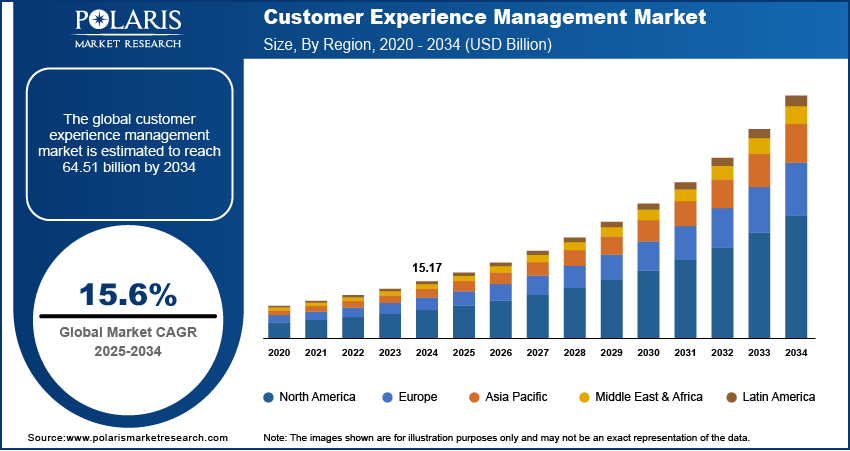 Know more about this report: Request for sample pages
CEM is the process of strategically managing a customer's complete interaction with a brand or business. Given the growing relevance of CEM, much effort has gone into distinguishing it from the theoretically related concepts of customer satisfaction and customer relationship management (CRM). Customer experience management is valuable to businesses because it improves brand awareness, fosters consumer loyalty, reduces churn, and ultimately boosts revenue. Enterprises can provide a complete cross-channel client experience by using CXM technologies. Additionally, the fast digital transformation is anticipated to fuel an increase in demand for efficient customer services during the projection period.
Businesses have been greatly impacted by the COVID-19 pandemic, which has reduced profitability, stifled innovation, and dried up cash flows and financial reserves. Due to the growing popularity of online purchasing, the COVID-19 pandemic had a negligible effect on the market for customer experience management. Globally, consumers' shopping choices and habits have undergone a profound transformation during these difficult times. Customers are moving away from traditional buying habits and toward digital media. In both new and current organizations, the usage of digital technology tools will probably set the pace for digital transformation and digital optimization. These changes are anticipated to enhance the usage of cloud computing and teamwork applications, supporting the expansion of the market.
Customers are increasingly looking for real experiences as there are an increasing number of experiences available in the market nowadays. Companies should work to manage customers' perceptions of authenticity in order to gain a competitive advantage. Return consumers may be influenced by customer experience. Businesses of all sizes need to understand customer behaviour. Given that people routinely spend valuable time on various social networking sites, businesses have realized that these sites may be a wonderful method to monitor changes in consumer behaviour and how people understand information about goods and services. At this point, social customer relationship management (CRM) can help organizations in particular by encouraging customer engagement and raising brand recognition. Throughout the anticipated term, these trends will continue to fuel the market for customer experience management.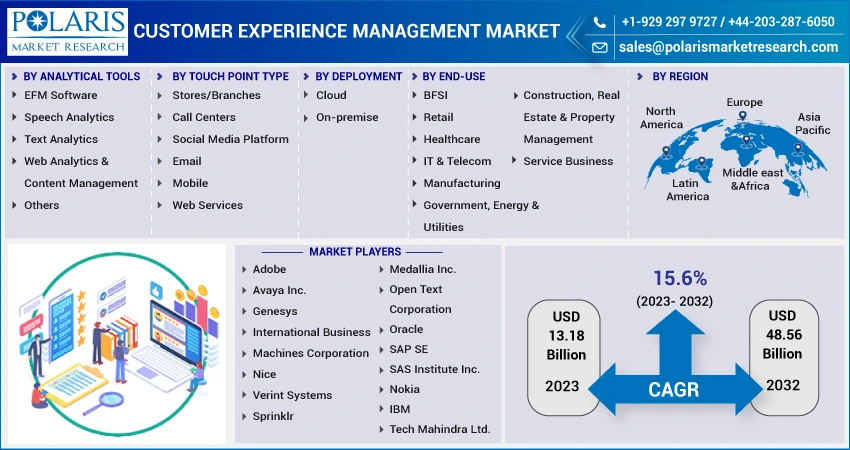 Know more about this report: Request for sample pages
Industry Dynamics
Growth Drivers
The cost of processing and storage power has decreased as a result of the quick proliferation of intelligent technologies like machine learning (ML), artificial intelligence (AI), and the internet of things (IoT), among others. Given that AI and AR can automate tasks and provide self-service solutions, their growing utilisation is predicted to present the market with significant potential opportunities. Advanced AI applications like chatbots, digital assistants, biometric measures, and facial recognition also improve user experience and profitability. Market growth is anticipated to be fueled by the growing use of sophisticated AI and AR technologies.
Every industry has become digitalized as a result of the development of technology, which has also greatly expanded digital consumer connection. Rapid technological development has resulted in the development of more user-friendly and intuitive interactions. In order to stay ahead of the competition, brands increasingly rely on customer experience management solutions to identify consumer wants and confirm that these needs and the company's offers are on par.
Report Segmentation
The market is primarily segmented based on analytical tools, touch point type, deployment, end-use and region.
By Analytical Tools

By Touch Point Type

By Deployment

By End-use

By Region

EFM Software

Speech Analytics

Text Analytics

Web Analytics & Content Management

Others

Stores/Branches

Call Centers

Social Media Platform

Email

Mobile

Web Services

Others

BFSI

Retail

Healthcare

IT & Telecom

Manufacturing

Government, Energy & Utilities

Construction, Real Estate & Property Management

Service Business

Others

North America (U.S., Canada)

Europe (France, Germany, UK, Italy, Netherlands, Spain, Russia)

Asia Pacific (Japan, China, India, Malaysia, Indonesia. South Korea)

Latin America (Brazil, Mexico, Argentina)

Middle East & Africa (Saudi Arabia, UAE, Israel, South Africa)
Know more about this report: Request for sample pages
Web Analytics & Content Management Segment

is expected to grow at a high CAGR
Text analytics segment held the highest market share in 2022. Large-scale unstructured text is automatically translated into quantitative data using text analytics to find patterns, trends, and insights. The overall segment growth has been influenced by the rising need for social media analytics and the requirement to categorize consumer interactions, or Voice of the Customer (VoC), across numerous digital touchpoints. Text analytics also offers predictive analytics with precise sentiment data analysis and helps customers make crucial business decisions by examining recent and historical data to forecast future results. Due to these factors, the segment is anticipated to be fueled by enterprises' desire for predictive analytics during the projected period.
Web Analytics & Content Management Segment is estimated to grow at a high CAGR during the projected period. An application that is used to manage content, allowing numerous contributors to generate, update, and publish is known as a content management system (CMS). The way content is normally shown in a CMS is based on a collection of templates, much like a website, and is saved in a database before being displayed in a presentation layer.
Currently many CMS on the market have built-in analytics for measuring the performance indicators such as target personas, their devices, how they interact with contents on different devices, and the most popular content pieces right in your dashboard. The desire for businesses to boost their revenue by offering customers with individualized content, improving interactions with customers online, and maintaining a brand presence are the main factors fueling the expansion of the web analytics & content management industry. The expansion of online commerce, the quick adoption of marketing automation systems, and the transition to data-driven enterprises have all contributed to an increase in the use of web analytics.
Call centers segment accounted for the highest market share in 2022
Call centers segment held the dominant position in the market and accounted for largest market share in 2022. The main driving forces are the growing adoption of cutting-edge contact center technologies, the expanding use of cloud-based and virtual contact center solutions, the growing significance of social media in contact center operations, and the streamlining of customer interactions to increase customer satisfaction.
Web CEM is an advanced platform that uses cutting-edge web technologies to simplify integration with current business processes. With the use of web CEM, businesses can provide responsive, potent, and crucially important customer experiences across omnichannel touch points that are compatible with a wide range of enterprise information platforms, social and rich media, languages, and devices. Throughout the predicted period, these advantages would further fuel the segment's expansion.
Cloud segment is expected to witness substantial growth
On-premise segment held the largest market share in 2022. The on-premises systems offer superior administration and data security. Due to increasing regulatory compliances like GDPR, CCPA, and revised needs, on-premises-based solutions are being adopted more frequently. For a range of processes, a big number of businesses are switching from manual to automated methods. The demand for on-premise customer experience management solutions has increased as a result of the growing demand for data privacy. On-premise solutions are now more in demand as a result.
Organizations can use the cloud to boost communication while also experiencing better speed, responsiveness, and agility without having to manage server infrastructure. These options provide a number of corporate advantages, including increased consumer engagement and retention and higher workforce productivity. The expanding adoption of artificial intelligence, big data, IoT, and linked devices is driving up demand for cloud CEM solutions due to their accessibility and integration simplicity.
BFSI Segment to register the highest CAGR
The retail segment held the largest market share in 2022. To entice customers and boost sales, the retail industry makes significant investments in product marketing and promotion. To keep comprehensive customer data, including preferences and social media activity, retail organizations deploy structured analytics CEM solutions. By gathering and analyzing data from many touchpoints, including websites, mobile applications, social media platforms, and physical stores and branches, they can understand client preferences. During the projection period, these capabilities will further augment the demand for customer experience management systems in the retail industry.
BFSI segment accounted for the largest revenue share. The adoption of customer experience solutions throughout BFSI is facilitated by increasing customer contacts with multiple touchpoints, including call centres, emails, online banking platforms, and social media. Because smartphones are becoming more and more popular and allow for more individualized participation, consumers may now complete banking transactions more conveniently through the mobile channel. Organizations are using cutting-edge technologies to provide clients throughout the BFSI industry with a convenient, secure, and digitized customer experience. This new trend has increased both the possibilities and complexity of improving the customer experience through management.
North America region is expected to lead the market growth
North America region dominated the global market in 2022 owing to the increasing investment in R&D initiatives and a thriving startup ecosystem. The U.S. is also a pioneer in the adoption of cutting-edge technology like cloud computing, big data analytics, and artificial intelligence. The expansion of the regional market is further facilitated by the U.S. and Canadian organizations' increasing investments in digital marketing and platforms. A potential medium for businesses to express comments, get product reviews, and build brand awareness is social media.
Solutions like social middleware, social management, social monitoring, and social measurement are advancing and helping businesses build consumer relationships and strengthen their brand recognition. The use of cutting-edge technology by large corporations to develop social media campaigns for building online brand communities Due to this, American and Canadian businesses are investing heavily in digital media.
Asia Pacific is expected to be the fastest-growing in the global market during the forecast period. A large subscriber base for businesses has been produced by the region's massive population. Organizations are improving their customer experience management services through digital touchpoints like social media, websites, emails, virtual assistants, and contact centers as a result of rising internet penetration and per-user online consumption.
Modern technological developments and the ongoing development of the AI based tools & self service capabilities, are enabling businesses to understand changing consumer behaviour, offer immediate support, and launch proactive actionable responses, which is to blame for the market expansion in this area.
Competitive Insight
Some of the major players operating in the global market include Adobe, Avaya Inc., Genesys, International Business Machines Corporation, Nice, Verint Systems, Sprinklr, Medallia Inc., Open Text Corporation, Oracle, SAP SE, SAS Institute Inc., Nokia, IBM and Tech Mahindra Limited among others.
Recent Developments
In January 2023, Alchemer, recently announced the acquisition of the Apptentive, which will allow customers access to survey & workflow features across different communication channels and platforms such as Salesforce, Microsoft Teams, & Slack.
In January 2023, Eagle Hill Consulting and Medallia have teamed up to offer cutting-edge employee and customer experience services to consumers. The alliance combines Medallia's proprietary AI technology and cutting-edge employee and customer experience technology solutions with Eagle Hill's human-centered design services and best-in-class employee experience methods.
Customer Experience Management Market Report Scope
| | |
| --- | --- |
| Report Attributes | Details |
| Market size value in 2023 | USD 13.18 billion |
| Revenue forecast in 2032 | USD 48.56 billion |
| CAGR | 15.6% from 2023 – 2032 |
| Base year | 2022 |
| Historical data | 2019 – 2021 |
| Forecast period | 2023 - 2032 |
| Quantitative units | Revenue in USD billion and CAGR from 2022 to 2030 |
| Segments covered | By Analytical tools, By Touchpoint type, By Deployment, By End-use, By Region |
| Regional scope | North America, Europe, Asia Pacific, Latin America; Middle East & Africa |
| Key companies | Adobe, Avaya Inc., Genesys, International Business Machines Corporation, Nice, Verint Systems, Sprinklr, Medallia Inc., Open Text Corporation, Oracle, SAP SE, SAS Institute Inc., Nokia, IBM and Tech Mahindra Limited. |