The global cryostat market was valued at USD 2,225.9 million in 2021 and is expected to grow at a CAGR of 5.1% during the forecast period. The growing demand for cryostat is expected to be driven due to its low temperature, shorter turnaround time, and better preserve protein antigenicity.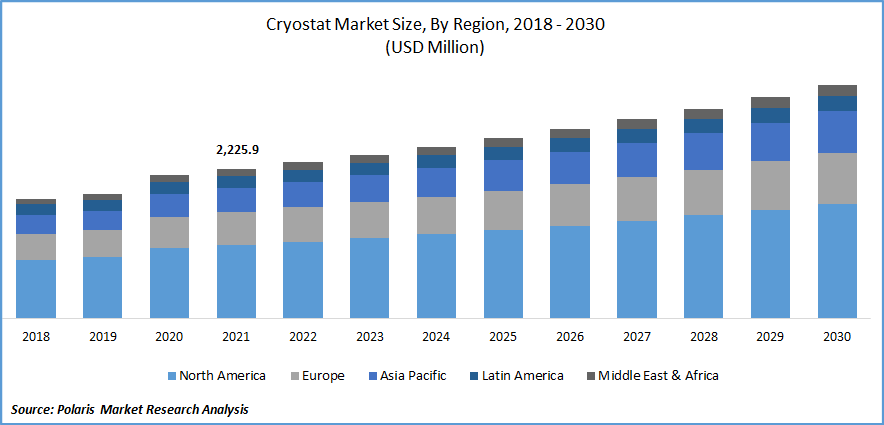 Know more about this report: Request for sample pages
The cryostat replaces the microtome as it maintains the cryogenic temperature, i.e., up to -150 degrees to zero for samples or devices placed in them. Additionally, these temperatures are helpful for the molecular movement of tissues to come closer and assist their preservation; also, the microtome is a part of the cryostat for precise incision, which reduces extra cost for the machine, which is expected to drive the market growth.
The COVID-19 pandemic had a positive impact on the growth of the cryostat market. The increasing infected population led to a rise in medical supplies during the peak of SARS-CoV-2. Many clinical centers and hospitals used personal protective kits, including gloves, masks, shields, and protective glasses, which increased the demand for cryostat equipment. Additionally, manufacturers were focused on ensuring continuous supply and early delivery of this equipment, which increased the market's revenue growth.
The rise in infectious diseases has increased research and development across health care. However, handling cryostat equipment requires skilled labor to avoid any uncertainties. Additionally, it involves a huge initial investment while setting up the equipment. It consumes a considerable amount of energy that is not affordable by small clinics and hospitals, which are the main restraining factors for market growth.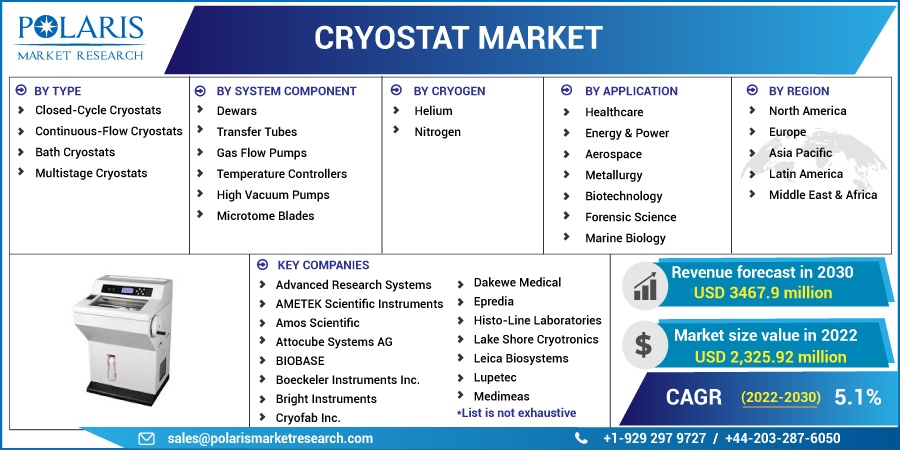 Know more about this report: Request for sample pages
Industry Dynamics
Growth Drivers
The global cryostat market is likely to be driven due to the equipment's high efficiency and accurate results, increasing its demand across various end-use industries. In addition, the rising prevalence of infectious and neuromuscular diseases is likely to complement the market growth. Furthermore, technological advancement has resulted in the development of cryosurgery, which is used to treat cancer. Also, this treatment is gaining more attention as it doesn't require a hospital stay and replaces standard cancer treatments. It requires minimal cut or puncture to insert a cryoprobe to freeze the tissues, which is expected to fuel the market growth.
Many key players are heavily investing in manufacturing various equipment with the rising chronic conditions. For instance, Healthcare technologies developed a cryosurgical instrument named cryoalfa for treating different skin infections; this equipment has a constant temperature of up to -89 degrees and uses liquid nitrogen gas; such factors are considered to boost the market growth.
Report Segmentation
The market is primarily segmented based on type, system component, cryogen, application, and region.
By Type

By System Component

By Cryogen

By Application

By Region

Closed-Cycle Cryostats
Continuous-Flow Cryostats
Bath Cryostats
Multistage Cryostats

Dewars
Transfer Tubes
Gas Flow Pumps
Temperature Controllers
High Vacuum Pumps
Microtome Blades

Healthcare
Energy & Power
Aerospace
Metallurgy
Biotechnology
Forensic Science
Marine Biology

North America (U.S., Canada)
Europe (France, Germany, UK, Italy, Netherlands, Spain, Russia)
Asia Pacific (Japan, China, India, Malaysia, Indonesia, South Korea)
Latin America (Brazil, Mexico, Argentina)
Middle East & Africa (Saudi Arabia, UAE, Israel, South Africa)
Know more about this report: Request for sample pages
Continuous-flow type accounted for the largest share in 2021
The continuous-flow segment accounted for the highest revenue share in 2021 as it allows easy and safe cryogen flow. The imaging, microscopy, and high spatial resolution photoluminescence require low vibration to complete the procedure, which is provided by continuous- flow segment that is likely to grow the market. Additionally, this type of cryostat provides better temperature stability and has quick cool-down times, which increases its demand in various medicine, biology, and industrial application.
Furthermore, the growing demand for continuous-flow cryostat is also seen in the aerospace industry as it controls the temperature when incorporated with helium during flights. Moreover, the rapid utilization of cooling infrared sensors in the research center, healthcare and power industries are some of the major factors driving the market growth.
Microtome blade are expected to spearhead the market growth
The demand for microtome blades in various applications is due to their cost-efficient and aids accurate results. These blades are used to cut a variety of materials thinly and precisely, increasing their demand in many laboratories and clinics which is expected to propel the market growth over the forecast period. In addition, microtome blades have high durability and scalability, which improves the incision operations for routine and hard materials.
Furthermore, these blades retain the original specimen's shape and avoid curling the edges after incision, which increases its demand for sectioning hard tissues such as the prostate, bronchial bones, and mammary glands, which is expected to drive the market growth over the forecast period.
Helium is expected to witness faster growth over the forecast period
The demand for helium cryogen is expected to have a significant surge over the forecast period owing to its superfluidity and lower boiling temperature. The rising demand for helium in its liquid form in cryostat equipment is due to its ability to ionize and low operating temperature and pressure, which increases its need across various applications.
In addition, the rising demand for semiconducting processes, magnet resonance imaging, and small-scale fieldwork has exceptionally grown the need for helium owing to its high thermal conductivity and specific heat, which is expected to drive market growth.
Healthcare segment is expected to account for the largest share in 2030
Cryostat in the healthcare sector is expected to dominate the market over the forecast period as it rapidly diagnoses different infectious diseases and medical conditions. The growing geriatric population and changing lifestyles have increased chronic diseases such as stroke, cancer, and diabetes. These require immediate attention at the initial stages and could be treated by cryostat solution, which is expected to drive market growth.
Moreover, various laboratories and clinics preserve cells and tissue for treating neuromuscular diseases. Hence, the ability to cut and protect tissue samples that help diagnose neurosurgical conditions is expected to boost market growth.
Asia Pacific is expected to dominate and witness the fastest growth over the forecast period
Asia Pacific is expected to witness faster growth over the forecast period owing to the rising government funding to develop and improve the healthcare and automotive industries, increasing demand for energy, and technological advancements to enhance cryostat solutions. Rapid industrialization and urbanization have raised the consumption and availability of cryogenics across China, Japan, and South Korea, supporting market growth.
Furthermore, the rising demand for cooling infrared sensors, advanced medical tools, and the increasing import of cryostat have also contributed to revenue growth. Japan is well known for its technological advancements in various industries and is also a largest importer of LNG, complementing the market growth.
Competitive Insight
Some of the major players operating in the global market include Advanced Research Systems, Advanced Research Systems, AMETEK Scientific Instruments, Amos Scientific, Attocube Systems AG, BIOBASE, Boeckeler Instruments Inc., Bright Instruments, Cryofab Inc., Cryomech Inc., Dakewe Medical, Epredia, Hacker Instruments & Industries, Histo-Line Laboratories, Jinhua YIDI Medical Appliance Co., Ltd., Lake Shore Cryotronics, Leica Biosystems, Lupetec, Medimeas, MEDITE, Mirion Technologies, Precision Cryogenics, Scilab Co. Ltd., Sipcon Instruments Industries, SLEE Medical GmbH, and SM Scientific Instruments
Recent Developments
In October 2022, Lake Shore Cryotronics acquired Janis Research's Laboratory to expand their product portfolio in cryogenics such as liquid nitrogen, liquid helium, closed-cycle refrigerator (cryogen-free) cryostats, liquid helium and cryogen-free superconducting magnet systems, cryogenic and cryogen-free probe stations, and lab cooling systems.
Cryostat Market Report Scope
| | |
| --- | --- |
| Report Attributes | Details |
| Market size value in 2022 | USD 2,325.92 million |
| Revenue forecast in 2030 | USD 3467.9 million |
| CAGR | 5.1% from 2022 - 2030 |
| Base year | 2021 |
| Historical data | 2018 - 2020 |
| Forecast period | 2022 - 2030 |
| Quantitative units | Revenue in USD million and CAGR from 2022 to 2030 |
| Segments covered | By Type, By System Component, By Cryogen, By Application, By Region |
| Regional scope | North America, Europe, Asia Pacific, Latin America; Middle East & Africa |
| Key companies | Advanced Research Systems, Adavnced Research Systems, AMETEK Scientific Instruments, Amos Scientific, Attocube Systems AG, BIOBASE, Boeckeler Instruments Inc., Bright Instruments, Cryofab Inc., Cryomech Inc., Dakewe Medical, Epredia, Hacker Instruments & Industries, Histo-Line Laboratories, Jinhua YIDI Medical Appliance Co., Ltd., Lake Shore Cryotronics, Leica Biosystems, Lupetec, Medimeas, MEDITE, Mirion Technologies, Precision Cryogenics, Scilab Co. Ltd., Sipcon Instruments Industries, SLEE Medical Gmbh, and SM Scientific Instruments |