The global cognitive computing market is estimated to be USD 7.82 billion in 2017 and is estimated to grow at a CAGR of more than 19% during the forecast period. Cognitive computing facilitate enterprises in processing complex data volumes thereby, improving their productivity levels. It is considered as a next generation technology that converses in human language, helping professionals in better decision making by providing them with better understanding of big data complexities. Presently, majority of the data received is in the form of videos, images, symbols, and natural language. By utilizing different technologies such as machine learning, natural language processing, and automated reasoning; cognitive computing helps in translating unstructured data to conclude the best solution. This benefit delivered by cognitive computing has significantly bolstered the cognitive computing market and the estimated market value is expected to cross USD 53 billion by 2026.
Currently, the global cognitive computing market is witnessing comparatively low competition regardless of several small players as well as startups entering into the market place. This is attributed majorly due to presence of few established players coupled with rapidly increasing consumer demand. Also to efficiently compete in the market, the key players operating in the cognitive computing market are constantly engaged in introducing automated solutions and smart applications for diverse industries. The key strategy of these players is to develop economical cognitive computing technologies to achieve better market position and to attract new customers.
Cognitive Computing Market Share, By Application, 2017 – 2026

Know more about this report: request for sample pages
Sement Anlaysis
The global cognitive computing market is segmented on the basis of technology and application. The technology segment is further bifurcated into natural language processing, machine learning, automated reasoning and others. The natural language processing segment of cognitive computing technology is dominating the global market attributed to its integral capability of processing natural language interactions. Furthermore, in the current market scenario, information retrieval as well as automated reasoning finds limited application thus, limiting their market growth. Although, these technologies are finding new applications in probabilistic logic, artificial intelligence and query searching thus, propelling the market growth for cognitive technology during the forecast period.
Furthermore, on the basis of application, the market for cognitive technology is segmented into healthcare, retail, BFSI, government & defense, IT & telecom, security, and others. The healthcare segment is leading the market and is further expected to grow significantly during the coming years with the rising reed to analyze huge volumes of data. For instance, cognitive computing systems can help the healthcare professionals in gathering information, reports, as well as data from different sources such as medical journals, diagnostic tools, personal patient history, and records of treatment opted in the past for similar lines from various hospitals as well as other healthcare centers.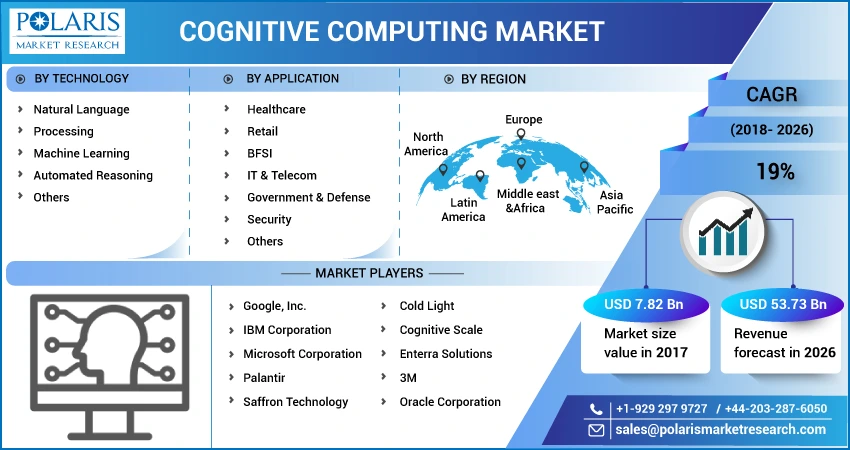 Know more about this report: request for sample pages
Regional Analysis
Presently, the market for cognitive computing in North American region is dominating, followed by Europe on the second place. However, Asia-Pacific is expected to provide potential opportunity to the cognitive computing market by growing at a CAGR of xx% during the forecast period. The growth in the Asia Pacific region is majorly attributed to the increasing adoption of cloud-based services by the SMEs located in the region.
Competitive Analysis
Major industry players operating in the global cognitive computing market include Google, Inc., IBM Corporation, Microsoft Corporation, Palantir, Saffron Technology, Cold Light, Cognitive Scale, Enterra Solutions, 3M and Oracle Corporation among others.