The global cocoa and chocolate market was valued at USD 46.4 billion in 2021 and is expected to grow at a CAGR of 4.6% during the forecast period.
Consumers' increasing preference in choosing chocolate confectioneries for celebration activities and growing demand for cocoa ingredients to develop premium-grade products is expected to drive the market's growth. For instance, according to a study by Barry Callebaut, approximately 64% of global consumers reported the need to find more excitement and seek products for taste and visual indulgence. Moreover, 75% of consumers chose chocolate-based products to celebrate or indulge in celebratory ceremonies and associated activities.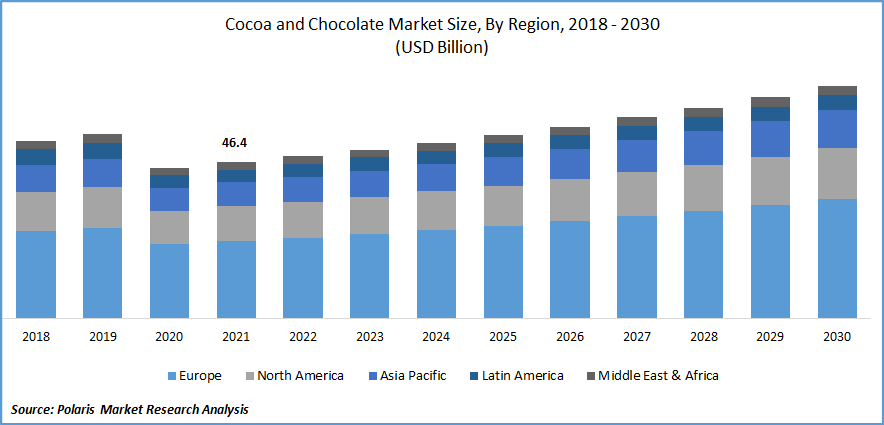 Know more about this report: Request for sample pages
Chocolates developed to cater to various target customers, such as mass-produced and craft-produced chocolates, are differential products catering to different consumer needs. Mass-produced chocolates are made with a standardized process and can be produced in larger quantities. In contrast, craft-produced chocolates are developed through artisan methods and are tailored to every batch. The emergence of new methods and chocolate development, along with increasing demand for chocolate consumption is expected to drive the uptake of cocoa and chocolate products during the study period and support the market growth.
For instance, in October 2022, Barry Callebaut announced a novel method of farming, fermentation, & cocoa bean roasting to form 2nd generation chocolate. The formulation of the Cocoa Cultivation & Craft (CCC) principle to redesign chocolate development with 60-80% higher cocoa content and 50% less sugar than a standard consumed chocolate.
The outbreak of COVID-19 adversely affected the market due to disrupted supply and enforcement of emergency protocols to shut down manufacturing facilities. Due to supply and demand gaps, the imposed restrictions severely hampered cocoa-producing nations and major market players. This significantly affected the market prices of cocoa and chocolate, creating a decline in the market. Despite these events, the market observed new trends in consumption and a strong recovery in demand owing to health-oriented food choices by consumers and adoption of new indulgent food patterns in chocolate consumption, driving the market growth.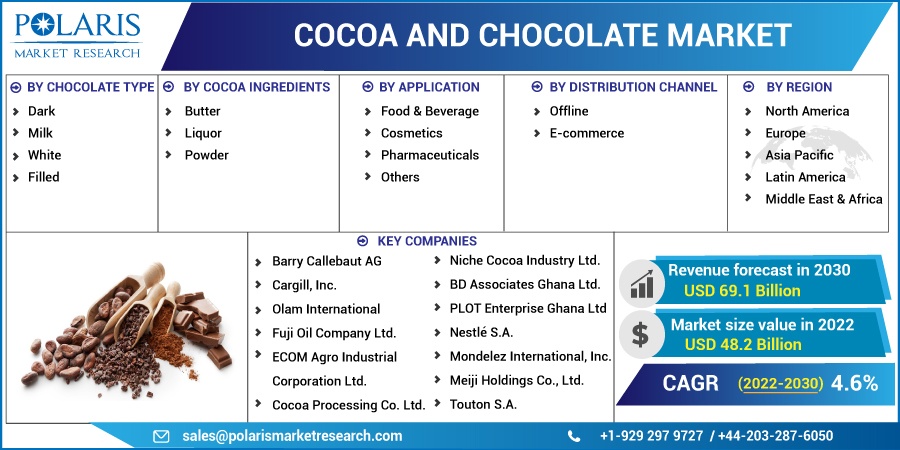 Know more about this report: Request for sample pages
Industry Dynamics
Growth Drivers
The rising consumption trend of specialty chocolates in developed countries, along with growing adoption of cocoa products as a health supplement, is estimated to promote the uptake of chocolate and cocoa ingredients. This, coupled with an increasing prevalence of lactose intolerance among population, has encouraged consumers to shift to non-animal-based food ingredients such as cocoa products.
Single-origin chocolates are made of cocoa beans harvested from the same land and not adulterated with cocoa beans from other harvests. The trend in consumer preference for single-bean chocolates among key consumers and significant market players commercializing these products to cater to the rising demand is anticipated to drive the market's growth.
Report Segmentation
The market is primarily segmented based on chocolate type, cocoa ingredients, application, distribution channel, and region.
By Chocolate Type

By Cocoa Ingredients

By Application

By Distribution Channel

By Region

Food & Beverage
Cosmetics
Pharmaceuticals
Others

North America (U.S., Canada)
Europe (France, Germany, UK, Italy, Netherlands, Spain, Russia)
Asia Pacific (Japan, China, India, Malaysia, Indonesia, South Korea)
Latin America (Brazil, Mexico, Argentina)
Middle East & Africa (Saudi Arabia, UAE, Israel, South Africa)
Know more about this report: Request for sample pages
A filled segment is expected to witness the fastest growth
Due to the rise in the uptake of various filled chocolates such as truffles and bonbons, it is evident that consumers are looking for a new way to enjoy its favorite treat. The increasing indulgence of key demographics in consumption of multi-flavored chocolates, along with market players experimenting with developing novel types of filled chocolates such as truffles and bon-bon, is anticipated to cater to the upsurge in demand for filled chocolate and drive the growth of the segment.
For instance, in October 2022, Frankford Candy and Dunkin' announced launch of their limited-edition chocolate sweets and bombs inspired by Dunkin's product range. The new product contains 12 individually wrapped donut-shaped chocolates with assorted fillings. The product launch is expected to promote the company's consumer base and improve its market presence in the chocolate market. Thus, product launches to cater to the rising demand of consumers for filled chocolates are anticipated to drive growth.
Butter accounted for the largest market share in 2021
The increasing use of cocoa butter in cosmetic industry for development of skin care and food products, alongside growing demand for cosmetics made from natural ingredients among key consumers, is projected to promote the need for cocoa butter. This, along with key industry players developing personal care products to gratify consumers looking for natural alternatives to traditional cosmetics, is expected to grow the market segment. For instance, in November 2021, Palmer launched a new range of cocoa butter-based body care products, including lotions and other daily skin care products. Cocoa butter-based lotions offer key advantages to consumers, such as superior skin moisturization and providing nourishment through additional vitamins, which promote their adoption among consumers.
Therefore, the key benefits of body care cosmetics formulated with cocoa butter and increased adoption of cocoa-based products among target consumers are estimated to drive the cocoa butter segment. Additionally, cocoa butter-based products are considered premium offerings among consumers, further shifting consumers' preference from conventional cosmetics and promoting the segment's growth.
Food & Beverage sector is expected to hold the significant revenue share
The rising health awareness among consumers, along with increasing consumption of bakery products such as chocolate-infused cookies, doughnuts, cupcakes, rolls, sweet rolls, cakes, pies, and coffee cakes, is projected to accelerate the demand for cocoa and chocolate market.
Moreover, the growing demand in the beverage industry is expected to support the market growth. The demand is primarily driven by the choice preference of consumers in beverage selection, influenced by the beverage's flavor profile. Various product offerings, such as chocolate-infused alcoholic beverages, and chocolate syrups, are increasing the availability of cocoa-based drinks on the market, supporting growth of the segment. This, combined with reducing sugar content of a beverage by increasing the proportion of cocoa, opens new consumer segments to select chocolate beverages over artificially sweetened products.
The demand in Europe is expected to witness significant growth
The European market is one of the largest importers of cocoa and is also the largest manufacturer of chocolate globally. The market's growth is due to increasing consumer preference for chocolates over other delicacies for celebrations and health-based consumption, along with a rising trend of niche chocolates such as single origin bean to bar concept of chocolates among consumers. This, along with presence of diversity in cocoa yield available in Europe has promoted chocolate manufacturers to enter the premium chocolate industry and produce specialized products.
The increasing industrial and consumer demand for cocoa-based products, including chocolates, is surging the demand for high-grade cocoa beans. As a result, African cocoa producers, considered the most premium cultivators, are ramping up production facilities to supply the high demand for these products. For instance, Johnvents Industries Limited announced expansion of its cocoa processing facility at Ondo, Nigeria. The growth aims to cater to the country's underutilized export capacity for the global cocoa demand. The development is focused on increasing exports and supplementing cocoa's local market in Nigeria indigenously.
North America is expected to grow through the study period owing to increasing demand for chocolate-based confectioneries and rising adoption of chocolate ingredients to infuse food products such as indulgent snacks, chocolate-flavored ice creams, and cocoa bars, among others. Moreover, increasing awareness of the health benefits of cocoa and chocolate consumption is anticipated to drive the uptake of cocoa products and thus drive the market's growth.
Competitive Insight
Some major global players include Barry Callebaut, Cargill, Olam, ECOM Agro-industrial Corporation, Cocoa Processing, Touton, Niche Cocoa, BD Associates Ghana, PLOT Enterprise Ghana, Nestlé, Mondelez International, and Meiji Holdings.
Recent Developments
In November 2022, according to an article published by the business standard, Ghana and Ivory Coast, the two largest cocoa producers in the world, raised prices of cocoa products for chocolate manufacturers. This will create a pricing opportunity for smaller cocoa producers to dupe chocolate manufacturers into buying larger quantities from them at lower prices, thereby reducing the market share of Ghana and Ivory Coast in the cocoa manufacturing industry. Also, the increasing demand for cocoa consumption commercially provides an economic moat to these countries for gradually increasing prices and using the surplus earnings for humanitarian and farmer development programs among African countries.
In November 2022, the Niche Cocoa Industry announced an expansion of its manufacturing facility in the U.S. located in Franklin, Wisconsin. The development will also improve the company's direct presence in the U.S. by strengthening its global market presence.
Cocoa and Chocolate Market Report Scope
| | |
| --- | --- |
| Report Attributes | Details |
| Market size value in 2022 | USD 48.2 billion |
| Revenue forecast in 2030 | USD 69.1 billion |
| CAGR | 4.6% from 2022 - 2030 |
| Base year | 2021 |
| Historical data | 2018 - 2020 |
| Forecast period | 2022 - 2030 |
| Quantitative units | Revenue in USD billion and CAGR from 2022 to 2030 |
| Segments Covered | By Chocolate Type, By Cocoa Ingredients, By Application, By Distribution Channel, By Region |
| Regional scope | North America, Europe, Asia Pacific, Latin America; Middle East & Africa |
| Key Companies | Barry Callebaut AG, Cargill, Inc., Olam International, Fuji Oil Company Ltd., ECOM Agro Industrial Corporation Ltd., Cocoa Processing Co. Ltd., Touton S.A., Niche Cocoa Industry Ltd., BD Associates Ghana Ltd., PLOT Enterprise Ghana Ltd, Nestlé S.A., Mondelez International, Inc., Meiji Holdings Co., Ltd., and others |