The global Clean Label Ingredients market size was valued at USD 40,633.4 million in 2020 and is anticipated to grow at a CAGR of 18% during the forecast period. To put into simple terms, clean label can be defined as a product that can be positioned as organic, natural and free from preservatives. From a manufacturer point of view, clean label positioning is often identified as manufacturing products by using ingredients that the customers are able to identify and that these ingredients are used by the customers in their households.

Know more about this report: request for sample pages
There has been a rising trend across the globe with respect to consumers becoming more aware about the ingredients in their food products and have now started actively scrutinizing the product labels. This possesses a major challenge in front of clean label ingredient companies particularly those operating in different countries. They have to choose ingredients carefully for achieving the right positioning in a market place while dealing with the overall regional and cultural differences in various countries.
Correctly assessing consumer behavior and planning strategies according to the same has been a critical success factor in the industry. Companies, have optimized their labelling and design of the product so as to easily catch the customer's attention. For example, companies effectively use the communication opportunity at the front of the product packaging and place words such as natural, organic, and free from artificial ingredients which have a high consumer appeal as well as recall. In addition, an ingredient list, and compliances are also placed so as to further strike a chord with the consumer.
Ability to balance ingredient mix to suit consumer choices is a key challenge faced by ingredient formulators. The development of a wide variety of products, has resulted in a rise in number of challenges such as those pertaining to shelf life and processing requirements. Consumers are demanding more simplified ingredients as well as shorter clean labels however, they are not willing to compromise on quality or taste. This balance is a major challenge to ingredient formulators and product manufacturers alike.
Companies have started investing significantly in R&D activities to significantly achieve market share by developing new products. However, the development of a clean label product is a highly complex process and involves tedious operations such as the removal of ingredients having high functionality that have been traditionally used for certain purposes and substituting the same with a clean label ingredient without compromising the overall taste and quality of the product.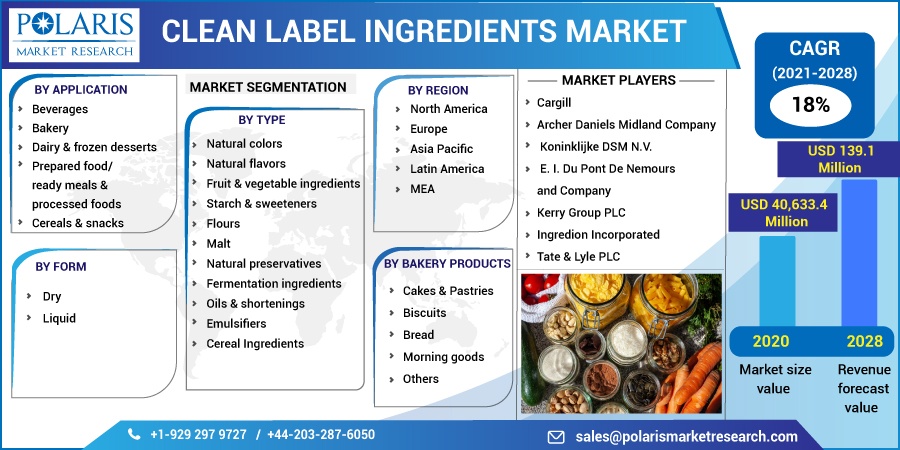 Know more about this report: request for sample pages
Clean Label Ingredients Market Report Scope
The market is primarily segmented on the basis of Application, By Form, By Type, By Bakery Products, and geographic region.
By Application

By Form

By Type

By Bakery Products

By Region

Beverages
Bakery
Dairy & frozen desserts
Prepared food/ready meals & processed foods
Cereals & snacks
Others (confectionery and condiment/culinary products (sauces, dressings, dips, and spreads))

Natural colors
Natural flavors
Fruit & vegetable ingredients
Starch & sweeteners
Flours
Malt
Natural preservatives
Fermentation ingredients
Oils & shortenings
Emulsifiers
Cereal Ingredients

Cakes & Pastries
Biscuits
Bread
Morning goods
Others

North America (U.S., Canada, Mexico)
Europe (France, Germany, UK, Denmark)
Asia Pacific (Japan, China, India)
Central & South America (Brazil)
MEA
Know more about this report: request for sample pages
Application Outlook
Based on application the market has been segmented into Beverages, Bakery, Dairy & frozen desserts, Prepared food/ready meals & processed foods, Cereals & snacks and Others (confectionery and condiment/culinary products (sauces, dressings, dips, and spreads)). Beverages segment is expected to witness the highest growth rate over the forecast period. Development of novel clean label beverage products that provide customers with new tastes and beverages, and broadening of product portfolios are some of the factors benefitting the segment growth.
Launch of novel clean label beverages is a key market scenario. fairlife L.L.C., Chicago, in view of rising demand for clean label products, introduced fairlife Yup! a flavored milk product having low sugar and high protein content manufactured by replacing artificial sweeteners with concentrate of monk fruit juice. Organic Hälsa Oatgurt was a similar product and was positioned as a smoothie having probiotic, prebiotic content and free from dairy and no-added sugar. Another company, New Slice Ventures L.L.C., introduced sparkling water containing no artificial ingredients such as color, sweetener, or caffeine. Such introduction of novel products is benefitting the segment growth.
Form Outlook
The dry segment dominated the clean label ingredients market and is expected to do so over the forecast period as well. It is also expected to witness the highest growth rate over the forecast period. Ease of handling and storage, ease of packaging and transport and ability to aid the optimization of value chains are some of the factors benefitting the segment growth.
In addition, development of novel products has also benefitted the overall penetration of dry segment. Kemin, for example in the past used to provide shelf-stability dry ingredients solutions only for a limited product such as tortillas. The company, recently expanded its dry blending abilities and has now started serving these solutions including mold inhibitors to specialty flour tortillas and all of the bakery goods in general. Such trends are benefitting the segment growth.
Type Outlook
Flour segment is expected to witness the highest growth rate over the forecast period. Flour is used in the manufacturing of a majority of products and hence enjoys a considerable demand in the market. To adhere to the overall clean label concept, companies have made various advancements with respect to flour manufacturing. For example, in the past for bleaching and whitening of flour, chlorine and benzoyl peroxide were used but now, clean label flours use enzymes as well as soy flour.
For extending the shelf life of flour, agents such as benzoates, sorbates, and propionates are used. Bypassing these artificial ingredients, clean label flour uses wheat flour, cultured whey, sorbic acid, concentrate of raisin juice, and live cultures as preservatives. Such developments have catered to a rise in demand for clean label flours particularly in developed markets.
Bakery Products Outlook
The bakery market segment is further segmented into Biscuits, Cakes & Pastries, Bread, Morning Goods and Others. In 2020, bread emerged as the dominant segment and this trend is expected to continue over the forecast period. The segment is also expected to witness the highest growth rate. Biscuits are expected to grow at an estimated CAGR of 17.8% over the forecast period.
Companies involved in the overall manufacturing of clean label bakery products have to assess the impact of the usage of clean label ingredients on the overall bread making process. The changes that need to be done include change in the overall production speed, the ingredient mix, changing the flour mix, adjusting the fermentation to achieve desired shelf life, among others. All such changes have a direct impact on the cost and manufacturing time.
Regional Outlook
In developed market such as North America and Europe, it has been observed that there is a shift from brand loyalty and a rising preference towards consuming healthy foods, no matter the brand. Premium food brands having little or no healthy food quotient is at a risk of getting bypassed. Due to these factors coupled with the high industry rivalry, companies have started focusing on research and development activities to formulate processes and manufacturing techniques that incorporate more and more clean label ingredients. Such trends are benefitting the overall market growth.
Companies are focusing their attention to developing regions such as Asia Pacific to gain market share. countries in the Europe and North America are particularly advanced with respect to clean label, and have a strong competitor presence and awareness regarding the same. Hence, competitors are trying to enter developing markets and are differentiating their products form the competition by using clean label positioning. To boost their revenues, companies are trying to tap growth opportunities particularly in countries such as India and China.
Competitive Landscape
Manufacturers have to decide how to minimize the impact while still developing a product that appeals to consumers. For this entire process, a sound understanding of market dynamics, in-depth understanding of performance of each individual ingredient, sensory requirements of consumers as well as buying behavior is required. Companies therefore, to bypass these offsets are investing heavily in R&D activities to gain market share.
Companies such as Cargill, Archer Daniels Midland Company, Koninklijke DSM N.V., E. I. Du Pont De Nemours and Company, Kerry Group PLC, Ingredion Incorporated, and Tate & Lyle PLCare some of the key players operating in the Global Clean Label Ingredients market.