The global circuit protection market was valued at USD 46.50 billion in 2022 and is expected to grow at a CAGR of 5.6% during the forecast period. Demand for electrical and electronic products, such as automobiles, industrial equipment, and household appliances, is driven by economic growth, population growth and increasing disposable income in developing countries. This in turn drives demand for circuit protection devices, which provide safety and reliability by protecting against electrical hazards. New technologies and developments, such as smart and connected devices, which enhance device performance and cut costs, are constantly influencing the circuit protection market.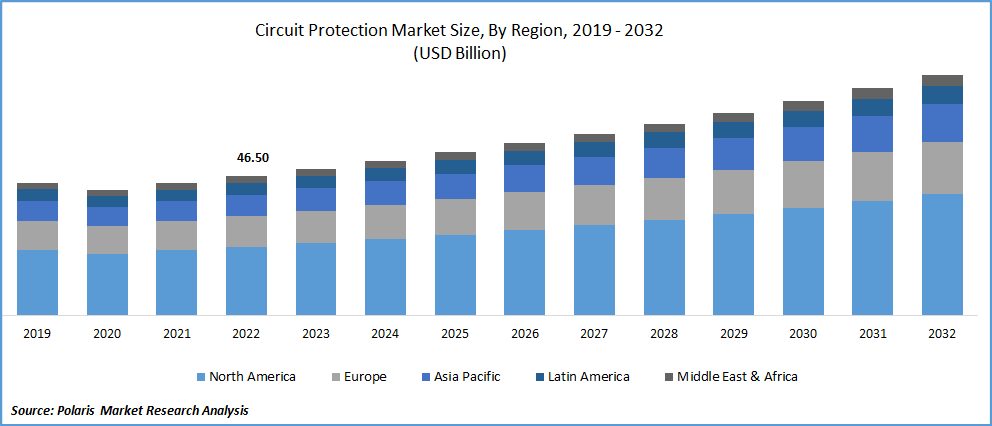 Know more about this report: Request for sample pages
For instance, in March 2022, AutomationDirect added Gladiator GCB series molded case circuit breakers to the array of circuit protection products. Gladiator MCCBs are made to dependably safeguard circuits and machinery against thermal overloads, short circuits, and ground faults. These high-performance circuit breakers are supplied in seven frame sizes up to 1200A with a choice of trip units and up to a 100kA interrupting capacity, and are available in two or three-pole configurations.
Furthermore, telecommunications sector makes extensive use of circuit protection devices. Players are concentrating on modernizing the telecom infrastructure by deploying a variety of equipment. Because of the high cost of this equipment and the risk of damage from voltage fluctuations or overheating, players often use sophisticated current protection systems to reduce product damage and reduce costs. The telecom industry's significant need for overvoltage protection and inrush current limiters is anticipated to accelerate the market's expansion. Additionally, the launch of new products targeted at a specific application by circuit protection manufacturers is anticipated to accelerate the growth of the circuit protection market.
The market expansion was hampered by COVID-19. The full lockdown enforced by governments worldwide brought the activities of production facilities to a standstill. The demand for goods from car and electronics manufacturers declines as a result of this brief stoppage at manufacturing facilities. However, the market is anticipated to pick up steam in 2023 as a result of significant investments being made in the construction of energy infrastructure by emerging nations as well as rising demand for electric cars and household appliances.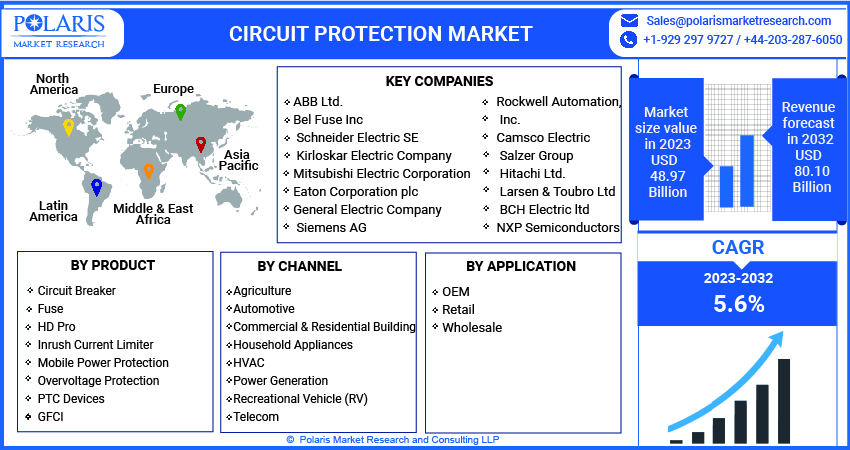 Know more about this report: Request for sample pages
Industry Dynamics
Growth Drivers
The demand for circuit protection devices is rising as a result of rising consumer electronics demand, the Internet of Things (IoT) trend, and automation, which are all becoming more prevalent across a variety of industries. These developments will help to safeguard electronic devices and data transmission. The need for circuit protection devices is rising as electric vehicles gain popularity since these devices are crucial for safeguarding the high-voltage battery systems utilized in electric vehicles.
Additionally, the need for circuit protection devices is being driven by the growing usage of electronic devices across several industries, including healthcare, retail, and transportation. These devices are crucial for shielding these devices from electrical dangers.
Report Segmentation
The market is primarily segmented based on product, channel, application and region.
By Product

By Channel

By Application

By Region

Circuit Breaker

Fuse

HD Pro

Inrush Current Limiter

Mobile Power Protection

Overvoltage Protection

PTC Devices

GFCI

Agriculture

Automotive

Commercial & Residential Building

Household Appliances

HVAC

Power Generation

Recreational Vehicle (RV)

Telecom

Others

North America (U.S., Canada)

Europe (France, Germany, UK, Italy, Netherlands, Spain, Russia)

Asia Pacific (Japan, China, India, Malaysia, Indonesia, South Korea)

Latin America (Brazil, Mexico, Argentina)

Middle East & Africa (Saudi Arabia, UAE, Israel, South Africa)
Know more about this report: Request for sample pages
HD Pro segment is expected to grow at a high CAGR during the forecast period
The need for more effective circuit breaker devices that are extremely precise and trustworthy is eventually rising due to rising residential and commercial development activities worldwide and increased desire for better electrical connectivity. For instance, in September 2022, Siemens have successfully received a UL listing for their single pole solid-state circuit breaker. By lowering the risk of arc flashes, this circuit breaker makes electricity safer. It also makes power more controllable by enabling remote control and operation of specific electrical circuits.
HD Pro segment is estimated to grow at a high CAGR during the projected period owing to the rising residential and commercial activities worldwide. These type of circuit protectors are a necessary component of both commercial and residential construction settings due to their capacity to safeguard equipment against high voltage shocks. For instance, in April 2022, Leviton unveiled their new SmartlockPro Self-Test GFCI Combination USB Type A/Type C In-Wall Charger. This gadget combines Leviton GFCI technology with two very powerful USB ports to give maximum power for quicker charging and up to two times more power.
Power generation segment accounted for the highest market share in 2022
Power generation segment held the dominant position. Circuit breakers, fuses, and overvoltage protection devices are in demand as a result of rising energy demand from the commercial and industrial sectors and a trend toward the use of green energy, which is expected to accelerate market growth. Additionally, it is anticipated that increasing consumer demand for reliable, consistent, and flexible electricity would support market expansion.
For instance, in March 2022, the first 420 kV, 63 kA g3 gas-insulated substation (GIS) circuit-breaker prototype in the world was exhibited by GE Renewable Energy's Grid Solutions. The revolutionary gas-insulating and switching technology known as GE's g3 is the foundation of this new circuit-breaker. In 2023, GE expects to begin selling its 420 kV fully g3 gas-insulated substation (GIS), which comes with the g3 circuit-breaker.
The HVAC segment is expected to grow at a high CAGR during the forecast period. Climate change is responsible for the expansion of HVAC systems. Consumer interest is being piqued by the introduction of new energy-efficient HVAC system solutions by manufacturers. The sector growth is anticipated to be supported by the rising installation of new HVAC systems. Additionally, the growing urbanization in the developing regions is anticipated to fuel sector expansion.
Original equipment manufacturers segment dominated the market during 2022
The OEM segment held the largest market share in the global market, in 2022, since many goods require circuit protection for dependable and safe operation. Government restrictions that are strict on quality standards force OEMs to concentrate on producing goods that function dependably and securely in accordance with industry standards. For instance, in August 2022, the first 420 kV eco-efficient circuit breaker was introduced by Hitachi Energy. Sulfur hexafluoride (SF6), a greenhouse gas, is eliminated using a revolutionary technique in the company's EconiQ high-voltage portfolio. The EconiQ 420 kV circuit-breaker represents a significant turning point in the ability to carry enormous amounts of power over long distances while removing considerable quantities of SF6.
The wholesale segment is expected to grow at a substantial CAGR during the forecast period. Wholesalers create a strong and well-known network of distributors that serve the needs of customers all over the world. Commercial activities were halted as a result of COVID-19, which resulted in significant losses. As a result, firms are now concentrating on restructuring their distribution operations to make up for the losses, which are anticipated to boost the target segment's growth. By offering a large selection of goods at low rates and delivering technical knowledge and assistance, wholesalers provide businesses an easy and affordable option to buy the equipment they need.
North America leads the market share in 2022
The industrial and commercial sectors in North America are robust, which fuels demand for circuit protection devices in areas like industrial automation, transportation, and power distribution. Due to increased expenditures in green power production and the focus on smart city projects, there is an increasing need for IoT devices to enhance the functioning and monitoring of traffic lights, power grids, and other infrastructure.
Additionally, it is projected that the rising demand for circuit protection solutions from electronics and telecommunications companies due to growing concerns surrounding equipment would drive market growth. Additionally, as a global leader in technology and innovation, North America promotes the adoption of cutting-edge innovations in the circuit protection industry, including smart and connected products.
Asia Pacific is expected to show the fastest growth during the forecast period. The need for circuit protection devices is predicted to rise as a result of the increased energy consumption caused by rapid urbanization and rising building activity. Also rising demand for reliable and advanced circuit protection devices, to protect against power disturbances and ensure continuity of operations is fueling market growth. For instance, in January 2023, the Civil Aviation Authority of the Philippines, the New Year's Day air traffic congestion grounded around 300 flights, affecting around 65,000 people, and cost airlines more than 1.8 million USD was brought on by a faulty circuit breaker for 180 USD. Additionally, rising sales of electric vehicles in the region are anticipated to support market expansion.
Competitive Insight
Some of the major players in the global market include ABB Ltd., Bel Fuse, Schneider Electric, Kirloskar Electric, Mitsubishi Electric, Eaton Corporation, General Electric, Siemens, Rockwell Automation, Camsco Electric, Salzer Group, Hitachi, Larsen & Toubro, BCH Electric, NXP Semiconductors, SCHURTER Holding & Texas Instruments.
Recent Developments
In October 2022, Mitsubishi Electric Power introduced, a 72 kV VCB with the dry air insulation. The device offers much lower operating and maintenance (O&M) expenses and ratings for 2000A continuous current and 31.5kA short-circuit current. It also has greater full-fault & switching capabilities.

In August 2022, ABB launched a new solid state circuit breaker named SACE Infinitus, which enables maritime and transport boats to run on environmentally friendly and effective DC power systems. It identifies and resolves short circuit issues 100 times more quickly and for 100 times longer than a conventional circuit breaker.
Circuit Protection Market Report Scope
| | |
| --- | --- |
| Report Attributes | Details |
| Market size value in 2023 | USD 48.97 billion |
| Revenue forecast in 2032 | USD 80.10 billion |
| CAGR | 5.6% from 2023 - 2032 |
| Base year | 2022 |
| Historical data | 2019 – 2021 |
| Forecast period | 2023 - 2032 |
| Quantitative units | Revenue in USD billion and CAGR from 2023 to 2032 |
| Segments covered | By Product, By Channel, By Application, By Region |
| Regional scope | North America, Europe, Asia Pacific, Latin America; Middle East & Africa |
| Key companies | ABB Ltd., Bel Fuse Inc, Schneider Electric SE, Kirloskar Electric Company, Mitsubishi Electric Corporation, Eaton Corporation plc, General Electric Company, Siemens AG, Rockwell Automation, Inc., Camsco Electric, Salzer Group, Hitachi Ltd., Larsen & Toubro Limited, BCH Electric ltd, NXP Semiconductors N.V., SCHURTER Holding AG and Texas Instruments Incorporated. |