The canada tactical data link market was valued at USD 1,060.18 million in 2022 and is expected to grow at a CAGR of 4.8% during the forecast period. The Canadian tactical data link market is a significant sector within the defense and military industry. Tactical data links enable secure and reliable communication and information sharing among military platforms, such as aircraft, ships, and ground forces. These data links allow for real-time situational awareness, command and control coordination, and the exchange of critical mission data.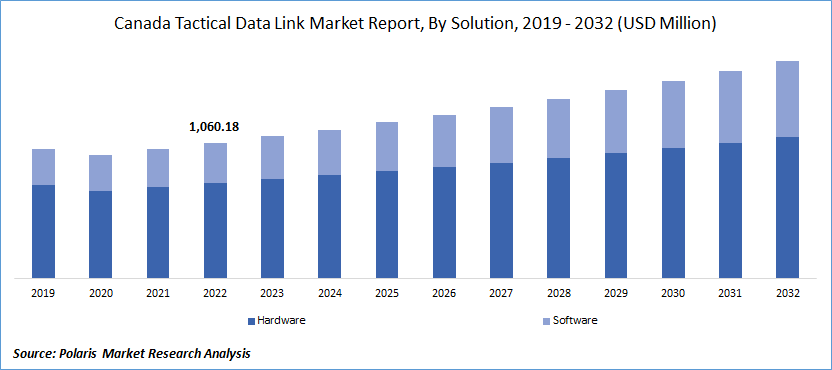 To Understand More About this Research: Request a Free Sample Report
Canada has been actively investing in developing and integrating tactical data link systems across its defense forces. The country recognizes the importance of advanced communication technologies to enhance situational awareness, command and control capabilities, and overall operational effectiveness. Additionally, Canada's collaboration with international partners, particularly the United States and NATO allies, further drives the adoption and interoperability of tactical data link solutions.
As Canada continues to prioritize defense modernization, the country's tactical data link market is expected to grow. Integrating advanced data link systems into various defense platforms will improve the Canadian Armed Forces' effectiveness and strengthen cooperation and coordination with allied forces during joint military operations and exercises. The Canadian tactical data link market presents significant opportunities for defense technology providers and manufacturers in the coming years.
The COVID-19 pandemic has impacted the market. It has led to potential budget constraints for defense spending due to financial strains on governments. Additionally, disruptions in global supply chains have caused delays in delivering critical components and equipment needed for tactical data link systems. These factors have affected the procurement and implementation of such systems in Canada.
Industry Dynamics
Growth Drivers
The increasing utilization of unmanned vehicles, such as UAVs and UGVs, in the market has transformed modern warfare operations. These vehicles are employed for various military applications, including reconnaissance, surveillance, target acquisition, and intelligence gathering. Their adoption brings several advantages, including enhanced safety by operating in high-risk environments without exposing human personnel to danger.
Unmanned vehicles provide real-time data and imagery that can be seamlessly integrated into tactical data link systems, improving situational awareness and decision-making for commanders. Additionally, unmanned vehicles can cover large areas and operate for extended periods, facilitating efficient mission execution and effective coordination among military units through the real-time transmission of valuable information.
The rising adoption of unmanned vehicles has spurred investments in research and development and the procurement of advanced unmanned systems in the canada tactical data link market. This trend presents opportunities for defense contractors and technology providers to develop tailored solutions that meet the specific requirements of the Canadian Armed Forces. The integration of unmanned vehicles strengthens Canada's defense capabilities. It enhances operational effectiveness in modern warfare scenarios, as these vehicles offer improved situational awareness, rapid response to emerging threats, and efficient coordination among military units.
Report Segmentation
The market is primarily segmented based on solution, data link type, platform, and application.
By Solution

By Data Link Type

By Platform

By Application

Link 11

Link 16

Link 22

Others

Command & Control

Intelligence, Surveillance & Reconnaissance (ISR)

Electronic Warfare

Radio Communication

Situational Awareness
To Understand the Scope of this Report: Speak to Analyst
Software segment is anticipated to experience the fastest growth over the projected period
Software is anticipated to experience the fastest growth. The rising demand for advanced data processing, analysis, and integration capabilities is fueling the expansion of software solutions in this market. These software applications are crucial in enhancing situational awareness, promoting interoperability, and seamlessly integrating data from various sources for effective modern warfare operations.
Furthermore, advancements in artificial intelligence, machine learning, and data analytics are driving the development of innovative software solutions. These solutions optimize decision-making processes and enhance operational efficiency. By integrating software with existing hardware infrastructure, tactical data link systems can be utilized effectively, providing enhanced capabilities for command and control, mission planning, and data management.
Link 16 segment held the largest market share in 2022
Link 16 holds the largest market share in 2022. Link 16 is a widely adopted tactical data link standard that provides secure and real-time tactical information exchange between military platforms. It offers robust networking capabilities, improved situational awareness, and enhanced interoperability among different forces. Its widespread deployment across various defense platforms and proven effectiveness in enabling efficient command and control make it dominant player.
Ground platform segment holds the largest market share in 2022.
The Ground holds the largest market share in 2022. The Ground segment encompasses tactical data link systems used by land-based military platforms such as ground vehicles, command centers, and troops on the ground. The need for effective communication, coordination, and situational awareness among ground forces drives this segment's demand for tactical data link solutions. The ground-based tactical data link systems enable seamless information exchange, command and control, and real-time situational awareness, making them essential for modern land warfare operations in Canada.
Electronic Warfare is expected to grow fastest over the projected period.
Electronic Warfare (EW) is projected to experience rapid growth in the market. TDL systems play a vital role in facilitating secure and efficient communication between military platforms, enhancing situational awareness and enabling the exchange of tactical information. The increasing significance of EW in modern warfare is driving this growth, as adversaries develop advanced electronic capabilities that require robust countermeasures. Integrating EW capabilities into TDL systems allows for enhanced protection against electronic threats such as jamming and interception of tactical data.
Defense organizations in Canada are investing in advanced EW technologies to bolster their TDL capabilities and adapt to evolving threats. The integration of EW systems with TDL enhances the effectiveness of military operations, promotes interoperability among allied forces, and ensures secure communication in joint and coalition missions. As defense organizations prioritize EW capabilities, the Canada TDL market is expected to witness significant growth in this area.
In summary, the growth of EW in the Canada market is driven by the increasing importance of electronic capabilities in modern warfare and the need for robust countermeasures against electronic threats. The integration of EW systems with TDL enhances situational awareness, communication, and interoperability, making it a critical component of defense strategies.
Competitive Insight
Some of the major players operating in the canada tactical data link market include General Dynamics Corporation, BAE Systems, Thales Group, Saab AB, Leidos, Leonardo, Raytheon Company, and Collins Aerospace
Recent Developments
In October 2022, L3Harris acquired the TDL product line from Viasat's Government Systems Segment, consisting of Link 16 Multifunctional Information Distribution System (MIDS) platforms and associated terminals, which are installed in more than 20,000 U.S. and allied platforms around the world.
Canada Tactical Data Link Market Report Scope
| | |
| --- | --- |
| Report Attributes | Details |
| Market size value in 2023 | USD 1,110.37 million |
| Revenue forecast in 2032 | USD 1,695.42 million |
| CAGR | 4.8% from 2023 – 2032 |
| Base year | 2022 |
| Historical data | 2019 – 2021 |
| Forecast period | 2023 – 2032 |
| Quantitative units | Revenue in USD million and CAGR from 2023 to 2032 |
| Segments Covered | By Solution, By Data Link Type, By Platform, By Application |
| Key Companies | General Dynamics Corporation, BAE Systems, Thales Group, Saab AB, Leidos, Leonardo, Raytheon Company, and Collins Aerospace |