The global boots market was valued at USD 33.84 billion in 2022 and is expected to grow at a CAGR of 5.6% during the forecast period.
Boots are gradually becoming a fashion accessory, which has caused the worldwide boot market to expand at an astounding rate. The global boot market is mainly driven by growing demand for fashionable, comfortable boots among people of all ages, rising fashion consciousness, rapid industrialization, and an increasing number of hikers and mountaineers. The boot market is gaining from consumer purchasing behavior being stimulated by the availability of footwear through retail channels and the growing popularity of online retailers.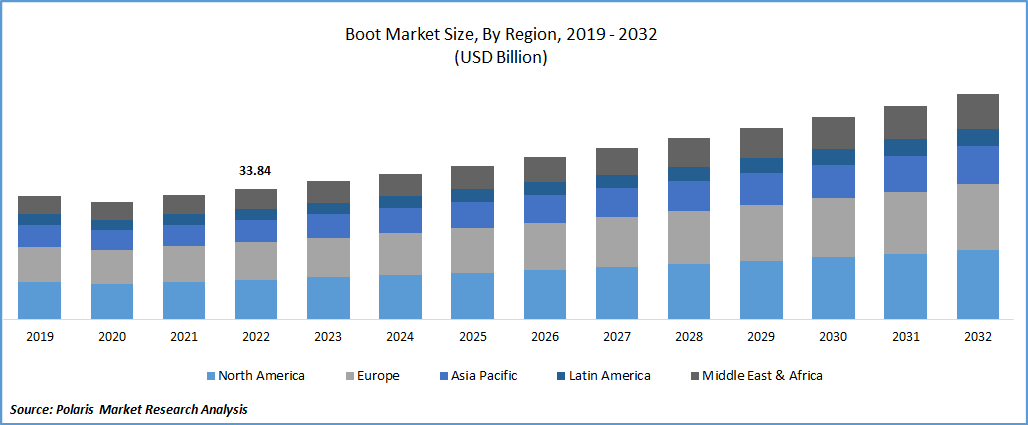 Know more about this report: Request for sample pages
Most boots mostly cover the foot and ankle, while some cover a portion of the lower calf. In addition to their practical benefits, boots are worn for reasons of fashion and flair. Functional considerations include providing protection for the foot and leg from water, mud, pests, extreme temperatures, sharp or blunt objects, physical abrasion, corrosive agents, or harmful radiation, as well as providing ankle support and traction for demanding activities like hiking and durability in challenging environments.
Boots and work shoes are typically made with leather for the upper portion of the shoe. The uppers of shoes can also be produced from synthetic materials and fabrics. Vinyl and urethane are the two main synthetic substitutes for leather. Utilizing man-made materials has advantages such as generally lower material costs, attractive appearance, and simple upkeep. The soles of shoes are made from a variety of materials based on the qualities that the manufacturer requires. These could include insulation, traction, or durability. For medical reasons, the sole could also need to be padded, slip-resistant, oil-resistant, or changed.
The outbreak of the COVID-19 pandemic severely disrupted the supply chain of major manufacturers and forced them to move towards online channels and thus obstructed the boot market growth. The market slowed down as a result of the closure of production and manufacturing facilities brought on by the lockdown and logistical restrictions imposed by government authorities around the world. The government implemented these closures and lockdowns to stop the coronavirus from spreading. Currently, the government has lifted the ban and introduced various programs such as raw material subsidies and government promotion for the growth of small regional enterprises to aid the industry in recovering from the pandemic's damage.
Industry Dynamics
Growth Drivers
Due to their comfort, protection, and durability in the workplace, boots are in greater demand, which has vastly expanded the market's potential. The millennial and generation Z populations' steadily rising interest in winter sports has boosted chances for market participants in the boot industry and is a significant driver driving demand for boots globally.
Recent shifts in consumer shopping habits and a rising propensity to buy high-end and designer shoes are anticipated to fuel the boots market's expansion. The desire for stylish, expensive, and comfortable footwear is what fuels the market for boots. Numerous developments and technological advancements help to enhance demand for boots as the market for flexible and light items grows.
Report Segmentation
The market is segmented based on product, material, distribution channel and region.
By Product

By Material

By Distribution Channel

By Region

Chelsea Boots
Military Boots
Hiking Boots
Regular Boots
Safety Boots
All Weather Boots
Fashion Boots
Chukka Boots
Others

Leather
Rubber
Plastic
Polyurethane
Others

North America (U.S., Canada)
Europe (France, Germany, UK, Italy, Netherlands, Spain, Russia)
Asia Pacific (Japan, China, India, Malaysia, Indonesia. South Korea)
Latin America (Brazil, Mexico, Argentina)
Middle East & Africa (Saudi Arabia, UAE, Israel, South Africa)
Know more about this report: Request for sample pages
Regular Boot segment is expected to dominate the market share
In 2022, the market was led by the regular boots product segment, which also received the most significant percentage of revenue share globally. The market is anticipated to grow steadily, maintaining its leading position throughout the forecast. Increasing demand for sturdy and comfortable boots is the main driver promoting the segment's expansion. Demand for products is also projected to increase as a result of the advancement of 3D printing technology and the growth of the middle class.
Chelsea Boots segment is expected to grow at the fastest CAGR during the forecast period. Chelsea boots are snug-fitting ankle boots with side panels made of stretchy elastic. Chelsea boots have been a traditional wardrobe must for both men and women for decades. One of the main factors fueling the growth of this market is the rising desire for traditional Chelsea boots among millennials. The younger generation has a definite leaning toward Chelsea boots. Numerous producers offer a wide range of products in this category due to its rising popularity.
Leather Boot market accounted for the largest market share in 2022
The leather boot segment dominated the global boot market in 2022. Due to its main performance characteristics, including durability and insulation, leather is the material of choice for making footwear. Customers seek leather boots that may be used for professional and informal occasions. Vendors frequently expand their product portfolios to accommodate these changing customer needs. By investing in cutting-edge designs and raw materials, leather boot makers have been working to set themselves apart from companies that make sports and outdoor adventure footwear. This has improved the appearance and functionality of leather boots.
The demand for personalized leather boots is also rising in developing countries like India and China. To produce a customized effect, the level of customizing can range from the sole and laces to embroidery. All throughout the world, people are increasingly choosing to customize their leather boots. Because personalized product offerings draw potential customers, which leads to repeat and new purchases, this supports the market's expansion.
The rubber boot segment is expected to grow at a substantial CAGR during the forecast period. The market expansion can be linked to the rise in demand for rubber boots in domestic, industrial, and agricultural settings. As rubber soles offer exceptional resistance to chemicals, acids, and alkalis, the demand for the rubber section is increasing. Additionally, factors include the rising fashion trend for rubber boots, particularly among young people, increasing public knowledge of the advantages of wearing rubber boots, such as protection against severe weather and injuries from falls and slips, the availability of better-quality and more durable products on the market at competitive pricing as a consequence of technological developments in the rubber boot production process has also contributed to the expansion of the market.
Offline distribution channel is expected to hold the significant revenue share
The offline distribution channel accounted for the highest market share in 2022 and is expected to dominate the market during the forecast period. Boot retailers have always been a part of the market. Consumers will continue to favor offline distribution channels due in large part to the increasing requirement for physical examinations. Also, customers buy boots from brick-and-mortar stores to ensure the best fit and comfort. Additionally, it enables individuals to understand the benefits and use of shoes and choose from the available options for cushioning and materials.
The online distribution channel is expected to grow at a high CAGR during the forecast period. The online distribution channel has grown in popularity among footwear consumers over time due to increased digitalization. Global direct consumer sales are now possible because to the rise of online marketplaces. This indicates that retail channels are losing ground to direct-to-consumer channels in terms of appeal. The demand for boots on online platforms is mainly driven by perks like convenience, easy access to goods anywhere in the world at any time, and risk-free financial transactions. For firms to prosper, it has become crucial to establish their online presence by enabling customers to purchase boots on their website and other partner e-commerce platforms.
North America region is expected to dominate the global market
North America accounted for the highest share in the global boot market in 2022. It is the largest regional market and is anticipated to hold a hefty lead during the forecast period as a result of the strong product demand in nations like the U.S. and Canada. A further factor driving the expansion of the local boot market is the presence of top producers like Timberland, UGG, Red Wing Shoes, and Wolverine.
Asia Pacific is expected to be the fastest-growing in global boot market over the forecast period, which can be attributed to increasing demand for trendy and stylish boots in countries like China and India. From 2023 to 2032, Asia Pacific is anticipated to have the greatest CAGR. The demand for boots will rise as the middle-class disposable income levels in the developing nations of APAC rise. Additionally, the need for work and safety boots will increase due to rising industrialization and worker safety regulations.
Competitive Insight
Some of the major players operating in the global market include Timberland LLC, Wolverine Worldwide, Woodland Worldwide, Dr. Martens Airwair, Red Wing Shoe Company, Belle, Daphne, Church & Co. Ltd., Red Wing Shoe Company, ST&SAT and ZheJiang AoKang Shoes Co.,Ltd. among others.
Recent Developments
In December 2022, VF Corp. brands Vans and Timberland cooperated on a footwear line. In celebration of the Half Cab's 30th anniversary, the pair worked together to create the Half Cab Hiking, described as a cross between a skating shoe and a hiker boot.
In December 2022, the footwear company Wolverine World Wide Inc. announced that it has begun a formal process to sell or license both its Wolverine Leathers and Keds brands, which it has referred to as "low-profit contributors," and that it has also taken steps to reduce the workforce associated with those business sectors.
Boot Market Report Scope
| | |
| --- | --- |
| Report Attributes | Details |
| Market size value in 2023 | USD 35.71 billion |
| Revenue forecast in 2032 | USD 58.46 billion |
| CAGR | 5.6% from 2023 - 2032 |
| Base year | 2022 |
| Historical data | 2019 – 2021 |
| Forecast period | 2023 - 2032 |
| Quantitative units | Revenue in USD billion and CAGR from 2023 to 2032 |
| Segments covered | By Product, By Material, By Distribution Channel, By Region |
| Regional scope | North America, Europe, Asia Pacific, Latin America; Middle East & Africa |
| Key companies | Timberland LLC, Wolverine Worldwide, Woodland Worldwide, Dr. Martens Airwair, Red Wing Shoe Company, Belle, Daphne, ST&SAT and ZheJiang AoKang Shoes Co.,Ltd.. Red Wing Shoe Company, Church & Co. Ltd. |