The global biofilter market was valued at USD 2.05 Billion in 2022 and is expected to grow at a CAGR of 9.1% during the forecast period. The increasing applications of biofilters in wastewater treatment, plants, petrochemicals, & paint industries, are responsible for the expansion of the market. Biofilters such as bespoke are made for the filtration of daily wastewater and domestic water, and for the treatment of animal waste. The biofilters are used in aquaculture to reduce water exchange by converting ammonia to nitrate which is released from fish and other aquatic species. Volatile organic compounds (VOCs), as well as other air contaminants such as microorganisms, are removed from the air using biofilters.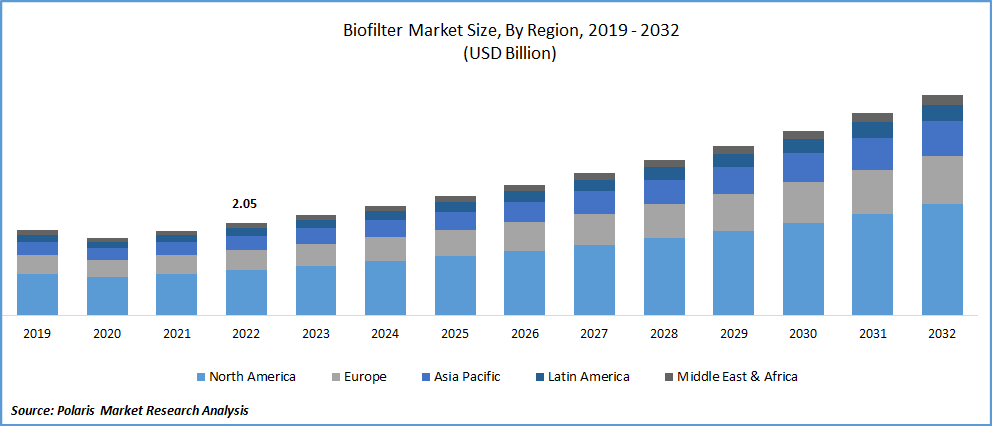 Know more about this report: Request for sample pages
The adoption of tools and technology to produce clean air is accelerating due to growing concern about increasing pollution levels, and their detrimental impact on human health, and the environment. The demand for biofilters is increased due to the control of waste gas from the chemical, pharmaceutical, and oil and gas sectors are required because these gases contain dangerous substances such as volatile organic compounds and odorous compounds in the air. In July 2022, the U.S. Department of Agriculture is provide, a $300,000 grant to scientists in Penn State's College of Agricultural Sciences for performing analysis on the use of biofilters to reduce enteric emissions of methane produced in livestock facilities, such types of initiatives and funding programs by the government are increased the growth of biofilter market.
Furthermore, Various Companies are performing an experiment on biofilters with advanced technology to improve productivity. For instant in Sept 2022, Anglian Water lunch a project with a Norwegian technology firm to trial artificial intelligent software in water treatment and recycling processes. Manufacturers need to follow the newest trends in filtration that companies are increasing their center of attention towards modern power filters with different capacities.
Additionally, the government is performing a strict role against end users like petrochemicals, oil and gas, food and healthcare, etc. which has resulted in the use of biofilters being increased.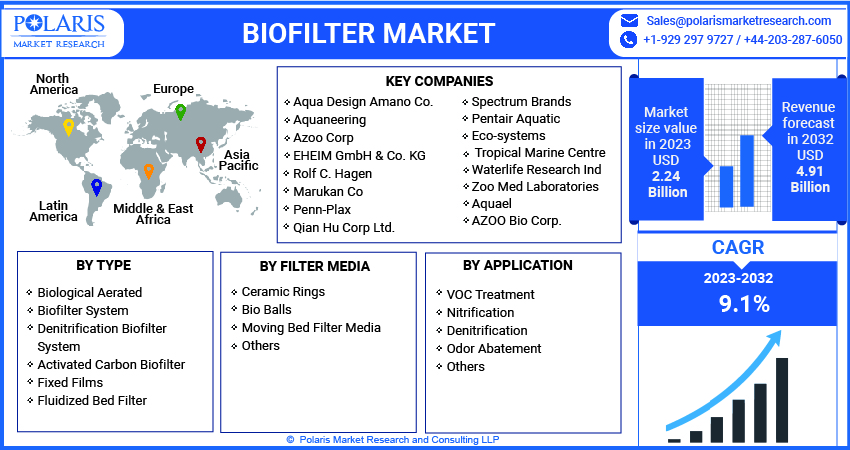 Know more about this report: Request for sample pages
Industry Dynamics
Growth Drivers
Increasing commercial fish production & air pollution
An increase in fish demand as a result of increased fish consumption. More fish are consumed globally due to these fish farmers' motivation to increase their output, which is anticipated to accelerate the expansion of the biofilter industry. The demand for household aquariums has expanded, which will lead to a rapid expansion of the ornamental fish market. The production of producers of ornamental fish is increasing, which benefits the biofilter industry.
The increasing use of biofilters to reduce air pollution is a result of increased exposure to fine particles in the polluted air brought on by rising greenhouse gas emissions. These particles can penetrate deeply into the lungs and cardiovascular system of humans, posing serious health risks like stroke, heart disease, lung cancer, chronic obstructive pulmonary disease, and respiratory infections. To reduce the risk of these types of diseases people used biofilters in various countries like Bangladesh, Pakistan, China, India, and other nations due to high air pollution. The global biofilter market is anticipated to expand during the study period due to the increase in the number of biofilters being utilized for air filtration.
Report Segmentation
The market is primarily segmented based on type, filter media, application, and region.
By Type

By Filter Media

By Application

By Region

Biological Aerated Biofilter System

Denitrification Biofilter System

Activated Carbon Biofilter

Fixed Films

Fluidized Bed Filter

Ceramic Rings

Bio Balls

Moving Bed Filter Media

Others

VOC Treatment

Nitrification

Denitrification

Odor Abatement

Others

North America (U.S., Canada)

Europe (France, Germany, UK, Italy, Netherlands, Spain, Russia)

Asia Pacific (Japan, China, India, Malaysia, Indonesia, South Korea)

Latin America (Brazil, Mexico, Argentina)

Middle East & Africa (Saudi Arabia, UAE, Israel, South Africa)
Know more about this report: Request for sample pages
Biological aerated filter segment is expected to witness fastest growth over the forecast period
The biological aerated filter is a very effective filtration technique. Which is used for handling complicated and hygienic wastewater. It removes the maximum percentage of solid sediment, chemical oxygen demand, and biochemical oxygen demand through the secondary and tertiary sedimentation process. Increasing usage of biological aerated filters in various applications, such as hospital wastewater treatment and it is effective at eliminating both inorganic and organic pollutants.
The activated carbon biofilter segment is holding largest market share in terms of filter type dunging the study period. The use of activated carbon biofilters to remove total organic carbon from grey water. Chlorine molecules are chemically altered by activated catalytic carbon, which is more reactive than ordinary carbon, and is then transformed into salt.
The ceramic ring segment accounted for the largest market share in 2022
The use of the ceramic ring removes harmful chemicals like ammonia and nitrites from the aquarium. Ceramic rings are gaining popularity as a cheap and effective bio media, and such benefits help to boost the market growth. They're becoming more common in aquariums since they effectively remove dangerous pollutants from the tanks while also providing biological filtration. Ceramic rings are anticipated to drive market expansion in the biofilter market.
Bio ball is the fastest-growing segment during the study period. Bio balls are filtered water by nitrifying bacteria, which reduces ammonia and nitrites and so vastly improves water quality. The availability of bio balls in different types and to increase the surface area, perforations and grooves were incorporated into the design of bio balls are propel the market growth.
The volatile organic compounds is expected to hold the significant revenue share
The application of biofilters to remove volatile organic compounds is produced by humans and employed in the production of paints, medications, and refrigerants. The demand for biofilters is increasing due to the rising levels of air pollution and disease-related air pollution. The biofiltration process is commonly used for the removal of odorous compounds from air produced by key end users and transforming gaseous effluent oxidized into biomass.
During the forecast period, the odor abatement segment is boosting at the fastest growth rate. The biofilters are reduced odors and hydrogen sulfide and ammonia which are produced by various industries. The market is boosted due to the use of biofilters by the non-agriculture industry to eliminate rising complaints, the biofilters help to reduce odor nuisance complaints. Also, the cost of biofilter to build and easy to maintain is less as compared to others.
The demand in North America is expected to witness significant growth
The North American biofilter market is growing due to the regions adopting biofilters in the early stage. North America was the first to use the biofiltration process, making it the largest producer of biofilters in the globe. Also, a rise in scientific activity and generous government support are key factors for the growth of biofilters in this region. To control pollution in emerging countries and the prevalence of water-borne illnesses.
Asia Pacific is expected to be the fastest-growing global biofilter market over the forecast period. The market growth is due to the region being considered one of the world's major fishing markets, increasing demand for biofilters to control pollution in this region. Manufacturers in this region are up-to-date with the latest trend such as the trend of self-cleaning aquariums becoming more popular, and companies' efforts to increase product efficiencies, such as filtering capacity, and sustainability, such factors influence the growth of biofilters in the region.
Competitive Insight
Some of the major players operating in the global market include Aqua Design Amano Co., Aquaneering, Azoo Corp, EHEIM, Marukan Co, Penn-Plax, Qian Hu Corp., Spectrum Brands, Pentair Aquatic Eco-systems, Tropical Marine Centre, Waterlife Research, Zoo Med Laboratories, Aquael, Gulfstream Tropical Aquarium, and AZOO Bio Corp.
Recent Developments
In March 2022, Samsung and its partners teamed with Tomorrow Water to combine data centers and sewage

water treatment facilities. They place data centers on sewage plat to create bio-fuel.

In Jan 2023, Royal Family Farming installed a new worm farm called "biofiltro" which is used to recycle all wastewater and reduce the formation of methane and help to eliminate carbon dioxide which is produced by livestock.
Biofilter Market Report Scope
| | |
| --- | --- |
| Report Attributes | Details |
| Market size value in 2023 | USD 2.24 billion |
| Revenue forecast in 2032 | USD 4.91 billion |
| CAGR | 9.1% from 2023 - 2032 |
| Base year | 2022 |
| Historical data | 2019 – 2021 |
| Forecast period | 2023 - 2032 |
| Quantitative units | Revenue in USD billion and CAGR from 2023 to 2032 |
| Segments Covered | By Type, By Filter Media, By Application, By Region |
| Regional scope | North America, Europe, Asia Pacific, Latin America; Middle East & Africa |
| Key companies | Aqua Design Amano Co., Aquaneering, Azoo Corp, EHEIM GmbH & Co. KG, Rolf C. Hagen, Marukan Co, Penn-Plax, Qian Hu Corp Ltd., Spectrum Brands, Pentair Aquatic Eco-systems, Tropical Marine Centre, Waterlife Research Ind, Zoo Med Laboratories, Aquael, Gulfstream Tropical Aquarium, AZOO Bio Corp. |