The global bio-lubricants market was valued at USD 2.13 billion in 2021 and is expected to grow at a CAGR of 4.1% during the forecast period. Bio-lubricants are made from vegetable oils or animal fat and offer biodegradability and non-toxicity properties. These lubricants are biodegradable and environmentally friendly. Plant-based oils are chemically modified to create bio-lubricants.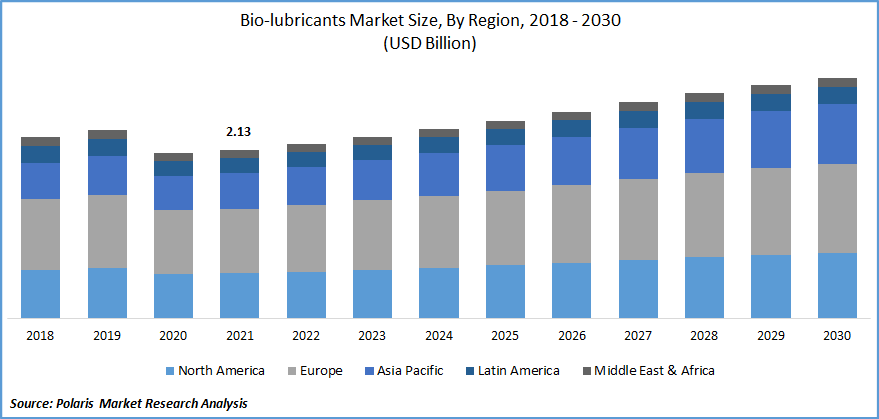 Know more about this report: Request for sample pages
Due to their eco-friendly and bio-degradable qualities, they are utilized to reduce friction between surfaces in heavy machinery such as railroad flanges, chainsaw bars, and two-stroke engines. Petroleum-based lubricants commonly cause skin inflammation, which bio-based lubricants do not.
They also have a number of advantages, including lower energy consumption, lower labor costs, higher employee safety, improved environmental conditions, longer machine life, and enhanced productivity, all of which contribute to the bio-lubricants industry's growth.
Several R&D efforts to improve the physicochemical properties of bio-based lubricants have been completed. These were ideally made from petroleum-based oil with a low degradability. Petroleum products pollute the environment by collecting in bodies of water, endangering aquatic life.
Bio-lubricants can be utilized as an alternative to petroleum-based oils, according to these findings. As a result, increased awareness of environmentally friendly lubricant solutions is projected to drive bio-lubricant demand in the near future.
Bio-lubricants are more environmentally friendly than traditional lubricants. The increased use of these lubricants in the transportation and manufacturing industries is predicted to drive up global demand for bio-based lubricants. This is mostly due to increased environmental consciousness and understanding, the implementation of stringent legislation, and the market adoption of bio-based lubricants.
COVID-19 spread across major worldwide economies, resulting in countrywide lockdowns that impacted a variety of industries. During the epidemic, the automotive industry was one of the hardest hit which affected the bio-lubricants demand. During the coronavirus pandemic, demand for bio-lubricants decreased. One of the primary concerns is the low availability of raw materials, which will limit producers' ability to produce to meet the needs of consumers.
Production was restricted for a long period of time due to government regulations during the pandemic. Rising environmental concerns are pressuring governments to solve critical climatic challenges and, thus, are investing in functions and products that are environmentally friendly. Furthermore, the numerous efforts made by firms as a part of developing bio-lubricants market size have favorable features in-store post-COVID-19 and offer significant market returns.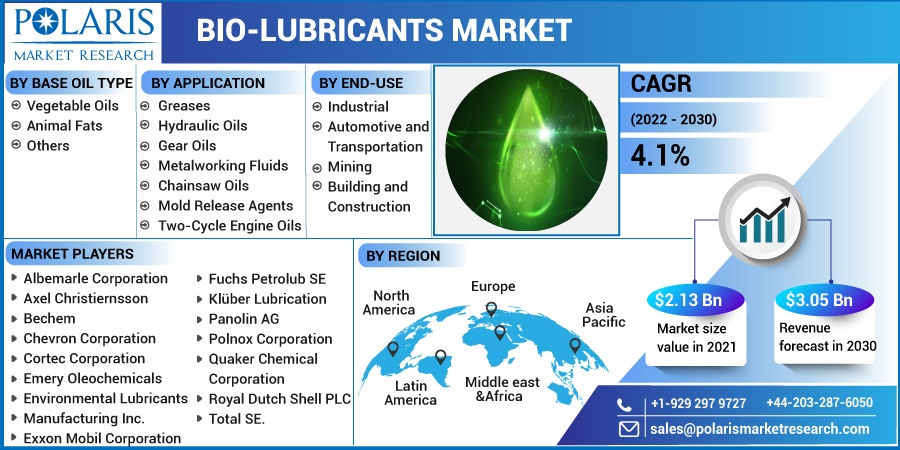 Know more about this report: Request for sample pages
Industry Dynamics
Growth Drivers
The global bio-lubricants market is expected to grow in response to rising consumer awareness about the environment and diminishing crude oil reserves in developed nations. The bio-lubricants industry is gaining traction as they are regarded as viable alternatives to petroleum-based oils. This adjustment is expected to have a favorable influence on environmental concerns and will aid in their solution.
The lifecycle of a bio lubricant is now being studied using a systematic method, which includes the environmental effects of bio-based lubricants throughout processing, usage, and disposal. Motor oil for automobiles is given special attention. The expansion of the automotive sector, increasing the supply of high-performance and cost-competitive green base oils, has positively anticipated propelling the growth of the bio-lubricants industry.
Bio-based lubricants would benefit from the increased interest in environmental issues and will thus lead to growth in the bio-lubricants demand. The United States and Europe are the most advanced regions and are encouraging the use of bio-based materials due to their lower environmental impact.
Also, rising oil prices and environmental regulations on conventional lubricants are expected to fuel global market expansion. Furthermore, legislation is likely to favor bio-lubricants industry expansion in the next years, as is increased government spending on R&D and product innovation.
The global market has been driven by the use of petroleum-based lubricants, tax incentives, and unpredictable crude oil prices, as well as favorable socio-economic and demographic variables such as urbanization, population growth, disposable incomes, and an increase in the standard of living.
Report Segmentation
The market is primarily segmented based on base oil type, application, end-use, and region.
By Base Oil Type

By Application

By End-Use

By Region

Vegetable Oils
Animal Fats
Others

Greases
Hydraulic Oils
Gear Oils
Metalworking Fluids
Chainsaw Oils
Mold Release Agents
Two-Cycle Engine Oils
Others

Industrial
Automotive and Transportation
Mining
Building and Construction
Others

North America (U.S., Canada)
Europe (France, Germany, UK, Italy, Netherlands, Spain, Russia)
Asia Pacific (Japan, China, India, Malaysia, Indonesia, South Korea)
Latin America (Brazil, Mexico, Argentina)
Middle East & Africa (Saudi Arabia, UAE, Israel, South Africa)
Know more about this report: Request for sample pages
Vegetable oil segment accounted for the largest market share
The vegetable oil segment accounted for the largest market share due to its oxidative stability and good performance. The vegetable oil segment's main market position is that it is extremely biodegradable, low in toxicity, and high in lubricity.
This expansion could be related to the abundance of vegetable oil seeds, which could be used as raw materials. Concerns for wildlife protection are also anticipated to improve vegetable oil's market share over animal fat. All of these reasons are driving the bio-lubricants demand.
Hydraulic fluids segment is expected to witness the fastest growth
The hydraulic fluids market segment is expected to witness the fastest growth during the forecast period owing to high demand for hydraulic elevators, sweepers, garage trucks, forklifts, motor graders, and front-end loaders. Bio-based lubricants are also commonly used as hydraulic fluids in forests to improve operations such as harvesters, cranes, tractors, and load carriers.
Many firms are creating items that represent the places that are most susceptible to spills and applications that are lost in usage. Hydraulic fluids are synthetic formulations utilized in mining, industrial, agricultural, and marine industries to transmit power in hydraulic machines.
Despite the fact that petroleum oils are the predominant feedstock for hydraulic fluid production, growing concerns about the environmental impact of petroleum oil-based fluids are presenting abundant opportunities for bio-based hydraulic fluids. In the global hydraulic fluids market, China is the fastest-growing.
Automotive and transportation segment accounted for a significant share
In terms of volume, the automotive and transportation category held a significant share in 2021. In the transportation sector, the focus is on improving lubricant materials' environmental friendliness, longevity, performance, and energy efficiency. Bio-based lubricants will eventually replace conventional lubricants in the automobile sector due to their low toxicity, strong lubricating qualities, high viscosity index, high combustion temperature, longer machine service life, and other factors.
Forestry equipment, construction trucks, rail curves, rail flanges, and maritime applications are all good fits for bio-greases. Gear cutting, grinding, and general machining are all done with bio-based metal cutting fluids and coolants in several industries, which will lead to growth in the market.
North America is estimated to exhibit high growth during the forecast period
North America is expected to witness high growth during the forecast period owing to its various emission standards and the growing adoption of bio-degradable products. The growth of bio-lubricants is driven by the evolution of various government initiatives to reinforce environmental regulation.
The global bio-lubricants market is predicted to be driven by a renewed automobile sector in the United States and Canada, as well as more regulatory action by the US government regarding the use of conventional lubricants. The US Air Force encourages plant-derived biodegradable products as part of its strategic and fundamental approach to national defense, which is another market driving force. The rising governmental spending on bio-lubricants used in the marine and automotive industries is likely to create lucrative opportunities for bio-lubricants.
Competitive Insight
The key players in the bio-lubricants market are Albemarle Corporation, Axel Christiernsson, Bechem, Chevron Corporation, Cortec Corporation, Emery Oleochemicals, Environmental Lubricants Manufacturing Inc., Exxon Mobil Corporation, Fuchs Petrolub SE, Klüber Lubrication, Panolin AG, Polnox Corporation, Quaker Chemical Corporation, Royal Dutch Shell PLC, and Total SE.
These players are expanding their presence across various geographies and entering new markets in developing regions to expand their customer base and strengthen their presence in the bio-lubricants market. The companies are also introducing new innovative products in the market to cater to the growing consumer demands.
Recent Developments
In December 2021, RSC Bio Solutions and Standard Sekiyu Osaka Hatsubaisho Co., Ltd (SSOH) announced a new partnership for distribution and to meet the growing demand in Japan for Environmentally Acceptable Lubricant offerings for marine and industrial applications.
In October 2021, Neste, a well-known oil refiner, collaborated with Hesburger, a well-known restaurant chain in Finland, to collect waste cooking oil from more than 300 local restaurants. This will be used to make bio-lubricants and renewable diesel. Also, restaurants will employ Neste's MY Renewable Diesel across their entire transport fleet in Finland.
In March 2020, Royal Dutch Shell announced the development of its lubricant production facility in Marunda Centre, Indonesia. After the expansion, the plant will be able to produce 300 million liters of lubricant.
In December 2019, to strengthen its footprint in Sub-Saharan Africa, FUCHS Group purchased 50% of three distributor firms situated in Zimbabwe, Zambia, and Mozambique.
Bio-lubricants Market Report Scope
| | |
| --- | --- |
| Report Attributes | Details |
| Market size value in 2021 | USD 2.13 billion |
| Revenue forecast in 2030 | USD 3.05 billion |
| CAGR | 4.1% from 2022 - 2030 |
| Base year | 2021 |
| Historical data | 2018 - 2020 |
| Forecast period | 2022 - 2030 |
| Quantitative units | Revenue in USD billion and CAGR from 2022 to 2030 |
| Segments covered | By Base Oil Type, By Application, By End-Use, By Region |
| Regional scope | North America, Europe, Asia Pacific, Latin America; Middle East & Africa |
| Key companies | Albemarle Corporation, Axel Christiernsson, Bechem, Chevron Corporation, Cortec Corporation, Emery Oleochemicals, Environmental Lubricants Manufacturing Inc., Exxon Mobil Corporation, Fuchs Petrolub SE, Klüber Lubrication, Panolin AG, Polnox Corporation, Quaker Chemical Corporation, Royal Dutch Shell PLC, and Total SE. |