The global battery swapping market was valued at USD 2.06 billion in 2022 and is expected to grow at a CAGR of 45.3% during the forecast period. The battery makes up close to 40–50% of the price of an electric car, hence the respective governments and relevant stakeholders paved way for the battery swapping strategy to create electric mobility services more affordable & adaptable, as compared to the ICE vehicles. Consumers can now acquire a battery-free scooter from the OEMs under the BaaS policy EV, bringing down the initial upfront cost. This will create affordable batteries for the people which will further propel the growth and demand for the battery swapping market.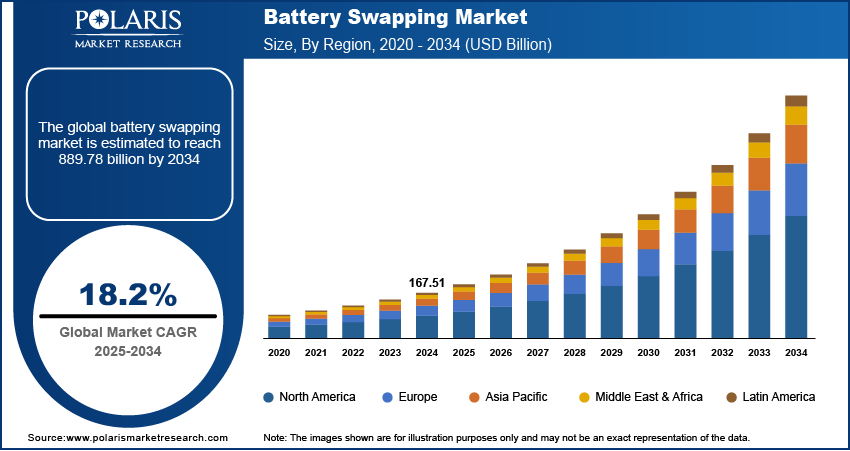 Know more about this report: Request for sample pages
To create battery-swapping solutions for micro mobility, Okai, a maker of electric scooters, worked closely with sharing service providers, particularly Tier. The initial stage in this cooperative endeavor was to select a user-friendly swappable battery option. Making battery replacement "safe, simple, and fun" was the engineers' and designers' job at Okai. To fit the hardware & software of Tier's ground-breaking in-store charging cabinet, Okai developed the "ES400B Electric Scooter" & "Okai EB100 E-Bike", using swappable battery management system, another notable invention (through the PushMe acquisition). Battery swapping will soon be established as the industry norm since it is such a good solution to a challenging problem that benefits consumers, share providers, and small companies.
In India, the government formed a policy on battery swapping. The goal of the policy is to increase the effectiveness of the battery swapping ecosystem for electric rickshaws and three-wheeled scooters, which will encourage more people to use electric vehicles. Since electric cars are more effective and environmentally friendly, their popularity has grown over time. In addition, rising customer demand for vehicles with the highest fuel economy and lowest operating costs has resulted in steady technological breakthroughs for electric cars.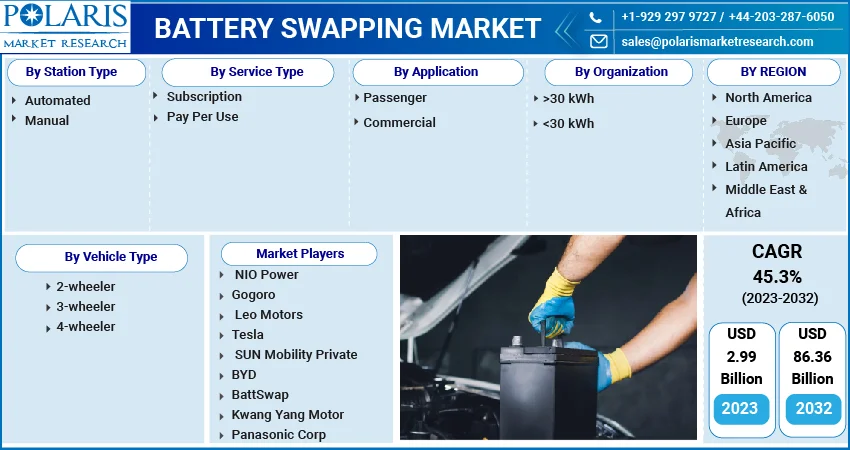 Know more about this report: Request for sample pages
Industry Dynamics
Growth Drivers
The battery swapping market is anticipated to grow in response to rising consumer demand for effective, long-range, and low-emission automobiles. In the upcoming decades, countries all over the world will make efforts to minimize car emissions. Battery swapping provides a rapid battery exchange alternative to battery charging. Future market growth is anticipated to be influenced by government battery swapping programmes in nations like India. Similar incentives offered by several nations are anticipated to boost demand for electric vehicles, particularly E2Ws and E3Ws with interchangeable battery packs. Changing the battery lengthens the vehicle's useful life while preserving most of its used-car value.
A growing number of countries are promoting the use of electric vehicles (EVs) in micro mobility by providing infrastructure, designating particular to urban areas for service trials, and collaborating with these businesses to promote micro mobility in the nation. Over the past few years, shared e-scooters' toughness and safety have increased. One matter, however, continues to stand out: the problem of recharging. Micro Mobility may have it far simpler than the electric vehicle business, which has challenges with infrastructure, range, and recharging times.
India's aspirations for electric vehicles are predicated on the smooth conversion of 2W and 3W automobiles. These car forms are excellent for switching. Additionally, the B2B market accounts for over 80% of EV sales in these segments, supporting the switching business model. The swapping game has just started, and it has enormous potential in a nation like India, which is a global leader in light vehicle form factors.
Report Segmentation
The market is primarily segmented based on station type, service type, application, battery capacity, vehicle type and region.
By Station Type

By Service Type

By Application

By Battery Capacity

By Vehicle Type

By Region

2-wheeler

3-wheeler

4-wheeler

North America (U.S., Canada)

Europe (France, Germany, UK, Italy, Netherlands, Spain, Russia)

Asia Pacific (Japan, China, India, Malaysia, Indonesia, South Korea)

Latin America (Brazil, Mexico, Argentina)

Middle East & Africa (Saudi Arabia, UAE, Israel, South Africa)
Know more about this report: Request for sample pages
Automated segment is expected to witness fastest growth over the forecast period
Automated station type, also known as an automated battery swap station, can greatly influence the growth of the battery swapping market. These stations allow for the quick and efficient swapping of batteries in electric vehicles, without the need for human intervention. This can save time for EV owners and make the process of swapping batteries more convenient. Additionally, the use of automated stations can help to reduce costs for battery swap operators and increase the number of swap locations available. Overall, the use of automated stations is likely to lead to increased adoption of battery swapping as a viable alternative to traditional recharging methods.
Subscription accounted for the largest market share in 2022
A more sustainable method of using battery swapping is through a subscription service. In comparison to the pay-per-use model, this makes battery exchanges far more affordable for users. Most of the battery changing companies provide both this kind of battery shifting service and fantastic deals to loyal customers. The number of swaps offered as part of the subscription service for battery-swapping is a crucial component of the service. Depending on the battery power capacity, number of batteries in the vehicle, and other considerations, the majority of 2- and 3-wheeler switching suppliers offer 12–18 swaps every month. On the other hand, four-wheeler battery swap suppliers (like NIO Power) offer 4-6 swaps because that number is typically adequate for monthly EV usage.
2-Wheeler sector is expected to hold the significant revenue share
E2Ws continue to be more affordable than the gasoline vehicles even with high electricity costs, & the point charging is still the most practicable at low & medium utilization rates (< 100 km/day). For daily usage of at least 140 km, battery changing is the most economical option. Additionally, ICCT found that if the overall cost per kilowatt hour (kWh) is decreased, battery switching becomes the most financially advantageous option for daily consumption rates of 120 km and higher.
The demand in Europe is expected to witness significant growth
Europe was one of the market's fastest-growing regions. NIO Power, a major electric car manufacturer in China, recently announced ambitions to expand operations and bring its range of electric vehicles to Europe, including the UK. According to NIO co-founder, the business will launch its ET5, ET7, & EL8 EVs in the UK, by 2023, after Germany, the Netherlands, & Sweden. Local businesses like Swobbee and others are also anticipated to push the industry in this region, as are EU measures for greener mobility and significant investment.
Competitive Insight
Some of the major players operating in the global market include NIO Power, Gogoro, Leo Motors, Tesla, SUN Mobility Private, BYD, BattSwap, Kwang Yang Motor, Panasonic Corp and Lithion Power.
Recent Developments
In November 2022, NIO opened its "Power Swap Station" at the "Jinke Wangfu Hotel", in China. 600 new swap stations would be set up down the year and around more than 4,000, by 2025.

In November 2022, Gogoro Inc launched a significant B2B effort and cooperation with Zypp Electric, the top EV-as-a-Service platform in India. Together, the businesses are committed to utilizing battery swapping to hasten the transition to electric for last-mile deliveries and urban logistics fleets.
Battery Swapping Market Report Scope
| | |
| --- | --- |
| Report Attributes | Details |
| Market size value in 2023 | USD 2.99 billion |
| Revenue forecast in 2032 | USD 86.36 billion |
| CAGR | 45.3% from 2023 - 2032 |
| Base year | 2022 |
| Historical data | 2019 – 2021 |
| Forecast period | 2023 - 2032 |
| Quantitative units | Revenue in USD billion and CAGR from 2023 to 2032 |
| Segments covered | By Station Type, By Service Type, By Application, By Battery Capacity, By Vehicle Type, By Region |
| Regional scope | North America, Europe, Asia Pacific, Latin America; Middle East & Africa |
| Key companies | NIO Power, Gogoro, Leo Motors, Tesla, SUN Mobility Private, BYD, BattSwap, Kwang Yang Motor, Panasonic Corp and Lithion Power. |