The global autonomous cars market was valued at 1,892 units in 2017 and is anticipated to grow at a CAGR of 82.7% during the forecast period.
Autonomous cars are self-driving cars capable of operating without human intervention. Autonomous cars are also known as driverless cars, robot cars, self-driving cars or autonomous vehicles. Autonomous cars operate using a combination of different technologies such as GPS sensing knowledge for navigation, sensors for collision avoidance, and augmented reality for driver information. Leading automotive companies such as BMW, Lexus, Google, and Mercedes have developed self-driving technologies. Fully-driverless technology is still at an advanced testing stage; however, partially autonomous technology has increasingly been used over the last few years.
The major driving factors of the autonomous cars market include growing need to reduce accidents and efficient traffic management in the coming years. Growing penetration of connected cars would further accelerate market growth. Increase in disposable income, and improving living standards are factors supporting market growth. Other factors driving the growth of this market include increasing need to provide safe and efficient driving options, and dynamic mobility applications. The increasing advancements in technologies, growing use of mapping software, and rising adoption of IOT further supplement the growth of autonomous cars market. Expansion of established companies into emerging economies and benefits offered by autonomous cars over manual driving cars would provide numerous growth opportunities in the autonomous cars market.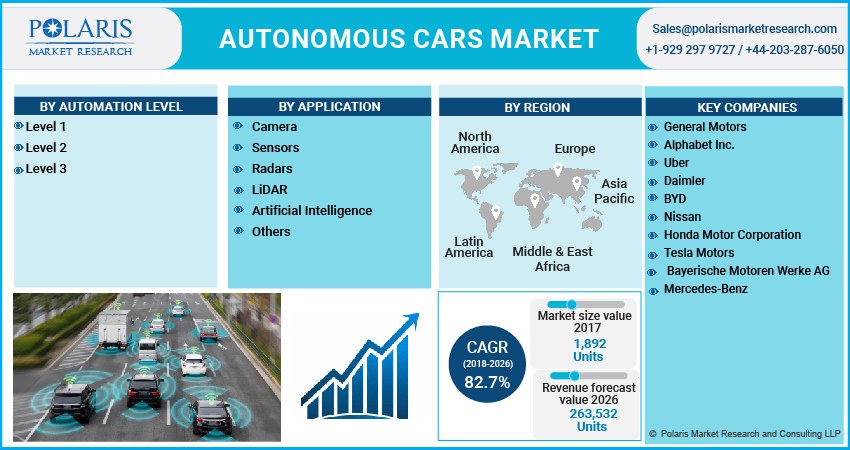 Segment Analysis
The global autonomous cars market is segmented on the basis of automation level, components, and geography. Based on the type of automation level, the market is segmented into Level 1, Level 2, and Level 3. Level 3 autonomous cars are expected to witness significant growth during the forecast period owing to technological advancements, and increasing adoption of connected cars.
The component segment is categorized into Cameras, Sensors, Radars, LiDAR, Artificial Intelligence, and others.
Regional Analysis
Geographically, the autonomous cars market is distributed across North America, Europe, APAC, Latin America, and MEA. North America is further segmented into U.S., Canada, and Mexico. Europe is divided into Germany, UK, Italy, France, and Rest of Europe. Asia-Pacific is bifurcated into China, India, Japan, and Rest of Asia-Pacific. North America accounted for the largest share in the global Autonomous Cars in 2017. The factors driving the market growth in this region include technological advancements, and significant investments in research and development. The government regulations regarding testing of driverless automobiles on public roads, and increasing need for improved road safety further support market growth. The growing adoption of IOT and dynamic mobility services, along with rising need for automation of driving to reduce human errors and improve road safety are expected to boost the adoption of autonomous vehicles during the forecast period.
Competitive Landscape
The major players operating the autonomous cars market include General Motors, Alphabet Inc., Uber, Daimler, BYD, Nissan, Honda Motor Corporation, Tesla Motors, Bayerische Motoren Werke AG, and Mercedes-Benz among others. These vendors in the market are launching new products to meet the growing customer needs. In addition, the leaders in the market are acquiring and collaborating with top companies in the market to enhance their offerings in the market and expand their customer base.